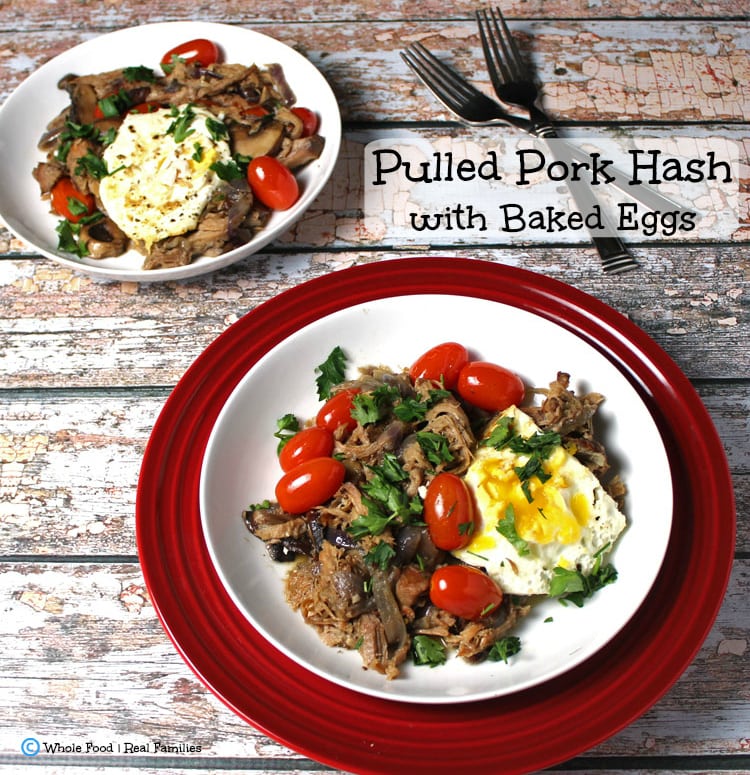 If you have read this blog for more than – oh, 3 minutes, you know that I am a big fan of cook once, eat twice, or three times, or more. That doesn't meant reheating the same meal over and over in microwave. It means "recycling" – you know, making something new from something previously used. Pulled Pork Hash with Baked Eggs came to be because a few months ago I put 173 pounds of pork shoulder in my slow cooker and got sick of eating just pulled pork and barbecue sandwiches. As I stared at the open fridge, I contemplated putting the rest of the pork in the freezer – but then there wasn't really enough left to make a full meal. Hmmm… What would make me love this pork again…
Just because this recipe had humble origins, doesn't mean it stayed in last place. We loved this so much that now when I cook a pork shoulder in the slow cooker, this is the first meal we make from it. Make sure you season your roast liberally with the spice rub. (We use it on ribs too. Delicious!) The next night is always Pulled Pork on a Plate (with hot sauce for me!). If there is anything left, it becomes Barbecue Sandwiches – usually in someone's lunch.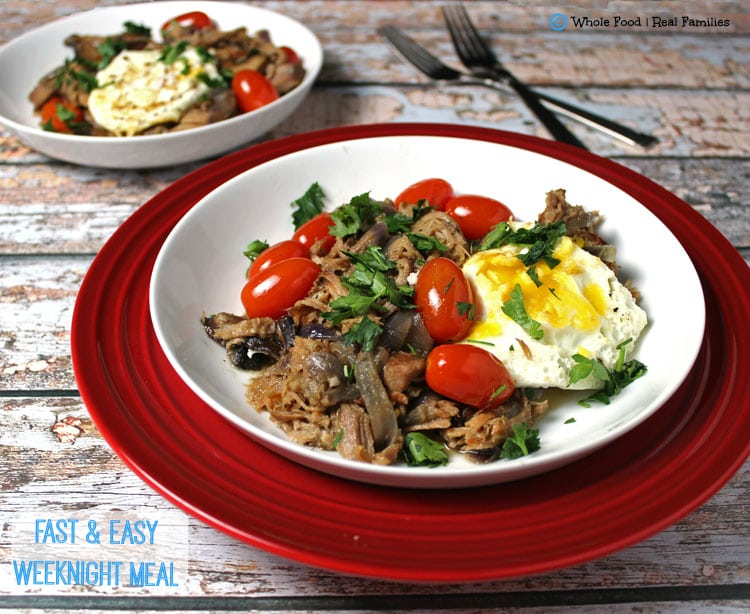 One of the great things about this meal is that it is really a non-recipe recipe. You can use as much or a little pork, mushrooms or tomatoes as you want. As long as there is enough hash to bake an egg over, you're in business! If you don't have an oven safe pan, you can always make the hash in a skillet and cook sunny side eggs in a separate pan, transferring them carefully over the hash to serve.  This is delicious with fresh bread. This recipe is super easy in the bread maker!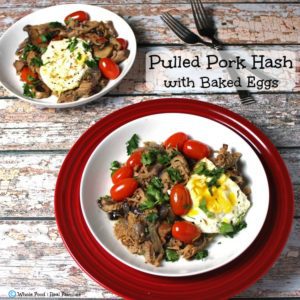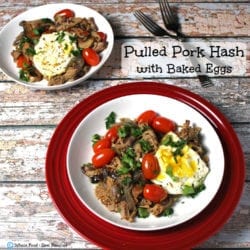 Pulled Pork Hash with Baked Eggs
Ingredients
2

tbsp

coconut or olive oil (or enough to cover the bottom of your skillet)

1

onion, sliced thin

2

cloves

garlic, minced

2

cups

baby bella mushrooms, sliced

we also like using a mixed variety of mushrooms

kosher salt and black pepper to taste

I use a lot of black pepper!

2-4

cups

pulled pork, previously cooked

5

eggs

1-2

cups

cherry or grape tomatoes

whole or cut in half

4

tbsp

chives, parsley, or combination of both

Parmesan Cheese, grated
Instructions
Preheat oven to 375 degrees. Heat olive oil in your largest skillet or Dutch oven on top of the stove on medium heat. It should be able to go into the oven also.

When oil is shimmering but not smoking, add onions and allow them to cook until translucent. Add garlic and cook until fragrant, about 1 minute. Stirring often to prevent the garlic from burning. Add mushrooms, tomatoes, and salt and pepper, mix well and cook until the water from the mushrooms cooks off and the tomatoes are heated through and cooked (around 8 minutes).

Add pulled pork into the skillet, mix well and allow everything to cook together for 2-3 minutes.

Use a spoon to create small "wells" or holes for the eggs. They should be spaced far enough apart so the eggs don't run together. I use 5 eggs because I feed 5 people in my family. You can use as many as you like as long as they fit. Crack eggs carefully into the wells. Lightly salt and pepper the tops of eggs.

Transfer entire dish into the preheated oven. Cook for 5-10 minutes based on how well you would like for your eggs to be done. We like them a little runny so we cook them less.

Remove the dish from the oven and top with herbs and freshly grated Parmesan cheese. Serve hot and Enjoy!