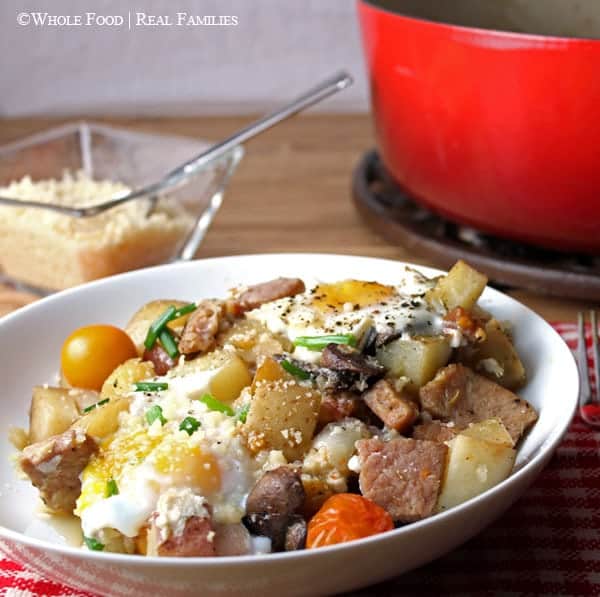 Ham and Egg Hash is my go to dish for using up leftover ham. Stretching ham into one more meal. And finding a way to actually fill up my kids!
By now I am sure you know two things (1) I love leftovers – I actually plan to have leftovers and (2) I can stretch any portion of leftovers into a next meal by adding potatoes or eggs and making a hash. Our Easter ham was amazing – but as usual, I make way too much food around the holidays. In the case of this particular ham, I thought I was getting it just right. I purchased a whole ham from my butcher and asked them to slice more than half of it into steaks and package it for the freezer. It is handy for when we want ham for breakfast or I want to cook a pot of beans around April. Even still, we had so much left over.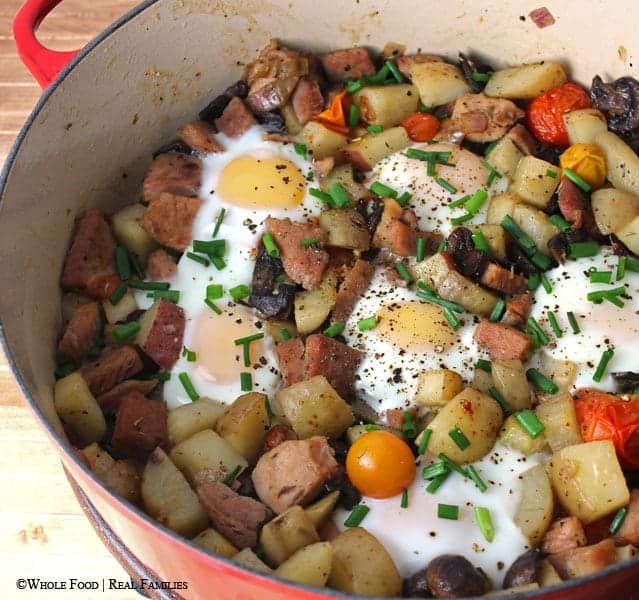 Never fear! When there are leftovers, a hash appears! If you don't believe me, just check out the Pulled Pork Hash with Baked Eggs. Or from the gluten-free experiment, Shrimp and Potato Hash. Or Unstuffed Baked Potato, which doesn't have "hash" in the title but completely embraces the concept. My beloved hash isn't fancy but it feeds my family of 5 with no complaints – sometimes guests too! It is warm and comforting food to those sitting at the table – but a lifesaver to me when I have a little of something left in the kitchen but not enough to make it a full meal on its own. So use this recipe, or any recipe for a hash, as a guideline. The recipe police will not come get you if you have more potatoes or fewer eggs – or if you have different veggies in your freezer than I do. As a matter of fact, I would love it if you would make this recipe all your own. In the spirit of waste not, want not, it should use up all the bits that you might otherwise end up discarding.
My goal has always been to have this be a one pot meal. It works great with a big pan and small family but when you add a lot of stuff to the pot (which we do!) – the potatoes will steam instead of brown. You can handle this two ways. The first is to fry the potatoes, then scoop them on to a plate while you cook the rest, then add the potatoes back in and toss to combine. It works great. I generally just fry the potatoes in one pan, cook everything else in a different pan at the same time then toss them together when everything is cooked. The resulting dish is the same. But I prefer to wash an extra pan and compress the cooking time to get out of the kitchen faster. But do what works for you.
Also an additional time saving note, I blanch diced potatoes and put them in my freezer as a starter for quick meals. Wash and dice your potatoes, skin on. Blanch them for 3-5 minutes based on their size. Remove them from the water and shock them in cold water. Bag them and freeze. It does not take long and I put up enough potatoes for half a dozen meals at a time. It shaves 15-20 minutes of cooking time off of any recipe because the potatoes are already clean, prepped and partially cooked. If you want more detailed instructions, check out PickYourOwn.org. They have step by step instructions.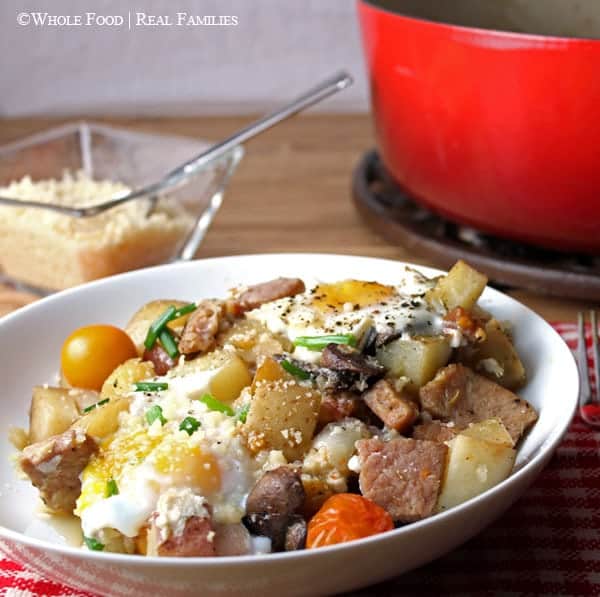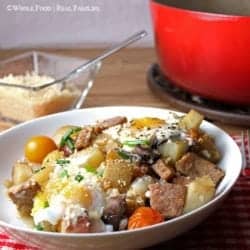 Ham and Egg Hash #SundaySupper
Course:
Breakfast, Main Dishes
Ingredients
1

red onion, diced

4-6

potatoes, skin on, washed and diced

base this on the size of your potatoes

2

cups

ham, diced

12

oz

sliced mushrooms

I like baby bellas

1-2

cups

cherry or grape tomatoes, whole

6

eggs

olive oil (enough to cover the bottom of your pot)

kosher salt and fresh black pepper to taste

1/4

cup

fresh chives, finely chopped

2

tsp

dried thyme
Instructions
Preheat oven to 400 degrees.

Heat olive oil in a large, wide-bottomed pan over medium heat. When the oil is shimmering but not smoking, add onion and allow it to cook until translucent.

Add diced potatoes and thyme to the hot oil and onions. Salt and pepper to taste and allow potatoes to fry in the oil, stirring occasionally to prevent sticking.

While potatoes are frying, in a second large skillet, drizzle a small amount of olive oil. When the oil is shimmering but not smoking, add ham and mushrooms. Salt and pepper to taste and allow ham and mushrooms to cook until the mushrooms have given up all of their liquid. About 8 minutes. Add whole tomatoes to the mixture.

When the potatoes have brown crispy edges, pour the ham, mushrooms, and tomatoes over the potato mixture and toss gently to combine. Create indentions or "wells" in the skillet to crack the eggs into. I can fit 6 eggs but don't sweat it if can't fit that many. Crack each egg carefully into the well. Move the pan into the oven and cook for 5 minutes or just until the eggs are set.

Remove from the oven, top with chives (and grated cheese if you like!) and Enjoy!