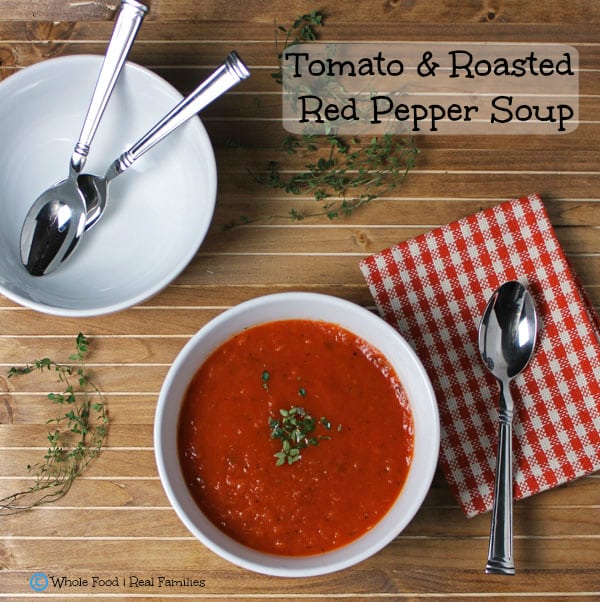 Tomato and Roasted Red Pepper Soup is my favorite soup of all time. I have been known to throw all kinds of things in a pot when making soup, as evidenced by this Roasted Butternut and Cauliflower Soup. It is never terribly cold where I live – so on the few days a year where the news stations even hint that we might hit freezing,  soup is a must. Our thin blood just can't take the cold weather. There are a LOT of things I keep in my freezer because I can preserve them fast – and in large quantities. If you have ever had tomatoes in January that you preserved yourself at the end of the summer, you know why I do this. The taste is so much better. If you have never preserved roasted tomatoes yourself, and you have a little freezer space to spare, I highly recommend it.
Granted, I am pretty efficient because I do it often, but I can put 30 lbs of tomatoes in my freezer in about 45 minutes. So the only time I ever open a can of tomatoes is during the colder months after I have exhausted all my freezer stores. (Gasp! I hate it when that happens!) But I also put Roasted Red Peppers in my freezer using exactly the same method – roast, pull the bubbly skins off, bag them up and freeze.  If you happen to have these goodies in your freezer, they make great soup and you can skip the first step in this recipe. But never fear! All it takes is a pile of fresh tomatoes and a few peppers and you too can have this fantastic soup, stocked freezer or not! Roasting veggies is fast and easy to do on the spot!
Roasting intensifies and makes sweeter the taste of most vegetables – this is so true for tomatoes and red bell peppers. The carrots in the soup also add a mildly sweet base for the peppers. All together these veggies are delicious. I can't wait for  you to give this a try!
My husband is not a fan of pureed soups (Weirdo.) so we leave ours a little chunky. But puree to your heart's content. It is great chunky or smooth!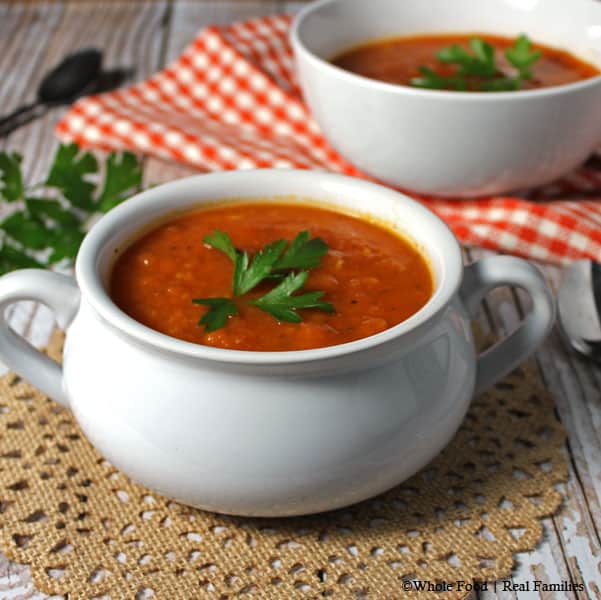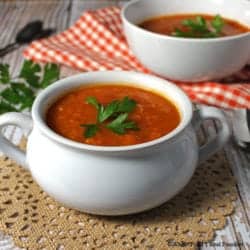 Do you really love Tomato Soup? Try this Classic Tomato Soup from Fresh Tomatoes. Once you go fresh, you will never make soup with tomatoes from a can again!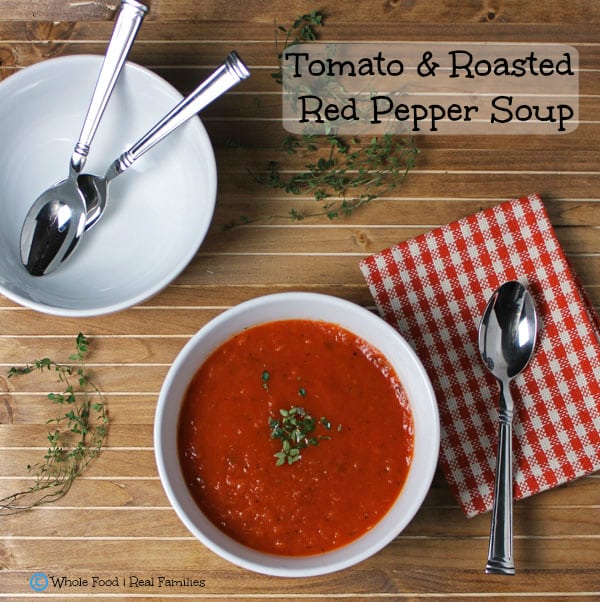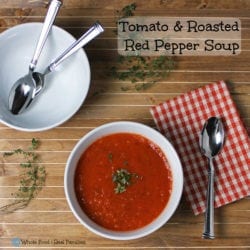 Tomato and Roasted Red Pepper Soup
The final volume of soup will depend on how much broth you add and the type of tomatoes you use. Different types of tomatoes have differing water content, much of which cooks off during roasting. It is a big pot of soup. Eat it for dinner and freeze the rest. You'll be glad you did on a night you don't want to cook!
Course:
Soup, Salad & Sandwich
Ingredients
5

lbs

whole tomatoes, halved and cored

3 medium globe tomatoes is about a pound, 8 plum tomatoes, and about 25 cherry tomaotes

2-3

Red Bell Pepper, halved and cored

3

tablespoon

olive oil

1

large

sweet variety onion, diced

I like red onions or Vidalia onions

4

carrots, grated

3

garlic cloves, minced

4

cups

chicken or vegetable broth

2

tbsp

dried basil

3-4 tbsp fresh basil

1

tbsp

dried thyme

2 tbsp fresh thyme

kosher salt

freshly ground black pepper

to taste
Instructions
Preheat oven to 450 degrees. Lightly oil a sheet pan (or 2 if needed). Cut in half and core all tomatoes and red peppers and place them cut side down on the sheet pan. Place pan(s) in the oven and roast until the skins are black and bubbly. About 20-25 minutes. Remove from oven and allow them to cool until you can comfortable pinch the skins off of the tomatoes and peppers. The skins will pull off easily. Discard the skins. Drain of the water that cooked out of the vegetables while roasting. Either discard or reserve for a different use.

In a large Dutch oven or stock pot, heat olive oil over medium heat. When the oil is shimmering but not smoking, add diced onions and grated carrots. (I just grate my carrots on a box grater.) Add salt and pepper to taste and allow the vegetables to cook until the onions are translucent and the carrots begin to soften, about 8 minutes. Add garlic and allow to cook until fragrant, about 1 minute. Stir frequently to prevent garlic from burning.

Add tomatoes, peppers and broth to the stock pot. Pulling apart the tomatoes and peppers with your hands as you add them to the pot. Add basil and thyme. (I prefer the taste of fresh herbs but have never let their absence stop me from cooking!) Stir well to combine. Allow the soup to cook for 30-40 minutes for all of the vegetables to soften and flavors to combine.

Using an immersion blender, puree the soup to your desired consistency. We like ours to remain a little chunky but if puree to smooth if that is your preference. Taste and adjust salt and pepper. Serve hot with fresh Thyme leaves for garnish!

This soup freezes incredibly well. We usually eat it for dinner when I make it then freeze the remainder in 2 serving portions for quick lunches during the week. Thaw in the refrigerator overnight and reheat when you need it!