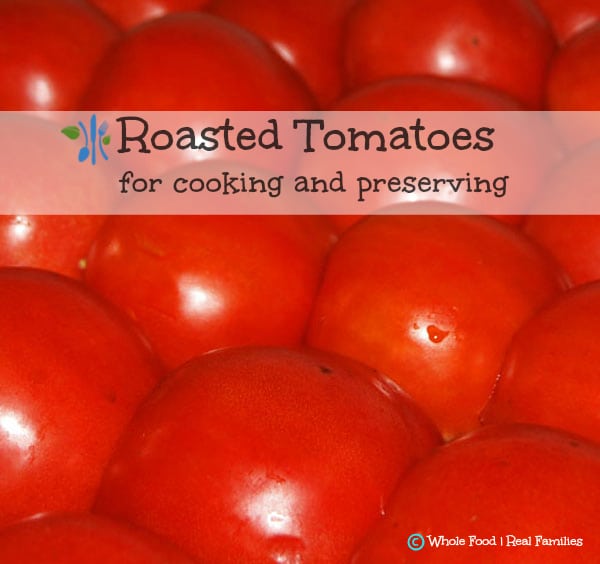 I often use roasted tomatoes for cooking. I freeze them in freezer bags and freezer-safe glass containers. I pressure can them so I can store them in my pantry when I don't have freezer space. Basically they are in every corner of my kitchen because I use them constantly and they taste SO MUCH BETTER than canned tomatoes. (Though I admit that I keep a few emergency cans of organic tomatoes in safe containers in my pantry for an emergency tomato shortage.) Roasting tomatoes is easy and incredibly fast.
Position your rack in the top third of your oven and turn on your broiler.
Wash and core your tomatoes. I core my tomatoes with an old, cheap measuring spoon – which is oddly sharper than the knives in my house. Some people use a paring knife, some use a melon baller – just find the thing that let's you work efficiently.
Slice your tomatoes in half and place them cut side down on a sheet pan. It is fine to cram them all together.
Place your pan in the oven for 15 minutes, or until you see the skins of your tomatoes turn all black and bubbly.
Remove from the oven and let the tomatoes cool so that you can pinch the skin and pull it off. It will slide off the tomato easily. (I am very bad at this part. I hate waiting. I usually burn my fingers.)
If I plan to freeze them, I usually scoop up the peeled tomatoes and let them rest in a large bowl until they are cool enough to handle so that I can free up my sheet pan for the next batch of tomatoes.
That is it. Super easy. You will have water that has cooked out of the tomatoes in the pan after roasting, you can either throw it away or pour it in a container and blend it with a 2 or 3  of your roasted tomatoes and a pinch of salt for fresh tomato juice.
Once you get the hang of doing this, you can roast and put away a lot of tomatoes in a very short amount of time if you have 2 sheet pans. While one tray of tomatoes is roasting, I pinch the skins off of the last batch, move the tomatoes into a big bowl, and add a new batch of tomatoes to the tray. When one tray rotates out of the oven, another goes it. It takes me less than an hour and a half to roast and store 60 pounds of beefsteak tomatoes.
If you decide to freeze your tomatoes in glass jars, keep in mind food expands when frozen. Make sure you leave enough head space when freezing in glass to avoid breakage. The amount of head space you need varies with the size of your jar. If you need a reference for the amount of head space you need, check here. Or if you just feel inspired and want to go buy 100 pounds of tomatoes to preserve today and don't have the freezer space, learn about pressure canning tomato products, check here. Neither freezing or canning is particularly hard. Freezing is faster, canning is more convenient if you don't have a lot of freezer space.