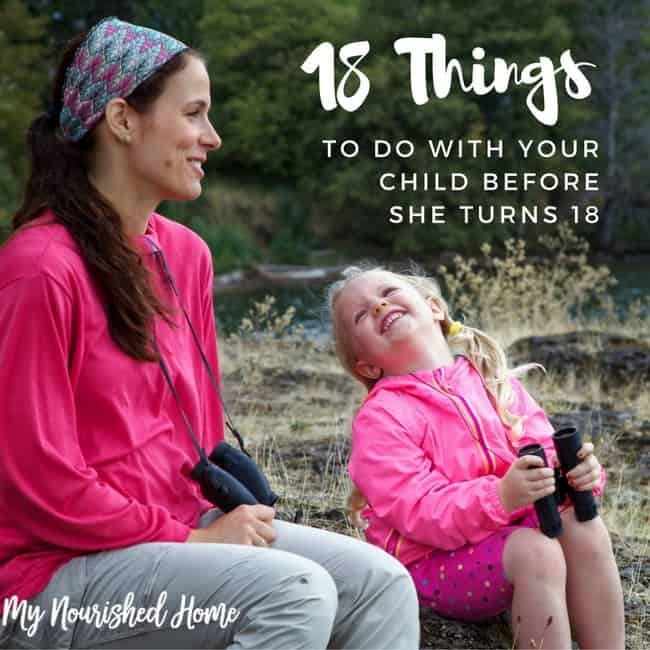 My baby turns 18 this year and I have no idea where the years went. It seems like just yesterday that she was a toddler, giggling and laughing as she learned to walk. This year she'll be graduating high school and heading off to college. It takes my breath away.
When she turned 13 we created a list of things that we wanted to do before she turned 18. It's not a list of expensive endeavors because real life doesn't allow for flying to Paris at the drop of a hat or going sky diving on a whim. No, the list is more about creating memories that will help shape her throughout the rest of her life. As we prepare for her 18th birthday, I broke out the list and have been double checking to make sure we hit the things that matter most.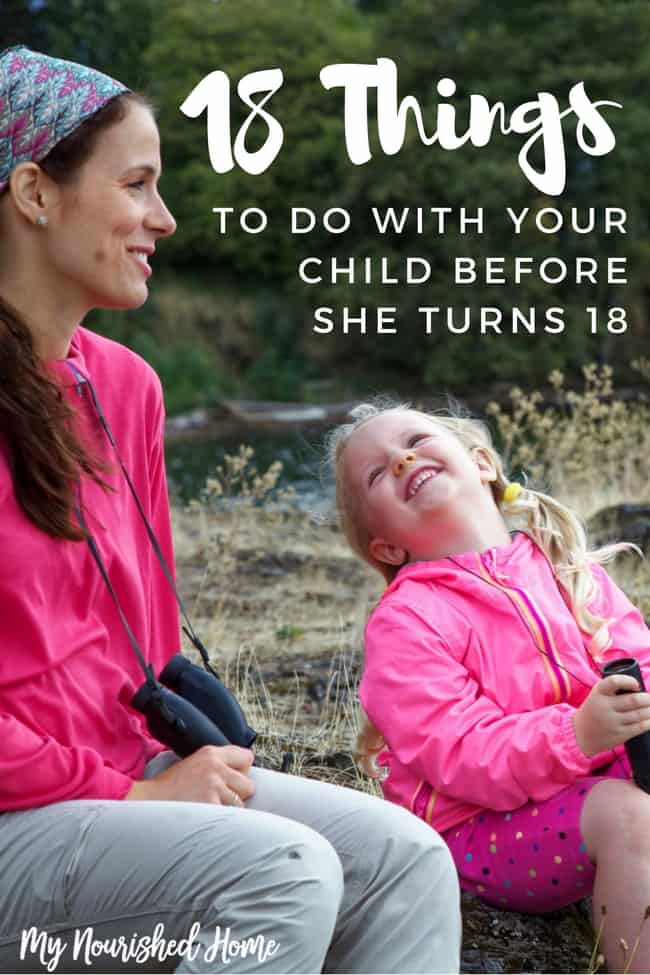 18 Things to Do with Your Kids Before They Turn 18
Go Away Together Overnight
An overnight trip together gives you time to talk about what's going on in your child's life and what she sees for her future. It can be a night of camping in the woods if you're both into that or a night at a posh downtown hotel if that's your thing. Where doesn't matter as much as just being together to talk. (We personally favor a beach trip!)
Overcome a Fear – Both of You
One of the greatest gifts you can give your child is the example of overcoming a fear and stepping out in confidence. Encourage it in both of you!
Have a Movie Marathon
Break out the favorites and have a weekend movie marathon that's filled with snuggling and plenty of memory making. We are personally fans of the Marvel universe… so my teenager is keeping me in touch with my superpowers.
Cook a Meal Together
Cook at least one, but preferably many meals together before your child turns 18. Not only does it provide a great bonding opportunity, it teaches valuable life skills!
Volunteer Together
Pick a favorite charity or cause and volunteer together. It teaches compassion and helps kids develop empathy.
Run or Walk a 5k
Not in shape? Don't worry! Train together for a 5k walk or run using a program like C25k. Not only will it help you both get some exercise, it's a great way to bond!
Go on a Road Trip
Life isn't complete without at least one road trip under your belt, so make it a priority to take one with your kids before they turn 18. Whether it's a five hour drive or a 20 hour trek, there will be memories made across the miles.
Go to a Concert
It doesn't have to be a sold-out pop star concert to make an impact. Even a local outdoor summer concert will be the stuff memories are made of.
Go to the Theater
One of my fondest memories is of going to New York to see Cats when I was about fourteen years old. We got dressed up, headed out on our own, and had a magical evening watching the show and having a dinner after with my parents. When I look back, I realize my parents had no interest in Cats whatsoever, but I did so they made it special.
Talk About Priorities
At the end of the day, the things you do to make a house a home are done for your kids. They are your biggest priority. Don't let them head off to college before having a heart-to-heart talk with them about making sure their priorities are in order. Family trumps work – always.
Visit the Ocean
It's an indescribable moment to be standing at the ocean's edge, toes curled into the sand and waves lapping at your ankles. There's no greater reminder that the world is so much bigger than you imagined. We are lucky that we live near the coast, so we can walk in the surf year round. 
Take a Class Together
When my daughter was 10, she loved baking and wanted to take a cake decorating class. While that wasn't necessarily my thing, I loved spending time with her and taking the class together. She still talks about it years later!
Go to a Sporting Event
If your child loves baseball, go to a baseball game. If soccer is his thing, head to a soccer match. It doesn't matter if it's a professional team, a minor league team, or even a baseball game during Spring Training Camp, what matters is that you get to experience it together!
Play Board Games
We have a family game night, so this activity got crossed off the list early on, but I was surprised how many of my daughter's friends had never played board games with their families. Here are some of our favorite Family Game Night ideas!
Have a Water Balloon/Snowball Fight
Depending on where you live, a snowball fight might be out of the question, but a good water balloon fight is a good back-up option!
Get Family Photos Taken
Once, before your children are all grown up, hire a professional photographer (or a family friend who is great at taking photos) to do a family photo session. They will be pictures you treasure forever.
Talk About Respect
If you have to break the ice by singing like Aretha Franklin, that's fine, but don't let childhood pass your kids by without a talk about respect. Discussing respect for others and for themselves is a conversation that they'll carry with them forever.
Read with Them
Nothing can replace having mom or dad read a book out loud. No matter how old they get, your kids will look back on story time with the fondest of memories.
Some seasons of childhood can seem to take forever to get through, but cherish them all. Before you know it, your little one will be graduating high school and starting out on a life of her own.