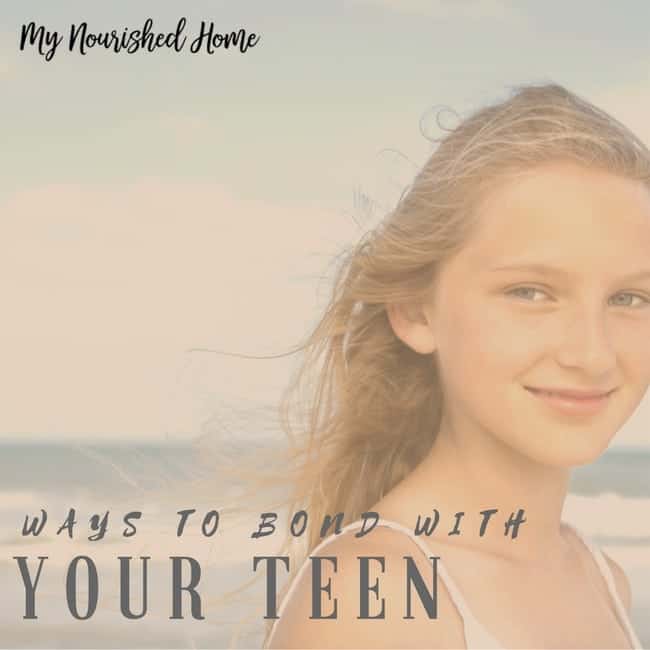 I'm not sure who the teenage years are harder for – the teen or the parent.  This period is wrought with hormones, emotions, and decisions that aren't always well thought out – and that's just for me as the mom! My daughter has had her own fair share of ups and downs, but through it all, we've managed to maintain a strong bond. I think it's worked well because we both made it a priority.  
Connecting with your teen isn't always easy, trust me, I know that firsthand, but the effort that it takes is minimal compared to the reward of creating a strong relationship that will help set the stage for the rest of your lives.  If you're struggling to come up with ways to bond with your teen, here are some of the things that have worked well for us.
Ways to Bond with Your Teen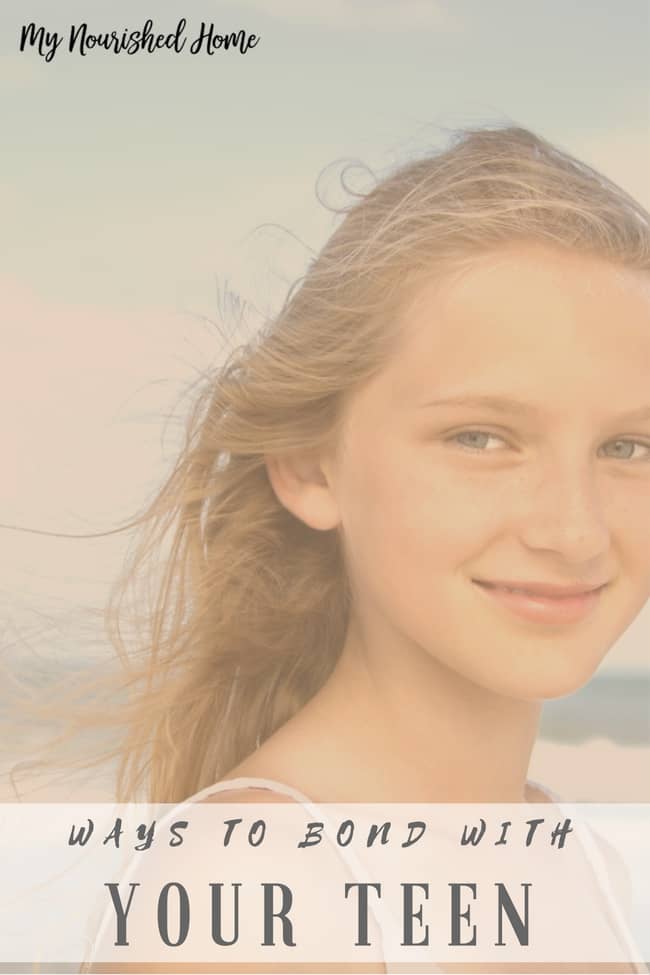 Learn About Something She's Interested In
When my daughter first started drawing and talking about the comics she was creating, I really had no clue what the terminology she was using meant. To me, a colored pencil was a colored pencil and who knew that different paper weights and textures would impact the vibrancy of the drawing? She did, but I sure didn't.  I knew it was important to her, so that meant that if I wanted her to share her passion for drawing, I needed to be able to hold up my end of a conversation with her about it.  So, I did some research, I spent some time at the art store, and I asked her questions. I had no desire to draw, but I did have a desire to learn about this thing that made her light up from the inside out. Those conversations and the time I took to learn about her art helped to create a bond between us that is grounded in one of the very things that makes her so special and unique.
Go Shopping, Go to Football Games, Build and Learn Stuff Together
It sounds so cliché to say shopping will help you bond with your teen, but for us, shopping is great fun and a fabulous stress reliever. Whether it's an impromptu trip to browse Target or a walk through our tiny downtown to a favorite coffee shop and clothing store, spending time (and a little bit of money) together gives us a chance to talk and connect. We try to plan a short shopping trip for just the two of us at least once a month and check out a new store or visit an old favorite. Most times we don't spend any money other than a few dollars on a cup of coffee or iced tea, but browsing together makes for a fun few hours.
Shopping not your thing? Catch a football game, play cards, take up interpretive dance. The point is to choose an activity you can do together. It can feel like every conversation with your teenager is about learning some valuable life lesson before you release them into the world. So an activity can take the pressure off of both of you. My husband is the master of the activity for bonding. He is not a super big talker about his emotions (sorry honey, I love you.) but he stays connected to the kids because he picks things they want to do and learns them too. He often gets much further with an afternoon of hobbying with the kids then I get with a whole week of attempted conversation.
 Go to Lunch or Grab Dessert
The high school is done for the day early in the afternoon, so we'll often stop for a late lunch on the way home. Talking about her day helps her decompress and gives me a chance to find out what's going on. It's nice to sit and chat with just her before the younger kids are done with school.  If neither one of us are really hungry, we'll swing by the coffee shop for a cup of coffee and a pastry instead.  It's not so much about the food as it is about just having time together.
Remember that the first rule of bonding with your teen is to take it slow. It took us awhile to get to the point where our conversations flowed easily and we got over the awkward moments of trying to strengthen our relationship. Persistence, patience, and love are what got us through. Bonding with your teen isn't always easy, but it is always worth the effort.