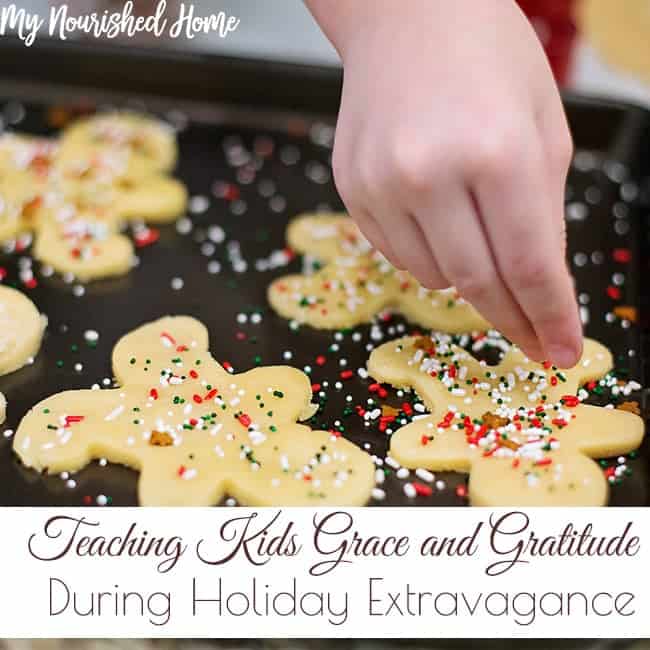 A few years ago, I looked at the aftermath of our Christmas present unwrapping in horror. There was paper everywhere and toys, puzzles, and games littering the floor.
Don't get me wrong, I love giving gifts and I was thankful that we could give our daughters so many things, but the sheer extravagance of it all hit me between the eyes.
While they were off playing with their new favorite thing, I cleaned up the paper, stacked their toys into piles, and thought long and hard about ways that I could refocus their attention on a little less receiving and a little more giving during the holidays.
From that day on, we've shifted how we approach the holidays and where we put our efforts and focus. Now, gratitude and grace reign over presents and "stuff."  Here's how we do it.
Focus on Activities
The girls used to be focused on making their Christmas lists long before the holiday even started. I remember one of them handing me a note in June with a detailed list of everything she wanted to find under the tree.
Now, instead of putting the emphasis on what they can get, we put the emphasis on things we do together during the holiday season. Baking cookies, looking at Christmas lights, decorating the tree, and watching our favorite holiday movies while drinking hot cocoa with giant marshmallows are the things we look forward to the most.
The emphasis and focus are less on the gifts that are going to be under the tree, and more on the ways we're going to build memories together.
The Four Things
Christmas wish lists used to be a free for all. From the newest baby dolls to the latest technology, there was nothing that wasn't on those lists.
Now, we limit the list to four things: something to wear, something to read, something to play with, and something to try.
Those four things focus the girls' attention on what they really want and not just on the "stuff" that television ads are trying to sell them. Admittedly, it's hard for them to narrow the list down when they're little, but it's definitely worth trying!
I'll be honest, they get more than 4 things… mostly because it is fun for their dad and I to choose things we think may be fun for them to try. But the cool thing is, we are back to giving thoughtful gifts, gifts that drive our family experiences, rather than just fulfilling an order placed by our kids every year.
Give Back
Our town sets up an Angel Tree every year that has cards listing things that other families need, but can't afford. We head down to the tree and we each pick a card to fulfill.
The requests are always practical and heartfelt – a new winter coat, a pair of rain boots, gloves, a basketball. Not only do the girls love shopping for the gifts, they love how they feel being able to secretly give something to someone else that will make them happy.
It makes the girls thankful for the opportunity and helps them appreciate all they have.
It doesn't have to be an Angel Tree… Look around over the holidays – churches, schools, community organizations all sponsor families and have organized efforts to support families that have a lot less than many of us are blessed with.
Give to Family
Because the excitement of children is part of what makes the holiday so fun, most of us overindulge the young kids. That is not a bad thing… I get it. What is more fun, watching dad open his new tie or watching a kid's excitement when they get a new bike?!
But get your kids excited to give gifts too. They don't have to cost a lot. But work with them to make things. Draw pictures. Rummage through the house… even give them a little money and let them shop for gifts to give themselves.
Giving feels good… it really does. Show them how to give. And family is a natural way to start. And you can model the thankful behavior you want your kids to have when you receive their gifts.
Not Perfect, But Better
Being heard over the consumerism that permeates the holiday extravagance isn't easy to do, but it's worth trying.
Filling our kids' hearts with grace and gratitude instead of a bad case of the "gimmes" is always worth the effort.
Our holidays are still filled with gifts, but they're now things we really, truly want and not just "stuff" that we think we should get. Because, at the end of the day, being together making memories is what truly fills our hearts during the holidays.
How do you manage the extravagance of the holiday season? Do you struggle with it too?