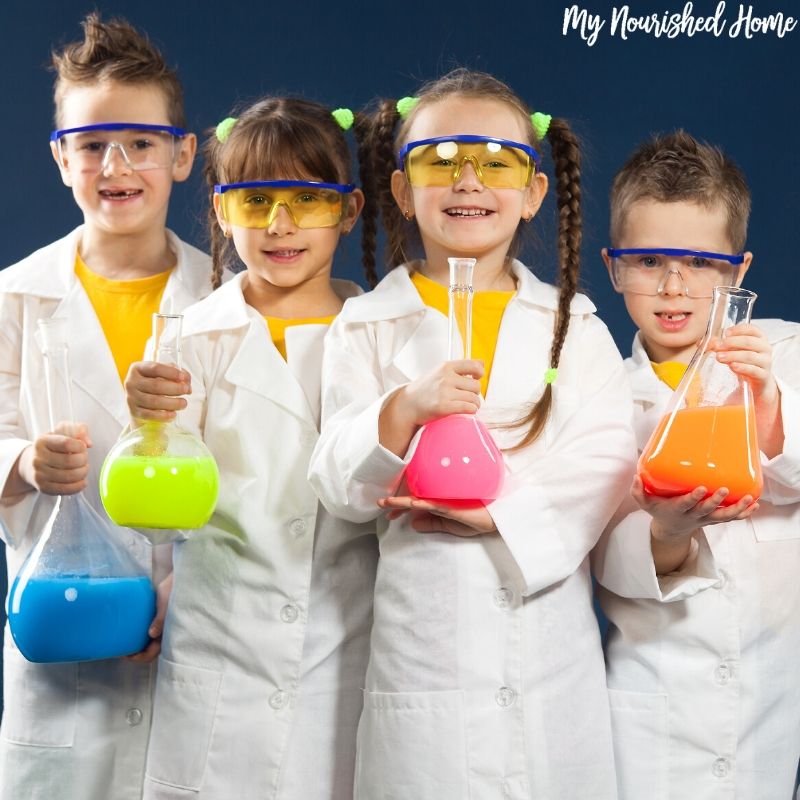 These Science Gifts for Kids will capture the imagination of the kids in your life. From computers and robots to crystals and chemistry, encourage your kids to get their geek on with these fantastic science-based toys.
Are you searching for Christmas gifts? Or maybe a birthday? But want to find toys that take up more mind space than floor space?
Shopping for kids can be really hard! There are so many places advertising toys that it can be hard cut through the clutter. Personally, we love toys that encourage creativity and thinking! I've included my affiliate links to some of our favorite science gifts to make them easier for you to find!
Science Gifts for Kids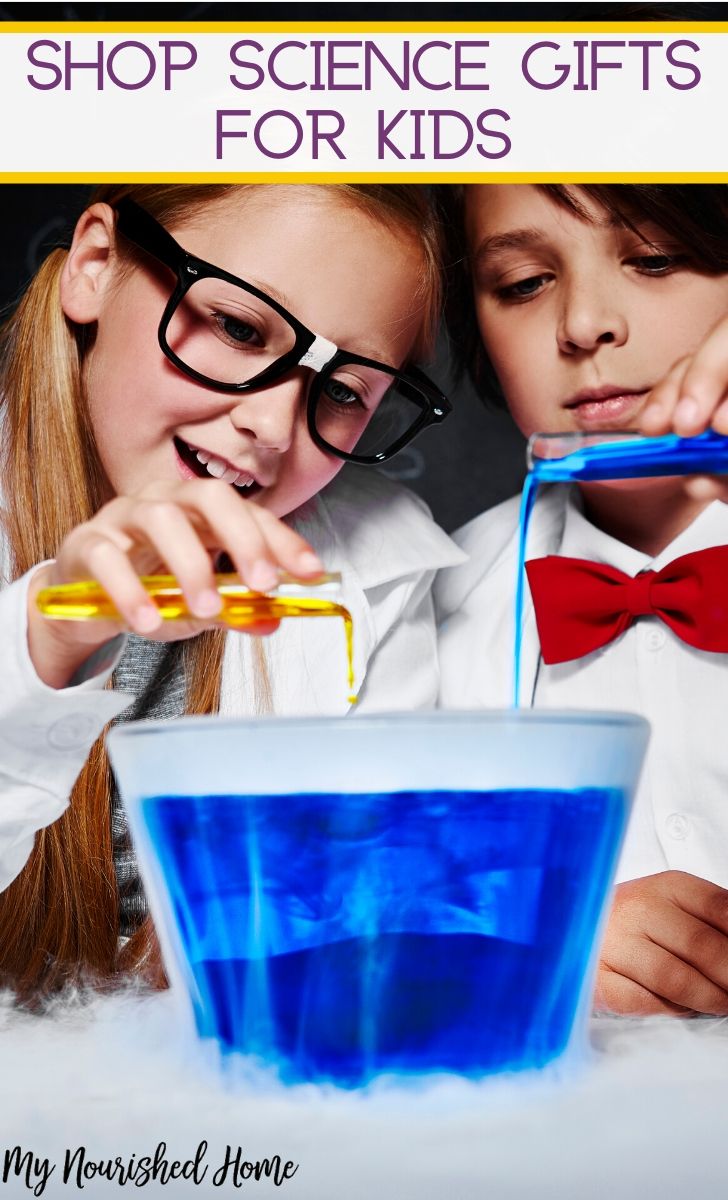 Help kids work those brain cells and find new ways to challenge themselves. The best part is because these toys are built for fun as well as learning, there is nothing school-feeling about these science toys. Only fun and creativity.
So start with a cool interest your kid has and use this list to find science gifts that will help them use it!
Shop Our Favorite Science Gifts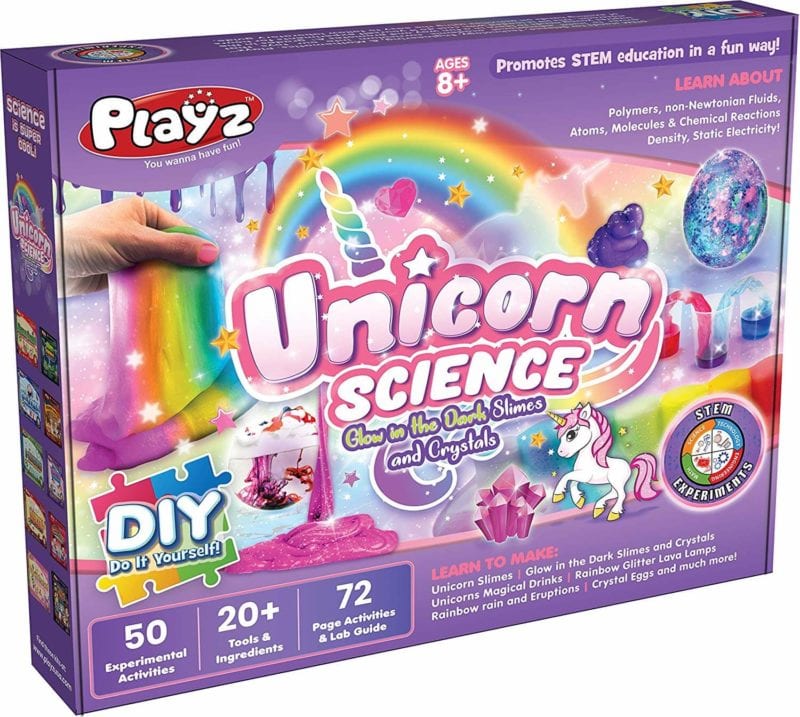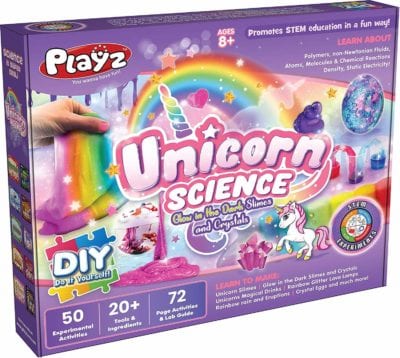 Playz Unicorn Slime & Crystals Science Kit Gift for Girls & Boys
Give the gift of chemistry fun unicorn style with this unicorn themed science and crystals kit for girls or boys. Make slime, snot, and unicorn putty and more. Recommended for kids ages 8-12.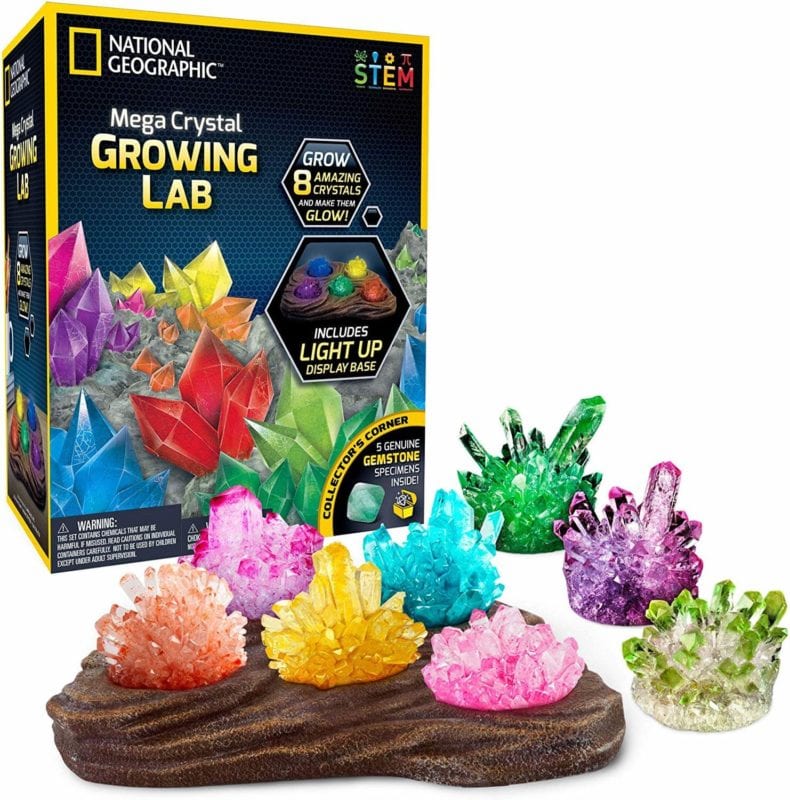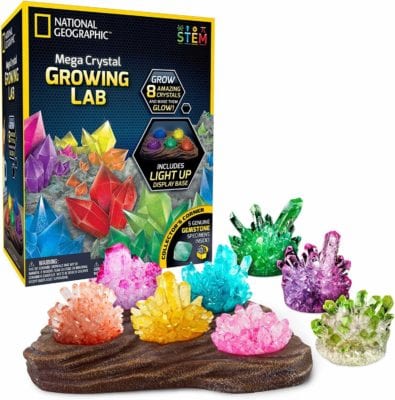 NATIONAL GEOGRAPHIC Mega Crystal Growing Lab
Kids can enjoy growing crystals in 8 different colors with this National Geographic mega crystal growing lab. It comes with 5 real gemstones and a stem learning guide. Recommended for kids ages 8+. <— We have bought more than one of these over the years. It never gets old!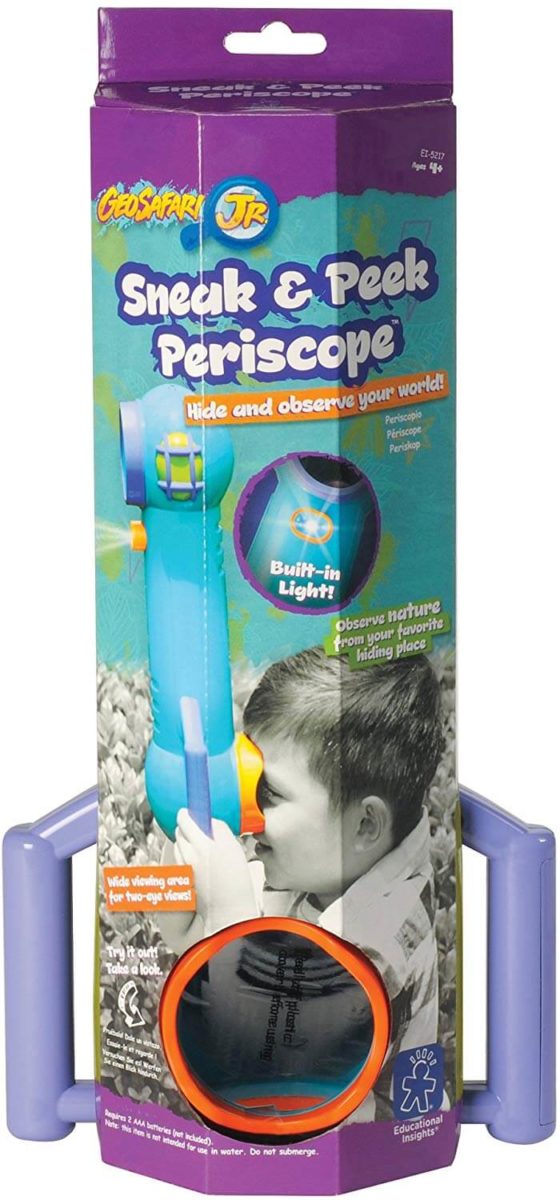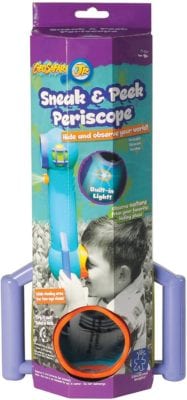 Educational Insights Geosafari Jr. Sneak and Peek Periscope Toy
Observe nature from your sneaky secret hideout! Peek over a rock or around a tree, undetected! Scoping in the dark? Flip on the LED light to spy on nocturnal animals in your backyard! This periscope features a wide viewing area, easy-grip handles, and soft goggles with a comfy nose placement guide to guarantee successful viewing, day or night. Good for young kids.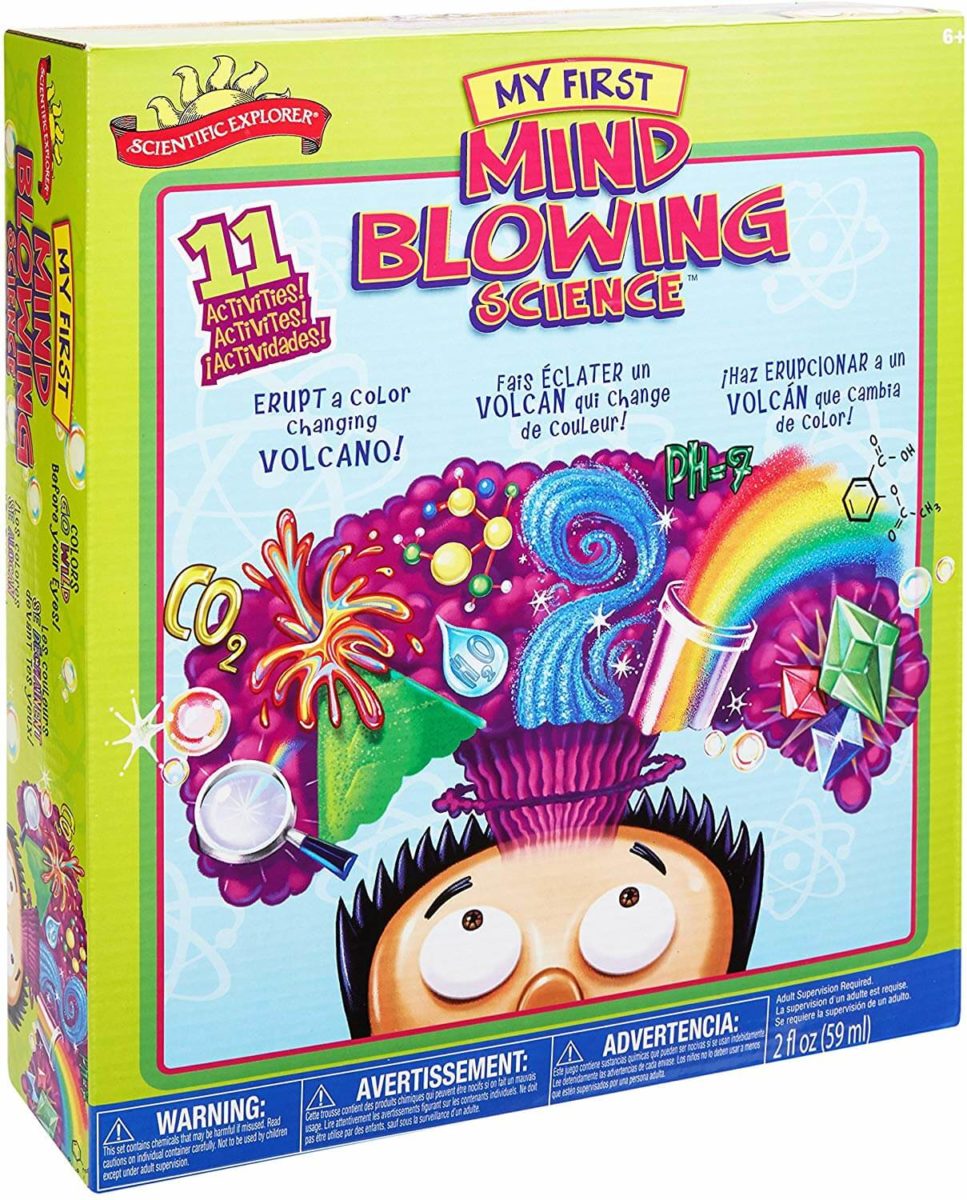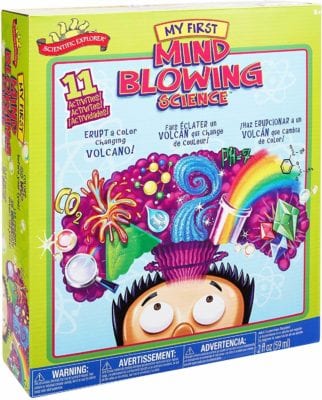 Scientific Explorer My First Mind Blowing Science Kit
They had me at erupting a colorful volcano. This 20 piece mind blowing science kit comes with everything your kid needs to experiment with and learn more about chemical reactions. Recommended for kids 6+, with adult supervision.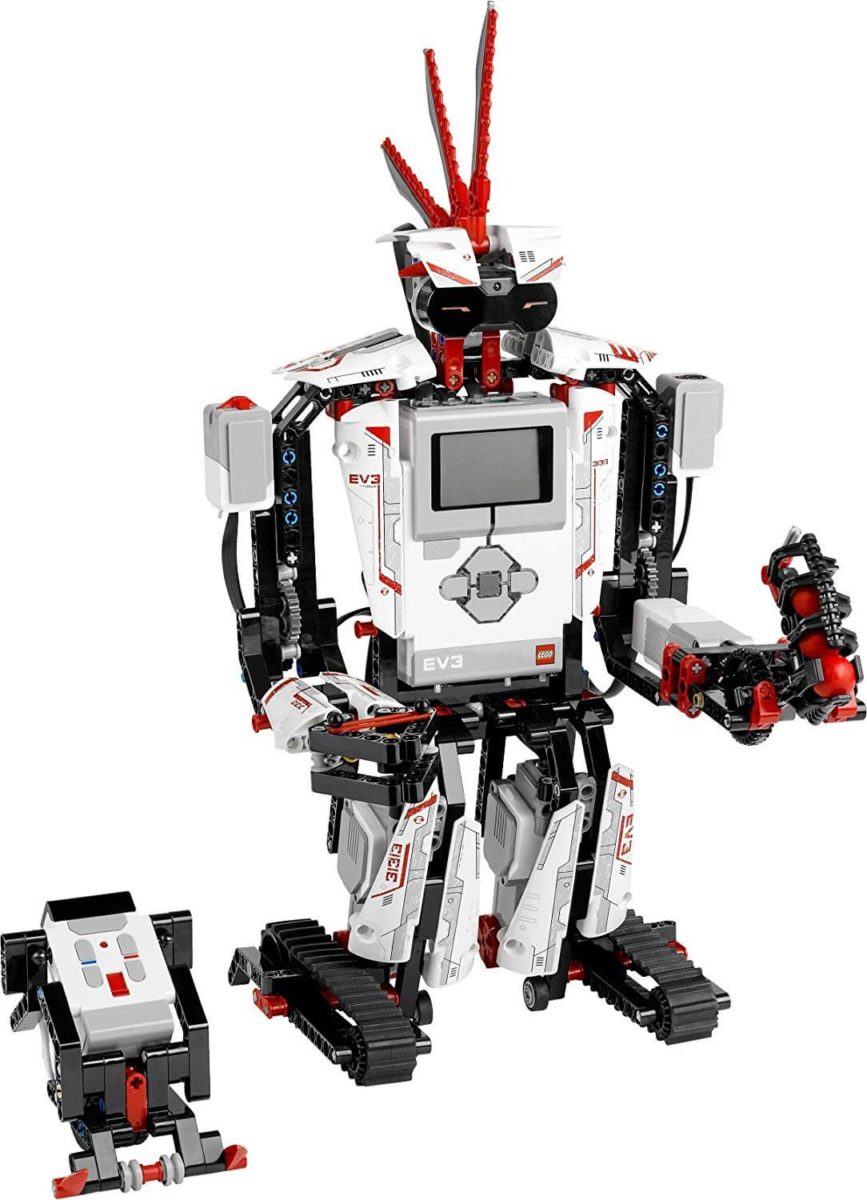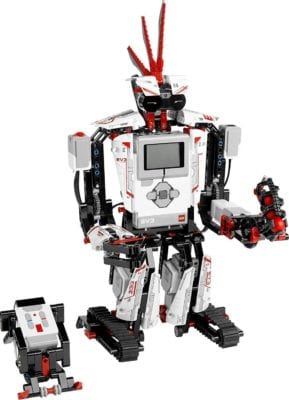 LEGO MINDSTORMS EV3 31313 Robot Kit with Remote Control
For the serious Lego enthusiast. Enjoy building and coding your very own robot with this LEGO Mindstorms EV3 science gift for kids. The main robot measures 16″ tall, 14″ long, and 15″ wide. Recommended for kids ages 10-15 years.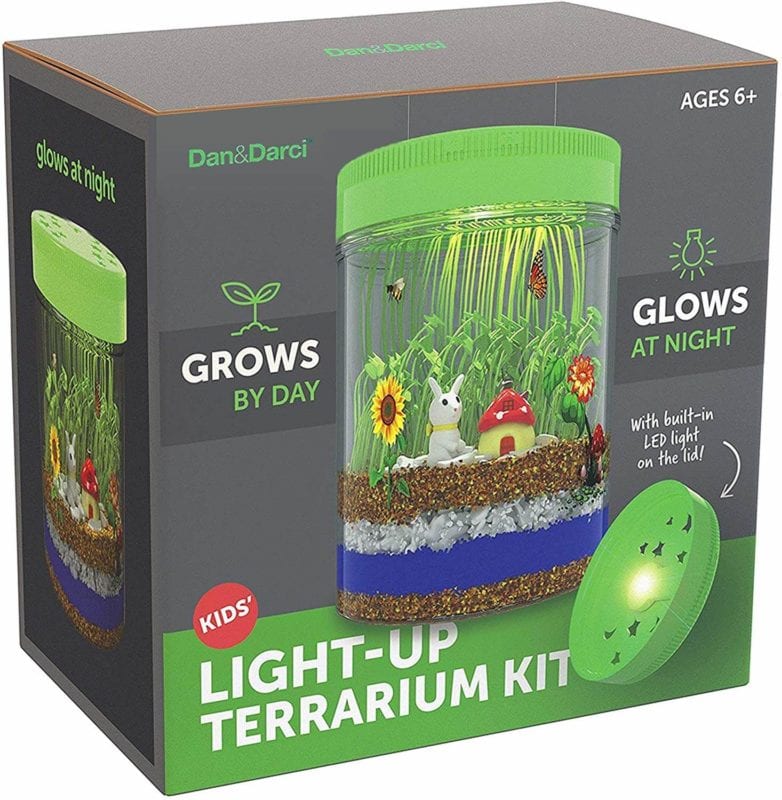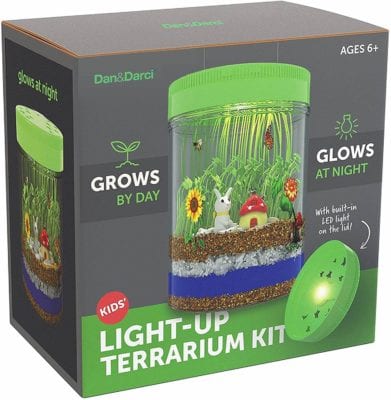 Light-up Terrarium Kit for Kids with LED Light on Lid
My youngest child carried this around the house daily making sure her plants got enough light. Needless to say, this light-up terrarium was a hit at our house. This is a great science gift for kids who want to learn more about their environment. Recommended for kids ages 6-12 years.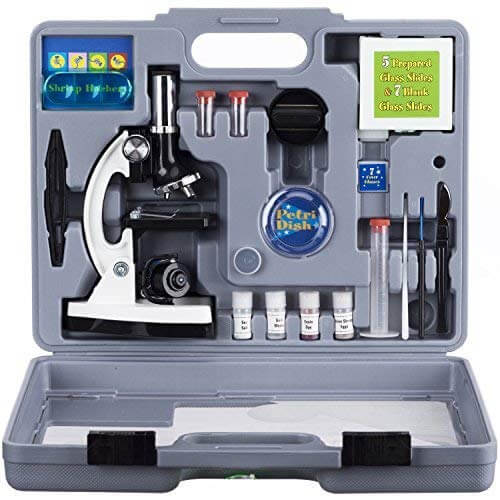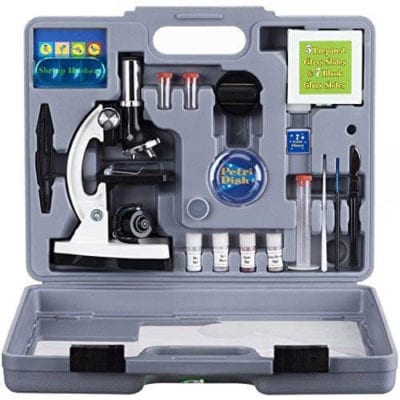 AmScope 120X-1200X 52-pcs Kids Beginner Microscope
This science gift for kids is a great way to encourage a love of microscopic organisms. This microscope comes with 52 pieces, and its own carrying case. Recommended for kids ages 8+.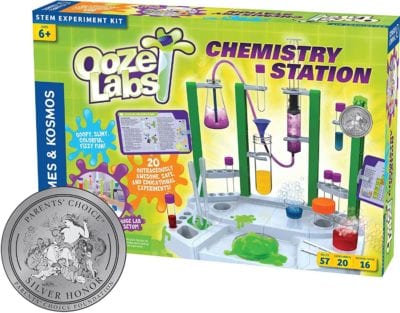 Thames & Kosmos Ooze Labs Chemistry Station Science Experiment Kit
Enjoy these non-hazardous science experiments that will allow kids to enjoy chemical reactions in a safe environment. This kit comes with 57 pieces for many hours of science fun. Recommended for kids ages 6+.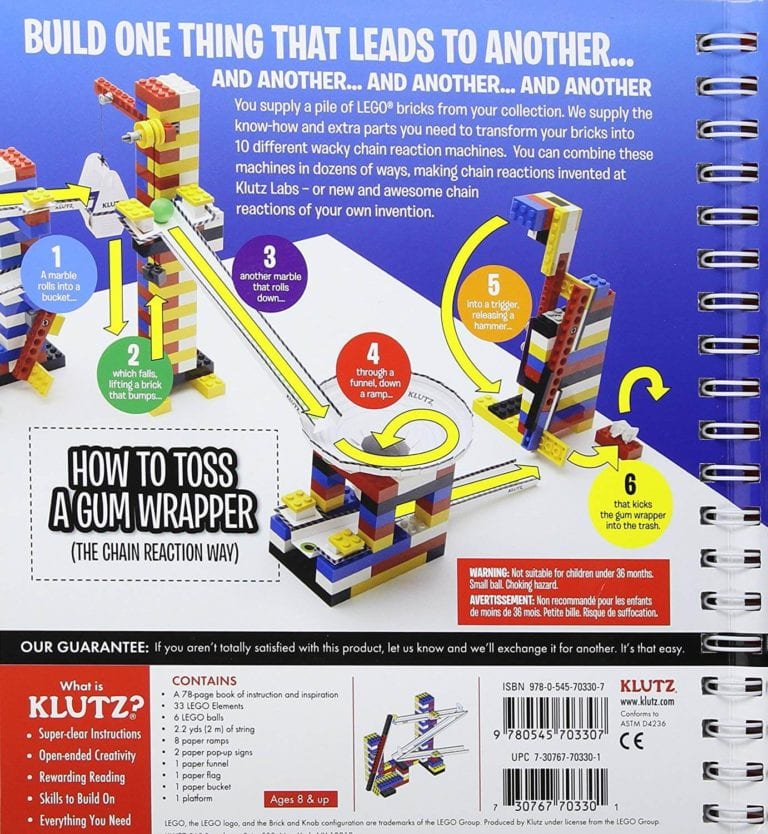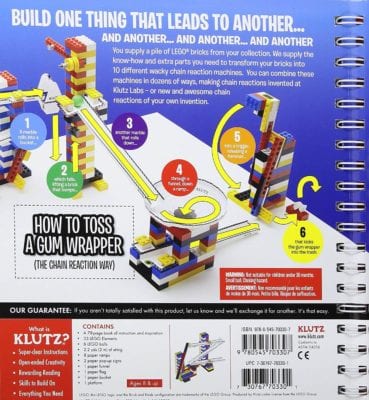 Klutz Lego Chain Reactions Science & Building Kit
Design and build amazing machines that work with this chain reaction science & building kit. This kit comes with enough blocks to play and learn for hours. Recommended for kids ages 8+.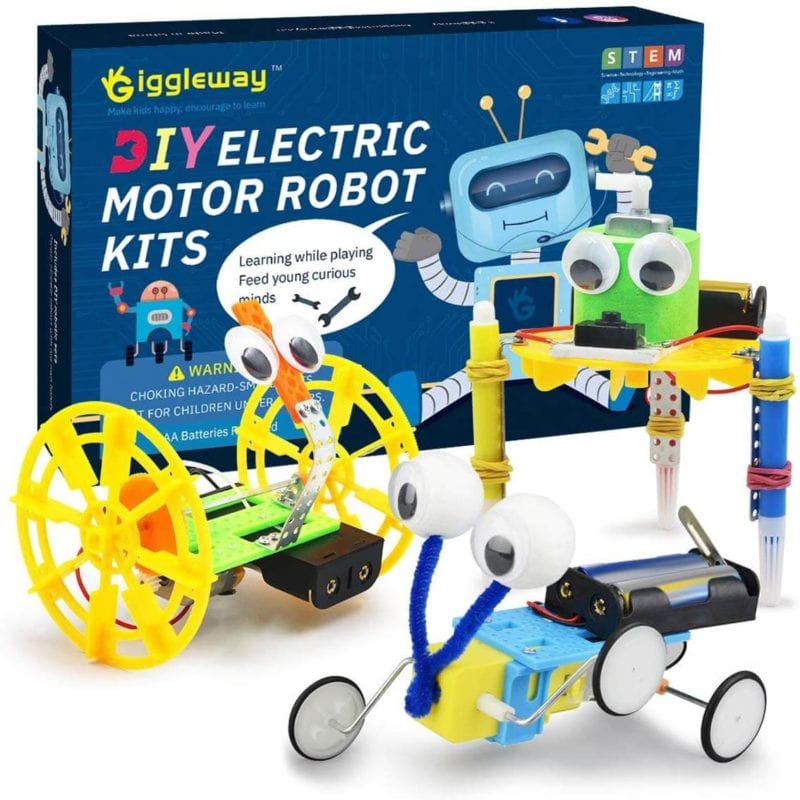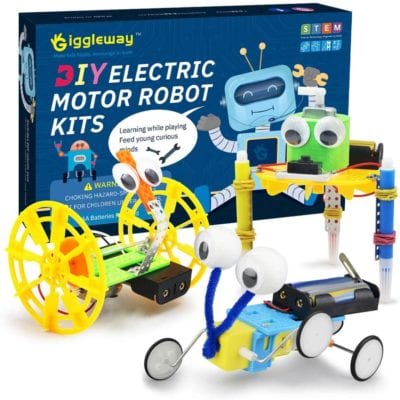 Giggleway Electric Motor Robotic Science Kits
Give the gift of endless fun with these DIY robot kids. Make up to 3 robots with this one kit for hours of fun learning how robots work. Recommended for kids ages 8-12. <— We loved this as an entry to robotics. The 3 projects are a bit simpler than some other DIY Robots we tried and my kids got frustrated. But after doing this one, they were ready for the more complicated projects.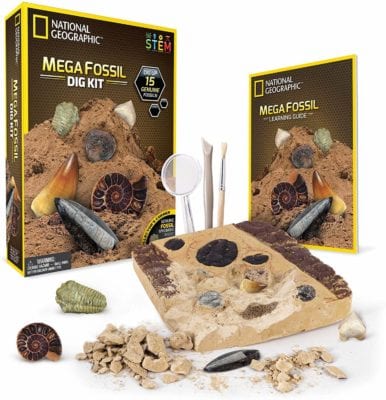 NATIONAL GEOGRAPHIC Mega Fossil Dig Kit
Don't forget about dinosaurs! These giants lived long ago, but your kids can still learn about them with this National Geographic mega fossil dig kit. Recommended for kids ages 8+. <— My 3rd grader has been studying archeology and geology in her science class. We have tried this kit to encourage that interest and she LOVED it!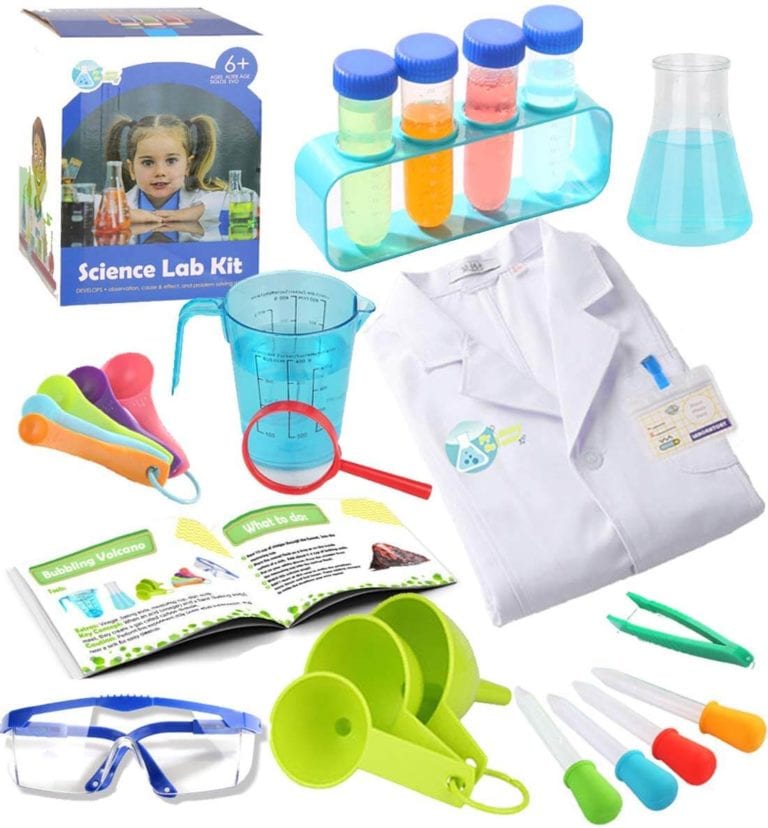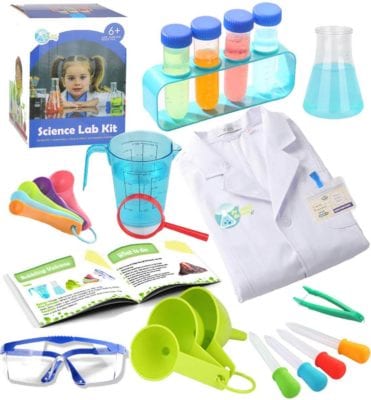 UNGLINGA Kids Science Experiment Kit with Lab Coat
A fun science gift for younger kids who enjoy playing dress-up. Activity cards to enjoy science fun, a lab coat and everything your little one needs to pretend to be a science professor. Recommended for kids ages 5-11.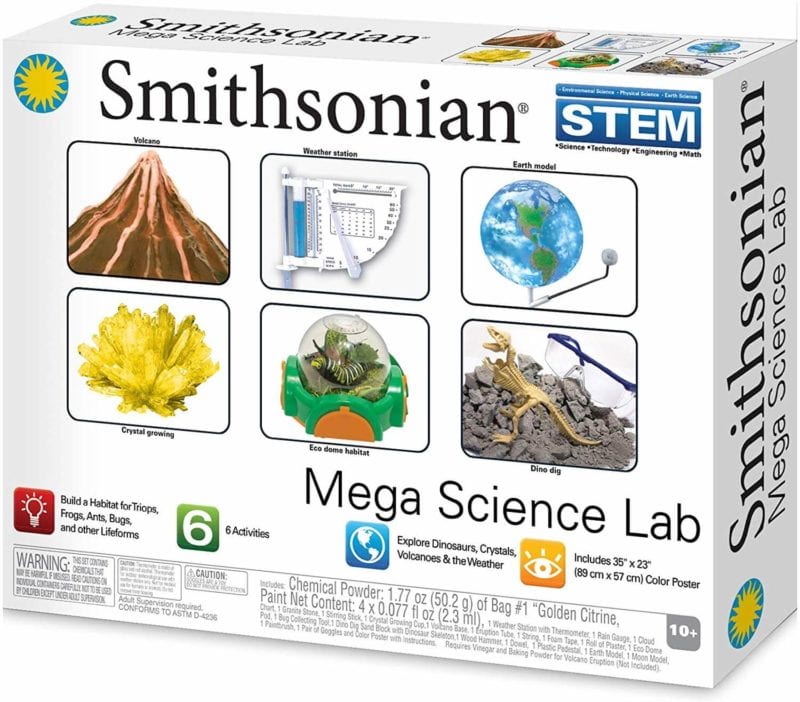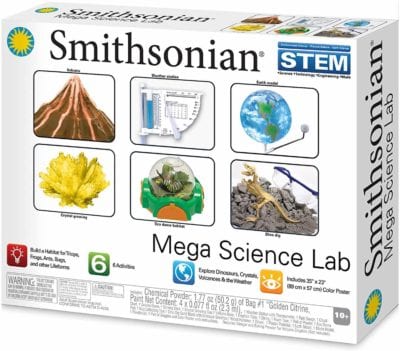 Build habitats, explore weather, grow crystals, plus more with this Smithsonian Mega Science Lab science gift for kids. Recommended for kids ages 10+. <– The picture doesn't do this one justice. My girls loved the experiments in this one. They are really well done – and educational without sacrificing the fun component that keeps kids interested.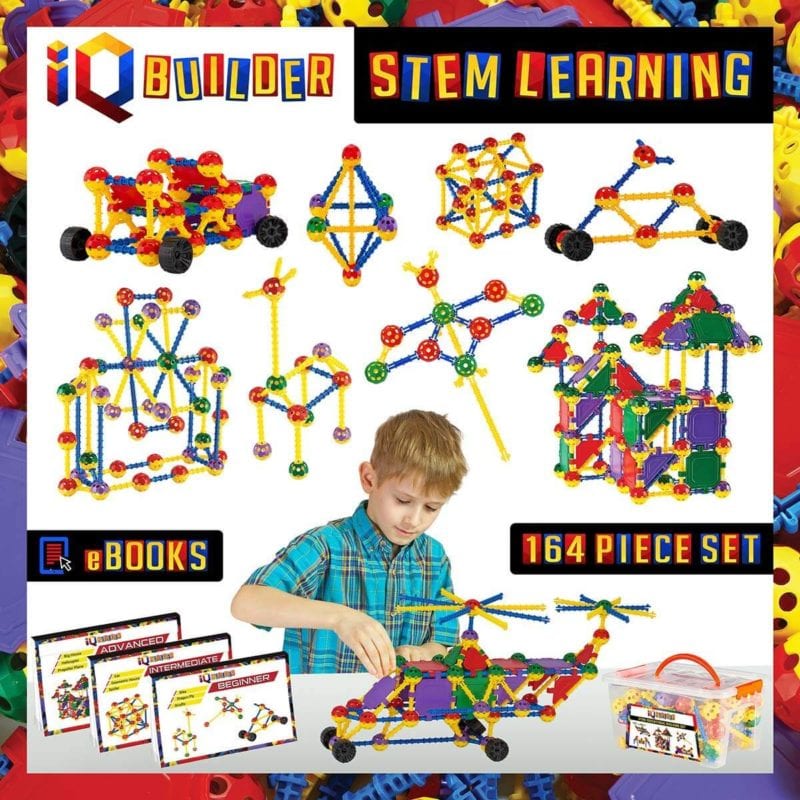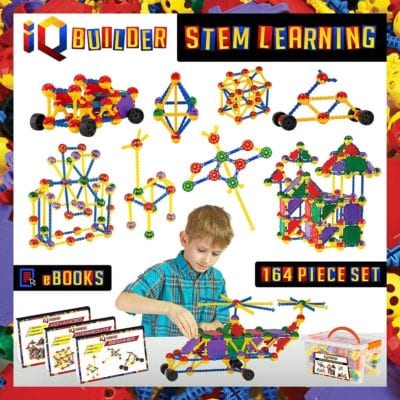 IQ BUILDER | STEM Learning Toys | Creative Construction Engineering | Fun Educational Building Toy Set for Boys and Girls
Construction has never been more fun with this STEM toy building kit that includes 164 pieces that your kids can work with to build their favorite patterns or follow instructions in the instructional booklet that's included. Recommended for kids ages 3+.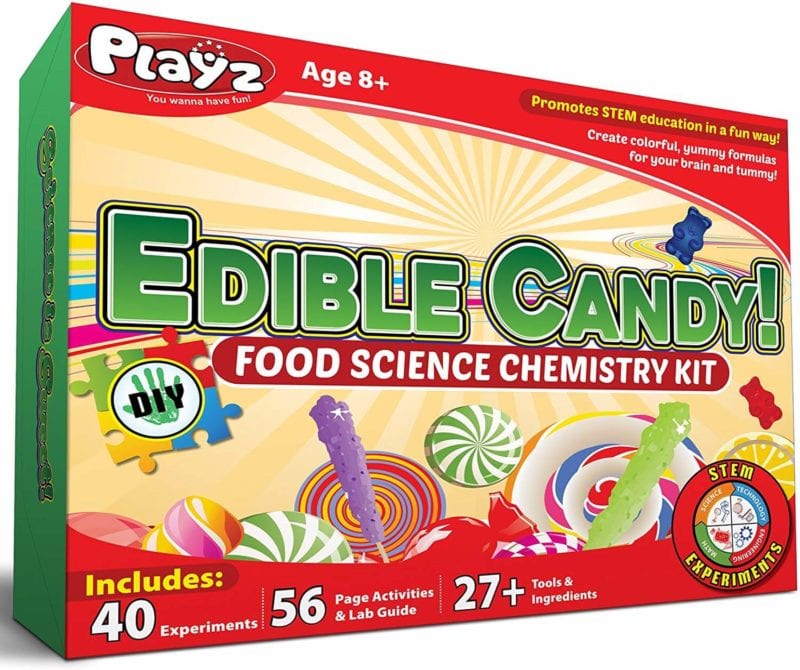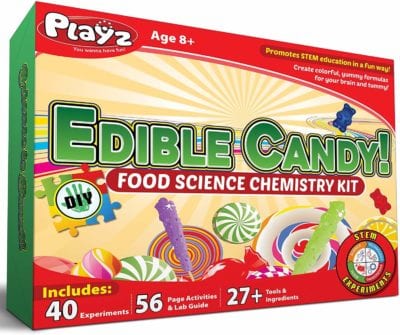 Playz Edible Candy! Food Science STEM Chemistry Kit
Have fun with science and eat it too! This edible candy food science STEM chemistry kit has 40 EXPERIMENTS and is perfect for kids who want to make their own chocolate and candy using science! Recommended for kids ages 8+.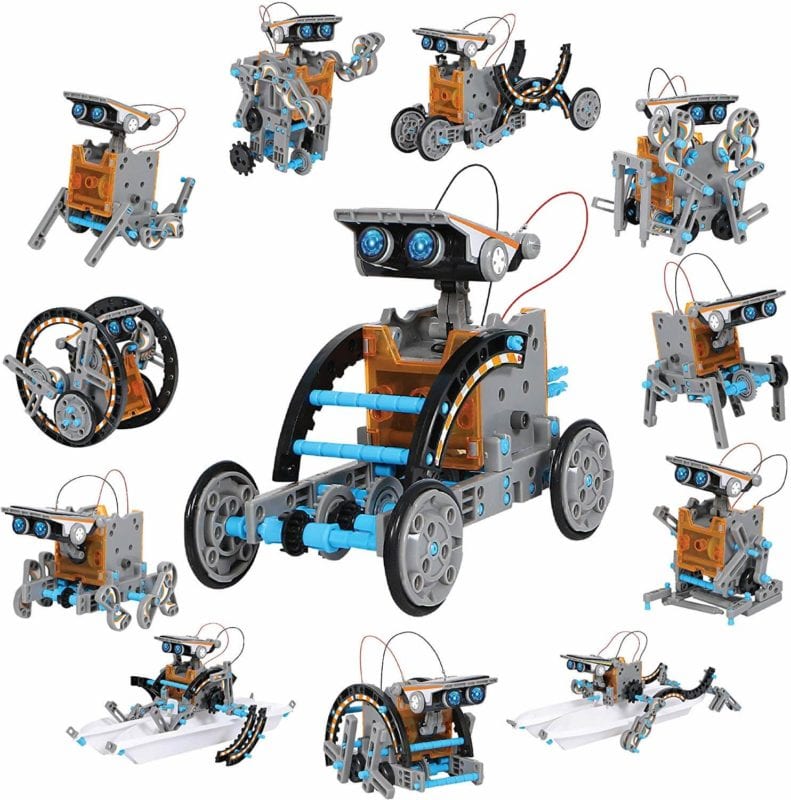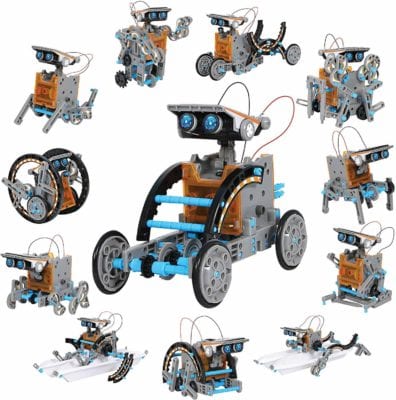 DISCOVERY KIDS Mindblown STEM 12-in-1 Solar Robot Creation 190-Piece Kit
This robot kit includes real working solar panels, so enjoy giving the gift of science with this robotic kit that will allow kids to learn more about robotics and solar power. Kids can make 12 different robots with this one kit! Recommended for kids ages 8+.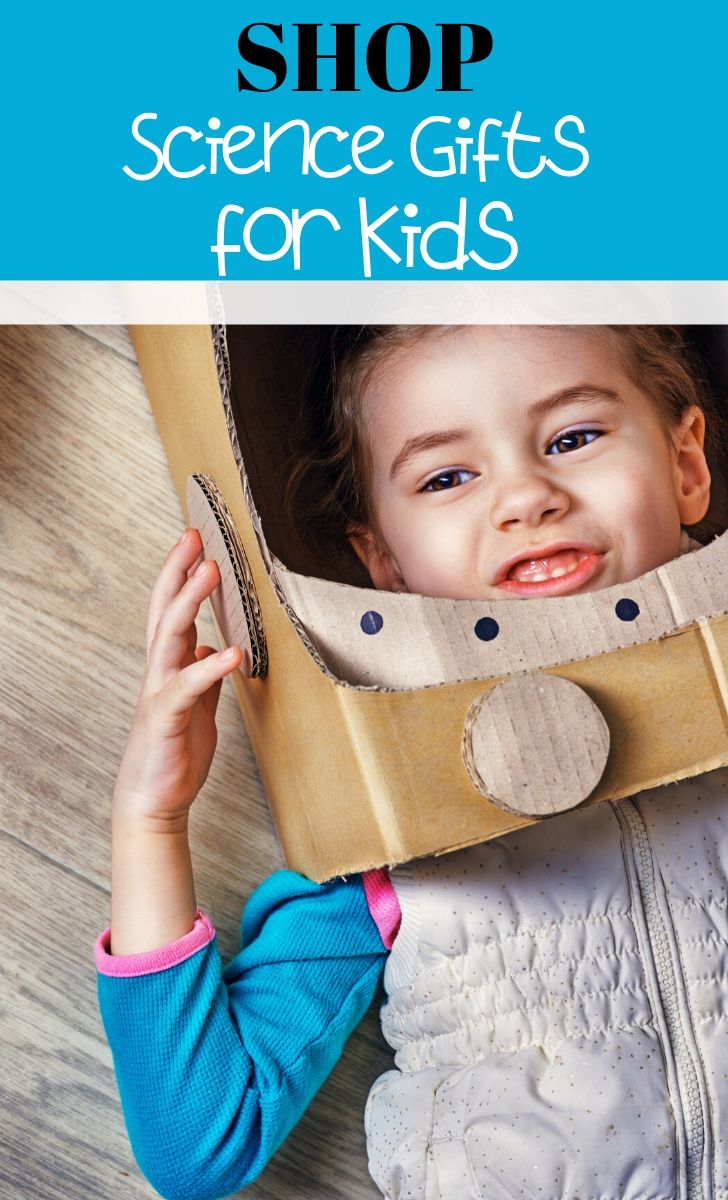 It is Cool to Be Smart!
It doesn't matter if your kids are boys are girls, or if they turn out to be world-class scientists.
What matters that we encourage kids to explore their interests. And that we teach them they can depend on their own intelligence to make good decisions! Help your kids embrace the idea that it is cool to be smart with these fun science gifts.