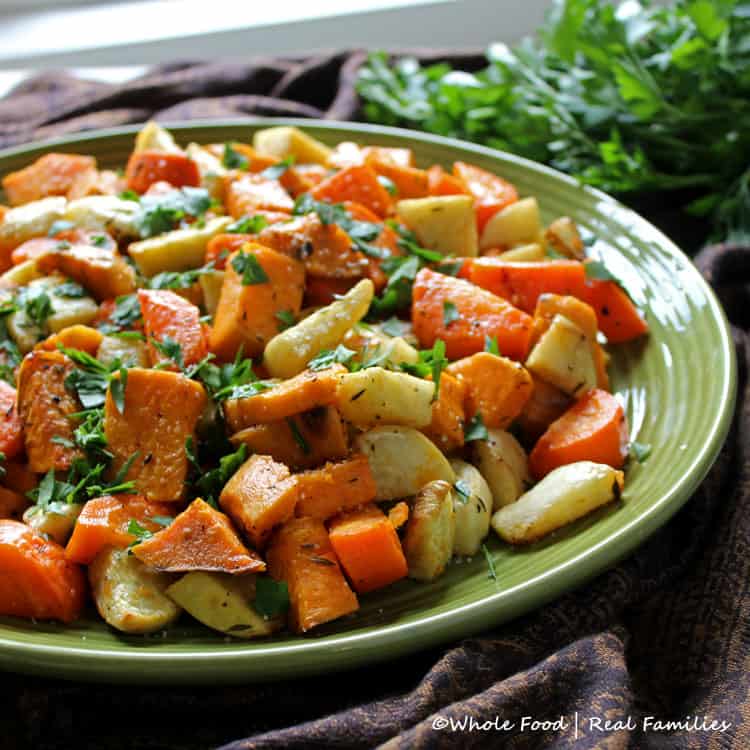 Enjoy the taste and texture of fall veggies with this simple preparation of Roasted Root Vegetables. Sweet potato, carrots, parsnips and turnips roasted until their sugars caramelize and they are both savory and sweet.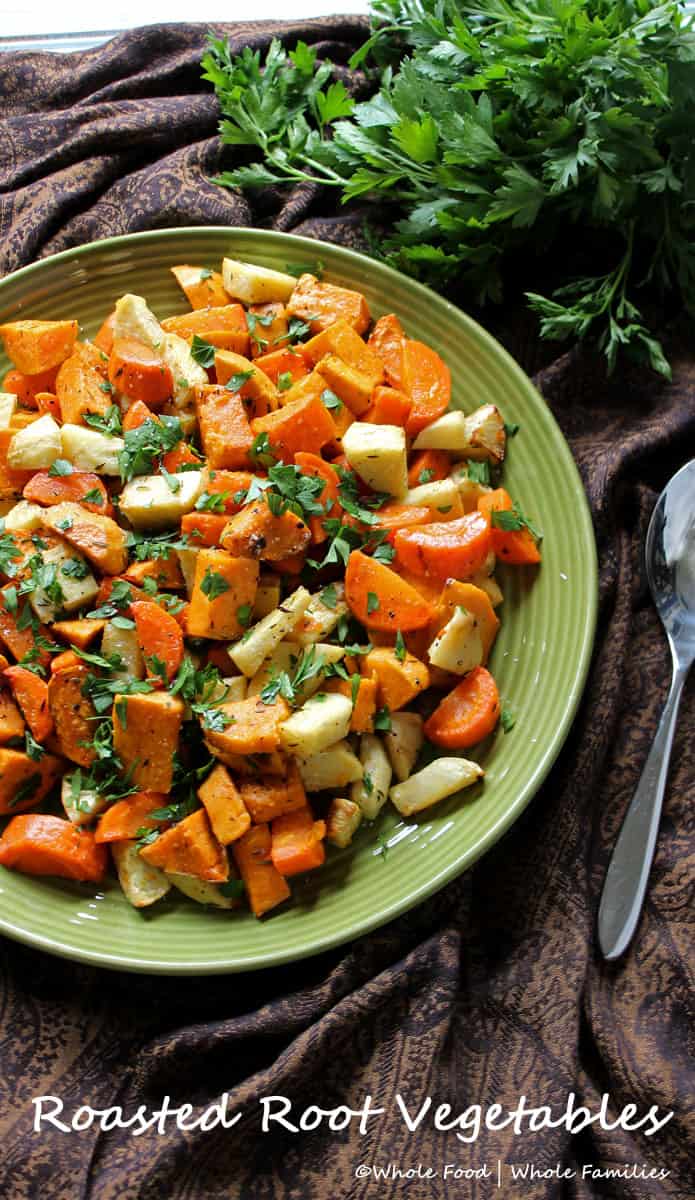 Folks who live in Savannah must be some of the luckiest around. Our Farmers' Market is open year round. I love watching the fruits and vegetables change from season to season – and seeing the first of something always gets me excited. Generally we roast a LOT of vegetables all year because it is so easy and I have never met a vegetable that didn't taste better once you let the natural sugars caramelize in the oven. But Fall is special. It is the TIME for root vegetables. When the turnips turn up in the market, my family knows that Roasted Root Vegetables will be on the menu.
When I was a kid, you could not have gotten me to eat a turnip if my life depended on it. Or a parsnip for that matter. I liked my carrots soft and my sweet potaotes covered in butter and brown sugar. (Okay, that butter and brown sugar thing was pretty good.) What I didn't know at the time was that once they are roasted turnips, which have a pungent smell when raw, turn sweet and starchy. And parsnips and carrots are even sweeter when roasted.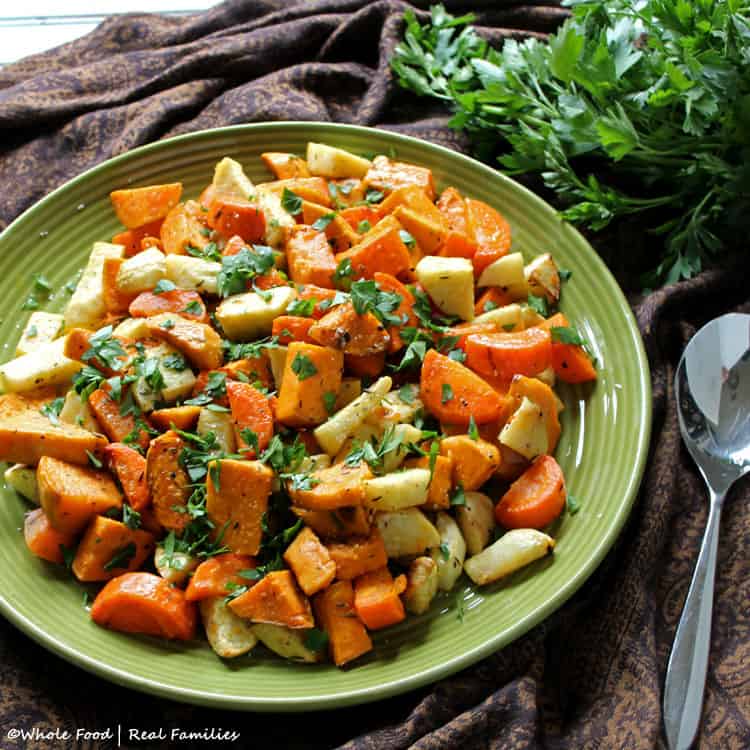 It really took me walking the aisles of the Farmers' Market a few years to appreciate all that the fall season has to offer. While spring and summer are filled with tomatoes, cucumbers and peaches, the fall is all about turnips, beets, squash and winter greens. I will admit that it has taken some experimenting to learn to appreciate and love the fall veg. But the more time we spend around farmers, the more we appreciate the changing of the seasons and all the different tastes that brings along with it.
We have also learned to appreciate dirt. (Yes, soil, I know.) There was a time I would have picked out the sparkly clean vegetables in the bin at the grocery store. But now, seeing remnants of the soil still on the food that was just pulled from the ground a few miles away makes me weirdly happy.  I know – I spend too much time thinking about my food. Occupational hazzard. But I do love that my kids are learning that food comes from the ground and not just grocery store shelves.
If you are looking for more Fall veggies to try, these Beets with Goat Cheese and Shallot Vinaigrette are so good they will knock your socks off! And these Turnip Fries are so delicious that my kids actually think they are french fries.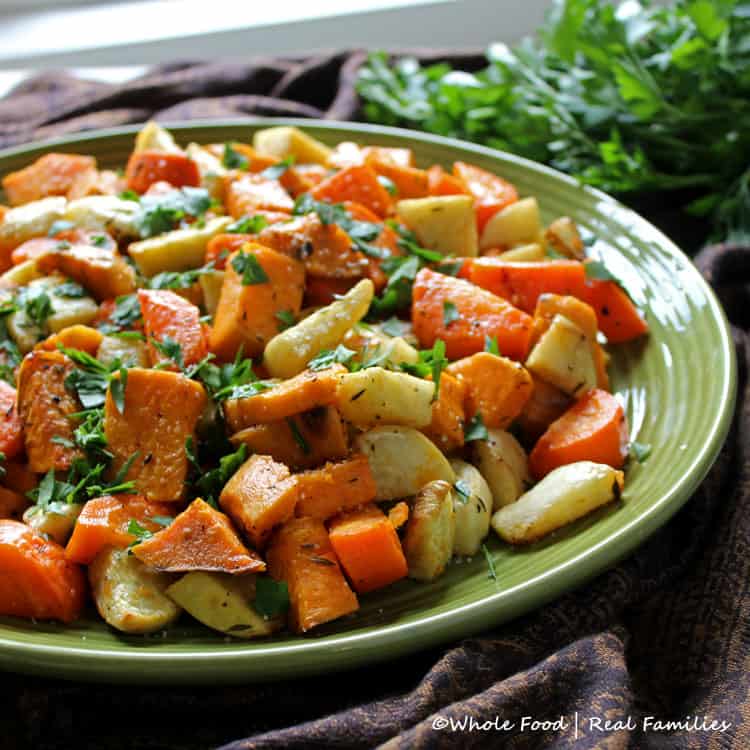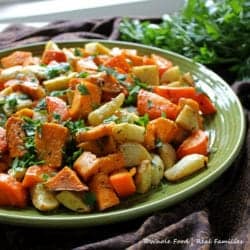 Roasted Root Vegetables
The number of vegetables in the ingredient list is a guide. Use more or less of each based on your family's preference.
Course:
Appetizers & Sides
Ingredients
2

medium

sweet potatoes, peeled and cut into bite sized pieces

3

medium

carrots, peeled and cut into bite sized pieces

3

medium

parsnips, peeled and cut into bite sized pieces

3-4

medium

turnips, peeled and cut into bite sized pieces

1/4

cup

olive oil

8-10

sprigs

thyme

1/4

cup

fresh parsley, chopped

Kosher Salt and Fresh Black Pepper
Instructions
Preheat oven to 425 degrees. Spray or oil a large baking sheet to prevent sticking.

Wash and peel all root vegetables, cutting them into bite sized pieces of similiar size (about 1 inch works well). Place all veggies on a baking sheet and drizzle with olive oil, salt and pepper, and add sprigs of thyme. Mix vegetables around with your hands, making sure they are evenly coated with oil and spread into a single, even layer on the baking sheet.

Cook vegetables for 15-20 minutes. Remove from oven, stir vegetables gently to allow for even cooking and return to the oven. Cook an additional 15 minutes. Vegetables should be tender and caramelized. Remove thyme sprigs and discard.

Top vegetables with fresh parsley and serve!