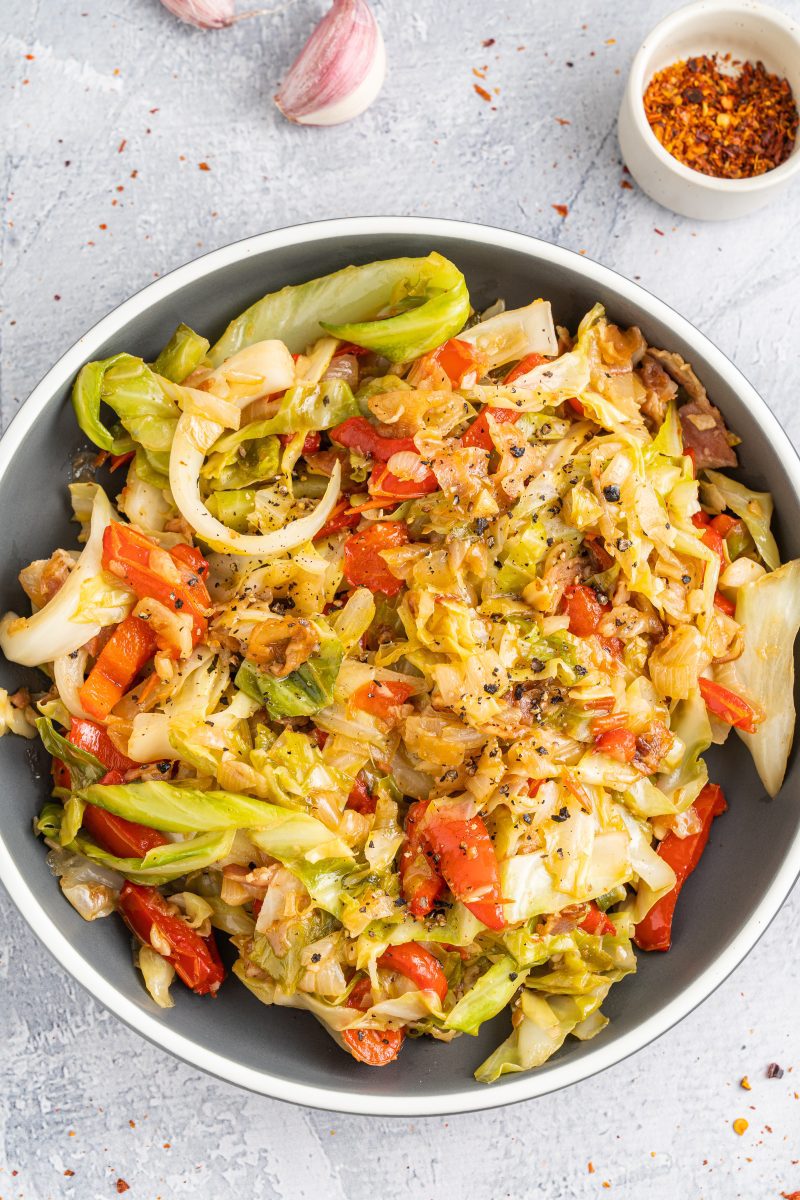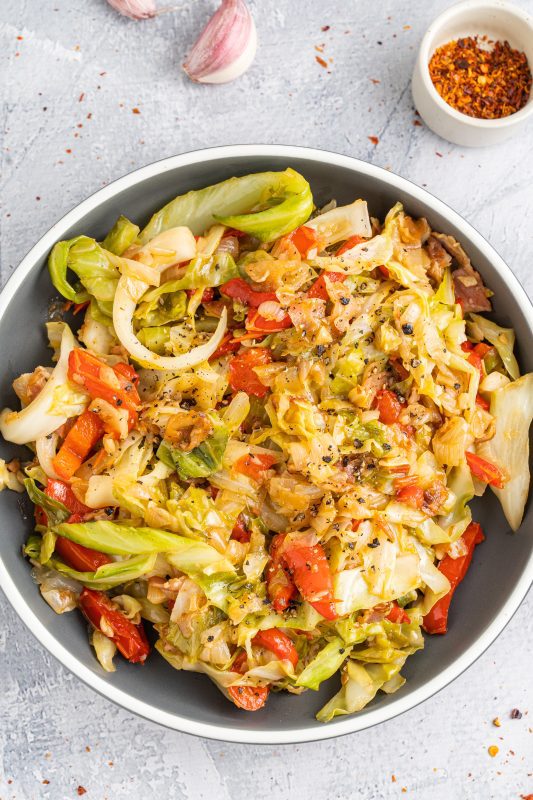 This cabbage and bacon recipe is soft, juicy, and subtly sweet. Fried cabbage with bacon and onions is the perfect easy side dish –– ready in under 30 minutes!
Cabbage and Bacon Recipe
My cabbage and bacon recipe turns simple ingredients into a side that is both healthy and delicious. Fried cabbage and bacon is a family favorite dish, and it's so easy to make too. You'll only need 25 minutes to take this recipe from skillet to table.
This recipe features soft cabbage and crispy bacon bits, and the flavors of garlic and onion bring it to life. My absolute favorite thing about this recipe is the bacon –– it adds just the right amount of saltiness to contrast the subtle sweetness of the rest of the dish.
If you're a lover of bacon, try some of these bacon recipes next: Bacon Wrapped Chicken Tenders, Bacon Cheeseburger Casserole, or Whole Wheat Bacon and Cheddar Scones.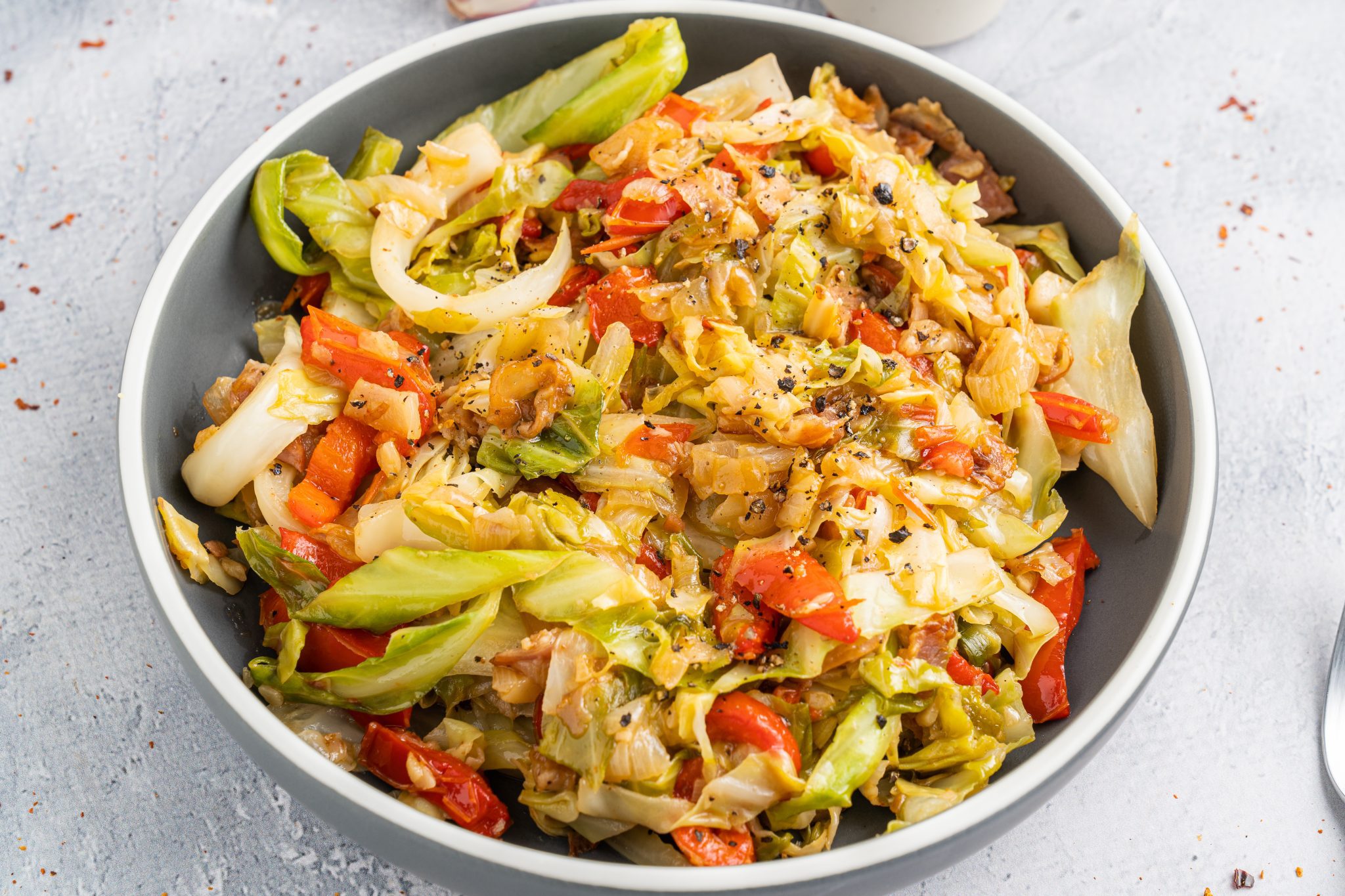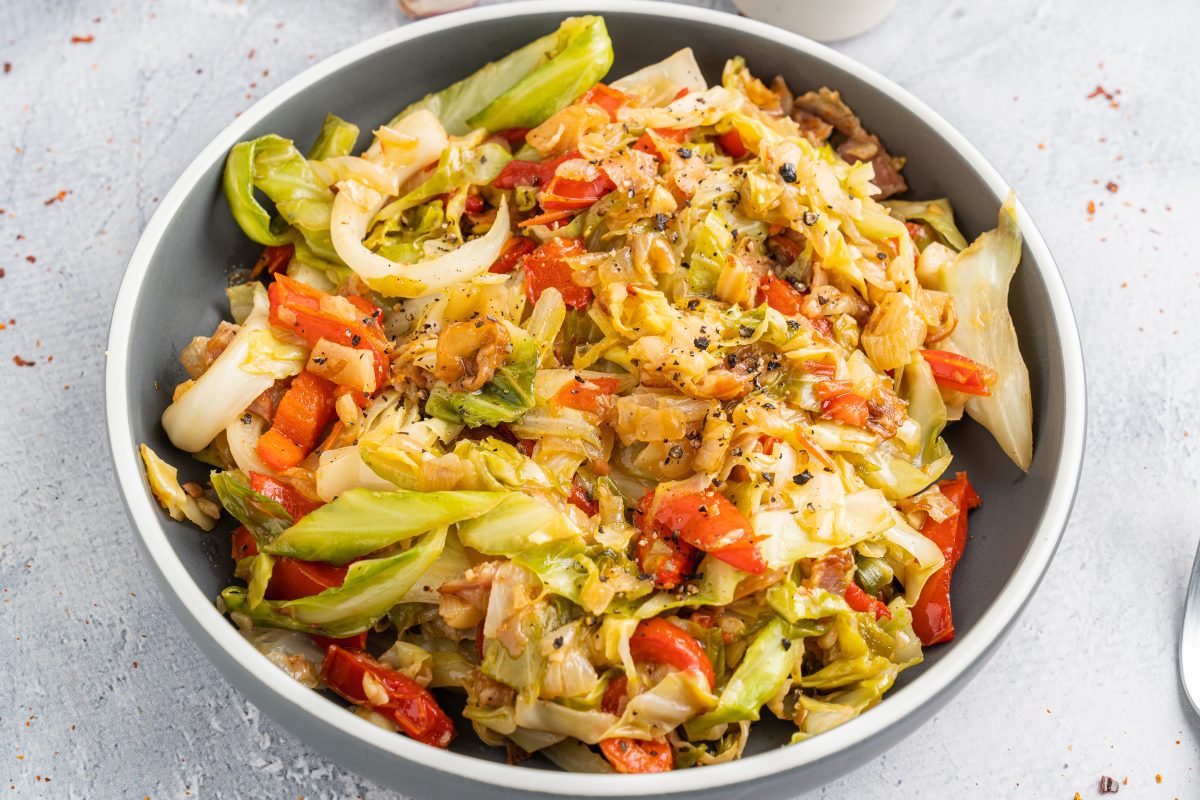 Why you will love this Cabbage and Bacon Recipe
Minimal ingredients. In addition to bacon and cabbage, this recipe only requires a few ingredients: onion, bell pepper, garlic, olive oil, and salt and pepper. These ingredients are not only simple, but will also fill your kitchen with an incredible aroma as they cook!
Healthy! Cabbage is dense with nutrients and is an excellent source of fiber and Vitamin C. It is also a low-calorie ingredient that supports digestion and fights inflammation. This recipe also features red bell pepper, which is rich in antioxidants and Vitamin C as well.
Easy one-pan meal. This entire cabbage and bacon recipe can be prepared in one large skillet, setting you up for a quick and easy clean up! The steps are also simple, requiring only a little bit of chopping and mixing to put it all together.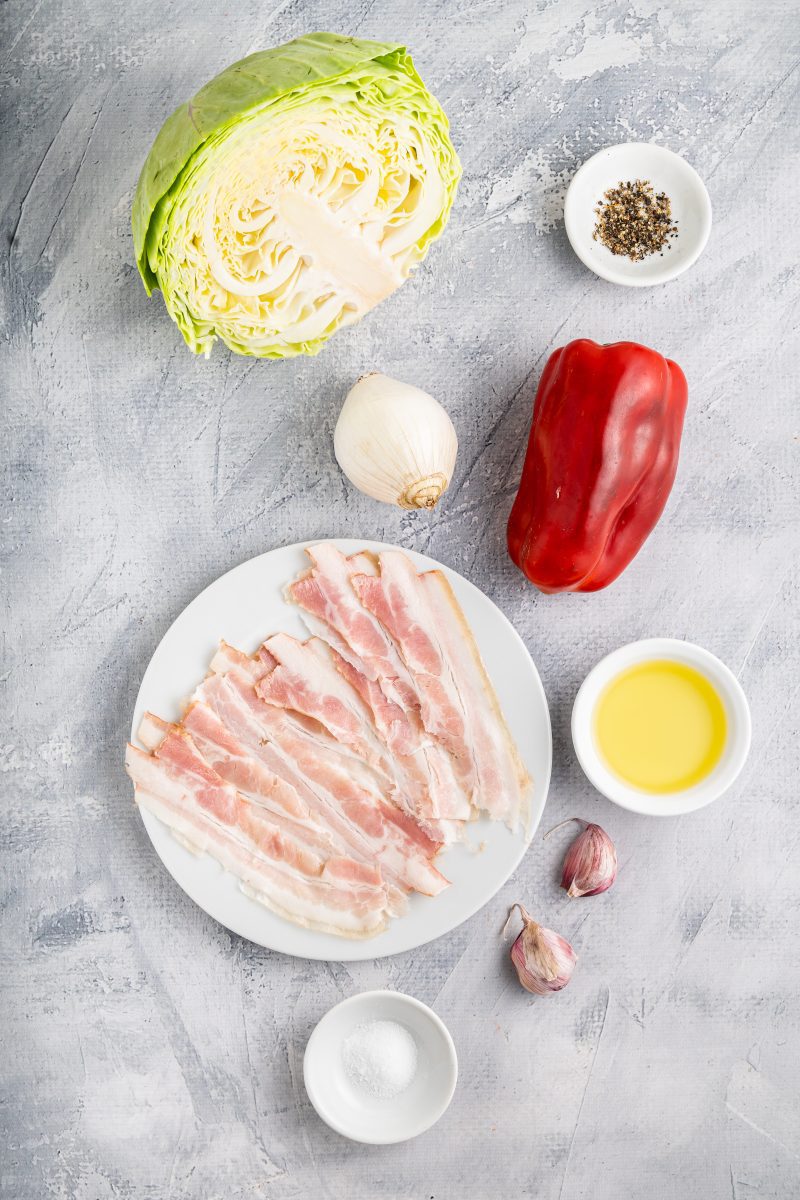 How to make perfect bacon and cabbage
Chop ingredients beforehand. Slice your cabbage, onion, and bell pepper into strips so that they're ready to go.
Use one large skillet. Some fried cabbage recipes with bacon have the cabbage and bacon cooked separately, but I prefer to cook them in the same pan. It not only simplifies the cooking and cleaning process, but also allows the cabbage to get some of the delicious flavors from the bacon grease.
Don't overcook cabbage. Cook your cabbage until softened, but be careful not to overcook it. The goal is to aim for soft, but not soggy. Overcooked cabbage develops a mushy texture and can start to smell bad because of its sulfur contents. You'll want to add your cabbage last to avoid overcooking it.
Serving Suggestions
Serve warm. Fried cabbage with bacon is best served warm, immediately after cooking. This cabbage and bacon dish is versatile and can be eaten for breakfast, lunch, or dinner. If you're enjoying it for breakfast, try topping it with a fried egg!
Try a different flavor variation. Want to add an Asian style flavor to the cabbage and bacon recipe? Red pepper flakes and lime juice go perfectly with the ingredients in this recipe, adding some spicy and savory flavors.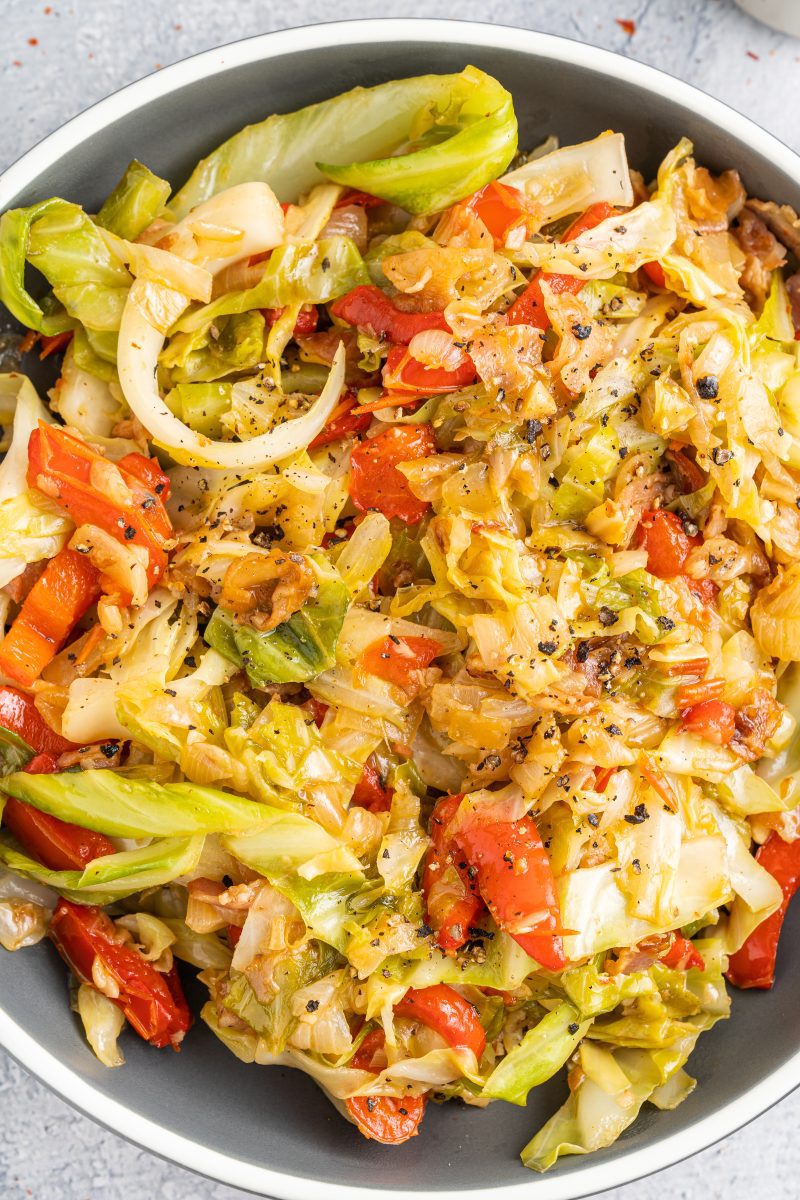 Frequently asked Questions about Fried Cabbage and Bacon
How long does cooked cabbage last in the fridge?
Leftover fried cabbage and bacon can be stored in an airtight container in the fridge for up to five days. Want to keep it any longer than that? For best results, consume fried cabbage within three months of freezing.
Be sure that the cabbage has cooled fully before being stored in the fridge or freezer.
Reheating leftover cabbage is simple. Warm it in a skillet until heated through, stirring occasionally so that the cabbage doesn't burn.
Can I freeze raw cabbage?
Yes! If you have leftover bacon and cabbage, you can freeze whatever you're not cooking. Cabbage is known to freeze pretty well, whether cooked or raw. You can freeze it in many different forms too: whole, halved, quartered, shredded –– depending on your personal preference.
Keep in mind that defrosted raw cabbage might not stay as crunchy as fresh cabbage, but it should work fine for this recipe since you'll end up cooking it until it's softened.
What goes well with bacon and cabbage?
Fried cabbage and bacon can be enjoyed on its own or paired with another dish to make a more complete meal.
This cabbage dish will go well with any Oven Baked Chicken Thighs recipe, or these tasty Smoked Pork Chops. You can also try it with a side salad or homemade bread!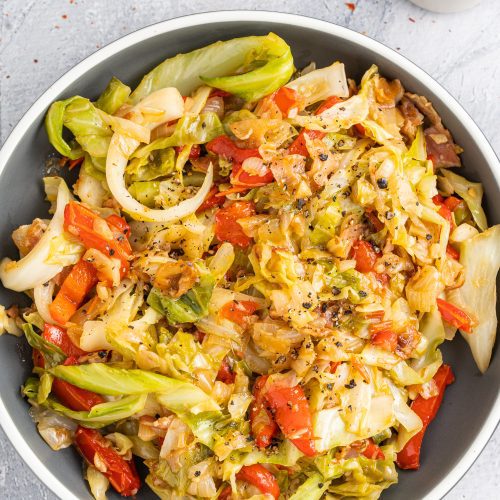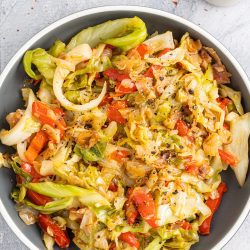 Fried Cabbage and Bacon
This cabbage and bacon recipe is soft, juicy, and subtly sweet. Fried cabbage with bacon and onions is the perfect easy side dish –– ready in under 30 minutes!
Course:
Appetizer, Appetizers & Sides, Main Course, Main Dishes
Keyword:
bacon, Cabbage, Fried, Healthy
Ingredients
1/2

large

cabbage head

or 1 small one

4

oz

Bacon slices

1

medium

onion

1

medium

red bell pepper

2

tbsp

olive oil

2

clove

garlic cloves

1/2

tsp

salt

1/2

tsp

ground pepper
Instructions
Slice cabbage and onion, and chop bell pepper into strips. Then, mince garlic cloves.

Heat a large skillet with 2 tbsp olive oil and add onion and bell pepper. Stir until softened.

Next, add minced garlic and stir until fragrant.

Open space in between veggies to cook bacon until crispy.

Fold in chopped cabbage and stir until soft.
Recipe Notes
This fried cabbage is soft and juicy. Taste-wise it has a subtly sweet flavor due to fried red bell pepper and onion, with a hint of bacon.
Tips
Red Pepper flakes and lime juice matches great with the ingredients of this recipe, it provides an Asian Style flavor to this Stir-Fry Cabbage.

Store leftovers in an airtight container for up to five days. Warm it in a skillet, stirring occasionally, so it doesn't burn.
Nutrition Facts
Fried Cabbage and Bacon
Amount Per Serving
Calories 481
Calories from Fat 333
% Daily Value*
Fat 37g57%
Cholesterol 37mg12%
Sodium 1018mg42%
Potassium 867mg25%
Carbohydrates 29g10%
Protein 13g26%
Vitamin A 2194IU44%
Vitamin C 195mg236%
Calcium 153mg15%
Iron 2mg11%
* Percent Daily Values are based on a 2000 calorie diet.