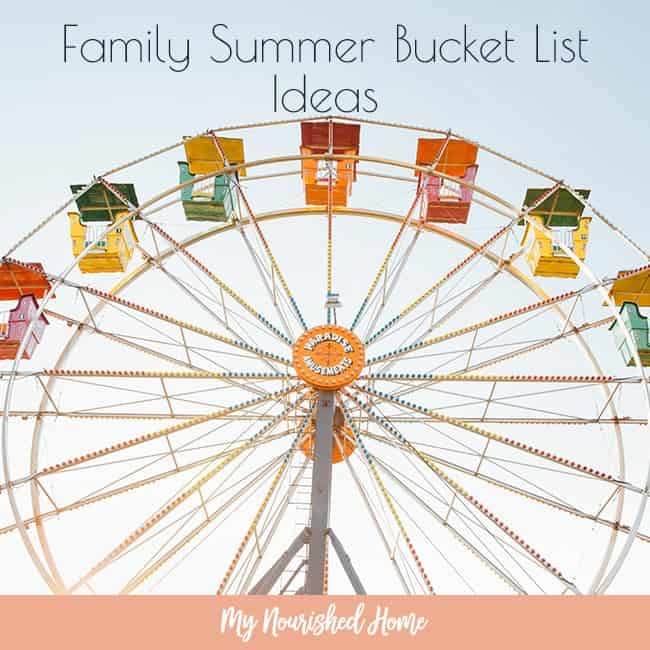 There was a time when I thought that bucket lists were a bit crazy. After all, who really has time to complete every wild idea on there?! Well, as you get older you realize that the dreams and goals that make up those lists are what makes life exciting. This summer, we're making a Family Bucket List of things we want to do between Memorial Day and Labor Day because life is way too short to count on "someday" or "next summer."
I'm not sure if we'll get through everything, but it's definitely worth trying. There are a lot of activities on our list that are specific to where we live, but here are 20 that might give you a head start on your own Family Bucket List this summer.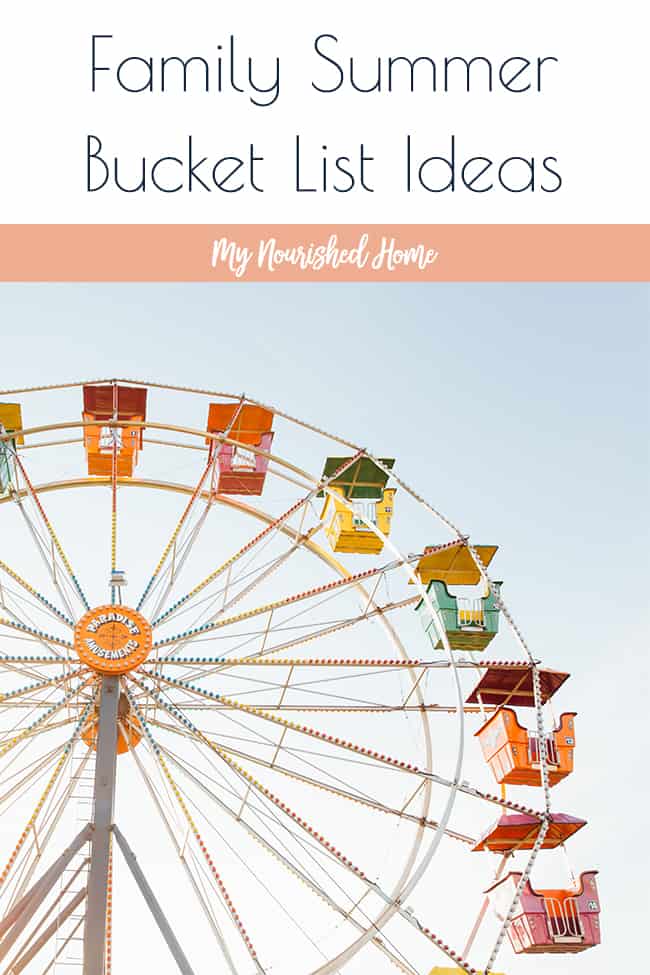 Summer Family Bucket List Ideas
Catch Fireflies
Save an old peanut butter jar and poke small air holes in it for temporary firefly storage.
Camp in the Backyard
Set up the family tent in the backyard and sleep outside!
Go Hiking/Walking
It doesn't matter if it's in the woods or on a trail, just get outside for a walk! It will make you all feel better!
Get Ice Cream at the Dairy Farm
Ice cream from the dairy farm just tastes better, so it's okay if this gets marked off multiple times in the summer.
Go to an Outdoor Concert
I'm not talking a heavy metal concert, but if that's what your family likes, go for it! Our community offers an Outdoor Summer Series of Concerts that feature everything from classical music to a local jazz band. It's always a great time!
Go Fishing
Everyone needs to go fishing at least once in their life, so this one is definitely on the bucket list. We're going to rent equipment instead of buying it until we know that everyone is into it.
Run Through the Sprinkler
Run through a sprinkler, get soaked, laugh, and have fun!
Eat Dinner Outside
We usually eat outside at the patio table multiple times a week in the summer, but my daughter advocated for putting this on the list so that we absolutely must do it.
Watch a Movie in the Backyard
If you don't have a solid wall without windows on the back of your house, hang a white sheet for a screen. A basic movie projector can run between $50 and $75 and can be used throughout the summer.
Have a Yard Sale
The kids love this idea because they like the thought of earning money by selling their old toys. I like the idea because it's a great excuse to declutter!
Go on a Bike Ride
Whether it's around the neighborhood or along a trail, head on out for a bike ride!
Plant a Garden
Healthy living is really important to us, so we're setting up a garden in the backyard this summer. I can't wait to get some fresh produce! Grab some ideas for your own family garden here.
Make Handprint Stepping Stones for the Garden
This idea ties in perfectly with the one above. If you don't want to get a kit to make handprint stepping stones, there are plenty of DIY ways to make them.
Walk 500 Miles (collectively, of course!)
I bought all of us inexpensive pedometers so that we can track our mileage this summer. We thought it would be fun to track family miles instead of individual miles. It will, hopefully, get us up and moving a lot more!
Watch Fireworks
There's something magical about fireworks in the summertime and we're determined not to miss them this year.
Make Sun Tea
Every day last summer I woke up and thought, I should put out a pitcher of sun tea. And do you know that by the time I got to the kitchen, I had been pulled in so many different directions that I completely forgot? So, this summer, it's on the list!
Make an Outdoor Oven Out of a Pizza Box
The girls saw a cool tutorial on how to make an outdoor oven out of a pizza box, so we've put it on the list to try. I'm envisioning chocolate-y S'more goodness!
Go to the Zoo
The best time to visit is when the gates first open, so we'll be planning an early day at the zoo this summer.
Visit a Museum
We haven't decided which museum to visit, but between the children's museum, the science museums, and the historical museums, we have a lot to choose from.
Cover the Driveway in Sidewalk Chalk Drawings
Sidewalk chalk is a summertime staple and our goal this year is to spend one whole day covering the driveway in drawings, hopscotch, and friendly messages. I'm going to try and plan it for a day or two before we're supposed to get rain so that Mother Nature can clean it all off.
Our Summer Bucket List isn't extravagant or filled with expensive things. It is, however, filled with a lot of love and a lot of opportunities for memory-making. Watch for plenty of pictures over the summer and share your Summer Bucket List ideas too! I'd love to hear what you have planned!