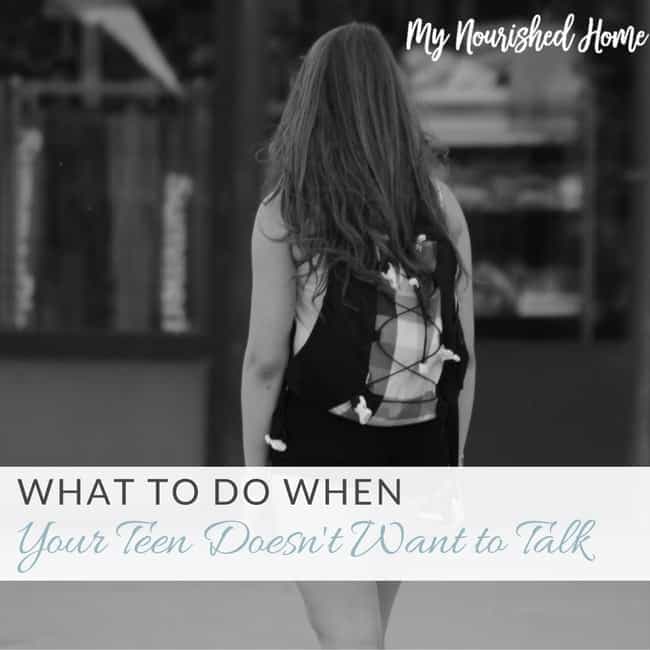 Parenting a teenager isn't easy. In fact, sometimes it's downright hard. While we've weathered a lot of storms and survived a lot of teenage angst over the years, I can honestly say that the times that were toughest for me were when my daughter didn't want to talk.
When teens withdraw and stop communicating, it leaves you with an utterly helpless feeling as a parent. There were times I thought: Oh no. I broke her. I must have done it all wrong. She's never going to talk to me again.
Here's what I learned about what to do when your teen doesn't want to talk and how we got through those tough times.
Be Patient But Present
I say this as the first and most important thing, but I am fully aware that it's also the hardest. I am a "let's get this done" kind of person and patience isn't always my strong suit. I would rather hash things out and move on. When your teen stops communicating though, you're left floundering and without the ability to move forward – or back for that matter. Take a deep breath, realize that it's their choice not to communicate, and be patient.
But being patient doesn't mean going away. Instead, I have always opted to NEVER go away. Become willing to sit in silence with your teenager and be willing to do things they enjoy. If they want to read, sit near them to read too. If they do homework at the kitchen table. Sit with them to go through the bills that day. If they love to play video games, find a two-person game and learn to play. I've always found that my willingness to be present without pushing and to make small talk over serious talk, has always lead to an open line of communication eventually.
I know it sounds counter-intuitive, but every moment doesn't have to be a teachable moment. The focus on creating pleasant time together will help you connect more deeply and true conversation will stem from your connection, not from your force of will.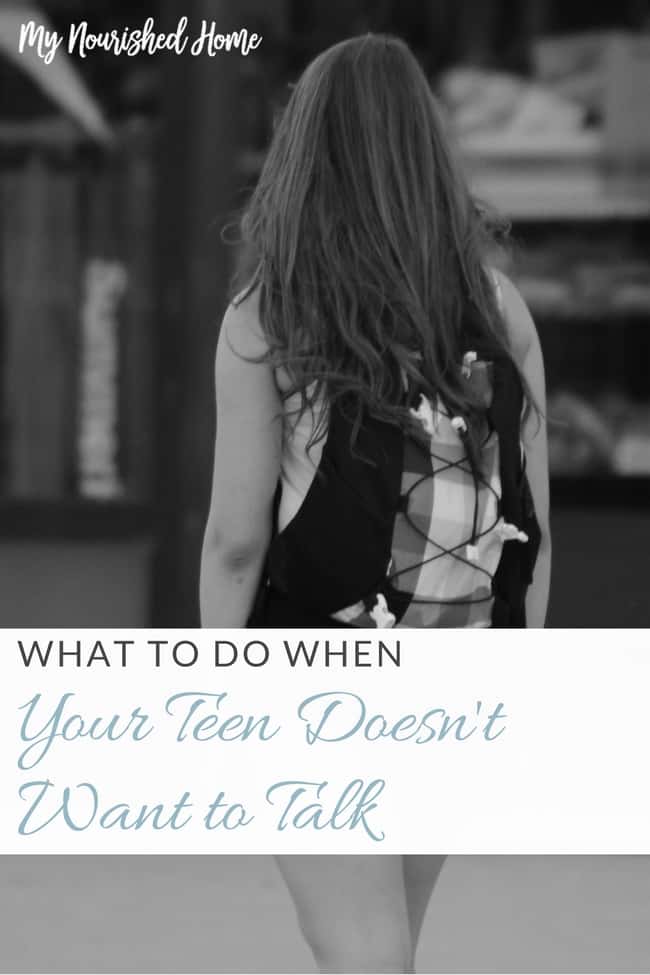 Never Stop Trying
Despite the fact that my daughter didn't want to talk, I kept trying anyway. I'd ask questions, tell jokes, and ask for her opinion. Sometimes the answers were one-word and sometimes she didn't say a word at all, but I refused to give up trying. Looking back now, I remember the feeling of pure elation when her answers would actually turn into a two-sided conversation instead of the one-sided ones I was so used to having with her.
I also spent a lot of time just acknowledging how she felt. Honestly, it was really hard for me to watch my oldest daughter grow up. There were things that hurt her that I wanted to protect her from. There were choices I wanted to make for her. But the funny things about teenagers – they tend not to want you to run their lives. There were times all I could say was: "I am so sorry you are sad" – or – "I know you are really angry. And you don't want to talk but I want you to know I love you. And I'm here if you need me. And I am on your side."
Realize It's Probably a Phase
The good news is that it's probably a phase that your child is going through. They may be struggling to gain independence, trying to figure out their place in the family, and where they stand with you. The bad news is that, if you're reading this, that stage is probably going on right now. I know it feels like it's going to last forever and you worry that your once talkative child won't ever hold a conversation with you again, but have faith. This too shall pass.
Obviously, if you are concerned for your child's health or safety, all bets are off and you have to do the right thing as a parent first. There have certainly been times I have had to choose between being my daughter's friend and being her parent. I am very direct with all of my kids that I love it when life is good and we can be pals. But when the situation arises, I will always be their parent first. And my job as a parent is first to keep them healthy and safe and then to provide them the boundaries and guidance to grow into kind, productive, strong adults.
Get Counseling If Needed
I seriously considered getting my daughter counseling when we were going through this stage and even asked her if she'd like to talk with someone. I wasn't trying to force her into counseling or talking to someone, but I wanted her to know that if she felt she needed to talk to someone other than me, I would find that person for her. I didn't care who she talked to at that point, I just wanted to make sure she was okay and talking with an adult that had her best interest at heart.
There were times I shared concerns with our family doctor. And as hard as it was, I opted to leave the room to let her have a discussion with the doctor about how she was feeling with the agreement that he would keep the conversation private unless there was an imminent health risk. All I really needed was a thumbs-up or a thumbs-down that she was working through it and she was not at risk.
So, don't be afraid to get your child help and let them talk with a professional counselor if they need to. Being a teenager is hard and sometimes they just need to vent to someone other than mom or dad.
It's been a few years since we went through that rough patch, but I still remember the anxiety and worry that accompanied it. As a parent, the last thing you want is for your child to stop communicating and, if they do, it can be a scary time. Be patient and never stop trying, because when you get to the other side of this phase, you'll both be stronger for it.