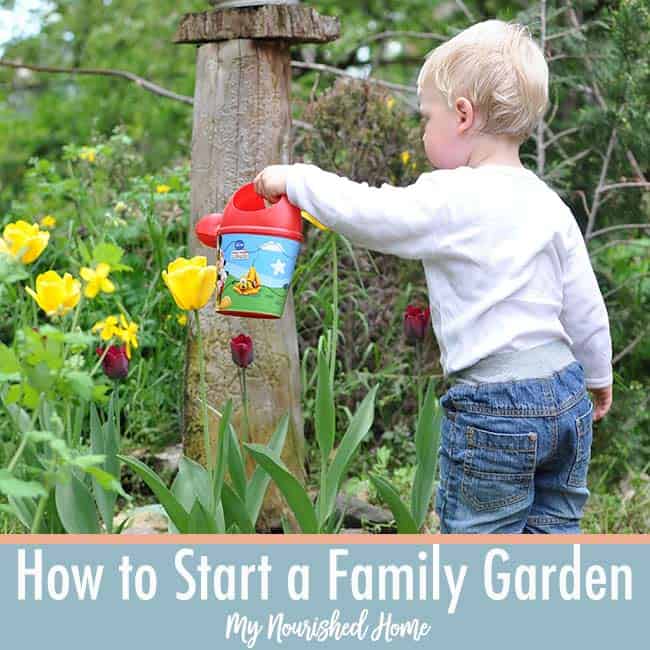 Why start a family garden? I have a serious love affair with vegetables. (Weird, right?) I also love spending time outside with my kids – and want my kids to understand where their food comes from.
Well, it's also an expensive love affair, because the price of produce just seems to be going up and up. $4.00 for a crown of broccoli? Really?! I've reached my limit and have decided that this is the year we're going to have a fabulous family garden. I've been doing a lot of research and wanted to share some pointers with you in case starting a family garden is on your summer to-do list as well.
Even if our garden is only a success in my own mind, it is completely worth it to me because it is an opportunity to spend one-on-one time with my kids.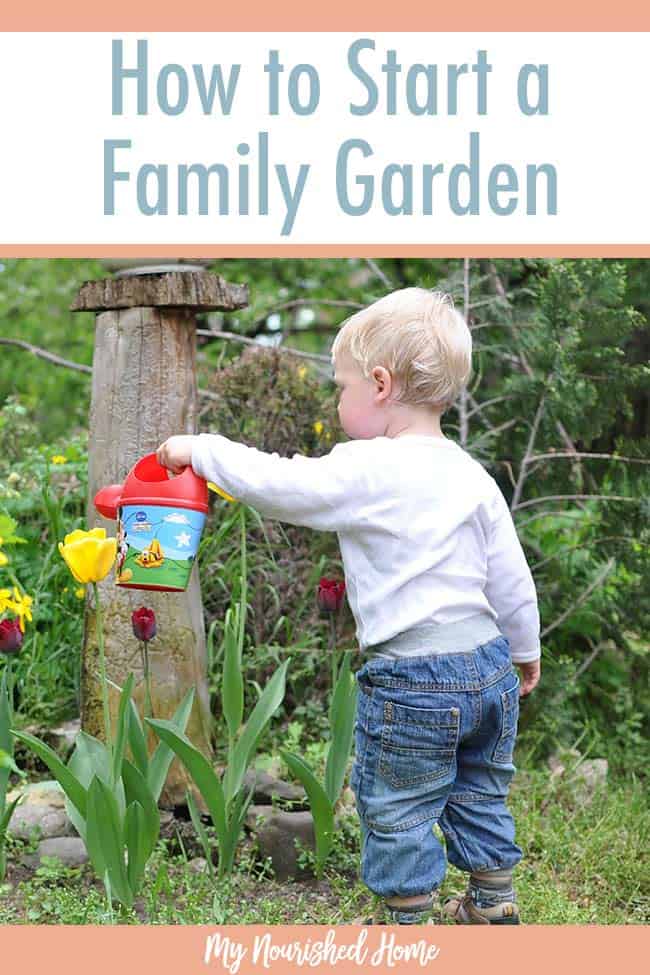 Start a Family Garden
Pick Your Plot
Finding the perfect spot to set-up your garden is crucial to its success. I knew, in theory, that finding a just-right spot was important, but I didn't realize how the perfect spot also depended a lot on the types of vegetables that I wanted to plant. Some things do great in full sun and others not so much. It takes a lot of planning to figure out where your garden will do best, but if you skip this step your garden is doomed. Draw out your plans in a sketchbook and make note of where each plant will go so that you can see if the area is big enough.
Incorporate Everyone's Ideas
When we decided that this was going to be a family project, we knew that in order to get the kids invested in it, they'd have to have input. So, we brainstormed ideas of what we wanted to plant and kept a running list. Although it would be terrific to include all of the ideas the kids generated, planting a banana tree just isn't going to happen. The good news is that, despite having to make cuts, everyone has at least two vegetables that they love planned for this year's garden.
Make a Budget
It's easy to go overboard when planning a garden – especially one that's a product of everyone's input. To help keep costs down, we made a budget that we're determined to stick to. That might mean using Freecycle to find tomato cages or only getting a couple of each plant instead of a full flat of them. There are a lot of ways to cut costs, but if you don't know what your budget is to begin with, you'll end up spending way too much. You don't want to end up with a $24 green pepper.
Set-up Chores
Let's face it, if you don't write down a schedule of who is in charge of what and when the entire gardening experience is going to wind up solely in the laps of mom and dad. I really want the kids to take responsibility for the things they're old enough to do, so we're creating a simple "Garden Chore Chart" that includes things like watering and weeding. It's a simple concept, but it will (hopefully!) keep the kids engaged throughout the summer. Wondering if your kids should do chores? We talk about that over here.
Setting up a family garden isn't without its risks. Being stuck with a plot of tilled soil and dead plants is really not what I'm hoping for with this endeavor. But I know that if we all work together, we're all invested in the outcome, and we get at least one vegetable from every single plant, we'll be ahead of the game.
Here's to a fabulous gardening season! Do you garden with your family?