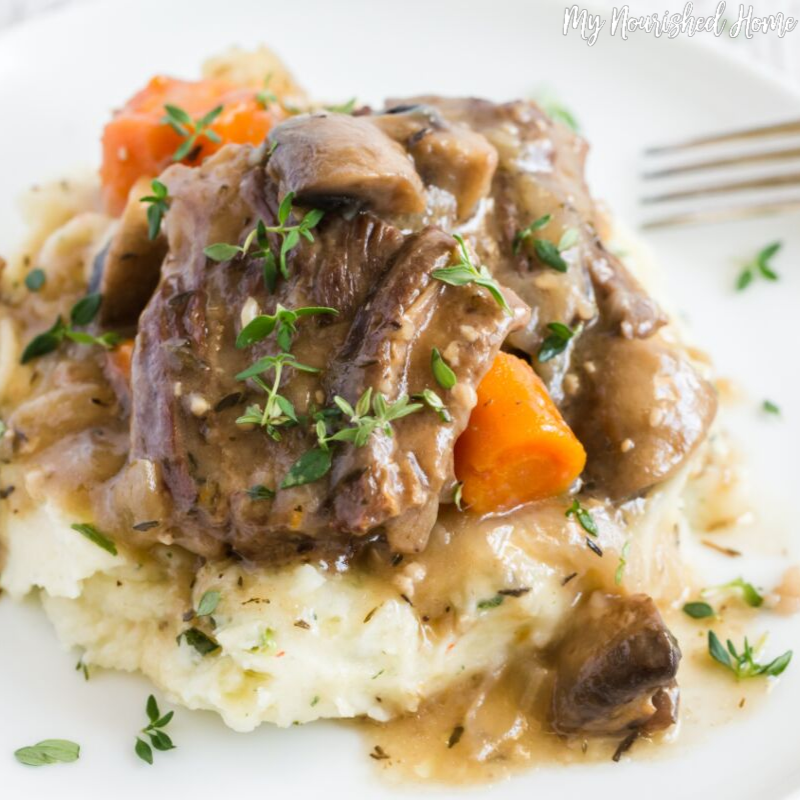 Pressure Cooker Short Ribs taste like the weekend but are fast enough for a hearty weeknight dinner thanks to the pressure cooker.
Normally beef short ribs are a low and slow endeavor but with a few recipe tweaks and the magic of the Instant Pot, these short ribs are quick to the table and fall off the bone tender!
Pressure Cooker Short Ribs
If you promise not to tell anyone, I will confess that I had a hard time getting whole short ribs out of the pressure cooker for the photo because they just fell apart in my hands. This was not a problem. Because they also melted in my mouth!
The absolute best part of cooking beef short ribs in the pressure cooker is that it makes them so tender that you can pull them apart with a fork (or your fingers – this is a no-judgment zone!)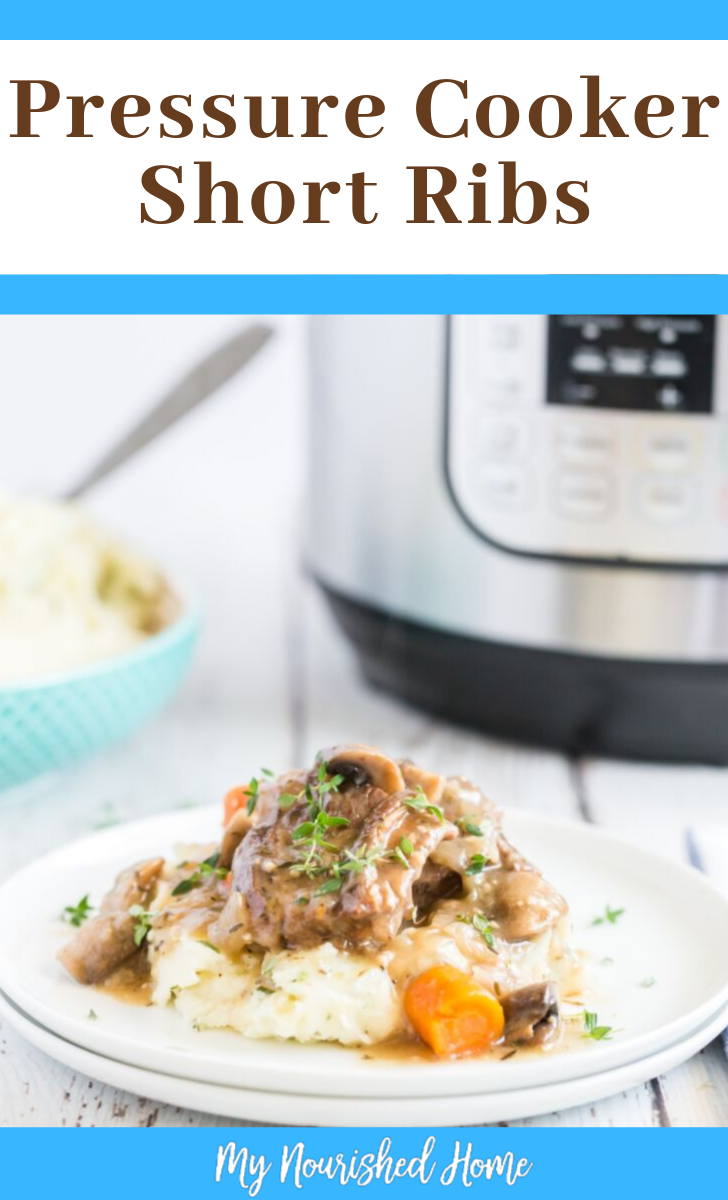 What are Short Ribs?
Short ribs are a cut of beef that includes a short portion of the rib bone. The meat itself can be cut from different places on the cow by your butcher – and the location it is cut from is directly related to tenderness, flavor, and price. (Trying to not be too graphic here.) But just ask your butcher if you see differences in price and quality in the meat counter. The pork version of these ribs is called spare ribs. But beef short ribs tend to be a lot meatier than their pork cousins.
Most short rib cuts you see in the grocery store are called "English cut." That is the cut most people are familiar with and the cut you see in this recipe. You can also find short ribs cut across the bone, where they look like long pieces, with multiple rib bones. This is called "Flanken cut." These are popular in a lot of Asian cuisines but if I want to cook them at home, I often have to request them from my butcher.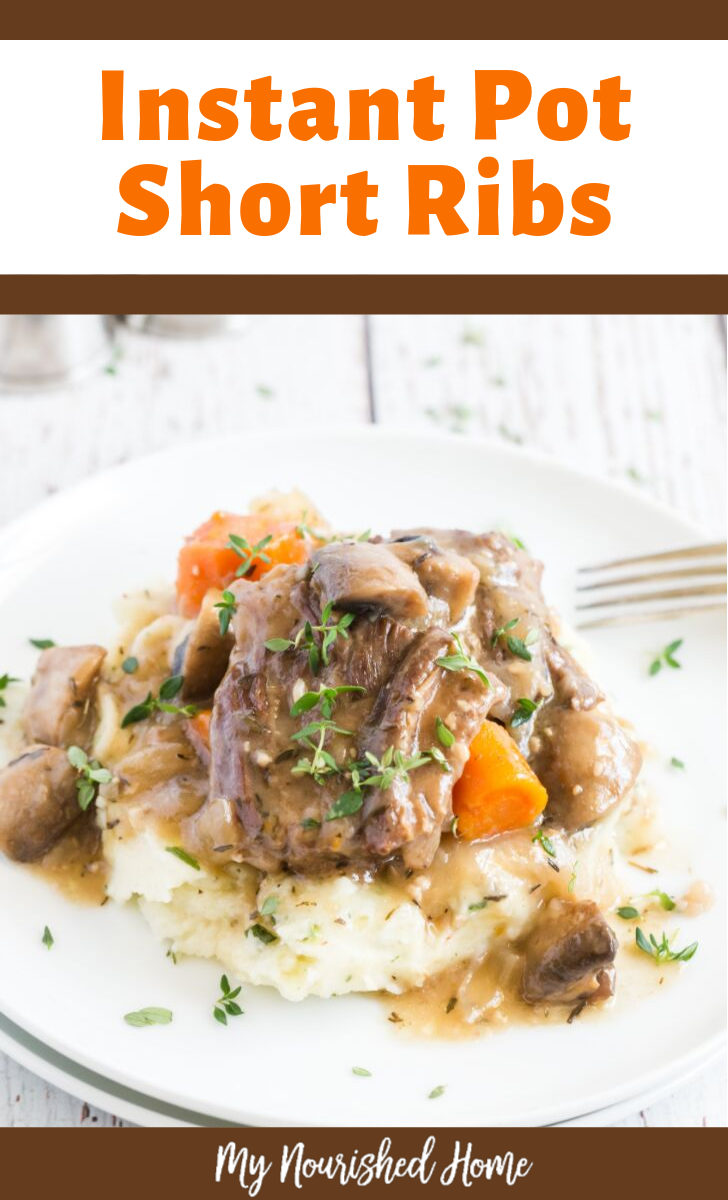 How to Cook Short Ribs in the Pressure Cooker
We all want short cuts at dinner time -, especially during the week. And the instant pot will actually take these short ribs down from several hours to about an hour total. That includes prep time and cooking time.
However, the one place you do not want to short cut is taking the time to sear the beef short ribs in your pressure cooker before closing the lid. It improved the taste, texture an flavor of the meat.
You can skip making the gravy at the very end if you are super pressed for time. But if you do, you should know that your mashed potatoes are going to be the saddest potatoes on the block because the beefy gravy is delicious.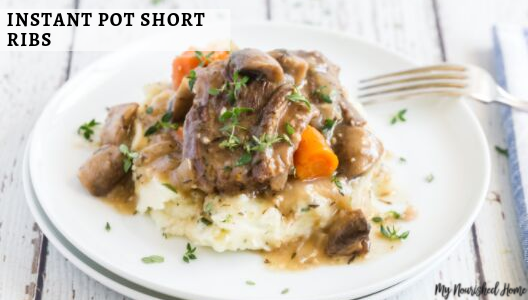 How long does it take to cook beef short ribs?
Beef Short Ribs are usually a significant time commitment. You have to wait for the meat to break down before it becomes tender. That can take a couple of hours at least. But the pressure cooker makes the whole process much faster. Total time under pressure is about 35 minutes. (If you buy a cheap cut of short rib, it may take an extra couple of extra minutes.) If you are comfortable in your kitchen you can prep, cook, and make the gravy in about an hour — with time while the short ribs are in the pressure cooker to make mashed potatoes or egg noodles for serving.
Make sure you sear them first, you can do that on the saute setting on your pressure cooker. But then you pile everything in and set the timer! You will have the tenderest short ribs you've ever tasted.
Instant Pot versus Pressure Cooker
I am a little in love with my pressure cooker. (I actually have two! I know, I need an intervention.) My first pressure cooker was before the Instant Pot craze. I was not particular about name brands, I was just looking for the biggest capacity I could find. With a family of five, I shove everything I can in there to save time. Later I purchased an Instant Pot as well. They do the exact same thing – I use both but chose between them based on the size I need more than the brand name.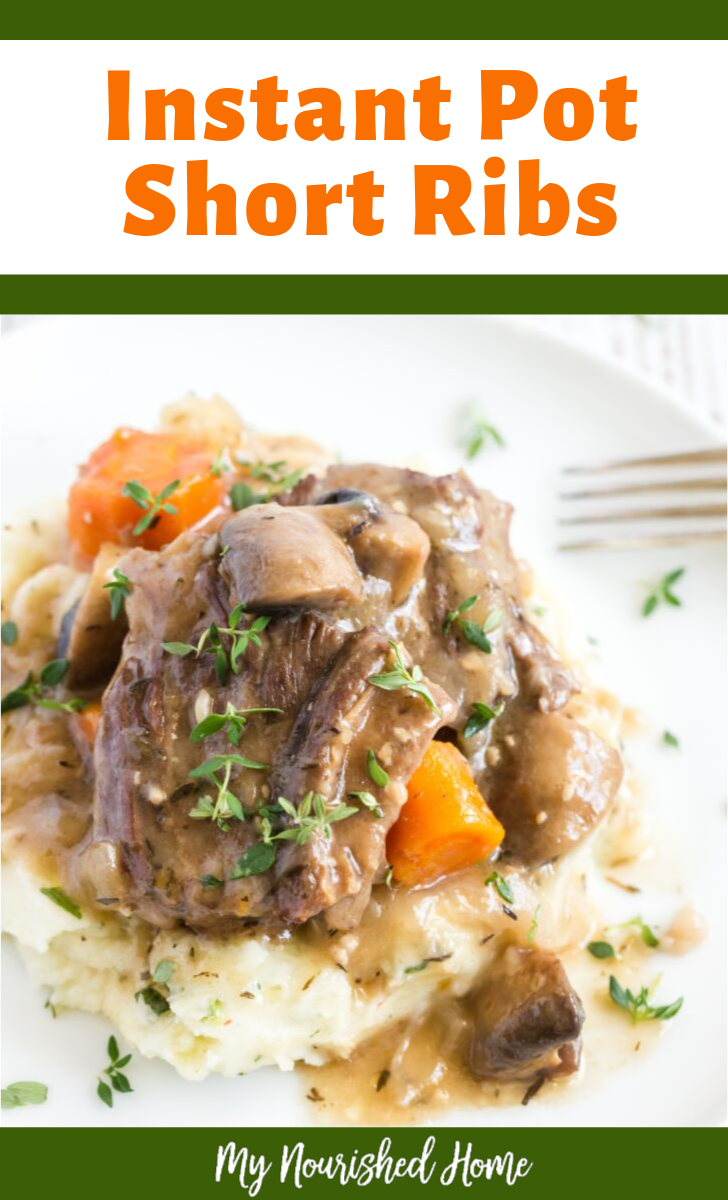 If you are looking for more big beef recipes that work for weeknight dinner, try this Cast Iron Flank Steak. It goes on the table in minutes and tastes great!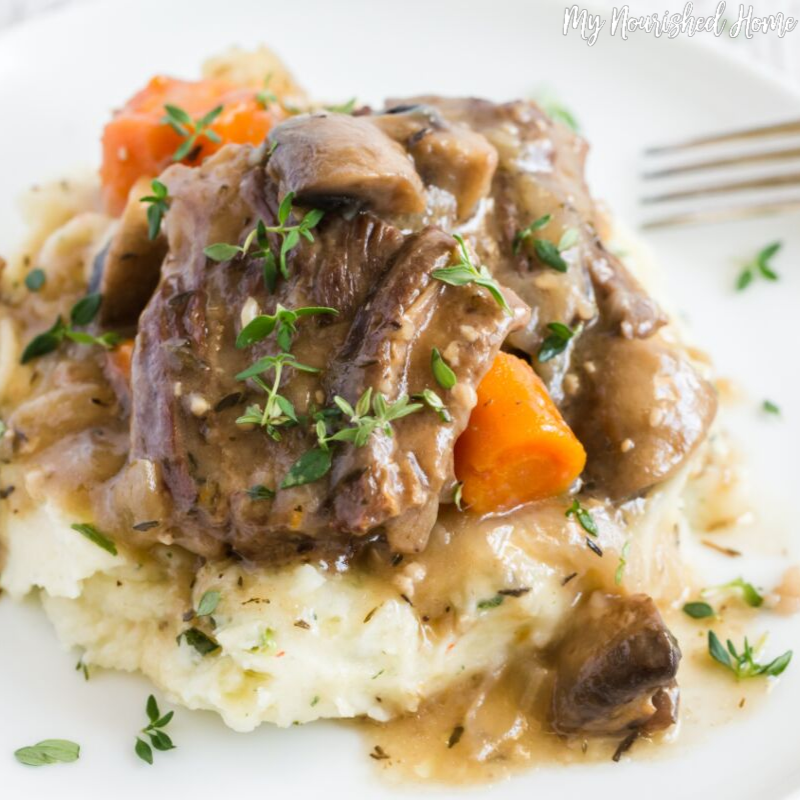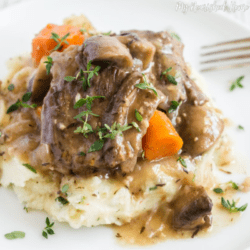 Pressure Cooker Beef Short Ribs
The instant pot make beef short ribs a weeknight dinner!
Ingredients
4

lbs

Beef Short Ribs

2

cups

diced onions

3

cloves

minced garlic

2-3

carrots, cut into bite sized pieces

1 1/2

cups

beef broth

2

tbsp

olive oil

Kosher salt and fresh cracked pepper

1

tbsp

dried thyme

6

tbsp

flour, divided

1

tbsp

Worcestershire sauce

3

cups

mushrooms, quartered

about a dozen or so
Instructions
Set pressure cooker to sauté. Pat dry Beef Short Ribs and sprinkle liberally with salt and pepper (I like lots of pepper!) Dust ribs in 3 tbsp flour. Drizzle olive oil into the pressure cooker and place ribs, a single layer at a time into the pressure cooker to brown. This will take 4-5 minutes per side. Make sure to turn them and brown both sides. And do not crowd them in the pot. You may have to brown in batches.

Remove browned Beef Short Ribs to a plate and set aside. Add garlic and stir constantly to prevent burning for 1 minute. Add onions, carrots, mushrooms, thyme, and additional salt and pepper to taste and allow them to soften, stirring occasionally. It will also take 5-6 minutes. Add Beef Short Ribs back to the pot. Add beef broth. Add the pressure cooker lid and seal it.

Cook ribs on high pressure for 35 minutes. When they are finished cooking, release the pressure and let the ribs sit for 5-6 minutes or until pressure is normal. Open carefully!

Remove short ribs to a plate. (You may need a slotted spoon because they will be very tender.) Turn pot to saute. Mix 3 tbsp flour with 1/4 cup beef broth and stir until smooth. Stir into the pot and heat and stir until gravy is thickened.

Return the ribs to the pot to coat in gravy. Serve hot over mashed potatoes or egg noodles.
Nutrition Facts
Pressure Cooker Beef Short Ribs
Amount Per Serving
Calories 498
Calories from Fat 252
% Daily Value*
Fat 28g43%
Cholesterol 130mg43%
Sodium 414mg17%
Potassium 1147mg33%
Carbohydrates 15g5%
Protein 46g92%
Vitamin A 3414IU68%
Vitamin C 7mg8%
Calcium 52mg5%
Iron 6mg33%
* Percent Daily Values are based on a 2000 calorie diet.