There is nothing better than summer for fresh fruit and vegetables. I know it is summer when I see strawberries at Forsyth Farmers' Market. It is actually pretty rare to find rhubarb here so when I see it at the market, I scoop it up. And by scoop it up, I mean that I buy it all. My kids know it is officially summer when I make a compote from the berries and rhubarb and start baking Strawberry Rhubarb Muffins with Strawberry Buttercream Spread.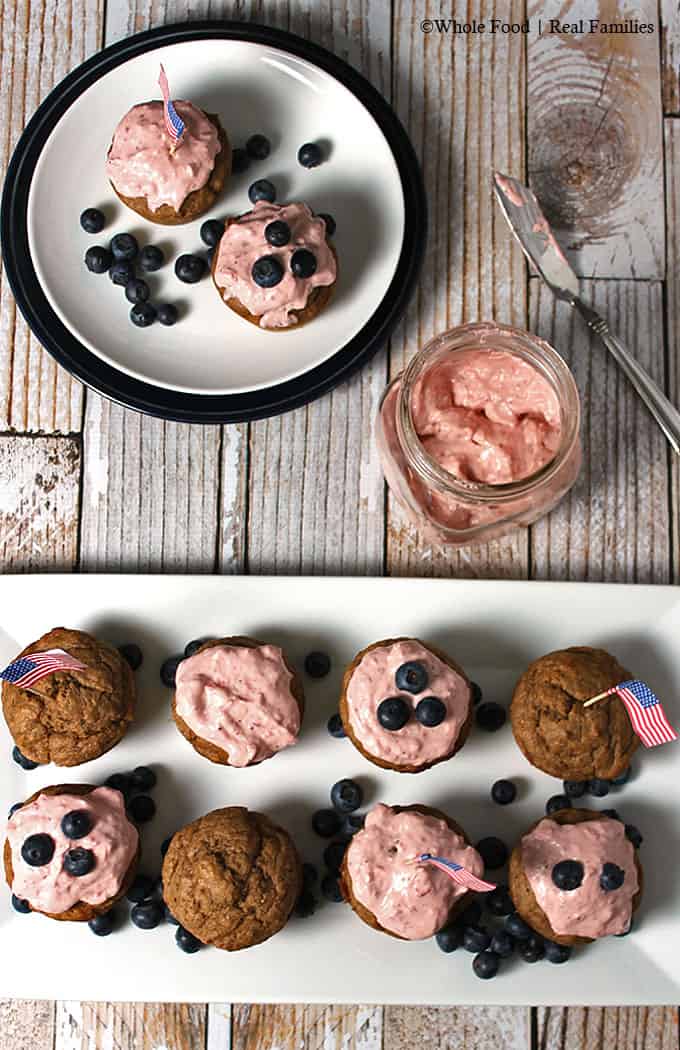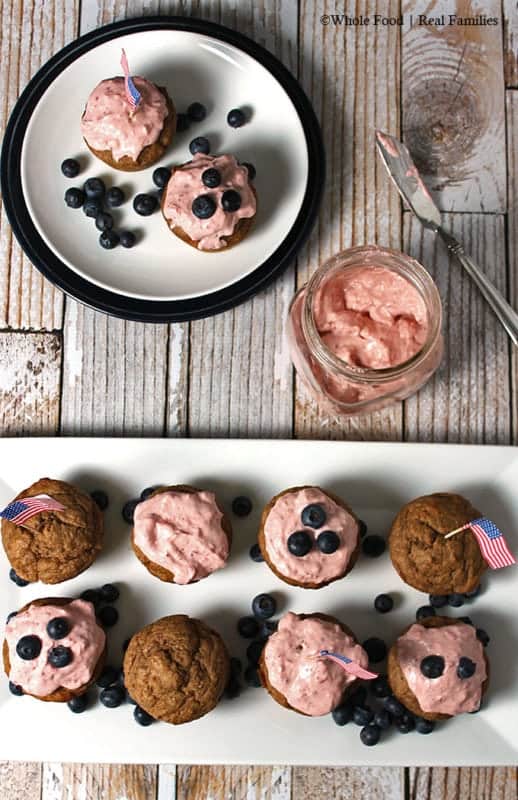 I really love to bake with my rhubarb still left in little chunks. My kids just aren't having it. So in order to get them to eat a vegetable in their muffins, I cook it down to the consistency of applesause. (If you have every baked with applesauce, then you will know why this works.)
C'mon, don't be judgy. I make my kids eat their veggies too. But I also hide them in stuff. Between meaning to eat their vegetables and not meaning to eat their vegetables, I am hoping they actually consume enough of them to count. In fact, it is one of the cardinal rules of feeding my kids. Check out all the other methods I use to stop stessing about kids and their vegetable consumption here:  Your Will Eat Their Veggies… Eventually.
These muffins taste amazing. Full of strawberry flavor with just enough tartness from the rhubarb. The sad truth of baking with strawberries, they don't maintain their beautiful red color. At best, they are faintly pink but mostly grey when cooked. The fact that these are whole wheat muffins, also contributes to the fact that the muffins are muffin-colored, not beautiful strawberry red. At some point in my baking escapades, I opted to just embrace the heartiness of brown baked goods and move on. Now I am skeptical when my baked goods are any other color.
The younger coningent in my family refuses to believe that these brown muffins are not a mom trick to get them to eat healthy (it totally is). Not red, there must not be strawberries in there. However smearing a Strawberry Buttercream Spread – which happens to be pink (score one for mothers of daughters everywhere) – all over my hearty strawberry rhubarb muffins makes it all better. Joy and peace reigns at the table again… at least for a minute.
Generally when I bake these, I serve the strawberry spread in that little jar you see in the picture. Everyone splits their muffin in half and commences the muffin slathering. But it also doubles as a yummy frosting.  In the jar, it is spread for muffins. But frosting magically turns these muffins into cupcakes. If you don't believe me, check out my favorite healthy Chocolate Muffins that magically turn into fancy Chocolate Cupcakes with Buttercream Icing. See how that works! Brilliant, right?
Do you cook with rhubarb over the summer months? What is your favorite way to use it? What other fruits and vegetables do you look forward to all summer long?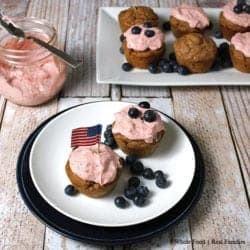 Strawberry Rhubarb Muffins with Strawberry Buttercream Spread
Course:
Breads & Muffins, Breakfast, Snacks & Treats
Ingredients
Strawberry Rhubarb Muffins
3

cups

white whole wheat flour

1

tsp

salt

3

tsp

baking powder

1 1/2

tsp

baking soda

3/4

cup

coconut sugar

or maple sugar

2

eggs

2/3

cup

milk

2/3

cup

coconut oil

1 1/2

cup

strawberry rhubarb compote
Strawberry Rhubarb Compote
5-6

stalks

rhubarb, trimmed to 1/2 inch pieces, leaves discarded

1

pound

Strawberries, trimmed

1/2

cup

maple syrup

2

vanilla beans

1/4

cup

water
Strawberry Buttercream Spread
4

oz

cream cheese, softened

2

tbsp

butter, softened

2

tbsp

maple syrup

1/2

cup

strawberry jam
Instructions
For Strawberry Rhubarb Compote: Trim 5-6 stalks of rhubarb into 1/2 inch pieces, discarding the leaves if the are still attached. Add pieces to a large pot. Hull the strawberries and add them to the same pot. Add water, maple syrup and vanilla beans, splittng the beans and scraping the seeds into the fruit. Drop the bean pods into the pot too but remember to remove them before baking. Simmer on low until the fruit breaks down. Use a potato masher to crush the fruit as it softens. When the mixture is the texture of applesauce, remove it from the heat and let it cool. I do not include the time to make the compote in this recipe because I NEVER make just this amount. Adjust your ingredients based on the amount of rhubarb and strawberries you have and freeze 1 1/2 cup portions for future baking.

Preheat oven to 400 degrees. Use coconut oil or butter to oil muffin pans. (Don't forget to adjust the cooking time if using mini or jumbo muffin pans.)

Whisk together flour, salt, baking powder, and coconut sugar in one bowl. Whisk eggs, milk, coconut oil, and strawberry rhubarb compote in a second bowl until uniform. Add wet ingredients to dry ingredients and mix just until combined.

Spoon muffin mix into muffin pan until cups are 2/3 full. Bake for 20-22 minutes, until tops are golden and a toothpick inserted into the center comes out clean. Enjoy!!

For Strawberry Buttercream Spread: While muffins are cooking, with a stand mixer or electric beater, whisk cream cheese, butter, maple syrup and strawberry jam until combined and uniform. (I prefer jam with minimal ingredients and sweetened with honey.) If you are using the spread like frosting, wait until the muffins are completely cooled before frosting. If you are using it like butter, just serve it alongside the muffins and let everyone spread their own!