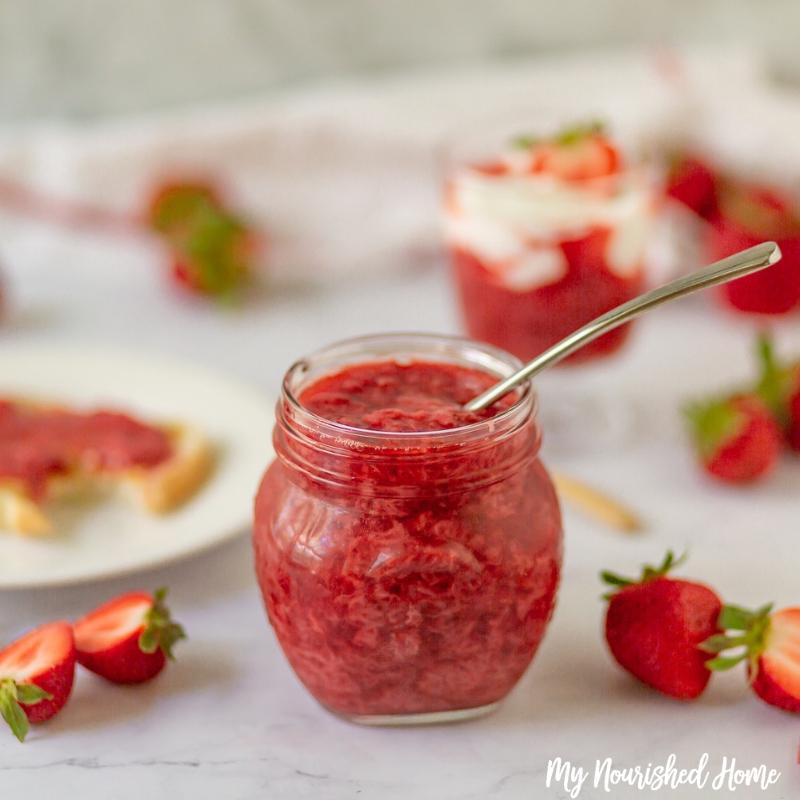 Strawberry compote makes the easiest dessert or breakfast spread on the planet. It is such a fun way to use seasonal strawberries (and frozen berries in the off-season!)
If you're not sure what fruit compote is, you're missing out. It is just pieces of fruit cooked with a small amount of sweetener. The result is a fruity sauce that is perfect to pour over your morning waffles or the magical topping for the best fruit sundae you've ever had.
You can make a compote with most fruits. For example, this peach compote is my personal favorite. And this blueberry compote is the bomb. <— yes, I am old enough to call something the bomb.
Strawberry Compote Recipe
This strawberry compote recipe is super easy. It is also super flexible. It is easy to multiply to make more. (Or even cut in half to make less.)
There is also a little bit of sugar in the recipe. But you can add more or less sugar based on your own taste. I suggest you try your strawberries before cooking so you can get an idea of how sweet they are naturally since they vary off the grocery store shelf.
I also really like using a touch of maple syrup for a richer flavor than table sugar. But you can use honey or even sugar substitute in your strawberry compote.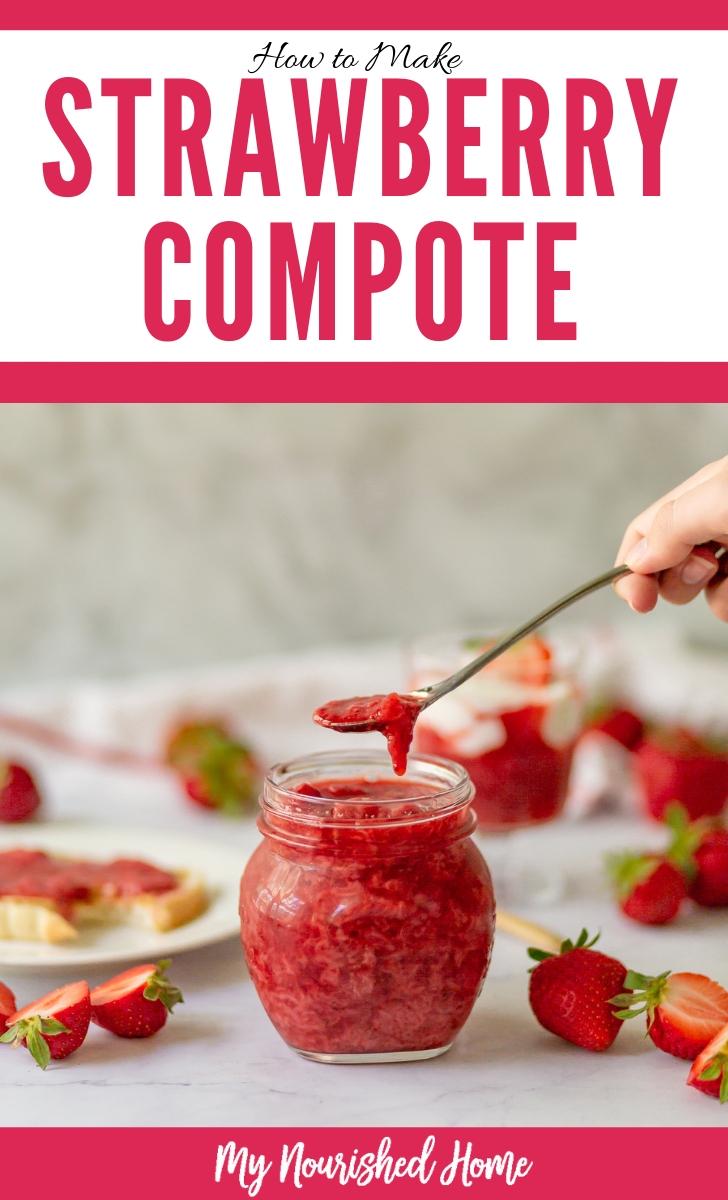 How to Make Strawberry Compote
Wash and hull two pounds of strawberries. (That is two of those plastic containers in the produce section.)
If strawberries are not in season, don't panic! This recipe works just fine with frozen berries. Just make sure you taste the strawberries so you get an idea of how much sugar to add.)
Add the strawberries, juice from half a lemon, and sugar to a large stockpot. You can help break down the strawberries with a fork but it is not really necessary. I like the texture of the berries being broken apart in the finished product but it is totally to your preference.
Simmer on low for 90 minutes. The longer you simmer your strawberry compote, the sweeter it will taste.
Let your fruit compote cool and pour it into jars. I usually just pop them into the refrigerator because it doesn't hang around very long around here. But you can freeze your strawberry compote. If you add it to a jar, just make sure you give it some headroom because it will expand in the freezer and you don't want busted glass in your freezer!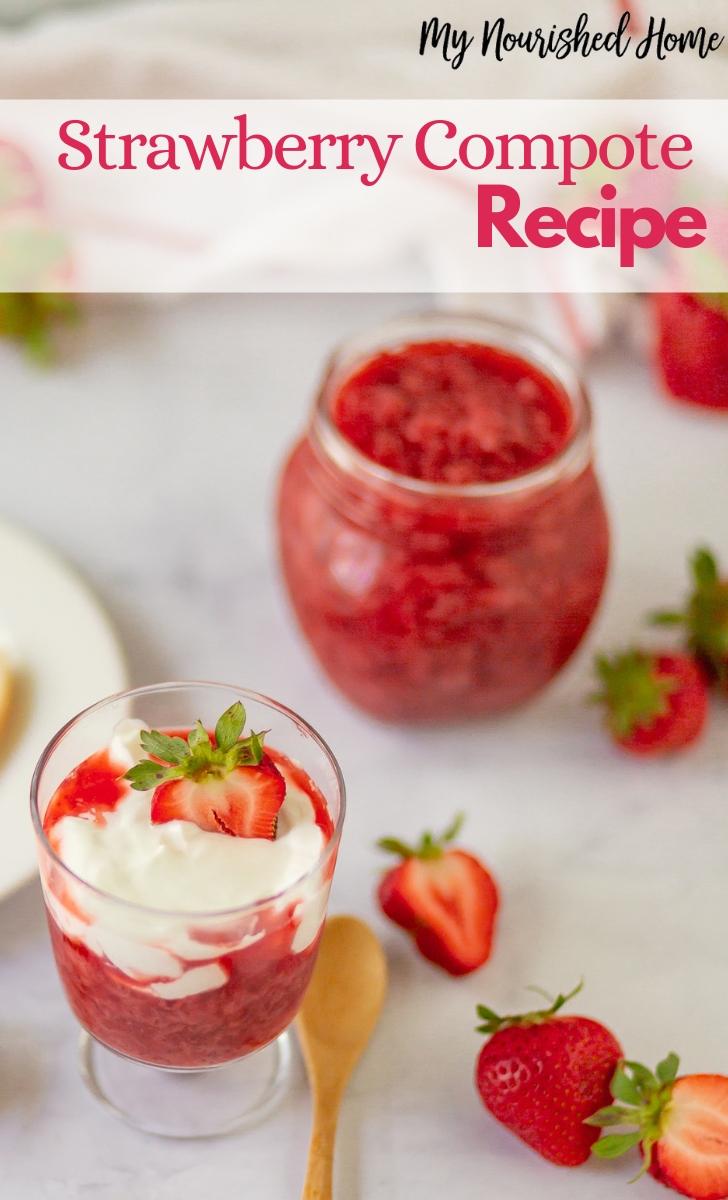 Fruit Compote Ideas
Part of the reason we always have fruit compote onhand is that you can use it in lots of different ways.
My kids love this strawberry compote recipe just on toast in the morning. They also love it over yogurt.
Try using this recipe over waffles, pancakes, and of course… ice cream. (My all-time favorite!) I really love having it around for breakfasts. We generally try to keep things pretty healthy for most meals, and fruit compote over whole wheat pancakes is pretty delicious and healthy. (I will admit, I sometimes make homemade whipped cream to go with the strawberry compote and pancakes.)
You can also add fresh herbs to your compote. Like a few leaves of basil in your strawberries as they cook down. I prefer to leave the leaves whole and fish them out when it is finished cooking. Mint is also delicious in a blueberry compote. And ginger absolutely perfects peach compote!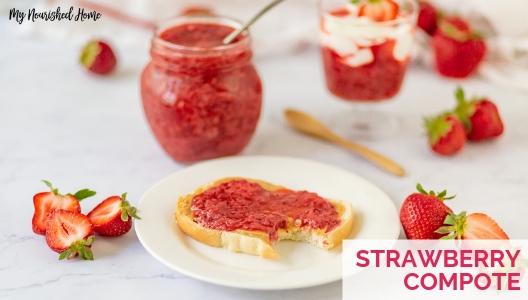 How Do You Make Strawberry Rhubarb Compote?
Exactly the same way! I like to use half strawberries and half rhubarb. But you can play around with the proportions to suit your own taste.
And you can leave strawberry rhubarb compote chunky to highlight the rhubarb… or you can break it down with a fork or potato masher to make it saucier.
Strawberry Rhubarb compote makes a fabulous base for a cobbler or crumble! 🙂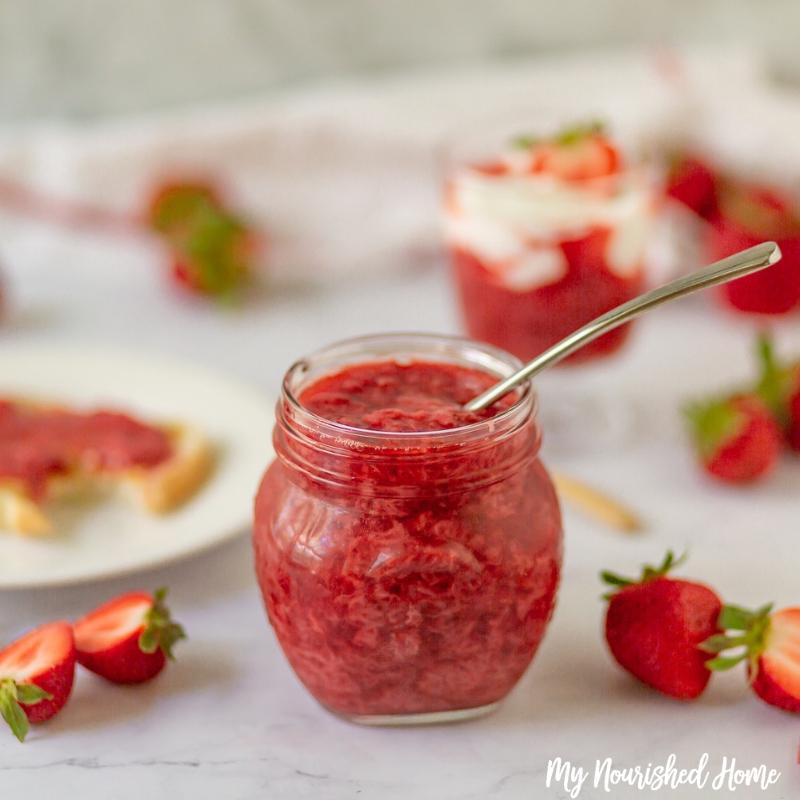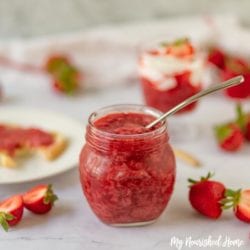 Strawberry Compote Recipe
This easy and delicious strawberry compote recipe is perfect over ice cream, on toast, or drizzled over waffles!
Ingredients
2

lbs

strawberries

1/2

lemon

2

tbsp

sugar (optional)

Maple Syrup, Honey or alternative sweeteners are all great substitutes
Instructions
Wash, core, and cut up the strawberries.

Place strawberries, sugar, and juice from the lemon in a large stock pot and simmer on low for 90 minutes.

Let cool and pour into jars.
Recipe Notes
I helped break down the strawberries with a potato masher or fork, but it's not necessary. 
The longer you reduce the liquid the sweeter and thicker the compote gets.
Nutrition Facts
Strawberry Compote Recipe
Amount Per Serving
Calories 50
Calories from Fat 9
% Daily Value*
Fat 1g2%
Sodium 1mg0%
Potassium 183mg5%
Carbohydrates 12g4%
Protein 1g2%
Vitamin A 14IU0%
Vitamin C 70mg85%
Calcium 20mg2%
Iron 1mg6%
* Percent Daily Values are based on a 2000 calorie diet.