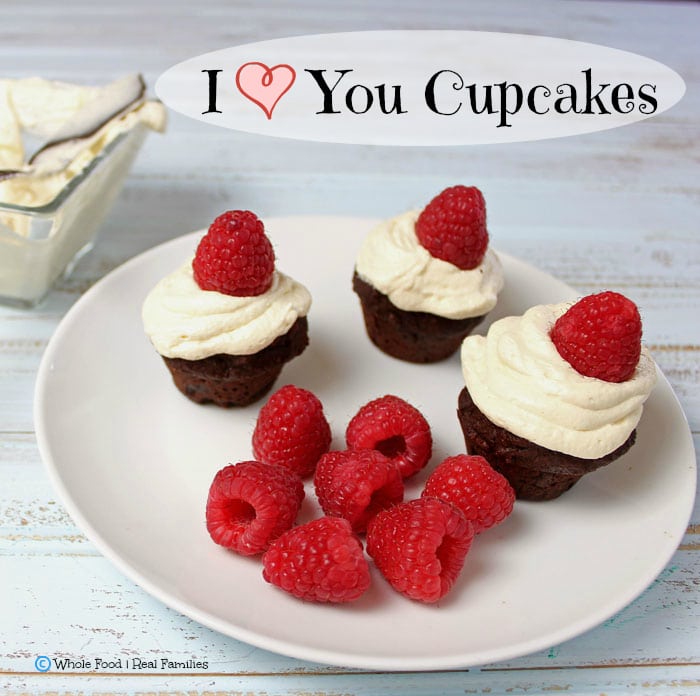 Healthy Chocolate Cupcakes with Buttercream Frosting are rich, delicious and downright amazing. But these treats are whole wheat with no refined sugar. (Not that anyone will ever know!)
Holidays are a special time – for couples, for kids, for families. Treats always seem to be at the center of that. There are lots of people who feel that food – treats in particular – shouldn't be so connected to these sorts of event. Maybe they are right, but I tend to fall into the "food is social" camp. Sharing food together has been a part of socializing since the beginning of time. It bonds us in a unique way. Personally, it makes me feel special to be able to create something with my hands that reflects what my heart feels for the special people in my life. I also like seeing my kids faces light up when I make them something really special they weren't expecting.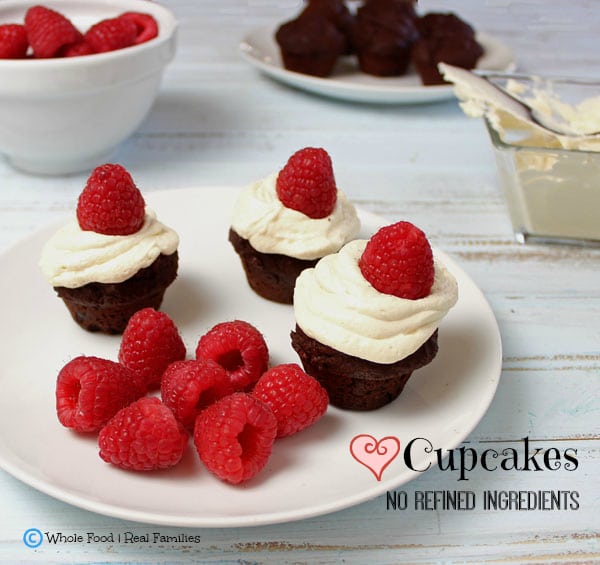 I think when it comes to treats, they key is moderation. Sometimes holidays and special events become a reason to indulge in treats to the point of extravagance. Focus on quality and quantity when you celebrate with food. I will never advocate for empty, chemical-laden sweets (or any other type of food)! But I do think there is room in a nutrient-dense diet for a treat. Whole wheat, naturally sweetened cupcakes are still cupcakes. They are not diet food, they will not make you skinny. But they do avoid the nutritionally void ingredients that are in-store purchased baked goods. They avoid additives and preservatives. They were not made 12 years ago and suspended in their perfect cupcake state until they could be perfectly labeled and sold to you for a premium price.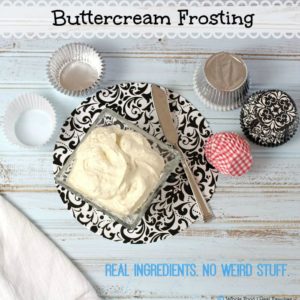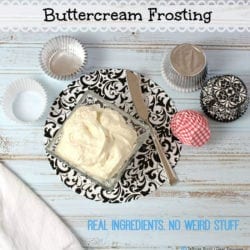 You will recognize these Healthy Chocolate Cupcakes with Buttercream Frosting from my recipe for Chocolate Muffins. (I did warn you that if you frosted them, you had to call them cupcakes!) They are wonderfully chocolaty and sweet without being bakery sweet. And this Buttercream Frosting is my go-to for making treats extra special. Neither have refined ingredients. We top with raspberries because we love them and because they look so sweet on top of these minis. But any kind of berry you prefer works just fine. I always serve an extra serving of the berries beside the cupcakes – it is funny that the plates always come back empty. Not just of cupcakes but of the healthy berries too.
*Note: this recipe makes 24 regular sized muffins. If that is more than you need, I recommend baking the full amount and freezing half for later. They are made with whole wheat and have no refined sugars – so they work great as muffins. If you plan to cut the muffin recipe in half, make sure to cut the Buttercream Frosting in half as well.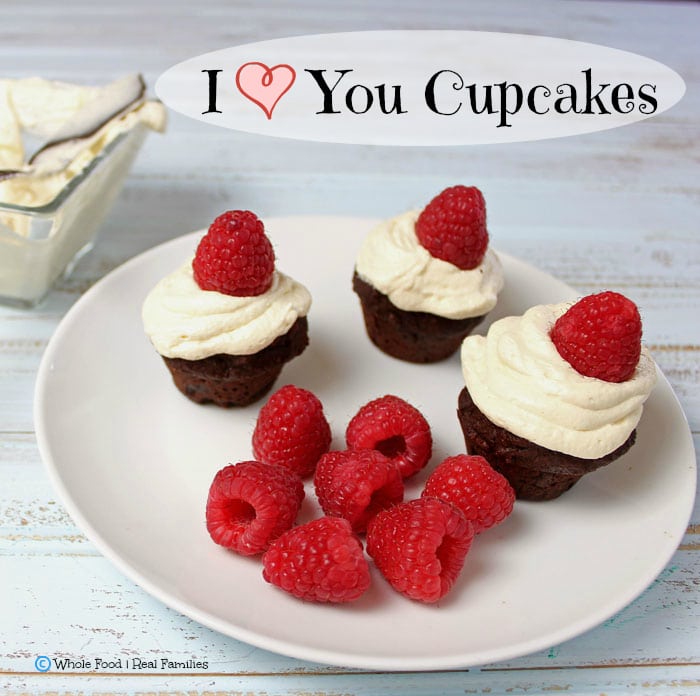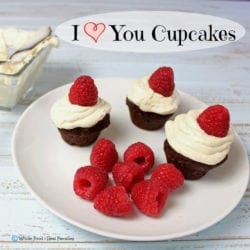 Healthy Chocolate Cupcakes with Buttercream Frosting
This recipe uses a standard sized muffin tin. If you use one that is larger or smaller, adjust your cooking time accordingly. The minis pictured take around 12 minutes. Check them at 10 minutes. When a toothpick comes out clean, they are done. You do not taste the coffee in this recipe. It just makes the chocolate taste more chocolaty... That is always good, right?!
Ingredients
3

cups

white whole wheat flour

1

tbsp

baking powder

1

tsp

salt

1

cup

unsweetened cocoa powder

1

cup

maple syrup

3/4

cup

coconut oil, warmed to liquid

1/2

cup

Greek Yogurt, Plain

I have used sour cream in a pinch and it works well too!

1

tbsp

vanilla extract

2

eggs

3/4

cup

milk

3

tbsp

strongly brewed coffee

1

Buttercream Frosting

1-2

small containers

Fresh Raspberries

I always serve extra raspberries with the cupcakes
Instructions
Preheat oven to 375 degrees. Lightly oil muffin pans or line with paper liners.

Use a whisk to combine all dry ingredients in a large mixing bowl.

Use whisk to combine all wet ingredients in a separate mixing bowl and whisk until ingredients emulsify and become uniform. Add wet ingredients to dry ingredients and mix well.

Spoon batter into muffin pan until cups are 2/3 of the way full.

Cook muffins for 18 minutes or until a toothpick comes out of the center cleanly. Remove muffins from the oven and allow them to cool completely. If you plan to freeze half of your muffins, put them in a freezer safe container or freezer bag and move them to the freezer (make sure they are completely cool!)

While muffins are cooling, follow directions for Buttercream Frosting. It will only take you about 5 minutes to make the frosting. But make sure your butter and cream cheese are softened to room temperature.

Fill a piping bag, or a small sandwich bag with frosting and nip off the corner with scissors. Using gentle pressure, pipe the frosting onto the muffins. You now officially have to call these cupcakes because they have frosting. 🙂

Top with raspberries and enjoy!