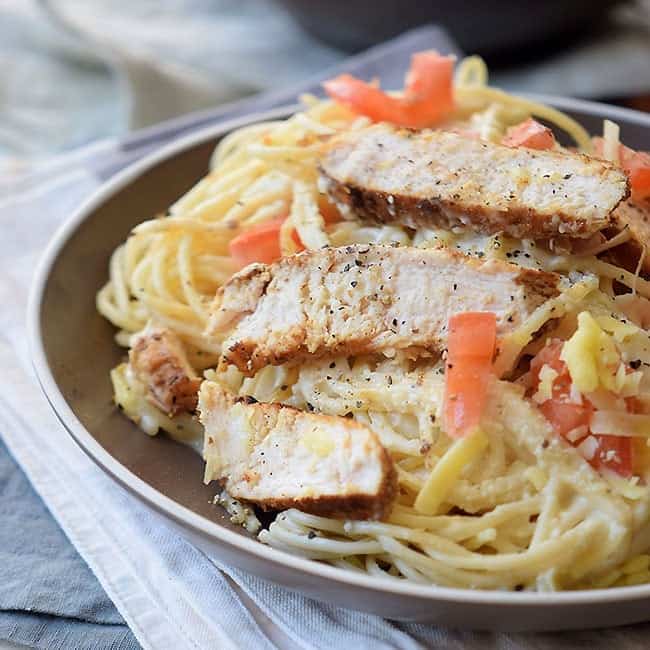 This Easy Italian Pasta Recipe is rich and tasty. It is also the perfect way to sneak in some chicken and veggies while my kids think they are eating a big plate of noodles!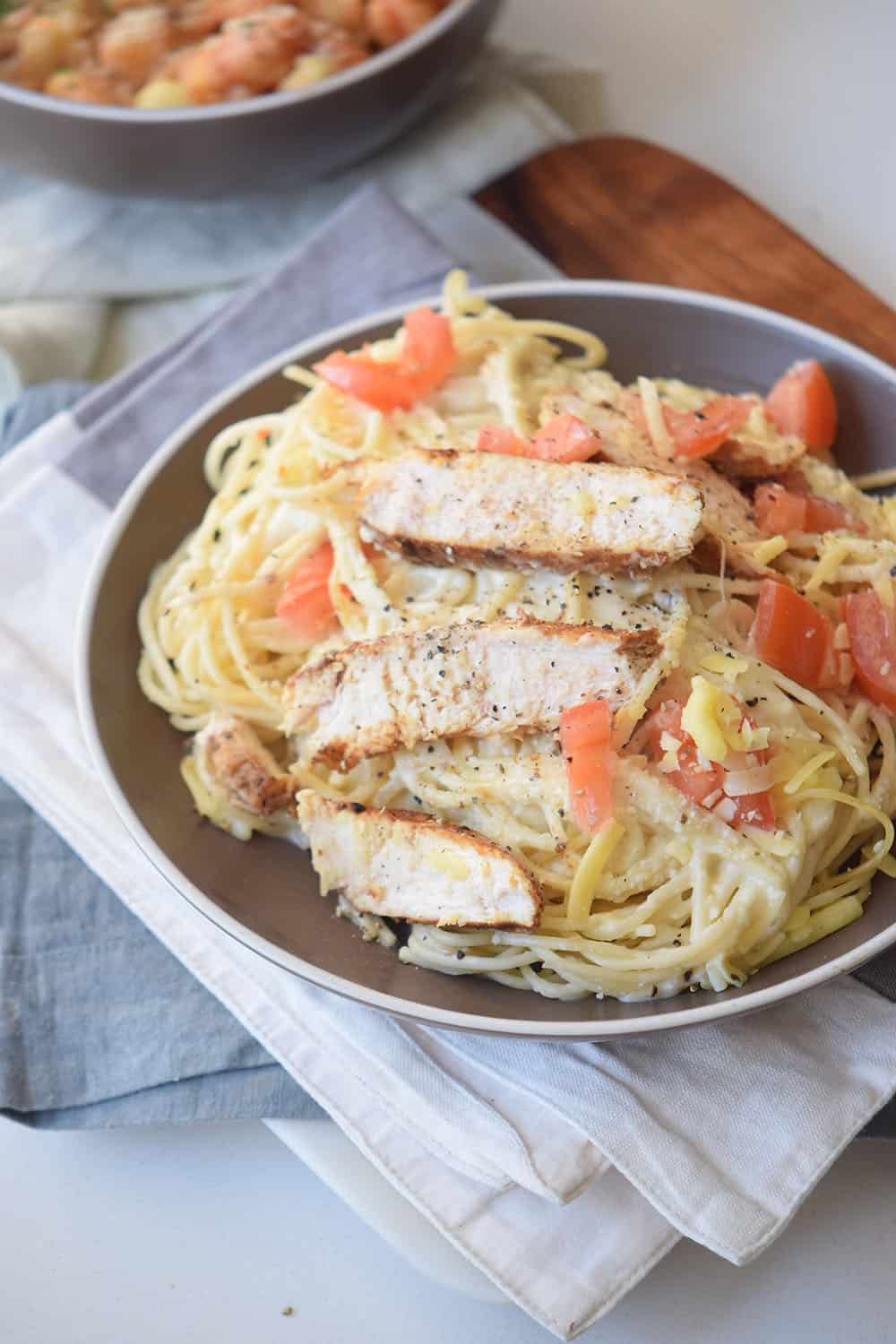 Easy Italian Pasta Recipe for the Kid Win!
I keep trying to convince my kids that because our family website focuses on healthy eating and whole food ingredients, they should love eating their veggies… and high-quality protein for that matter. But the truth is, my kids are just like yours.
Sometimes only noodles will do.
So what is a mom to do? One, I don't do a lot of short order cooking. I don't take orders at dinner time. We just have the dinner that gets cooked. However, I do let the kids give suggestions for what they would like to eat that week and try to work in a few meals that I know they really love.
This Easy Italian Pasta with Chicken is my compromise to the constant request for plain old noodles.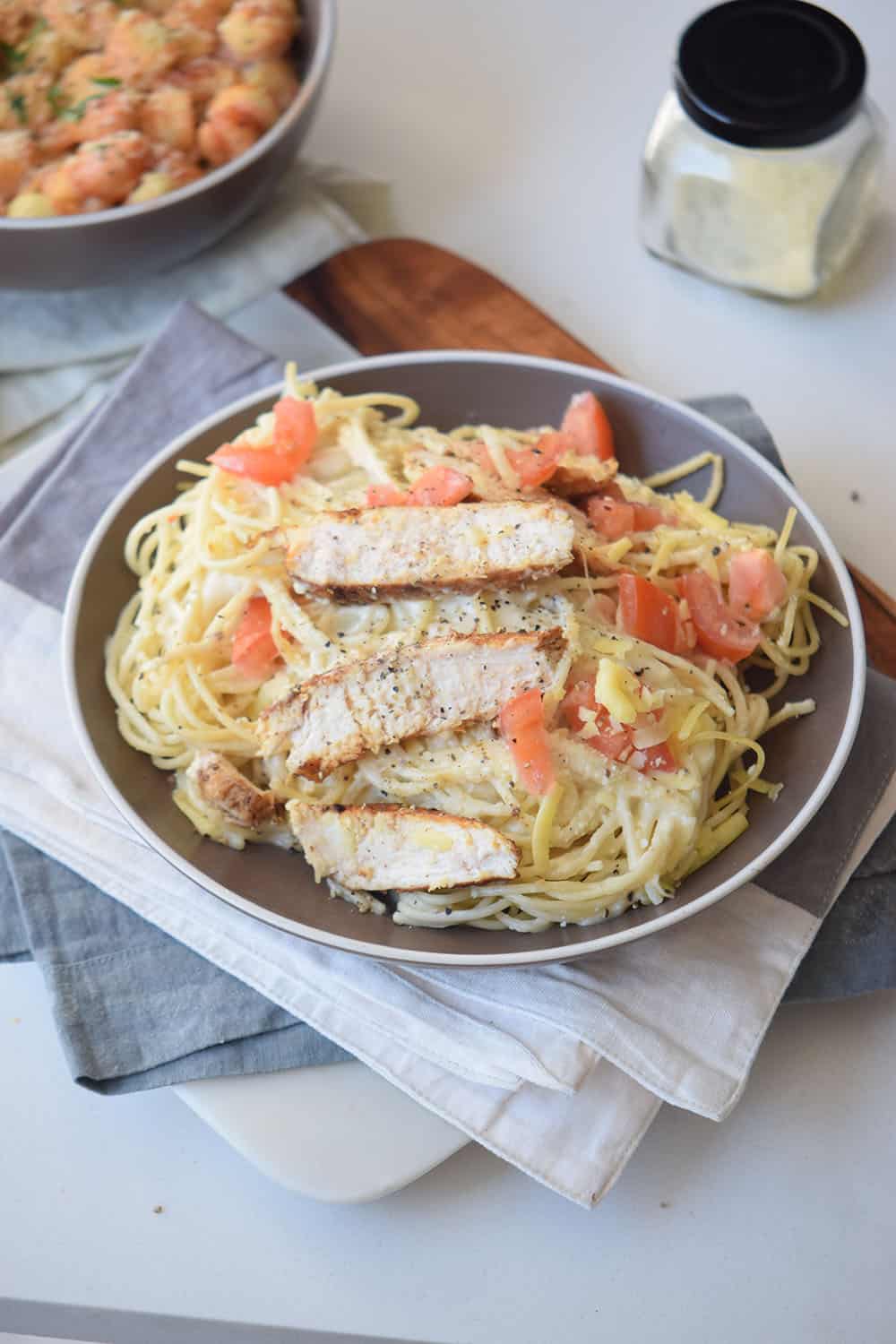 Italian Pasta with Chicken and Tomatoes
I recognize that this dish is so far away from traditional Italian fare. However, can I stretch your imagination and call it Italian-inspired?
It is sort of mainstream Italian takeout meets healthier ingredients.
Like most dishes we cook around here, the quality of the meal is really related to the ingredients we choose. While we can use any pasta around, we opt for whole wheat. Or when we are really lucky, my husband Jeff will whip up fresh pasta that is life altering.
We also prefer to use local food when possible. We are so lucky that we live in a place that we can buy fresh, local chicken and fresh veggies. Tomatoes are a HUGE part of our diet (because I love them!) but don't be afraid to add sauteed, diced squash or greens like chard!
Need more Easy Pasta Recipes?
This Easy Shrimp Pasta Caprese is one of our go-to dinners when I only have a few minutes to get dinner on the table. It is also one of my kids' favorites!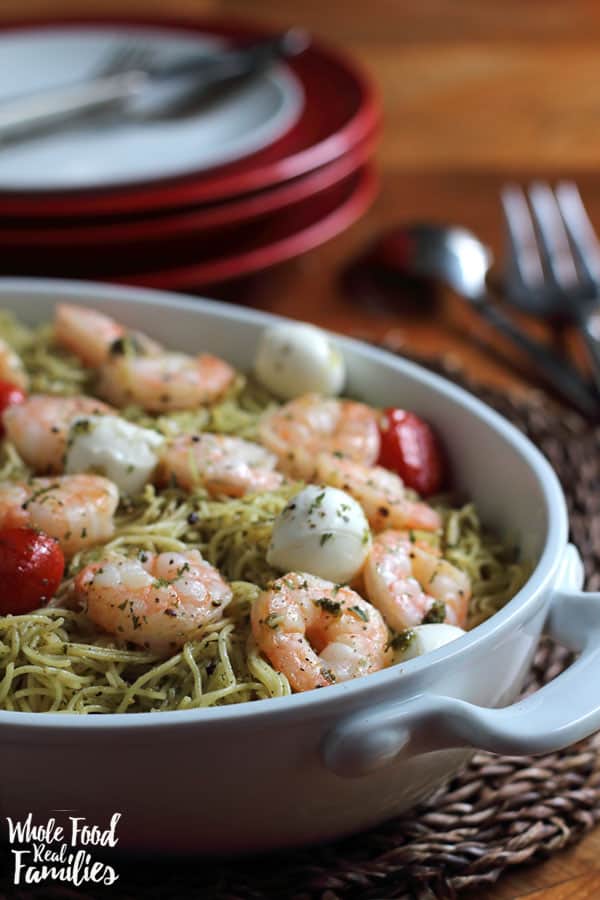 I also love all the veggies in this Garlicky Pasta with Shrimp and Chard. Or find more Healthy Chicken Pasta Recipes here.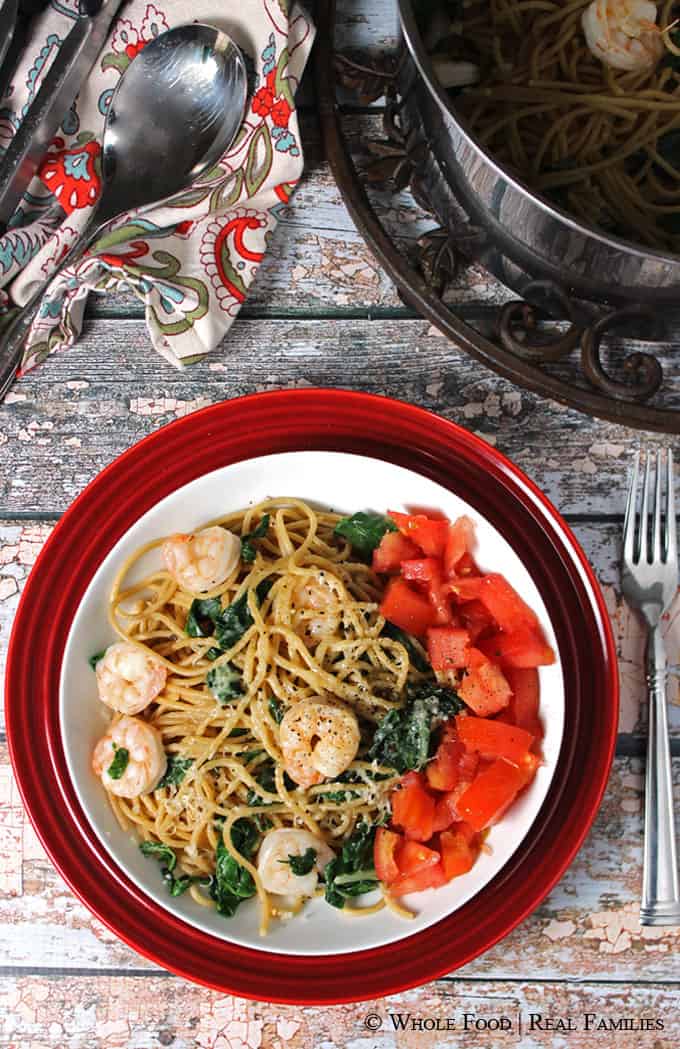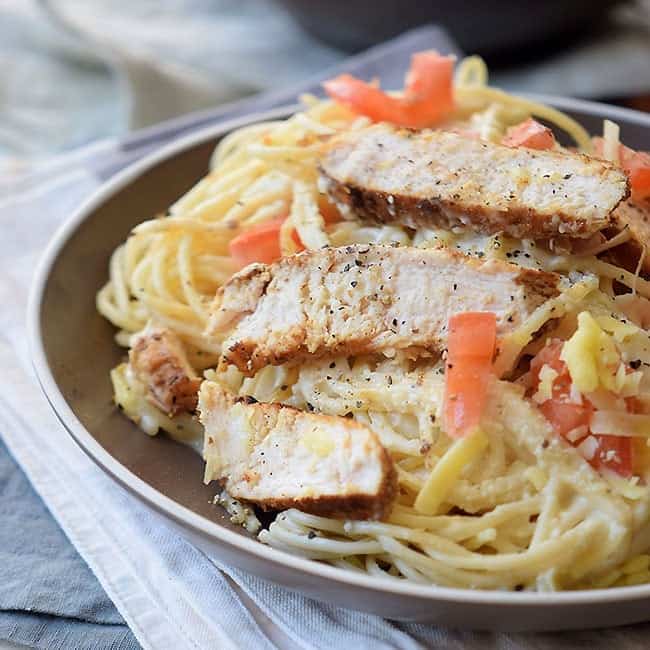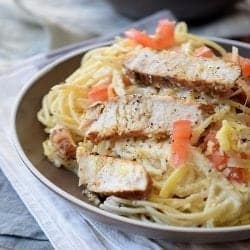 Easy Italian Pasta
Ingredients
1

lb

spaghetti

1

lb

chicken breast

2

large

large tomatoes

chopped

1

cup

Parmesan cheese

1

cup

Mozzarella Cheese

1/2

cup

milk or cream

1/2

cup

butter

3-4

cloves

garlic

minced

2

tsp

onion powder

salt and pepper to taste
Instructions
For the Chicken
Season the chicken with onion powder, salt, and pepper.

In a pan over medium heat, cook for 8 minutes per side or until golden.

Transfer to cutting board and cut into strips. Set aside
For the Sauce
Place a saucepan over medium heat, add the butter and milk and stir occasionally until butter is melted. Add parmesan and mozzarella cheese and whisk gently until cheese is melted and combined.

Once the butter is melted, add the black pepper and garlic.

Stir until well mixed and simmer for 5 minutes. Set aside.
For the Pasta
In a medium sized pot bring water to a boil, place the spaghetti and cook following the package instructions, about 7 minutes.

Drain the pasta.
For Serving
Divide the pasta into serving bowls.

Pour the sauce over the pasta.

Top with chicken and tomatoes.