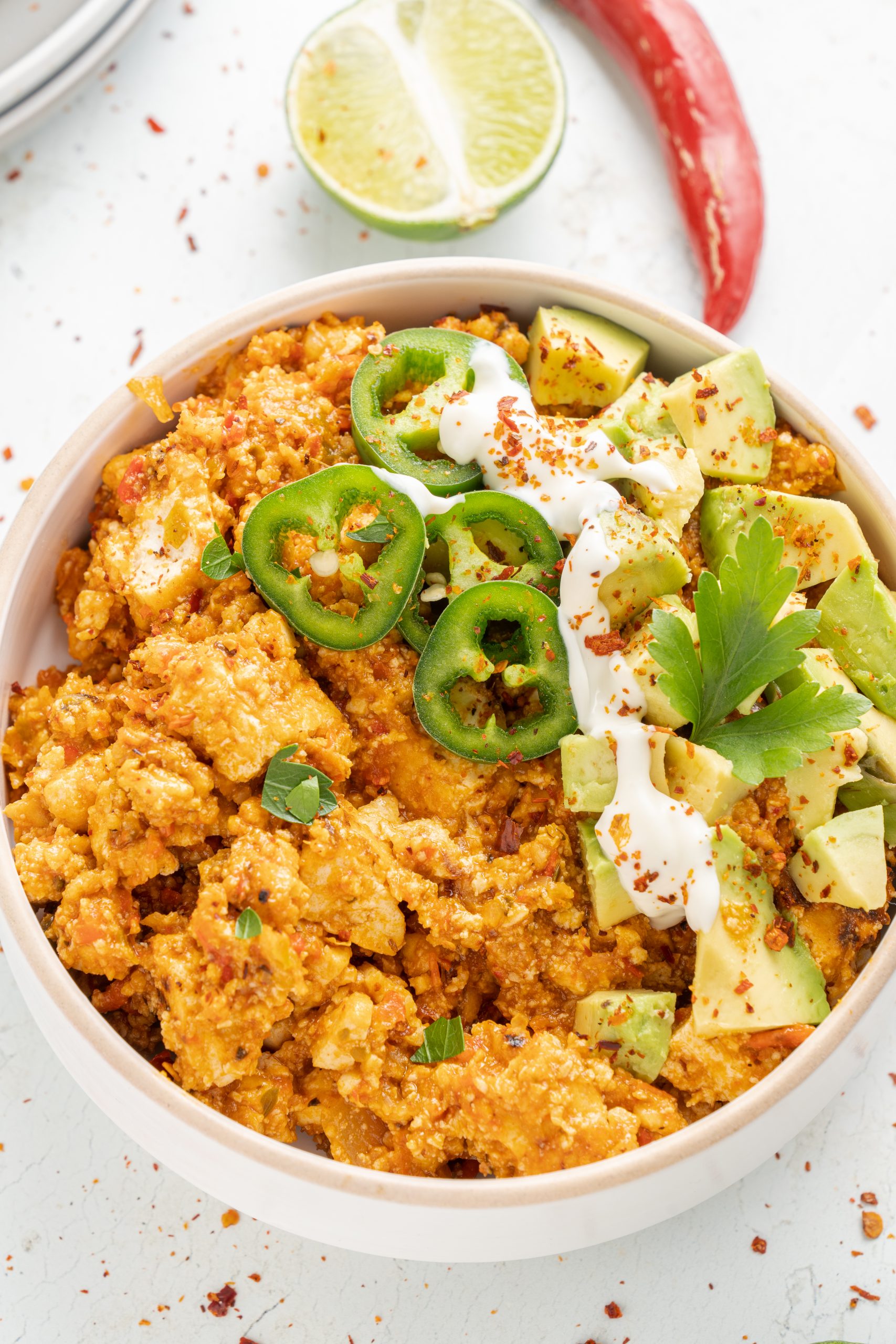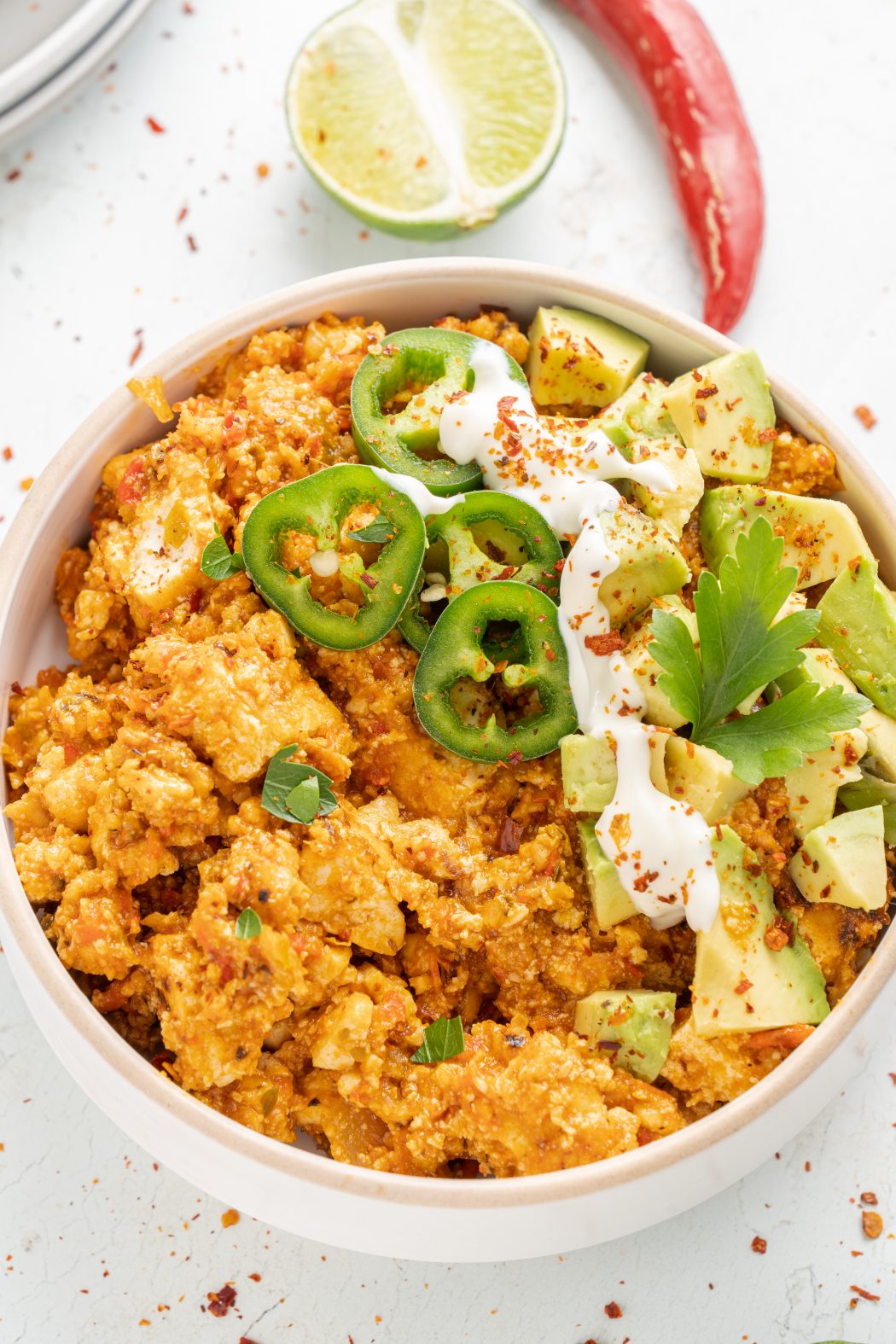 Tender tofu fried to a golden crisp and cooked in a warm sauce of tomato, peppers, lime and spices with just a touch of sugar: sofritas are a hit with vegetarians and meat-lovers alike!
Chipotle Sofritas Recipe
I never get tired of Mexican food. Seriously, never. Part of this has to do with the countless ways I can change things up or substitute one thing for something else, while still maintaining the incredible spices and textures of food that I love.
When I dug into the Chipotle sofritas recipe, I knew that I could recreate it on my own! Since perfecting it, I have had more requests from friends and family to share this recipe than any other — and I truly hope that you love it as much as we do!
If you love Mexican food like me, definitely check out the 15 minute chicken burrito and my 15 minute shrimp tacos.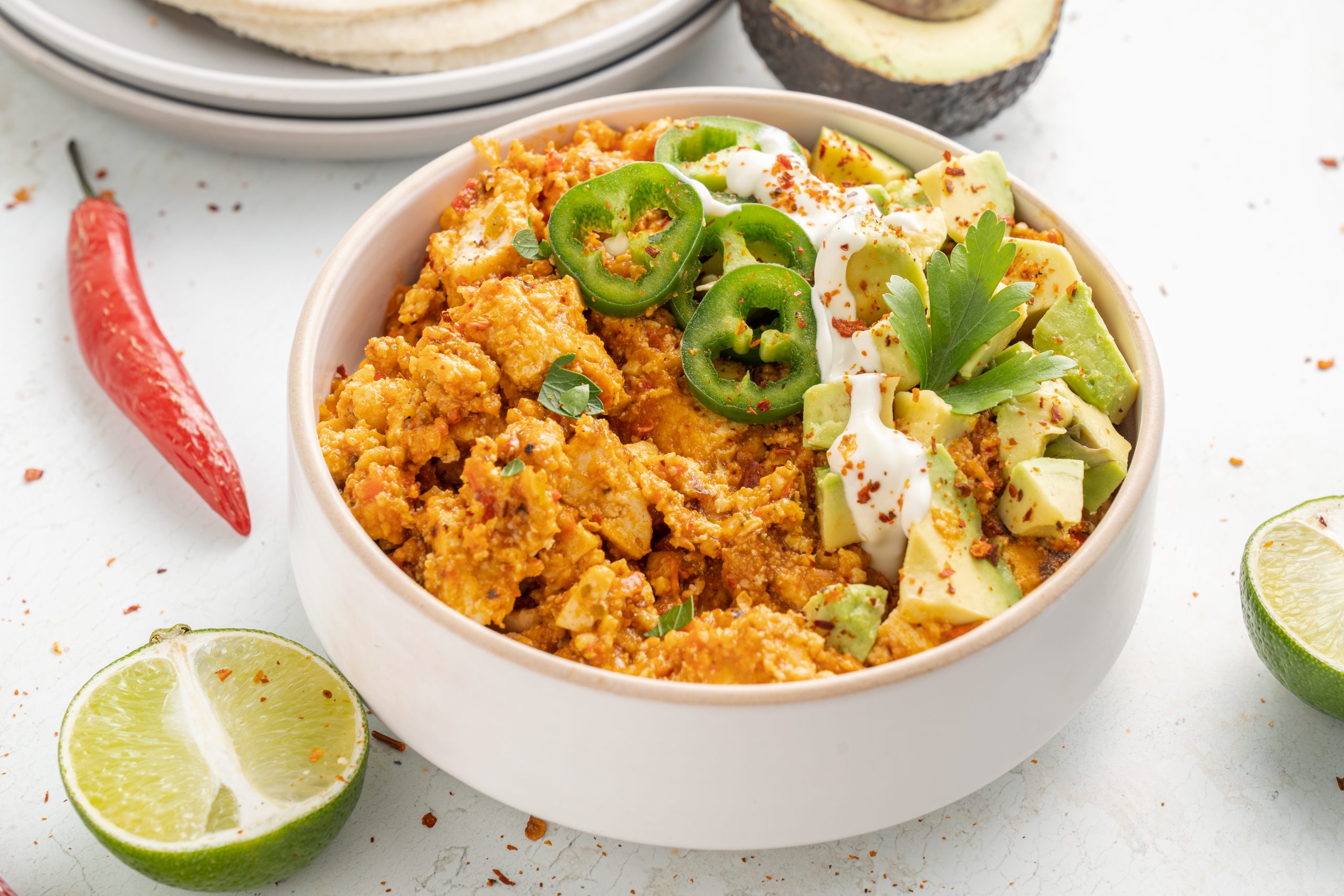 Why you will love sofritas
Full of flavor: Every ingredient in this Chipotle sofritas recipe comes through to create a warm, and spicy masterpiece of flavor that is truly restaurant quality. Tofu's ability to absorb flavors ensures that nothing is missed!
A great spin on traditional tacos or burritos: Several of these Chipotle sofritas ingredients are found in classic taco blends. Using tofu instead of meat changes up the textures of your standard tacos without messing with the taco spices that you love!
Easy to prepare: Don't be intimidated by the prep time for this sofritas recipe! The time required is mostly for simmering and sauteing.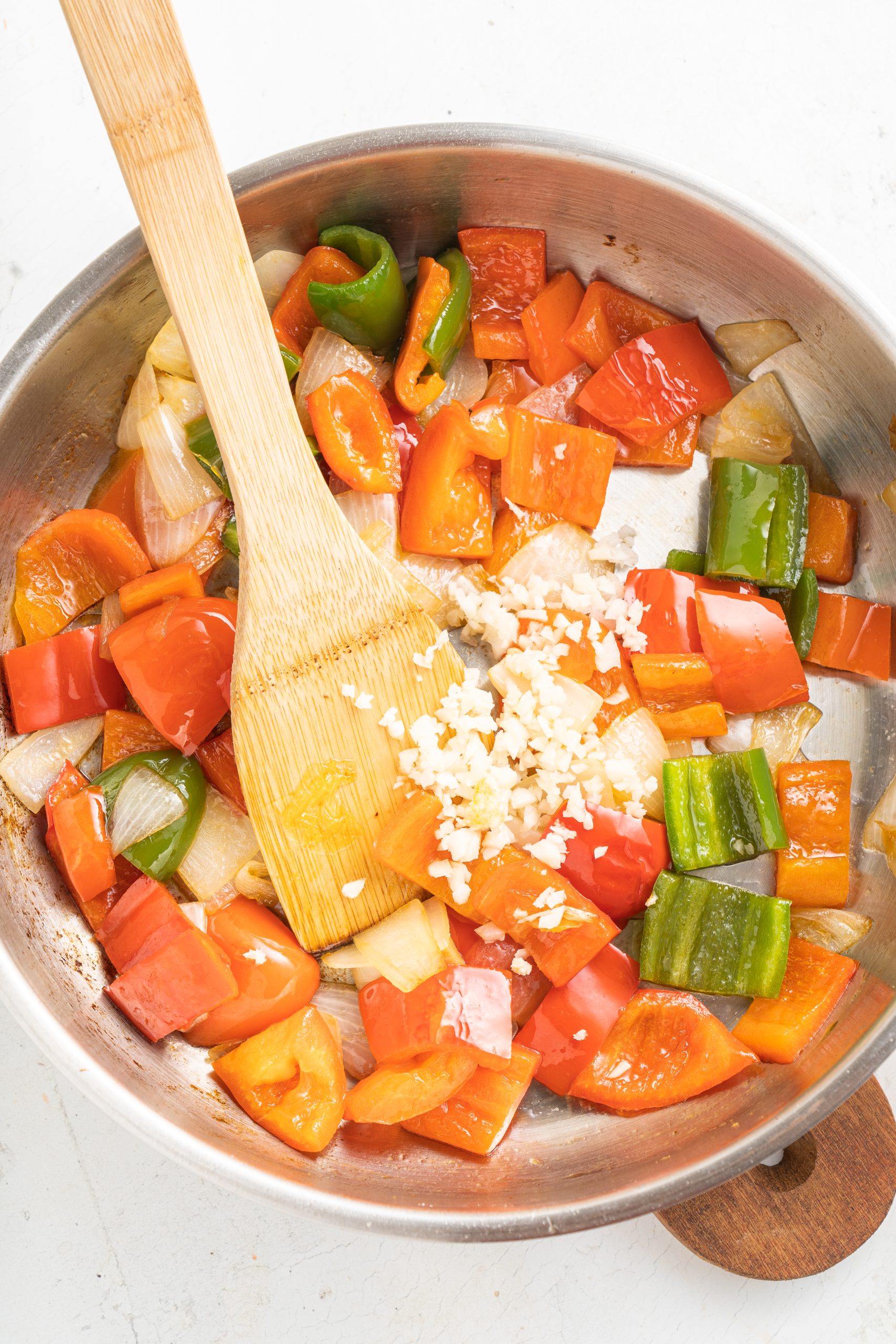 How to make perfect sofritas
Chop and saute: Chop peppers and onions, then add to skillet with oil over medium heat. Saute until soft, 3-4 minutes, then add garlic and cook for another 1-2 minutes or until fragrant. Remove from heat.
Pulse and pour: Add cooked vegetables to a food processor and except for the water, add all other sauce ingredients as well. Pulse until smooth, then add to a small saucepan along with ½ cup of water. Gently simmer for 10 minutes.
Dry and portion tofu: While your sauce is simmering, press the tofu to eliminate excess water and pat dry. Using your hands, roughly tear the tofu into bite-sized pieces. Transfer to a small bowl and toss with cornstarch to coat.
Saute and stir: Working in batches, saute tofu in 1 tablespoon of oil until crispy and golden, stirring to cook on all sides. Heat one tablespoon of oil in a skillet, adding tofu and sauce. Stir to combine and heated through.
Pro tip: This dish can be used as a filling for tacos or burritos. With all of the veggies found in the sauce, you won't need to add anything else! Use this sofritas recipe as part of a Buddha bowl, too: pair it with rice, sliced avocado, and fresh cherry tomatoes.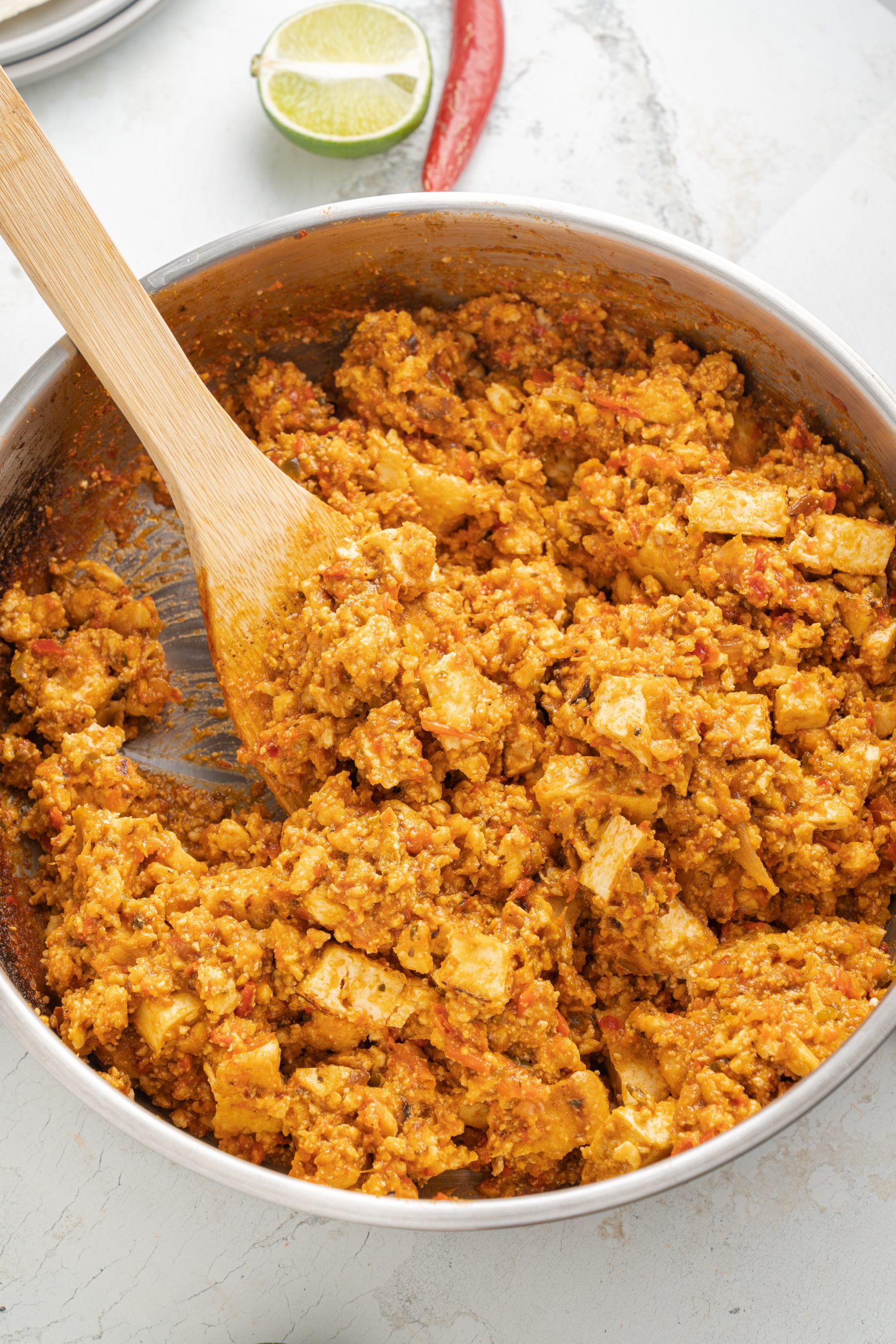 Key Ingredients and Substitutions for sofritas
Extra-firm tofu: Blocks of extra-firm tofu can be found in almost every grocery store these days, so avoid tofu that is already broken up, as well as any tofu product that isn't labeled extra-firm.
Juice of 1 lime: If you don't have a fresh lime, use 2 tablespoons of bottled lime juice.
Chipotle in adobo: For a smoky, milder spice, use 2 tablespoons of the sauce from your can of chipotles in adobo. If you want to crank up the heat, puree the peppers with the adobo sauce using an immersion blender or a small food processor and measure 2 tablespoons from this puree.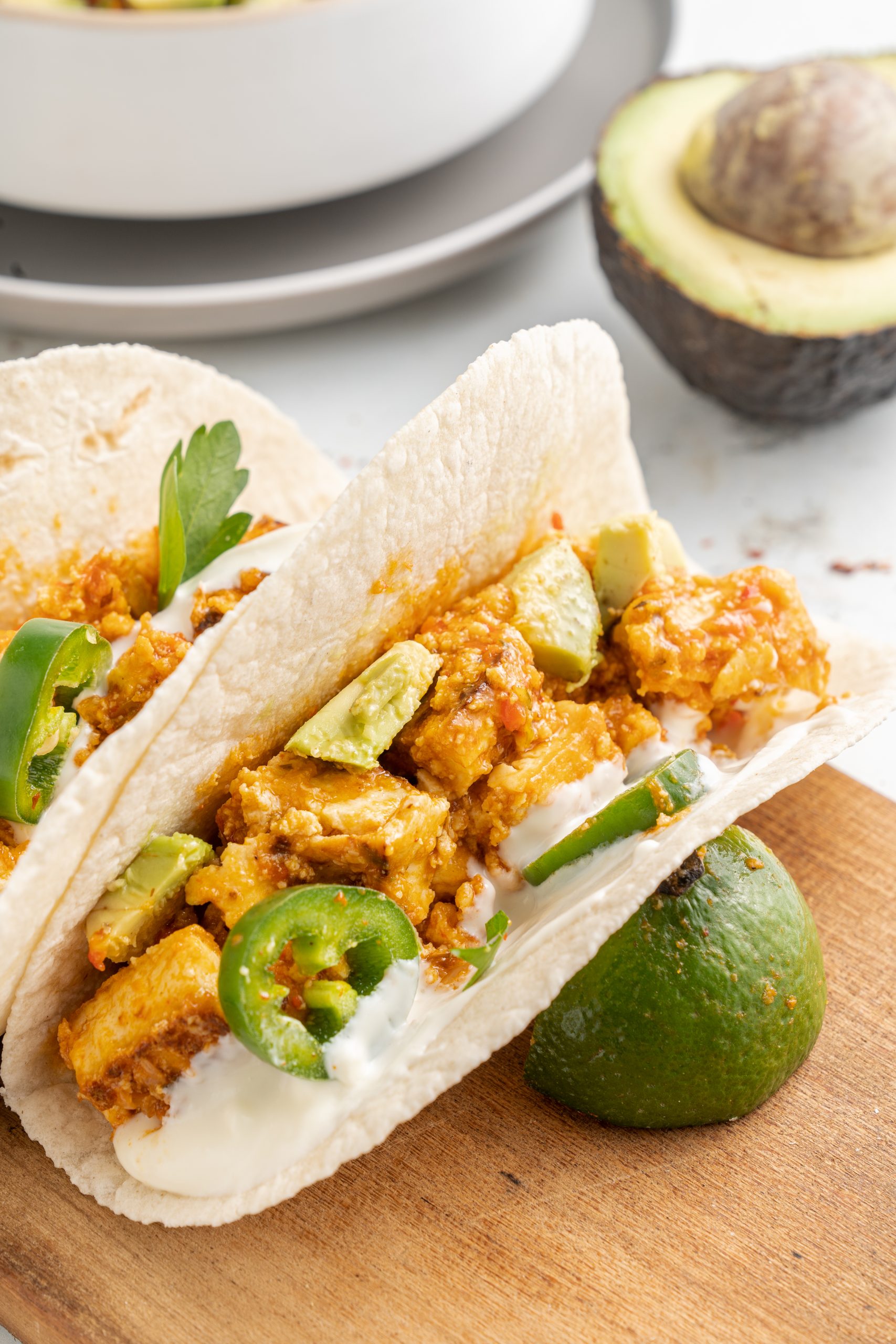 Frequently asked Questions about sofritas meat
What Are Sofritas?
This tofu-based dish has the Spanish name sofritas meaning "gently fried" since part of the preparation of this dish includes frying the tofu pieces in oil before adding them to sauce. The tofu is shredded or broken up, then braised in a sauce made with peppers, tomatoes, onions, and spices. Chipotle sofritas are a vegan menu option that uses organic, shredded tofu.
What Is The Difference Between Tofu And Firm Tofu?
Firm tofu contains less water than regular tofu, and firm tofu appears more compact as a result. While it is often packaged in water, there is actually more water extracted from the soybeans when they are processed for firm tofu. The texture of silken tofu is different: it appears more jiggly due to the increased water content. Firm tofu works better in this sofritas recipe because it will retain its shape more easily while still absorbing all the amazing flavors of the sauce.
Can You Reheat Sofritas?
Sofritas can be refrigerated in a sealed container for 5 days. To reheat, simply put them in the microwave for 1-2 minutes or on the stovetop over medium heat until warmed through. Sofritas 'meat' can also be frozen for up to 3 months. When you're ready to use, thaw overnight in the refrigerator and reheat as directed here.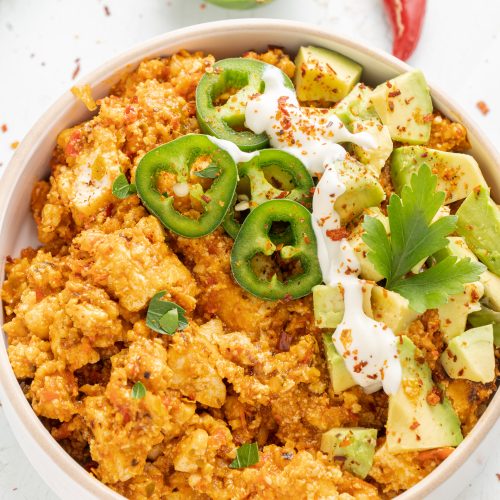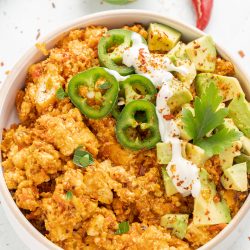 Sofritas
Tender tofu fried to a golden crisp and cooked in a warm sauce of tomato, peppers, lime and spices with just a touch of sugar: sofritas are a hit with vegetarians and meat-lovers alike!
Course:
Main Course, Main Dishes
Keyword:
chipotle, chipotle sofritas, Sofritas, tofu
Ingredients
Sauce
2

medium

jalapeno peppers

1

medium

red bell pepper

1

medium

onion

1

tbsp

tomato paste

1

small

lime

juice

2

tbsp

chipotle

in adobo

2

tsp

granulated sugar

2

clove

garlic cloves

1

tsp

dry oregano

1

tsp

ground cumin

1

tsp

smoked paprika

1/2

cup

water
Sofritas
16

oz

tofu

extra firm

3

tbsp

cornstarch

3

tbsp

olive oil

divided
Instructions
Roughly chop jalapeno pepper, red bell pepper and onion. Then, add a tbsp of olive oil into a skillet, and sauté chopped veggies until softened. Next, add minced garlic and stir over heat until fragrant. Remove from the stove.

Place cooked veggies, and the rest of the ingredients for the sauce, except water into a food processor or blender. Pulse until smooth.

Pour the sauce mixture into a small saucepan, add ½ cup of water and simmer for 10 minutes to bold in flavors. In the meantime, prepare the tofu.

Press tofu to absorb excess moisture. Path dry with a clean cloth. Then, use your hands to break tofu apart, creating irregular pieces. You could also use a food processor, just pulse a few times to not pulverize it. Transfer it into a small bowl and mix it with 3 tbsp of cornstarch. Sauté in a non-stick skillet with 1 tbsp of olive oil until crispy. It's probably that you need to do this in batches as tofu needs space to golden.

Heat a tbsp of olive oil in a large skillet, add golden tofu and the prepared sauce. Stir to combine and warm.
Recipe Notes
These sofritas are delicious. Taste-wise they are spicy, slightly sweet and saucy. Match them with other Mexican garnishes as cilantro, lime juice or sour cream.
Tips
Serve this sofritas as taco or burrito filling. Create a Mexican Buddha Bowl or salad.

Store it, covered, in the fridge, for up to five days.
Nutrition Facts
Sofritas
Amount Per Serving
Calories 139
Calories from Fat 72
% Daily Value*
Fat 8g12%
Sodium 25mg1%
Potassium 105mg3%
Carbohydrates 12g4%
Protein 6g12%
Vitamin A 669IU13%
Vitamin C 27mg33%
Calcium 88mg9%
Iron 1mg6%
* Percent Daily Values are based on a 2000 calorie diet.