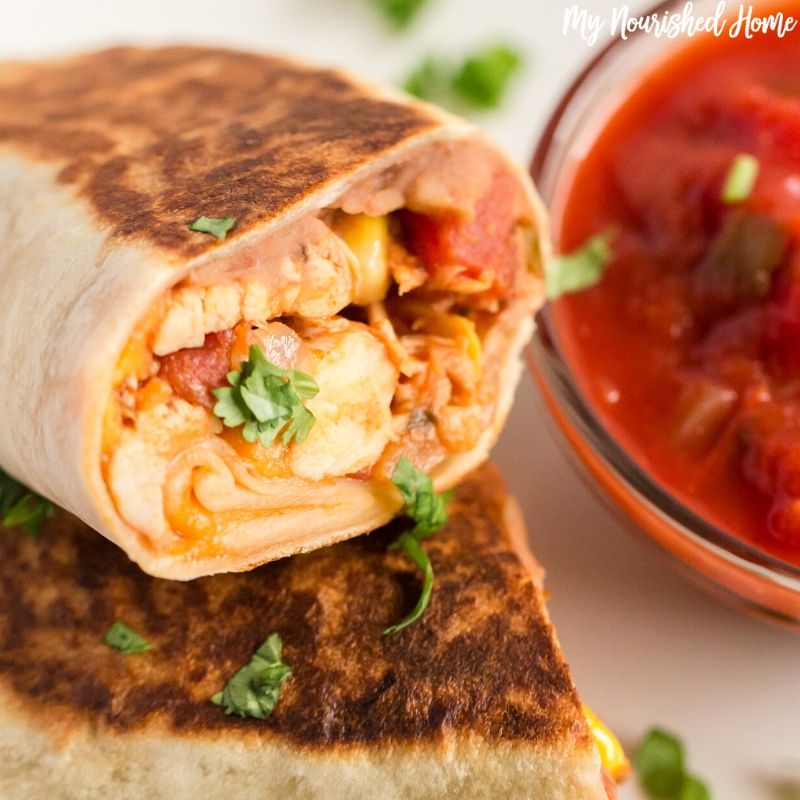 This Chicken Burrito recipe is on the table in 15 minutes. Perfect for weeknights when you've worked late, the kids have extracurricular activities or too much homework… okay, so they are basically perfect for every night of the week.
We use pre-cooked chicken, canned refried beans, and frozen corn in this chicken burrito… and the results are fresh and delicious!
Chicken Burrito Recipe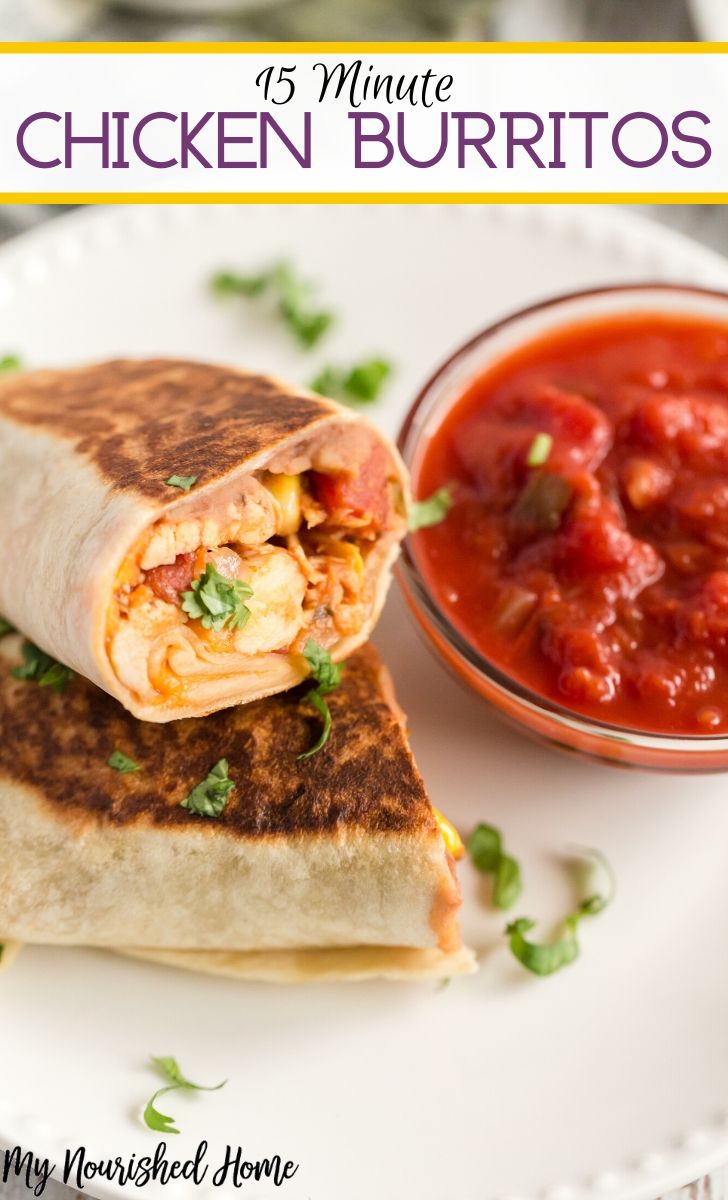 A grocery store rotisserie chicken is the star in this recipe. We literally ALWAYS have a rotisserie chicken in the cart at the grocery store. Probably two. Cook your chicken at home and you can plan to add half an hour to cook time (if you use chicken breast!) Grab a magically pre-cooked chicken on your weekly grocery store run and you've already done the heavy lifting for weeknight cooking.
Even if I don't have a plan for what to do with it, if we're really stuck for dinner one night, we just slice it up and roll with it.
But… rotisserie chicken is a staple for a lot of 15-minute meals, including these 15 Minute Chicken Burritos.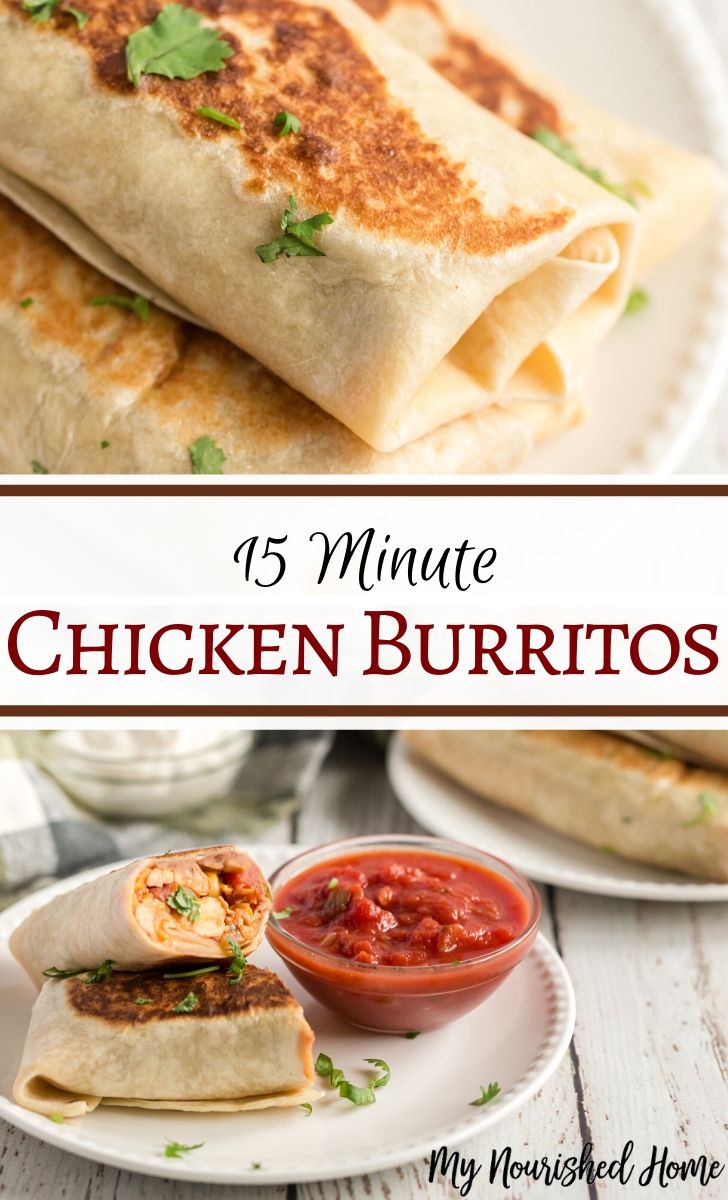 How to Make Chicken Burritos
You'll heat your burritos in a dry pan, no oil, no spray. So either wipe out the pan you used to heat the chicken mixture or grab a large clean pan.
Grab the 10-inch tortillas. They are easier to roll into burritos.
When you pick your rotisserie chicken at the store, make sure you grab one that is fresh and has not been under the heat lamp all day. Because you'll be heating these again when you get home, you don't want the chicken to be dry.
These work great with leftover chicken from a previous meal too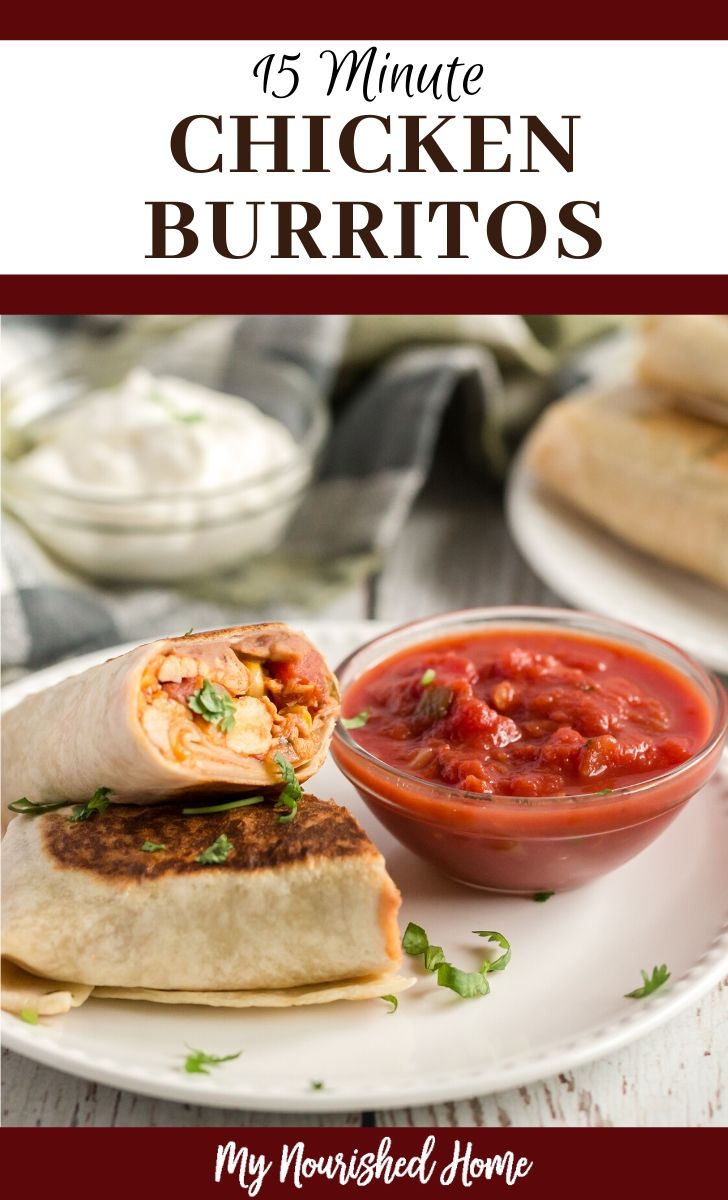 Are Burritos Healthy?
Like most recipes, how nutritious (or unhealthy) a recipe is has a lot to do with the ingredients you choose. We are not here to judge! (I used to be totally judgy… then I had 3 kids. I will never judge another mom again!) But we do include a nutrition label below the recipe so you can see how many calories are in a chicken burrito and what sort of nutrition it provides for your family.
15 Minute Recipes
So what do you think of our 15-minute recipe series so far? Helpful? Have you seen the 15 Minute Steak Sandwiches and 15 Minute Beef and Broccoli?
Are there recipes you'd like to see? Hit reply and tell me what you serve your family when you are most pressed for time. I am totally going to steal your ideas! 😂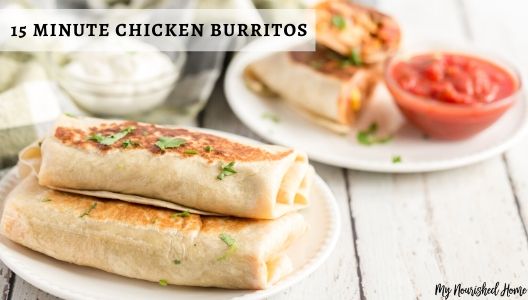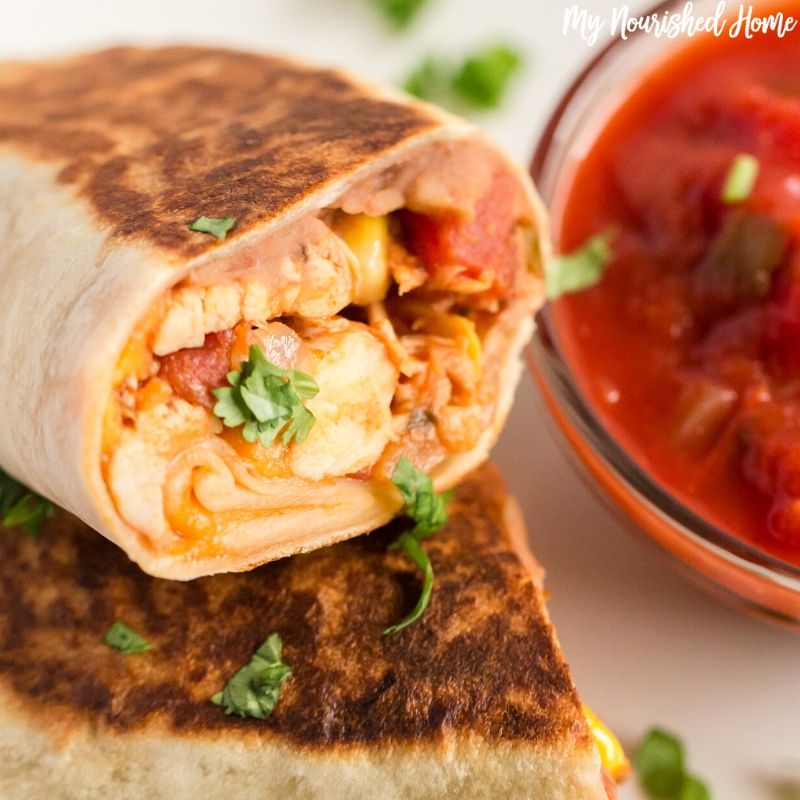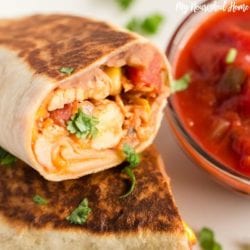 15 Minute Chicken Burritos
This delicious chicken burrito recipe is made better because it goes on the table in 15 Minutes!
Keyword:
15 Minute, chicken
Ingredients
4

10-inch

tortillas

1

Tbsp

Olive oil

½

Cup

onion

diced

2

Cups

cooked

shredded chicken

½

Cup

frozen corn

½

Cup

chunky salsa

1

Tbsp

taco seasoning

1

Cup

refried beans

1

Cup

shredded cheese

Salsa, sour cream and guacamole as sides
Instructions
In a large skillet, heat oil and add onion. Cook until translucent.

Add the chicken to the pan along with the corn, salsa, and taco seasoning. Stir and cook until heated through.

Spread ¼ cup of beans down the center of each tortilla, then top with chicken mixture and cheese.

Roll the burritos up by folding the 2 sides about an inch over the filling, then fold the bottom half of the tortilla over the filling and roll to close.

Heat a clean, large skillet on medium heat. Brush or spray bottom and top of each burrito with oil, then place seam side down on the skillet. Heat about one minute, then turn and heat the other side.

Serve with sides of choice.
Nutrition Facts
15 Minute Chicken Burritos
Amount Per Serving
Calories 489
Calories from Fat 171
% Daily Value*
Fat 19g29%
Cholesterol 63mg21%
Sodium 1935mg81%
Potassium 470mg13%
Carbohydrates 52g17%
Protein 26g52%
Vitamin A 454IU9%
Vitamin C 17mg21%
Calcium 253mg25%
Iron 4mg22%
* Percent Daily Values are based on a 2000 calorie diet.