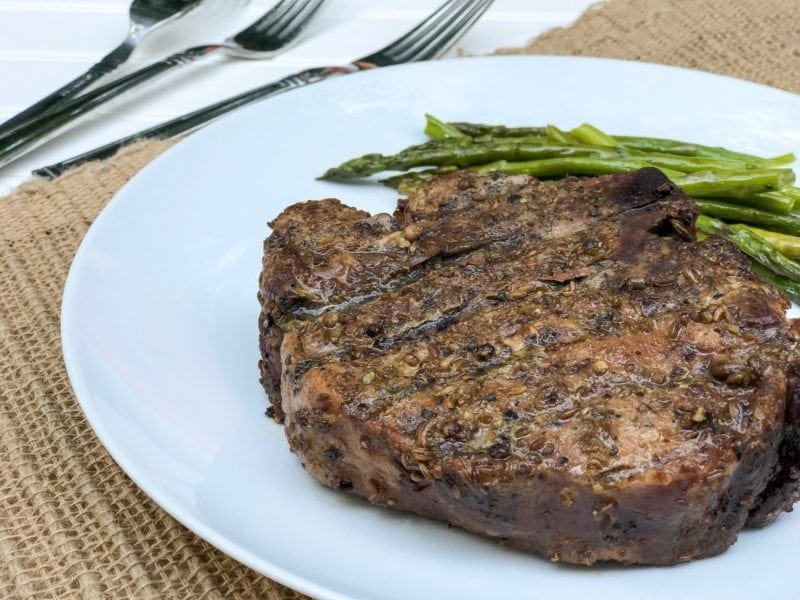 If you have a smoker, these Smoked Pork Chops are going to change everything. If you don't have a smoker, go buy one. Because these Smoked Pork Chops are going to change everything. You will never eat one that tastes better!

Smoked Pork Chops
My husband Jeff is working on his grilling and smoking recipes so that he can have his own corner of our family website. Considering that we have dubbed our garage at home the MAN CAVE – remember that Jeff lives with myself and 3 daughters – I have suggested his area of the website be called the same.
So at some point in the undetermined future, grilling and smoking recipes will be found under a very manly-looking menu icon called MAN CAVE. But until then, they will just be found alongside our less manly cooking methods.
By the way, it will also include this recipe for Smoked Pork Tenderloin! It is so good!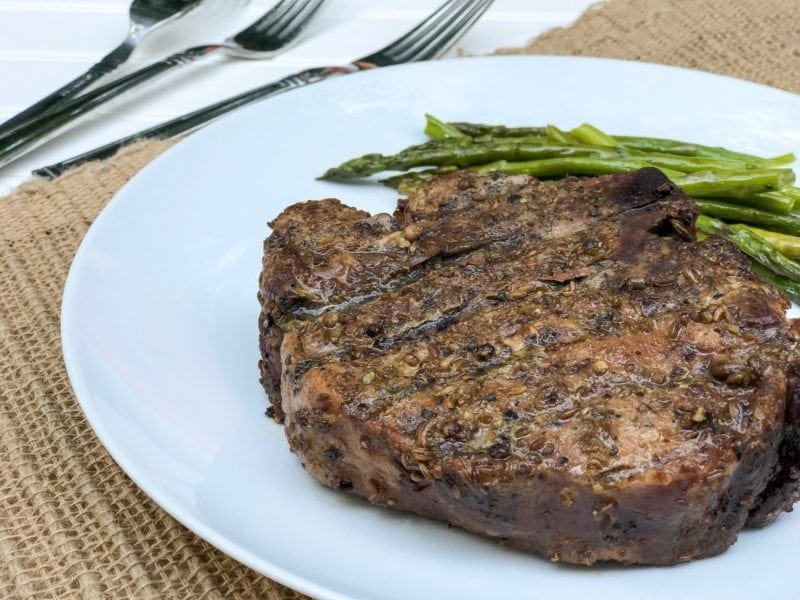 This Pork Chop Recipe is the Best I have Ever Tasted!
I love my husband for many reasons: he is a supportive husband; a loving father; a good-looking, smart guy with a real job (no, you may not have him). I could go on and on about all the reasons I love my husband – but I am pretty sure if you asked me to rank them in order of importance, smoking the best pork chop I've ever tasted is somewhere in the Top Ten.
Before Jeff, my pork chops were always dry. So dry in fact that I stopped cooking them for years – yep, years. Then I met Jeff, and succulent, well-seasoned, tender pork chops were mine to savor. It was meant to be. (Actually, he had me a good-looking, smart guy with a real job.)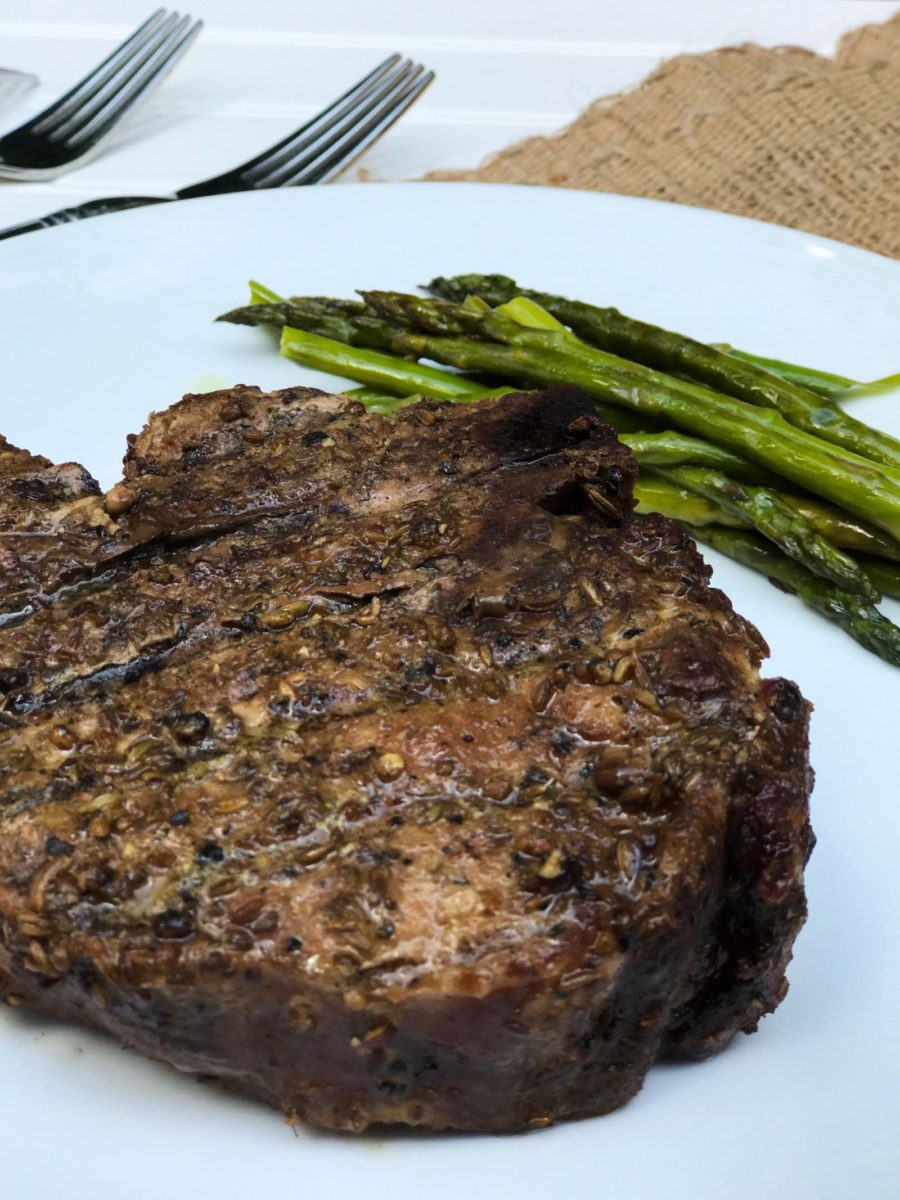 The Best Pork Spice Rub
We use this Pork Chop Spice Rub every time we smoke pork chops. We've never found one that tastes better, though you could substitute any spice rub you desire in this recipe. In our former life, we used a leading pre-bottled marinade when smoking meat. Now we know how easy it is to make this spice rub in bulk and keep it in the cabinet at all time!
So hurry…
Write this down!
How to make Pork Chop Spice Rub that will knock your socks off:
1 tbsp coriander seeds
1 tbsp fennel seeds
1 tbsp black peppercorns
1 tbsp kosher salt
1 1/2 tsp cumin seeds
Yes, you are using whole seeds. Then you will SMASH IT WITH A HAMMER!!!
(Is anyone other than me old enough to remember Ysma in The Emperor's New Groove? If you didn't get the reference above, this link is for you. (A.) Because I am getting old. And (B) that movie is hysterical even after all these years.)
Seriously, crushing seeds is not exactly easy if you don't have a spice grinder, but this mix it totally worth it.
I mentioned we do a huge pile of spice mix all at once and store it in a jar…
After several years of mortar and pestle, beating it with a rolling pin, and putting it in the coffee grinder (I was not pleased, I do not want my coffee tasting like pork chops!)… this may be his greatest culinary achievement…
My husband the power drill into the pepper mill to grind spices. After I got over the shock of the power drill being in my kitchen in that capacity. I have to admit, it was pretty effective.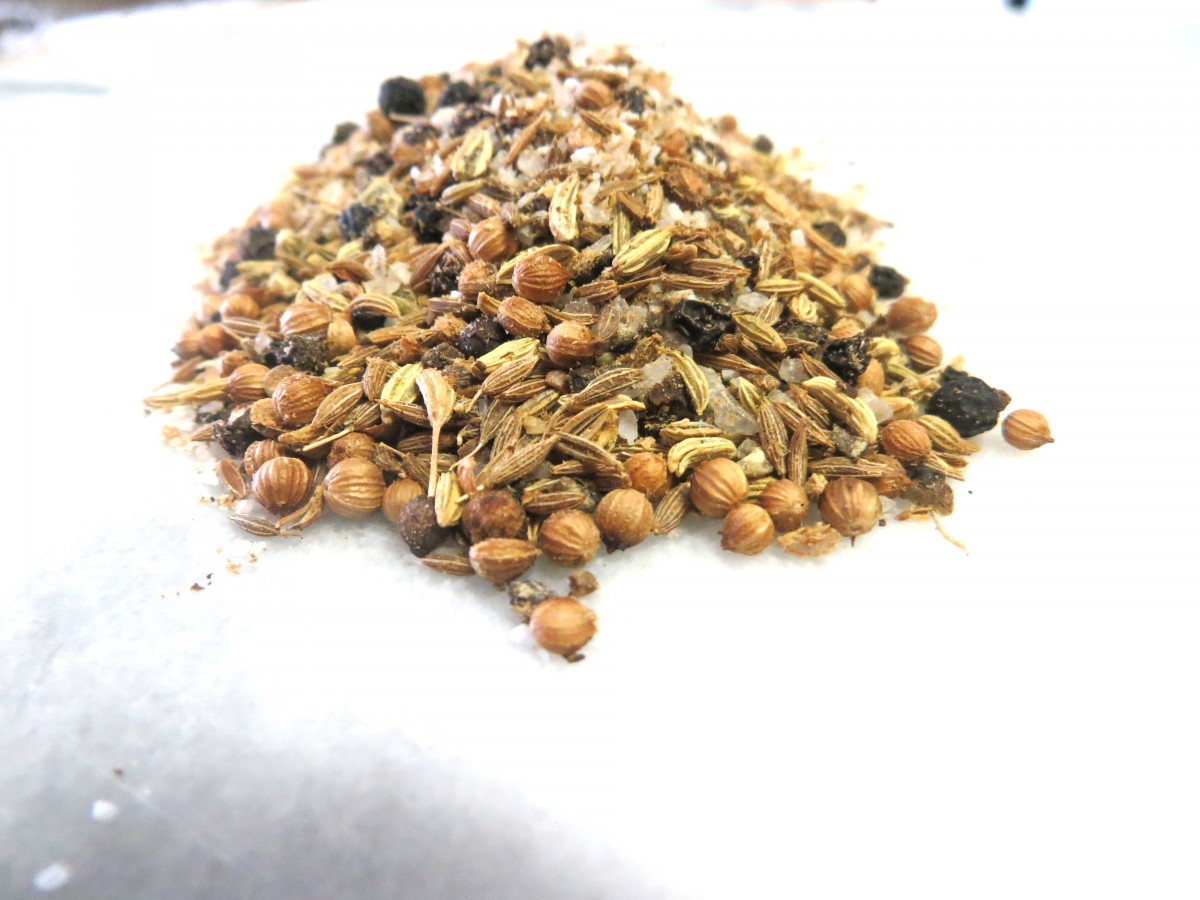 The Green Egg Smoked Pork Chops
I often get messages about what kind of smoker we have because it makes a semi-regular appearance on Instagram. We have a Big Green Egg smoker. It is big and a bit crazy looking but is absolutely the best smoker in the entire world! If you have questions about the Big Green Egg, I can't help you – aside from telling you that the food that comes off of it is delicious. But my husband would be more than happy to talk with you about it in detail. So ask away!
What to Serve with Smoked Pork Chops?
You have to have a side that can stand up to bold flavors at a barbeque! Try these Chipotle Red Potatoes and Roasted Corn on the Cob!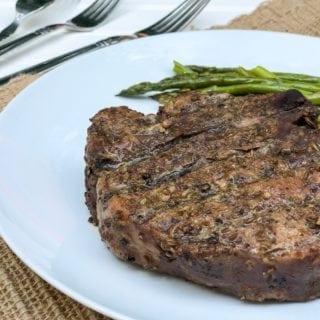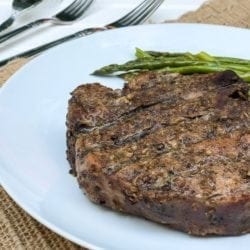 Smoked Pork Chops
The thickness of the pork chops will determine cooking time. The chops you see in the picture were very thick and took about an hour and 30 minutes to cook to an internal temperature of 155. Pork needs to reach an internal temperature of 145 for medium rare - 165 is well done. However, well done tends to be tough. We also like to smoke our meat slowly, rather than grilling at a high heat.
Keyword:
grill, pork, pork chop, smoker
Ingredients
Smoked Pork Chops
4

center-cut, bone-in, thick cut pork chops

thickness of pork chops will determine cooking time

1/3

cup

Pork Chop Spice Rub

See below

4

tbsp

olive oil
Pork Chop Spice Rub
1

Tbsp

coriander seeds

1

Tbsp

fennel seeds

1

Tbsp

black peppercorns

1

Tbsp

kosher salt

1 1/2

Tsp

cumin seeds
Instructions
Set up the smoker for with lump charcoal, light the fire and preheat the smoker to 250 degrees.

Brush room temperature pork chops with olive oil and pat oiled chops with Pork Chop Spice Rub.

Place chops in preheated smoker and close the lid. Check the temperature of the chops every 30 minutes until they reach the desired internal temperature. These chops took around 2 hours to smoke. But the thickness will determine the cooking time. We like to use a digital thermometer to evaluate internal temperature while they smoke so they are neither over or under cooked when we pull them off the smoker.

Let chops rest for 10 minutes before serving.
Nutrition Facts
Smoked Pork Chops
Amount Per Serving
Calories 430
Calories from Fat 270
% Daily Value*
Fat 30g46%
Cholesterol 117mg39%
Sodium 1841mg77%
Potassium 669mg19%
Carbohydrates 3g1%
Protein 36g72%
Vitamin A 15IU0%
Vitamin C 0.6mg1%
Calcium 77mg8%
Iron 2.4mg13%
* Percent Daily Values are based on a 2000 calorie diet.