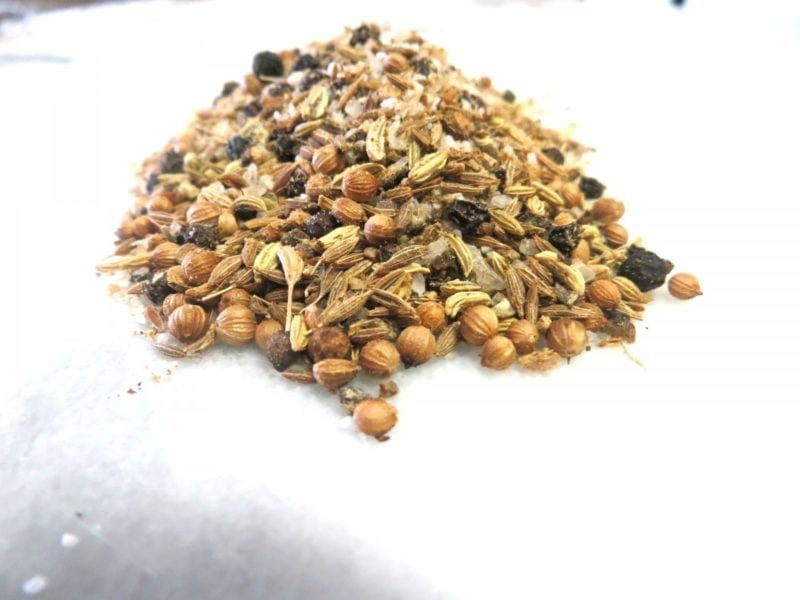 I found this mix of spices years ago in a Food and Wine magazine. I wish I knew the issue so I could properly give credit where credit is due but the truth is I don't even know what year it was when I found it. The article (if you can even call it that) was only a column wide and about 2 inches tall tucked inside of one of the front pages of the magazine.  I don't know why it caught my attention but years later, I have never found a better tasting way to smoke or grill pork chops. Don't take a short cut here and buy pre-ground spices. The freshly cracked seeds give this spice rub its fabulous flavor. I do not have a spice grinder. My husband does it manually — which means he beats the ingredients into submission with a rolling pin until the majority of the seeds have busted. It is not a perfect system but has become an integral part of our family comedy routine. We should probably just buy a grinder. But until we do, we can just keep having pork chops anytime my husband needs a workout.
Tip: I keep my spice mixes in Mason or Ball jars. They work perfectly for storage when I want to make up a big batch of spice mixes for easy use later.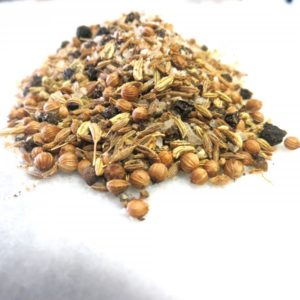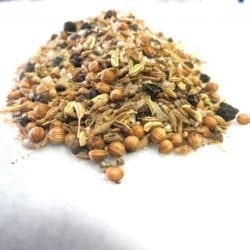 Pork Chop Spice Rub
Makes about 1/4 cup of spice rub.
Course:
Main Dishes, Spices, Dressings & Marinades
Ingredients
1

tbsp

coriander seeds

1

tbsp

fennel seeds

1

tbsp

black peppercorns

1

tbsp

kosher salt

1 1/2

tsp

cumin seeds

1 to 1 1/2

tbsp

olive oil
Instructions
Combine the first 5 ingredients and crush with a mortar and pestle, spice grinder, or strong husband with a rolling pin.

Before grilling or smoking pork chops, rub both sides of chops all over with oil and pat approximately 1 tbsp of spice rub on each chop.