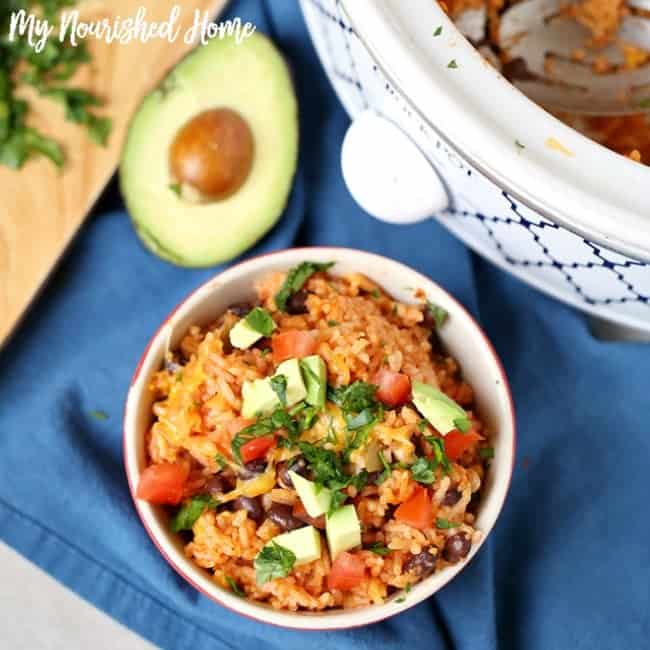 Slow Cooker Mexican Rice and Beans is an easy and versatile meal for your family on Mexican food night. You can eat it plain with your favorite toppings or throw it in a tortilla and use it as taco filling!
Slow cooker recipes are one of the best things that has ever happened to busy parents, at least in our house they are! It cuts down on so much rushing around in the evenings when dinner is ready to be put on a plate as soon as the kids get hungry.
Most parents know that evening time is the most hectic at home. Kids are tired and hungry, my husband is just getting home from work, kids need baths, homework has to be done…the list goes on and on. That is the biggest reason why slow cooker recipes have continued to stay so popular over the years!
 Slow Cooker Mexican Rice and Beans
Ever since my daughter started eating real food she has been eating her Mexican rice and beans mixed together. When we eat out for Mexican food she always asks for us to mix it up for her. After eating this recipe, now we know why she likes it that way!
We love eating out for Mexican food night but with a bigger family, it isn't always feasible to spend the money on going out when we can create the same recipes at home for a fraction of the cost. Money aside, it is also not always feasible to have my kids on my head in a restaurant while we have dinner.
My favorite thing about this recipe is that it is extremely versatile. One kid can eat it as a taco while the other eats it straight out of the bowl. You can top it with sour cream and green onions while your husband tops it with mounds of cheese.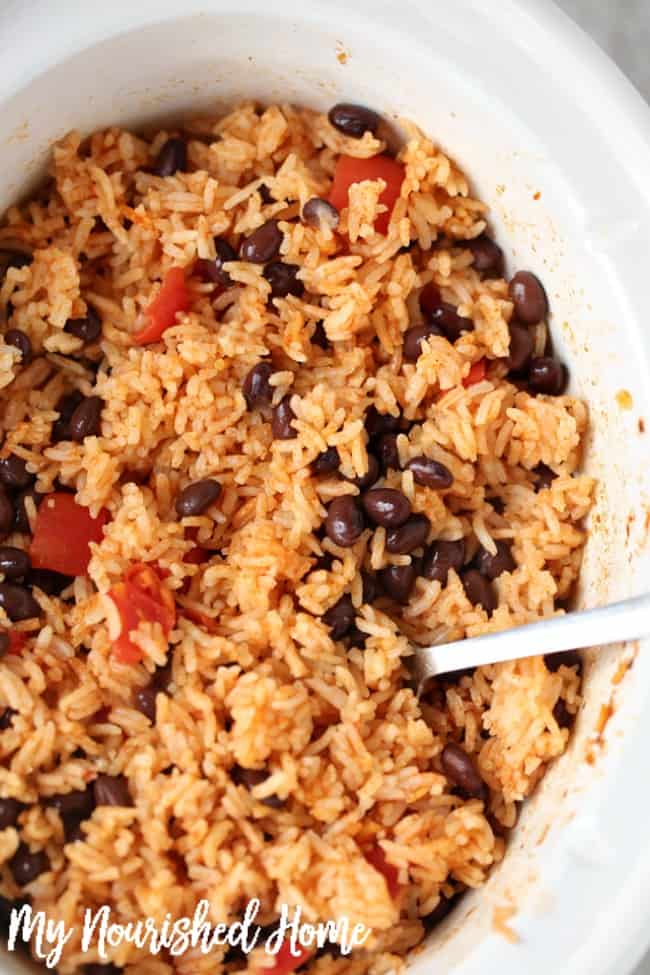 Mexican Rice and Beans in Bulk
This slow cooker recipe really is one of the best for large families. It can easily be doubled and altered to satisfy everyone's taste. You can also cook the Mexican rice and beans in bulk for multiple meals. One day you can cook up chicken or beef to add to it to make copycat Chipotle bowls and later that week you can have taco night!
Sour cream, cheddar cheese, cilantro, green onions, and diced avocados are some great options for toppings. If you have a birthday celebration or just a family gathering, you can make this recipe and just set out bowls for toppings! There is nothing better than easy prep and easy clean up for party food!
Looking for more Slow Cooker Recipes?
This Slow Cooker Pulled Pork is amazing! It might even be tasty over the Rice and Beans!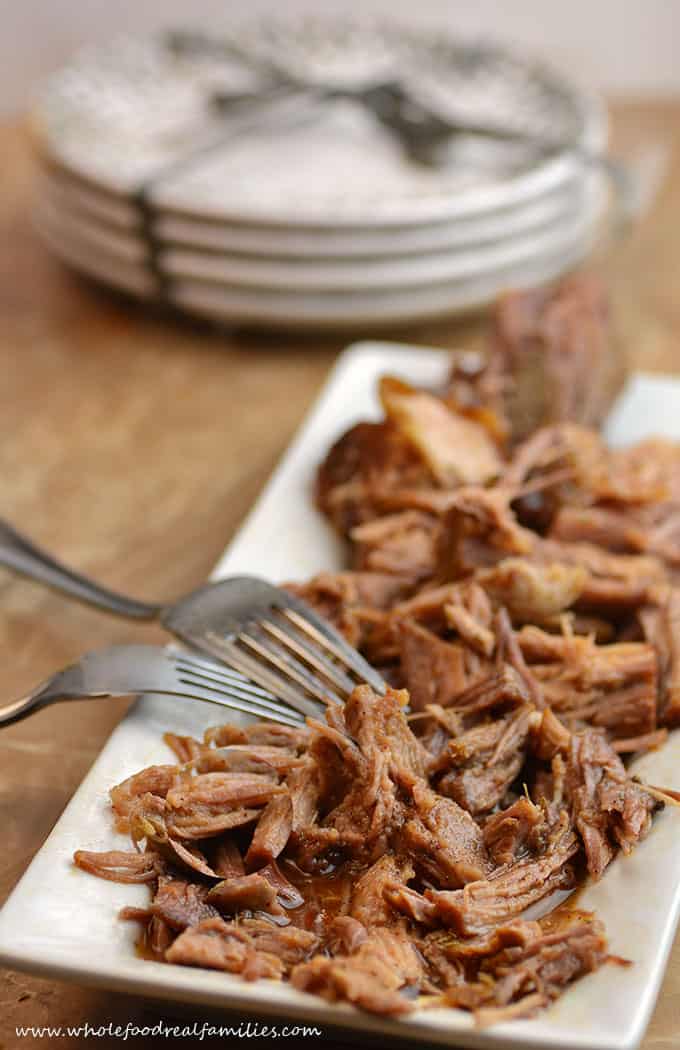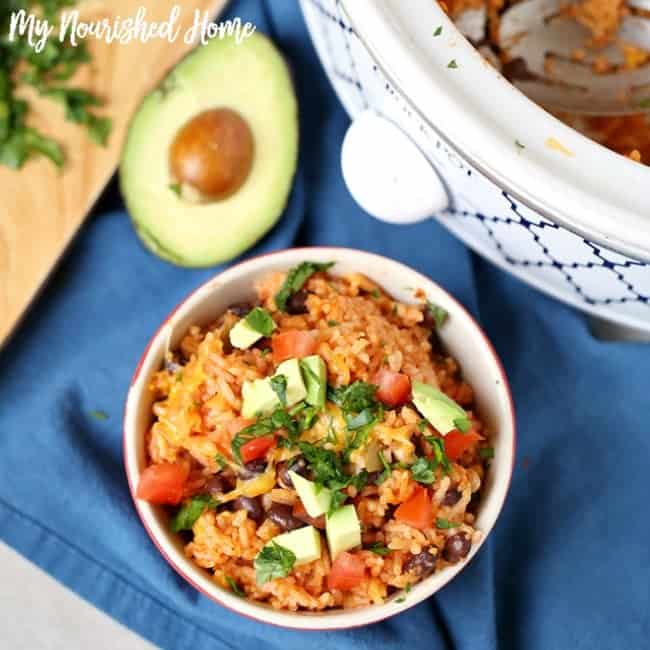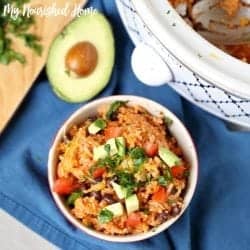 Slow Cooker Mexican Rice and Beans
Ingredients
1

cup

jasmine rice

1

cup

vegetable broth

1/2

can

diced tomatoes

2

tsp

taco seasoning

1

can

black beans

1/2

cup

salsa

1/2-1

cup

shredded cheddar cheese

cilantro

avocado

tomato
Instructions
Rinse the jasmine rice in a colander until the water turns from cloudy to clear. Don't skip the rinse!

Combine rice, broth, tomatoes, and taco seasoning in a slow cooker. Cook in medium for 1 hour.

Add your beans and salsa, stir, and cook an additional hour to hour and a half, until the rice begins to soften.

Mix in your cheese, and top with cheese as well if you like, then cook a final 30 minutes.

Serve with cilantro, tomato, avocado, or toppings of your choice. This recipe also goes great for taco filling!