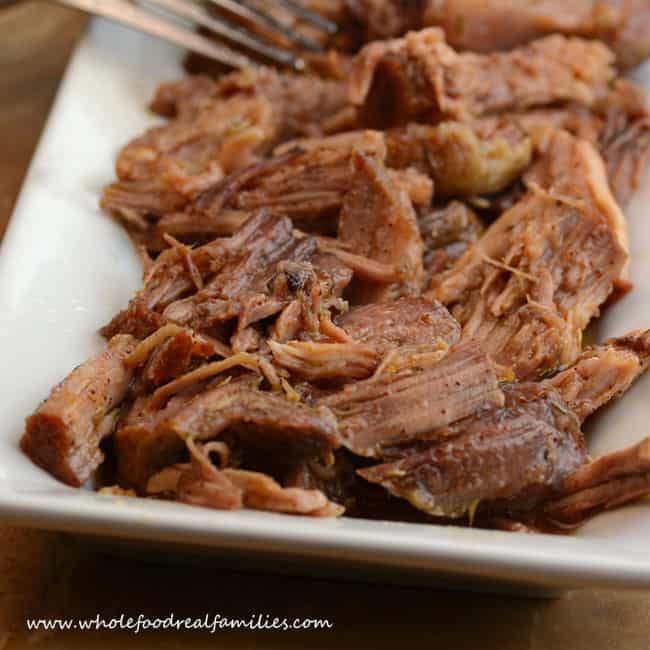 This Slow Cooker Pulled Pork is delicious and makes enough for a hearty dinner, lunchtime sandwiches and a breakfast hash later in the week.
When I tell you this Slow Cooker Pulled Pork is a staple in our house, I really mean it. I love any recipe that (a) cooks in the slow cooker, (b) makes enough to feed my family dinner with leftovers for work and school lunches the next day and (c) is easy to double so that I can cook once, eat multiple times – or freeze the remainder for another meal on another day. If you choose to double the recipe, just purchase a 6-7 pound pork shoulder and double the other ingredients. I have to be honest, I never ever make a 3 pound pork shoulder. It is just too easy to use – even freeze the cooked meat to eat again at a later date.
There was a time that the only way I ate Pulled Pork was shredded with barbeque sauce between two burger buns. Don't get me wrong, BBQ Sandwiches are delicious – really delicious! But I have found that pulled pork is a lot more flexible than I gave it credit for in my early days of cooking. So don't pile on the barbeque sauce while the pork is in the slow cooker. Pull out whatever you want to use for other recipes first. We love serving this recipe right on the plate with a load of veggies as a main dish. Barbeque Sandwiches are always lunch or dinner the second day.
Perhaps our favorite way to use this Slow Cooker Pulled Pork is in this Pulled Pork Hash with Baked Eggs. It is so good that we can eat it for breakfast or dinner. It also serves to use up those last bits of pulled pork that are left when there isn't quite enough to feed the whole family. The Pulled Pork Hash with Baked Eggs is a very flexible recipe. Alter the ingredient amounts based on what you have – it is always tasty!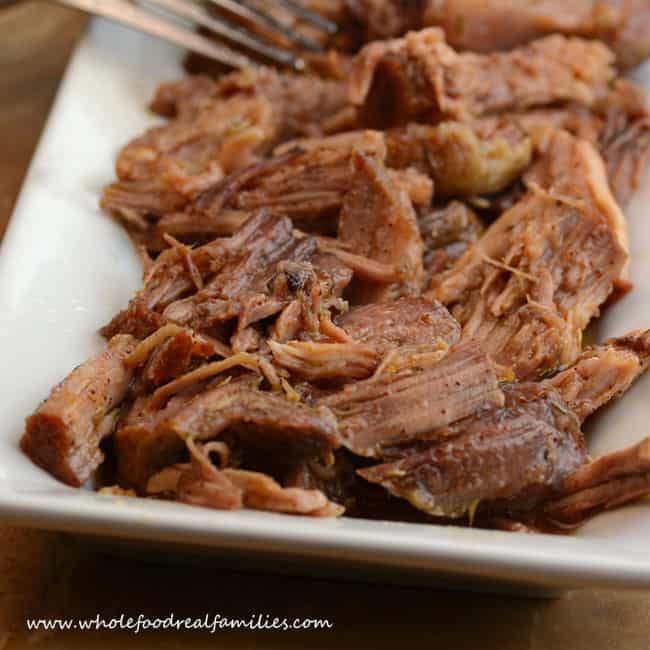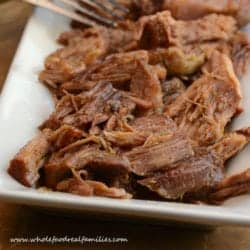 Pulled Pork in the Slow Cooker
Course:
Main Dishes, Soup, Salad & Sandwich
Ingredients
2

tbsp

salt

1

tbsp

black pepper

1

tsp

chipolte chili powder

1

tsp

garlic powder

1/2

tsp

dried thyme

1/2

cup

honey

local, organic honey is always preferable

1/4

cup

red wine vinegar

3

tbsp

olive oil

1

onion

peeled and cut in half

3 to 3 1/2

lb

pork shoulder
Instructions
In a medium sized mixing bown, mix the first 5 ingredients (all the spices) together in a bowl.

Pour in the honey, vinegar, and olive oil. Stir to form a paste.

Place the onion halves at the bottom of the slow cooker. Top it with the pork shoulder. Pour the spice paste over the top of the pork. It is okay if it drips down into the bottom.

Cook on LOW for 7-8 hours or until the meat is tender enough to easily shred with a fork. (If you double the recipe, you will increase the cooking time.)

Refrigerate the leftovers. This also freezes well.

Personally, I love this with hot sauce. We have a collection of hot sauces at home and I am making it my personal goal to work through them all to see which one is best on this pork. If you are so inclined, this is also fantastic on whole wheat, organic buns for Pulled Pork Sandwiches.