Most weekends, I take extra time in the kitchen, cooking the slow food I don't always have time to cook during the busy week. Those meals not only feed us on the weekend, but leftovers usually give us a head start on the week.  I always have this fantasy that each weekend we will sit leisurely around the family table chatting, my husband and I will enjoy a glass of wine, the kids will eat their vegetables and everything will magically align itself for the week ahead. Sometimes it happens.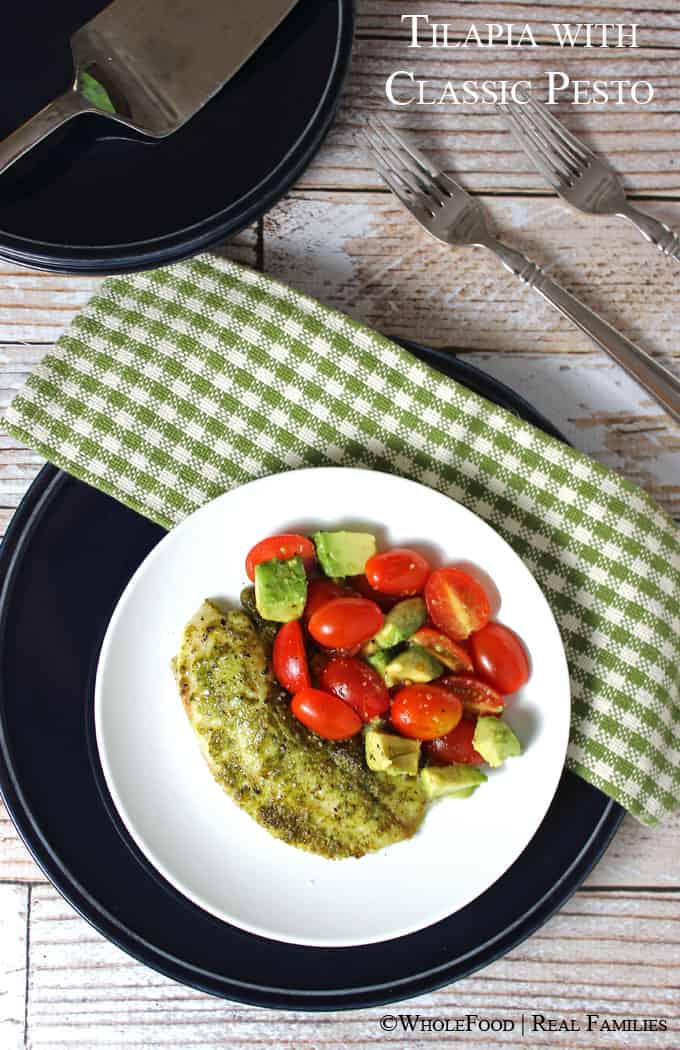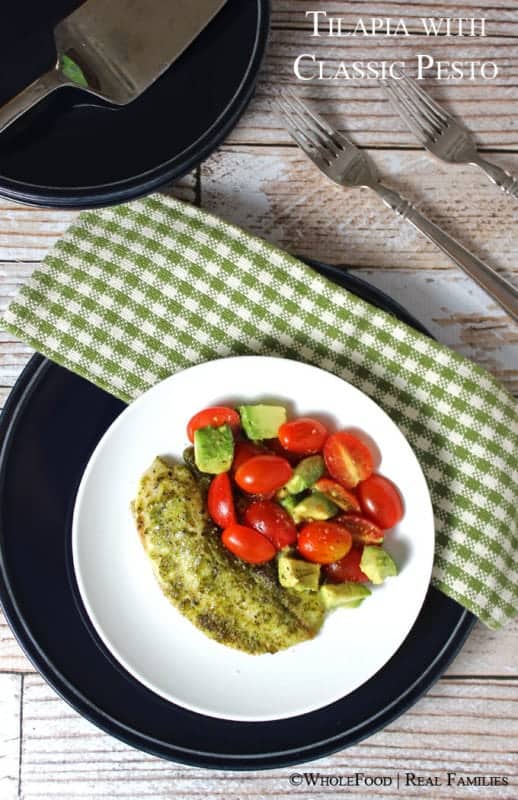 Sometimes the reality of having two toddlers and a teenager in the house rears its head and I find myself needing to get something on the table quickly that everyone will eat and be happy about. Sunday is the night when everyone is home – they have to be because Monday morning, school and work roll around again. And when it is time for Sunday Supper, Tilapia with Classic Pesto rescue me so I can actually relax and join my family at the table before the week takes over and everyone is on the go again. No long recipe, no lengthy preparation, no crazy dishes to wash. Just easy, fresh food that everyone loves.
Every spring, I rush to plant basil so that I have pesto at my disposal all year round. If you don't believe me, check out the post for Classic Pesto. I make it by the truckload so that I can always have a good meal at my finger tips. If you have never planted anything in your life, find a pot and put some basil in it. I have never tasted pesto out of a jar that was as good as the stuff you make at home. And growing your own will pay huge dividends at checkout if you like pesto as much as we do.
I love tilapia because it is tasty, mild and far cheaper than most other white fish. But be thoughtful of where you source your fish. There are some pretty sketchy methods for raising farmed tilapia that I will forgo for the sake of your desire to eat fish. As with most choices when it comes to food, there is always an opportunity to take shortcuts and increase profits – and there is always the opportunity to do it right. Personally, I don't want to eat fish from the shortcut guy.
One of the ways I get dinner on the table quickly with fresh ingredients rather than packaged convenience food – I don't shy away from uncooked sides. Sliced and marinated cucumbers, tomato salad, raw veggies and hummus or homemade Ranch dip. All easy wash, slice and serve. Here is an alternate fish recipe where we served marinated cucumbers and melon. Beside this Tilapia with Classic Pesto, fresh tomatoes and avocado are drizzled with a little olive oil and fresh lemon juice. It doesn't get any easier than that! Enjoy!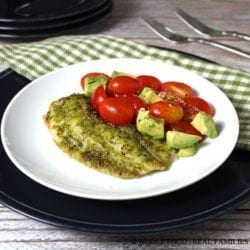 Tilapia with Classic Pesto #SundaySupper
Ingredients
Tilapia with Classic Pesto
6

Tilapia filets

1/2

cup

Pesto

1/2

cup

Parmesan cheese, freshly grated

Kosher Salt and Fresh Cracked Black Pepper
Tomato and Avocado Salad
1

pint

cherry or grape tomatoes, halved

1

avocado, ripe and diced

2

tbsp

olive oil

1/2

lemon, for juicing
Instructions
Preheat the oven to 425 degrees. Brush a sheet pan with olive oil to prevent sticking. Pat tilapia dry, salt and pepper each side of the filet to taste and lay in the sheet pan. Brush the tops of each filet liberally with pesto. Top each filet with additional Parmesan cheese and place the sheet pan in the oven for around 15 minutes, or until the fish flakes easily and in no longer translucent.

For tomato and avocado salad: Gently combine tomatoes, diced avocado, 2 tbsp olive oil, and the juice from half a lemon. Salt and pepper to taste. Serve with the tilapia for an easy fresh side!