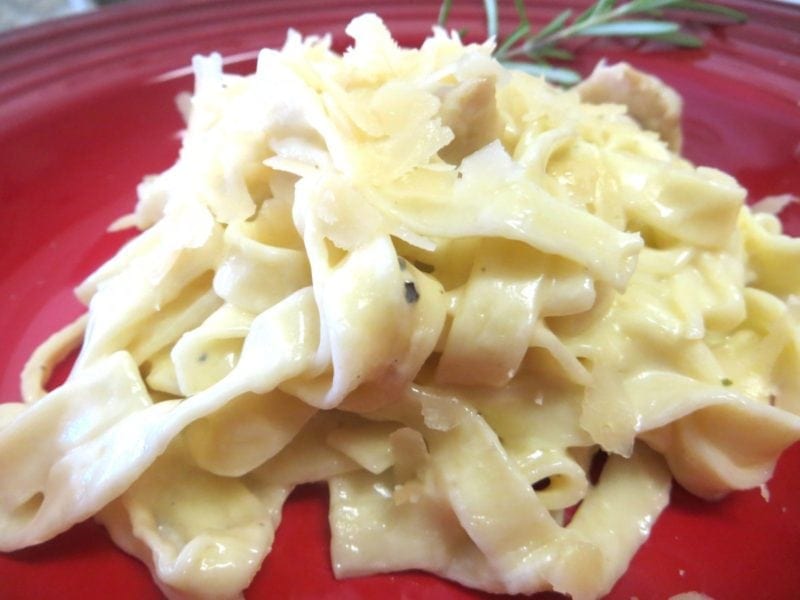 Rosemary Alfredo is a beloved favorite at our house. Both because it is delicious and because it goes on the table in less than 30 minutes. The herbs give this dish a push past generic Italian takeout to thoughtful, home-cooked meal that even your pickiest eater will love.
If you are looking for something decadent for dinner, this is it. If you are counting calories or fat grams, you probably don't want to know where this one registers. But it is so amazing that we are more than happy to dig in and push those pesky numbers out of our minds!
When I first began thinking about our home becoming "whole food," it was an all or nothing idea in my head. You can likely find some of those old posts if you look hard enough. But what I have found over time is that a spoonful of sugar and an occassional treat made with refined sugar or flour will not bring the whole food police. Instead, we eat what we love at home with unrefined ingredients. When the weekend comes, if we are craving pizza and ice cream, we go out as a family to enjoy it. But because we keep our home clear of refined ingredients, it keeps the balance heavily in favor of healthier ingredients.
You can read more about our whole food lifestyle here: Practical Tips for Keeping Meals Healthy.
This Rosemary Alfredo with Roasted Chicken Thighs has permanently replaced the bottled alfredo sauce we used to purchase at the grocery store. Instead we opt for ingredients that may have fewer chemicals we can't pronounce – and if they are high in fat and calories, they are not banned – they are thoroughly enjoyed, just not every day.
If you are looking for more fast pasta dishes with whole food ingredients, check out this Garlicy Pasta with Sauteed Shrimp and Chard. If you are not currently receiving the Whole Food | Real Families newsletter, sign up here. You'll get lots of whole food recipes and tips right to your inbox.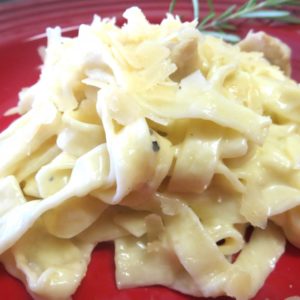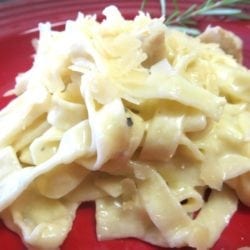 Rosemary Alfredo with Roasted Chicken Thighs
Ingredients
Oven Roasted Rosemary Chicken Thighs
1 to 1 1/2

lb

boneless, skinless, chicken thighs

3

tbsp

olive oil

1

tbsp

fresh rosemary, finely chopped

kosher salt and black pepper to taste
Rosemary Alfredo
1/2

cup

butter

1 stick

2

cups

heavy cream

2

cups

Parmesan Cheese, grated

grate your own cheese for the best flavor!

2

tbsp

fresh rosemary, finely chopped

kosher salt and black pepper to taste

1

lb

fresh whole wheat pasta

2

tbsp

fresh parsley for garnishing
Instructions
Preheat oven to 425 degrees. Sprinkle salt, pepper and rosemary over chicken thighs. Drizzle with olive oil. Mix together to make sure chicken is completely covered in oil and seasonings.

Lay the chicken in baking dish and cook for 20-25 minutes or until baked through. Cover and let chicken rest for 10 minutes.

While chicken is cooking, bring a well-salted pot of water to a boil for pasta. Cook any long, whole wheat pasta. Fettuccine is a common choice but tagliatelle is our favorite!

Also while chicken is cooking, melt butter over low heat in a saucepan. Add cream and bring to a low simmer, whisking ingredients together frequently. Allow sauce to reduce for 5-7 minutes. Add rosemary, salt, pepper and half of the Parmesan cheese. Whisk to combine.

Pour sauce over the cooked, drained pasta. Add the rest of the Parmesan cheese and gently fold to combine and allow the cheese to melt.

Either slice chicken thighs and lay across the top of the pasta. Or cut the chicken into bite-sized pieces and gently toss with pasta.

Garnish finished dish with fresh chopped parsley if you desire! Enjoy!