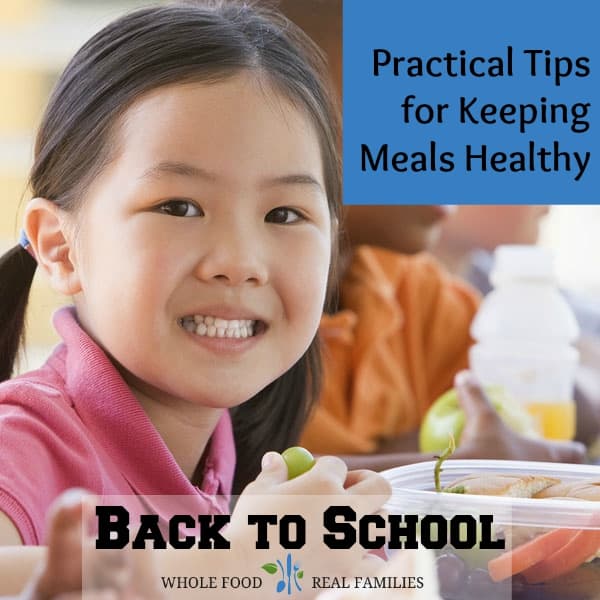 Back to School means filling those lunchboxes again. Here are some Practical Tips for Keeping Meals Healthy!
When I first weaned our family from refined ingredients, it was because I was concerned about the quality of food we were eating. Then I found myself staring down all the obstacles that created in my life. Without packaged food, my kids' lunchboxes were now mostly empty. Then came figuring out how to feed my kids breakfast in the three minutes I had left after hitting the snooze button too many times.

Heading back to school and need help keeping meals healthy? It can be done. You don't have to reach for plastic-wrapped, refined food to fill up a lunchbox. And you don't have to spend half an hour cooking breakfast before school. (Thank goodness! Do you know how early the school buses run around here?!)
Make 2 or 3 whole food breakfast recipes on the weekend that refrigerate well. Reheat them for breakfast during the week. For example, we love overnight oats. No cooking involved and there are endless variations. Line up your Mason jars on Sunday night, mix them up and they will keep for the week in the refrigerator. Pancakes, waffles, and egg muffins are great options too.
Incorporate ingredients you don't have to cook. Speaking of overnight oats, I usually mix up plain ole' vanilla to keep in the refrigerator in the spring and summer when fruit is abundant. When we get up, I stir in a spoonful of jam for flavor and top with whatever fresh fruit is in the bowl on the counter. Sometimes I even toss in some nuts and drizzle with honey if I have four minutes in the morning instead of the typical three. These Strawberries and Cream Overnight Oats are a hit at our house during the school year.
The raw food rule applies for lunch too. Even if your kids object to salad for lunch – apples, carrots, berries, cucumbers, sweet peppers, oranges – save a spot in the lunchbox for raw food every day. Your kids will get used to it and it is a habit that will help them eat well for their whole life. See #7 for help making this work.
Whatever you're cooking, double it. If you are going to scramble eggs on the weekend, double what you usually cook. While you are cleaning up the kitchen, drop the leftovers in whole wheat wraps with a little cheese and a little leftover sausage from Sunday breakfast. Wrap them like burritos in parchment paper and stick them in a container in the refrigerator. The wraps heat up in 30 seconds in the microwave and the parchment paper makes it easy to grab and go if you tend to eat breakfast in the car. (Not that we ever do that.)
Whatever you are baking, double that too. Whole wheat muffins and breads freeze with little problems. If you are baking, double it and freeze half. Make sure you wrap baked goods well for the freezer and thaw them in the refrigerator so they don't get sticky. You end up with twice the number of meals in roughly the same amount of time.
Bite the bullet and buy the good lunch containers. I almost choked last time I had to buy a decent thermos. They are not cheap. But the good ones, made from stainless steel are both safer for food and actually keep the food hot or cold well past lunchtime. Having the right containers for lunch opens up a world of opportunity for meals at school when there is no access to a refrigerator or microwave.
Dip it. For lunch boxes, serve raw veggies, fruits, or last night's leftovers with dips. Hummus, black bean dip, tahini, tzatziki, peanut butter, almond butter, cream cheese spread, fruit spread, pizza sauce, even mustard. Whatever your kids like to dip stuff in, pack it. I have never found the time to make my kid's lunches into cute characters but if packing almond butter means eating more apples, hummus means more carrots, and mustard means they eat cubes of last night's leftover chicken – so be it.
Don't forget the soup (or stew or chili). See #5. It is easy to make soup by the gallon and freeze it in the portion that works for your family. When I make soup, we usually have it for dinner, then I freeze leftovers in 3 person portions. There are five of us but my baby is not into hot soup and my husband's lunch schedule is unpredictable. So when I thaw soup, I have just the right amount for lunches with no waste. Stick to soups with no white rice or pasta, they turn to mush when thawed. And milk, cream, and cheese doesn't always freeze so well so add it after reheating. This Classic Tomato Soup

is easy and reheats well.

When you plan dinner, plan lunch too. Perhaps most importantly, when you are deciding what to make for dinner, make a habit of considering lunch too. Should you cook and extra portion or two for the next day's lunch rotation? If the whole meal won't pack well, is there an element of it that will? If you are throwing chicken on the grill, can you dice an extra piece for the next day? If you are chopping carrots to roast, should you cut extra for tomorrow's raw veggies? When you are putting leftovers in the fridge, is there anything you need to move from the freezer to the refrigerator for the next day? When you get into a good routine, start talking to your family about what they want for lunch the next day while you are cooking dinner. Helping everyone learn to plan tomorrow's lunch while preparing tonight's dinner wards off the early morning pre-bus scramble.
Have some ideas about making keeping the school lunchbox healthy? Or making early morning meals healthier and faster? I really want to hear what works for you and your family. Visit me at www.wholefoodrealfamilies.com or drop me an email at hello@wholefoodrealfamilies dot com.