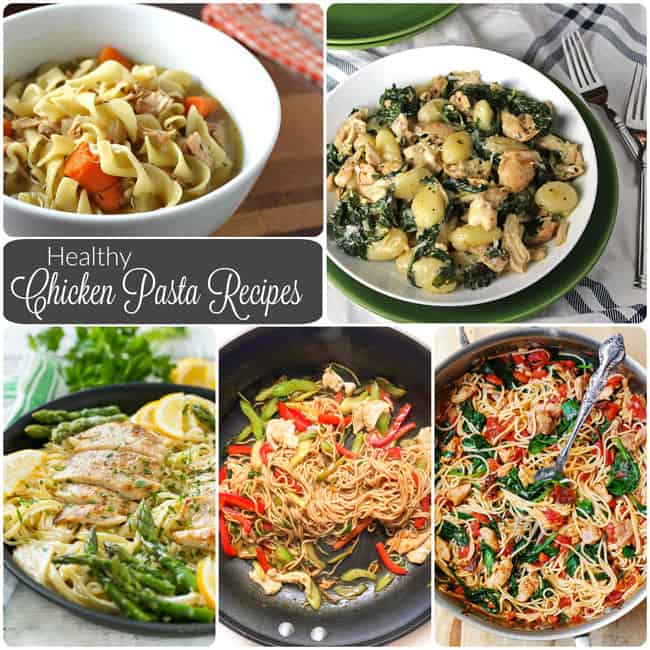 Healthy Chicken Pasta Recipes are the warm, nourishing, satisfying dinner that parents everwhere turn to when dinner is urgert, time is short, and it is more important to spend time at the table with the family than in the kitchen cooking. This collection of recipes includes lots of our favorites – the dishes our family eats together again and again. I hope you enjoy them as much as we do!
We often make Creamy Chicken and Kale Gnocchi after grilling chicken on the weekends. It is rich and delicious – and a sneaky way to get my family to eat their greens! Bake the chicken when you need it or just toss a few extra chicken breasts on the grill and save the leftovers to simplify your cooking during the week.
Tomato Basil & Spinach Chicken Spaghetti – healthy, light, Mediterranean style dinner, packed with vegetables, protein and good oils. Delicious comfort food from Julia's Album!
Creamy Avocado Pesto Gnocchi with Roasted Tomatoes is delicious and crazy fast. Perfect for when you are pressed for time but still want to get a real, nourishing meal on the table for your family.
The best Healthy Chicken Lo Mein recipe (237 calories)! It's easy, quick, and so good you won't need to order Chinese takeout! From Andie Mitchell.
If you are looking for Healthy Chicken Pasta Recipes, there is nothing more classic than chicken soup. This recipe for Slow Cooker Chicken Noodle Soup is rich and filling but requires nothing to be done outside of the slow cooker. Cozy up with a cup for dinner – or very large bowl – and let it keep you warm all winter.
This recipe for Lemon Asparagus Pasta combines tender asparagus and grilled chicken with pasta in a lemon cream sauce. It's a delicious and hearty entree that will make everyone ask for seconds! From Dinner at the Zoo.
Caesar Pasta Salad with Chicken is made with homemade low fat caesar salad dressing to use as marinade and dressing on a delicious pasta salad filled with crisp romaine, sweet grape tomatoes and shaved Parmesan cheese. From Food Done Light!
Rosemary Alfredo is a beloved favorite at our house. Both because it is delicious and because it goes on the table in less than 30 minutes. The herbs give this dish a push past generic Italian takeout to a thoughtful, home-cooked meal that even your pickiest eater will love. Okay, I admit it. It is a stretch to call this healthy. But it is made with whole, real ingredients and no weird chemicals. Can we agree to call it healthier??