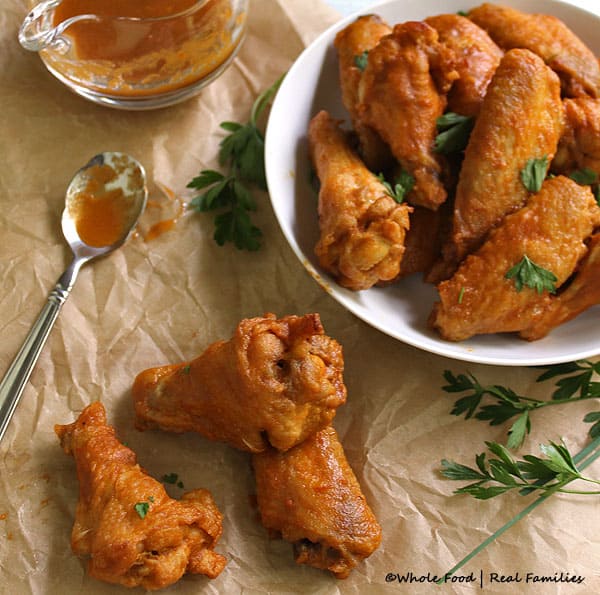 Nothing says Fall more than changing leaves and football. And nothing says tailgating like these Roasted Pepper Hot Wings! These are baked, not fried and covered with homemade wing sauce.
Pass the Homemade Hot Wings!
When you started eating more real food and fewer refined ingredients, did you miss hot wings? We did! So much so that my husband and I would sit around and mourn their spicy goodness. Then a few weeks ago, we were sitting around talking about hot wings (again) and my husband said "back when I was in high school, we made wing sauce by just adding a bunch of butter to hot sauce."
WHAT?! I thought there was some sort of magical processed ingredient in wing sauce! NO WAY!? I have homemade hot sauce in the fridge! And from that moment our solution to mournful wing nostalgia was born – Roasted Pepper Hot Wings.
With Homemade hot Sauce, of Course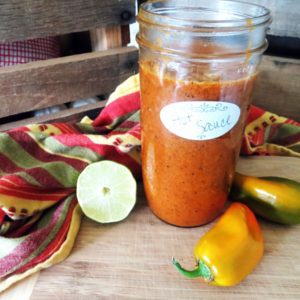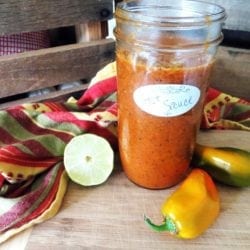 Remember this delicious Roasted Pepper Hot Sauce you made? It is the base of our wing sauce and it is DELICIOUS!! Because we added hot peppers along with peppers that would really hold on to that smokey flavor and the bell pepper in the hot sauce turns a little sweet, our hot sauce is smooth and smokey on the front end and spicy, spicy, spicy like good wing sauce should be!
Keep in mind when you are deciding how much cayenne pepper to add that you are starting with your hot sauce as a base. So modify accordingly. A quarter teaspoon of cayenne per cup of hot sauce will generally turn your heat up a notch, from mild to medium, from medium to hot. If your originally hot sauce came from scorching hot peppers, don't get too caught up in the mild/medium/hot label.
The Secret to Crispy BAKED Hot Wings
The method for cooking these chicken wings is originally from Cooks Illustrated but I found it through another blogger. Recipe Tin Eats is a fabulous, beautiful blog. And she gets down with all different kinds of wings! She even has a cookbook all about wings. Before stumbling across this method for baking them in the oven, I had pretty much given up on crispy wings from the over, rather than the fryer. Not so! Your baked wings will be crisp and amazing. The additional added benefit is that the fat from the wings renders in the early stage of cooking, so the wings are less fatty, crisper and more tender all at the same time. You'll never want fried wings again.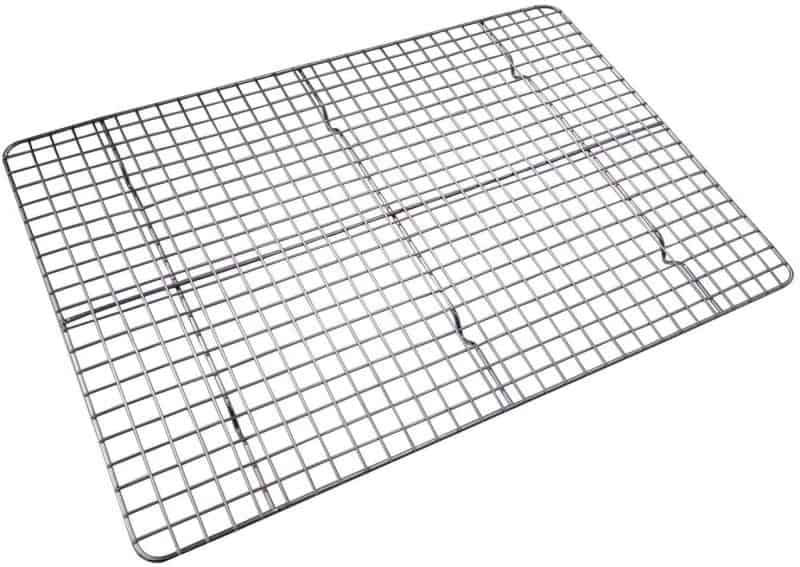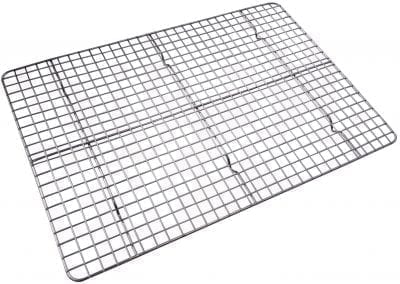 So the big secret is the baking powder, of course. But it is also that you have to cook them on a sheet pan rack. Line your baking sheet with foil for easy cleanup, spray the rack or brush it with oil to prevent sticking, and sit the rack inside the baking sheet. It lets the hot air circulate around the wings and prevents the bottom of the wings for sitting in any moisture. If you don't already have baking racks in your kitchen, they are not expensive -just make sure you get the stainless steel ones.
I can't wait to hear what you think! Leave me a comment and let me know how your wings turned out!
If you are getting ready for tailgating season – Go Bucks! (My husband made me say that!)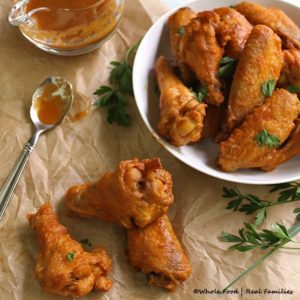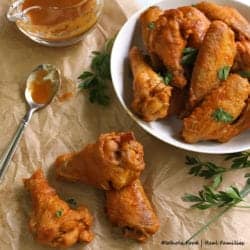 Roasted Pepper Hot Wings
Course:
Main Dishes, Spices, Dressings & Marinades
Ingredients
4

lbs

chicken wings

2

tbsp

baking powder

NOT BAKING SODA

1 3/4

tsp

salt
Roasted Pepper Wing Sauce
1 1/4

cup

Roasted Pepper Hot Sauce

1/2

cup

butter

1/4

tsp

cayenne pepper

or to taste

1/2

tsp

salt

2

cloves

garlic, whole
Instructions
Preheat oven to 250 degrees.

Add butter to sauce pan over low heat and allow it to melt. Add all other ingredients, except garlic cloves into a sauce pan. Smash garlic cloves with the back of a kitchen knife, peel but leave the smashed cloves whole. Drop garlic into sauce pan with other ingredients.

Whisk sauce together until it becomes uniform. Allow sauce to warm and flavors to come together for at least 20 minutes. Scoop out whole cloves of garlic and throw them away.

Pat wings dry with a paper towel. Place them in a large Ziploc bag. Add baking powder and salt. Seal the bad and shake to coat the wings evenly.

Line a baking sheet with foil. And insert a metal cooking rack into the sheet pan. Spray or brush it with oil or non-stick spray. Lay the wings on the tray (it is okay if they are crowded) and insert into the bottom third of the oven for 30 minutes.

After 30 minutes, move the wings to the top third of the oven, raise the temperature to 425 degrees and cook for another 40 minutes, turning halfway, until they are golden brown and crisp.

Using tongs, move the wings to a large bowl. Remove the garlic from the wing sauce and discard. Pour ¾ of the wing sauce over the chicken, reserving the remaining sauce to serve at the table.

Toss wings in the sauce and move them back to the tray and back into the oven. Allow them to cook for an additional 5 minutes. Then remove from the oven.

Serve Roasted Pepper Hot Wings hot with remaining sauce and your favorite wing accessories – carrots, celery, Blue Cheese or Ranch!