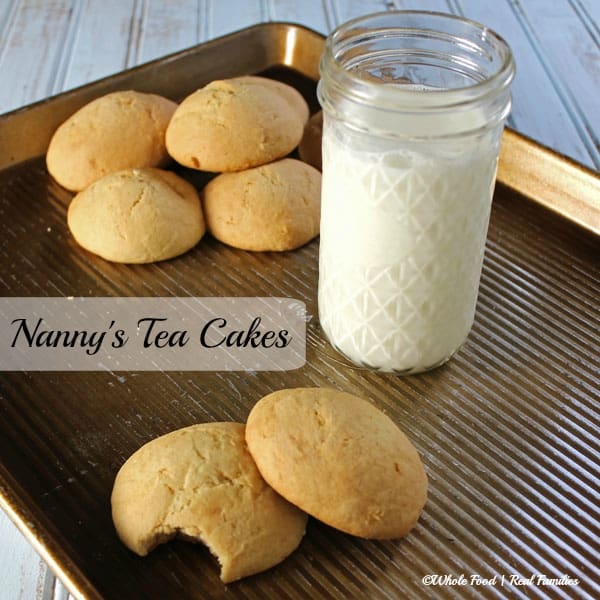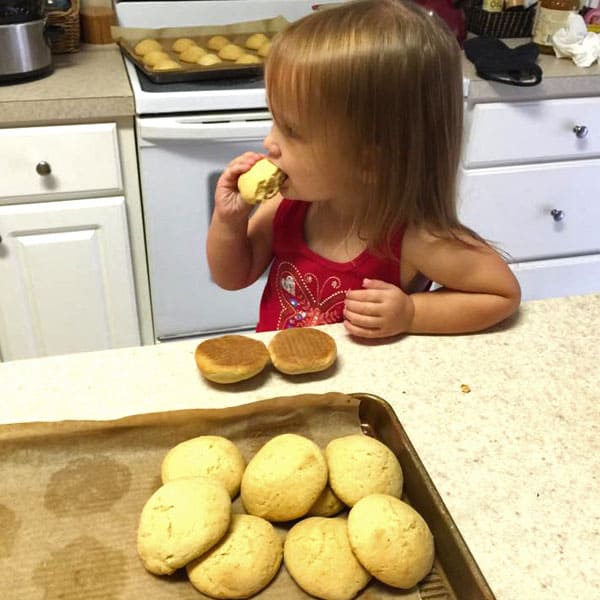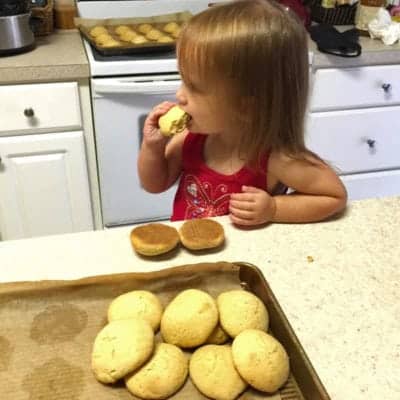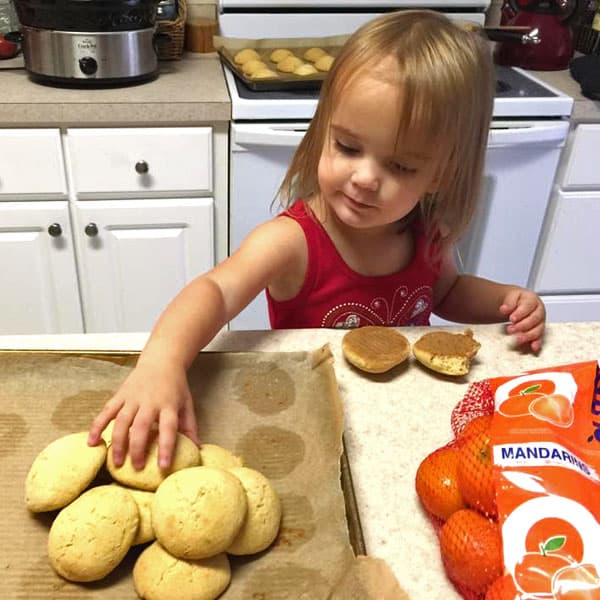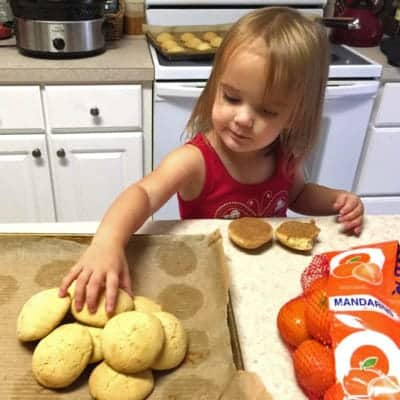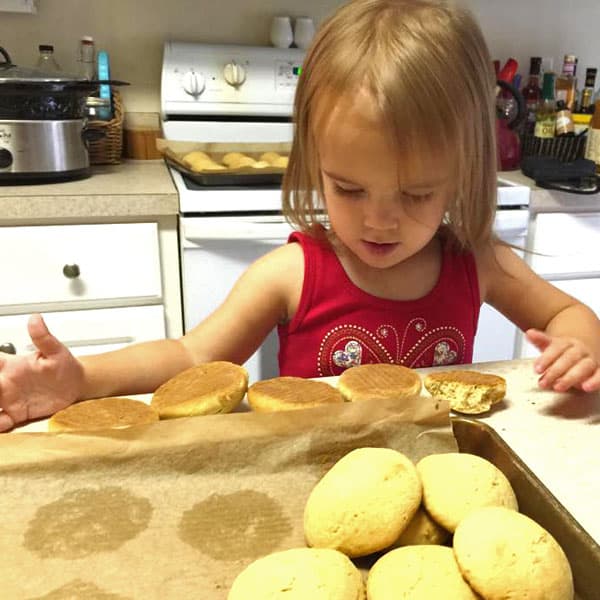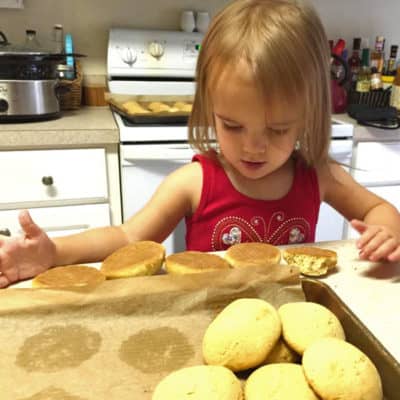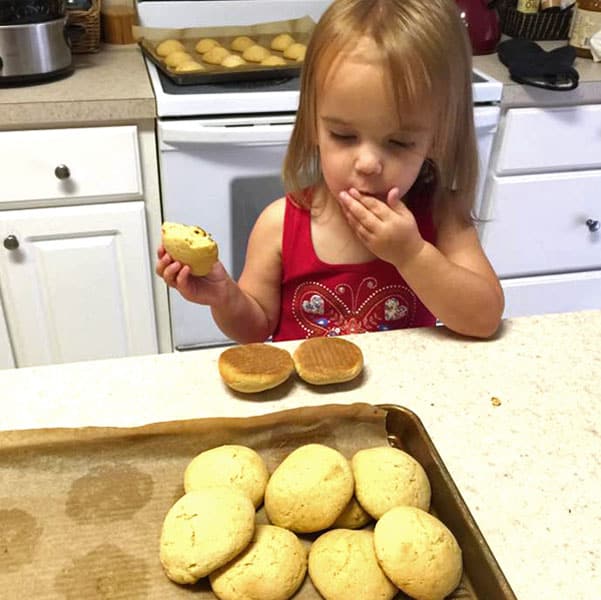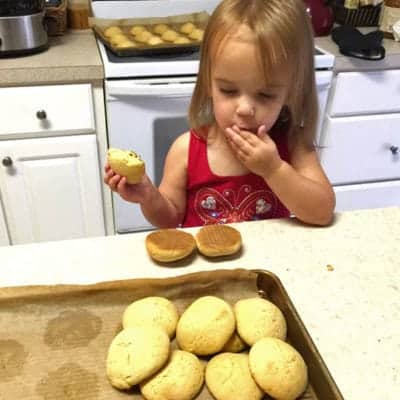 My Nanny's Tea Cakes are part of every food memory from my childhood. Like sweet biscuits, they are a little like cake, a little like cookies. 
Today, we are putting all whole food rules aside to celebrate National Grandparent's Day. My Nanny had a gift. She had a sixth sense that allowed her to know when guests were coming up the driveway. I remember when I realized this – and learned something important about her. I was in junior high and we were traveling the 2 hours to her house for a visit. For whatever reason, it was after 10pm when we got there. We are not a family that went places late so it stands out in my mind. The first thing I saw when I walked in the door to my grandparent's house was my Nanny pull fresh tea cakes our of the oven. I asked my dad why she was baking at 10 at night. He just said simply, "that is who she is." So true.
My grandparent's were children of The Depression. They had a special gift for making special things from simple ingredients. Making sure something hot was on the table was part of southern etiquette. There was never a time that we arrived that there were not hot biscuits or tea cakes fresh from the oven. It was ingrained in their nature to share what they had. One would think that living through such bare times would make my grandparent's generation more selfish for fear of having enough. But it managed to make them more giving, and in such a genuine, heartfelt way.
I have so many memories of sitting at my Nanny's table and eating these tea cakes. Every one of those memories is special to me. I wish I could go back to that time in her kitchen and spend more time learning from her and a little less time avoiding chores. I also wish I could have known how special these little treats were as I was eating them – but that is not the nature of childhood.
Now I enjoy these teacakes because my dad makes them, which has been more challenging than it sounds. My Nanny never used a recipe in her life. So there was a lot of trial and error in figuring out how to make them taste like hers. These are close. When my dad shared his recipe with me for this post, I noticed he had a note in his recipe that my grandmother never rolled these out and cut them. She rolled them in her hands and dropped them like biscuits, then pressed them down with her fingers. My dad – who is the grandfather now – said said he could still see his momma's fingerprints in the teacakes as he ate them. Isn't wonderful how food and memories are so closely intertwined.
My dad bakes these tea cakes for my children now every time they visit. It warm my heart to see them eat them the same way I did. I think it makes my dad happy too. As a testament to how much my kids love these, my youngest daughter helped me bake this batch. Then proceeded to take a bite out of every single one while I wasn't looking. She was also nice enough to feed some to our dog, who was equally pleased. What you don't see in the picture is that I had to turn all the cookies around so you couldn't see the bite marks. Enjoy the photos and the recipes.
Happy Grandparent's Day!
Sweets that are the Sweetest
Savory Meals with Special Memories
5 Tips for Preserving Family Recipes and a Grandparents Day Tribute by Sunday Supper
Join the #SundaySupper conversation on twitter on Sunday! We tweet throughout the day and share recipes from all over the world. Our weekly chat starts at 7 pm ET. Follow the #SundaySupper hashtag and remember to include it in your tweets to join in the chat. To get more great Sunday Supper Recipes, visit our website or check out our Pinterest board.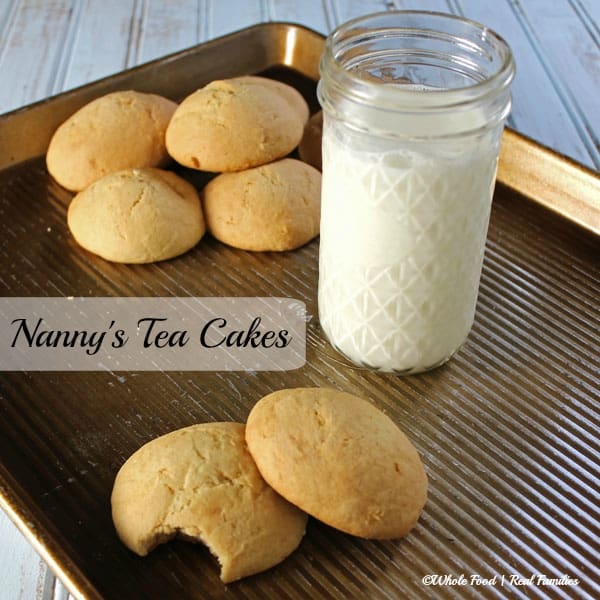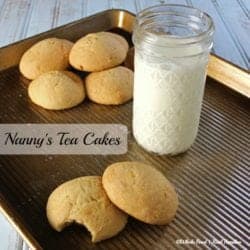 Nanny's Tea Cakes
Course:
Breads & Muffins, Dessert
Ingredients
4

cups

self rising flour, sifted

we use organic

2

eggs

2

cups

granulated sugar

we use organic

1

stick

butter, melted

1/2

cup

milk

1

tsp

pure vanilla extract

almond and lemon extract are delicious too!
Instructions
Preheat oven to 400 degrees. Line 2 baking sheets with parchment paper.

Sift flour into a large bowl. In a second bowl, whisk eggs, sugar, butter, milk and vanilla until smooth.

Pour wet ingredients into dry and stir just until combined. Do not overwork the dough.

The dough will be sticky. You can either turn it out onto a lightly floured surface being careful not to work in too much flour into the dough. Or you can do it like my Nanny and lightly flour your hands and pinch off a piece of dough, roll it like a biscuit, and drop it on the baking sheet, patting it down gently with your fingertips.

Bake for 7-9 minutes or until lightly browned. Enjoy!