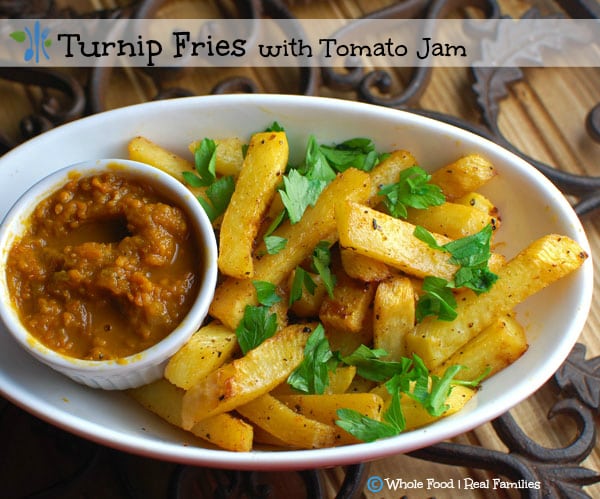 It is very important that you give these turnip fries a try. Honestly, a year ago I wouldn't have even given these a thought in my kitchen. Turnips? Um, no. Tomato Jam? Huh?
I decided to try Turnip Fries because the turnips – which I never gave a fair shake in my life – were really beautiful last week at the Farmers' Market. I'm a sucker for beautiful veg. But the minute I headed to my car, I had buyer's remorse. I hate turnips… and I had bought a lot of turnips. What was I thinking?
Turnip Fries
Seriously, these are so delicious. If I had only known that turnips turned into this when roasted. The best part, my kids ate them assuming they were homemade french fries. The second best part, I had been experimenting with Tomato Jam the same day. As a matter of fact, the tomato jam was still warm in a pot on the back of the stove. French fries and ketchup… Turnip Fries with Tomato Jam? Oh yes. So delicious.
Try this. You need to. I promise.
By the way, I mentioned I bought a lot of turnips. They are all ready for the next dinner, tucked snugly in my freezer. Never preserve turnips before? It is very easy – and all future meals have No Prep Work! I love that. Learn how to cook turnips now and preserve for later here.
Also, I mentioned Tomato Jam. It is also a cook now, preserve for later recipe.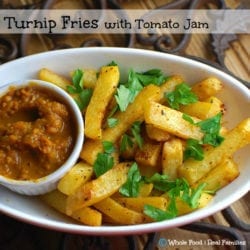 Turnip Fries with Tomato Jam
***prep time assumes you have previously peeled, cut into fries, and blanched your turnip fries.
Course:
Appetizers & Sides
Ingredients
1

quart

turnip fries, peeled, cut into fries and blanched for 2 minutes

3-4

tbsp

olive oil

or enough to evenly coat fries

kosher salt and fresh black pepper to taste

creole seasoning, thyme, or other herb of choice

2-4

oz

Tomato and Smoked Pepper Jam
Instructions
Preheat oven to 425 degrees. Move the oven rack to the top third of the oven.

Spread turnip fries onto a rimmed baking sheet. Drizzle olive oil, and add salt and pepper as well as any other spices or herbs you may be using. Toss turnip fries to evenly coat. Make sure fries are in a single layer on the baking sheet.

Place baking sheet in the oven for 15 minutes. Remove from oven and turn the fries over. Roast for another 15 minutes.

Serve hot with Tomato and Smoked Pepper Jam. Enjoy!
Nutrition Facts
Turnip Fries with Tomato Jam
Amount Per Serving
Calories 93
Calories from Fat 99
% Daily Value*
Fat 11g17%
Sodium 1mg0%
Iron 0.1mg1%
* Percent Daily Values are based on a 2000 calorie diet.