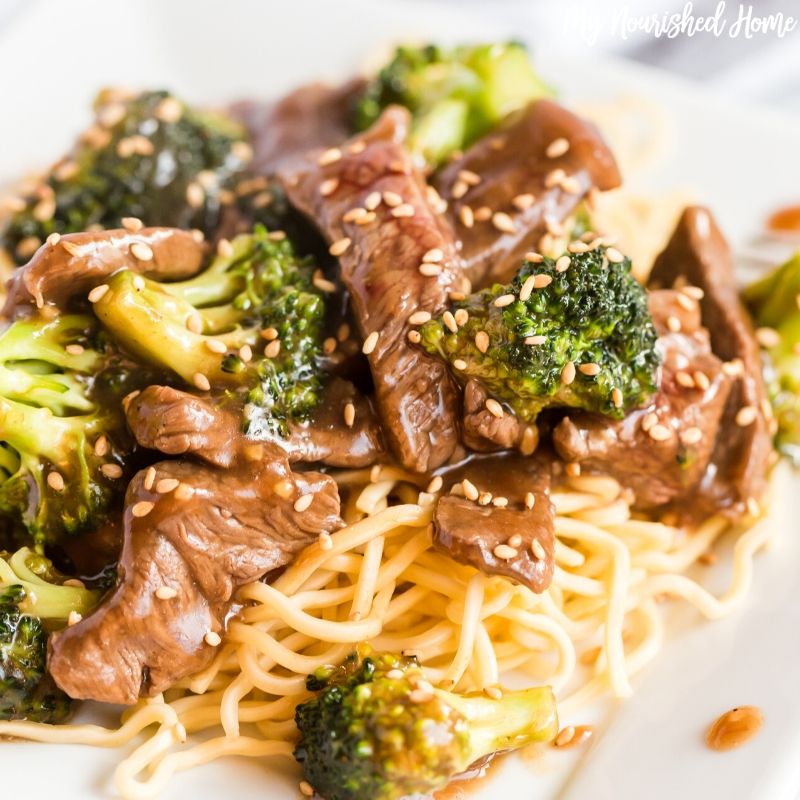 This Beef and Broccoli recipe takes EASY to a whole new level. A rich sauce, full of flavor and comparable to your favorite Chinese restaurant, this easy Beef and Broccoli makes it to the table in 15 minutes.
I recently shared my new commitment to fast recipes here in 15 Minute Steak Sandwiches. Since this recipe is a family favorite, it was on the top of the remake list.
15 Minute Beef and Broccoli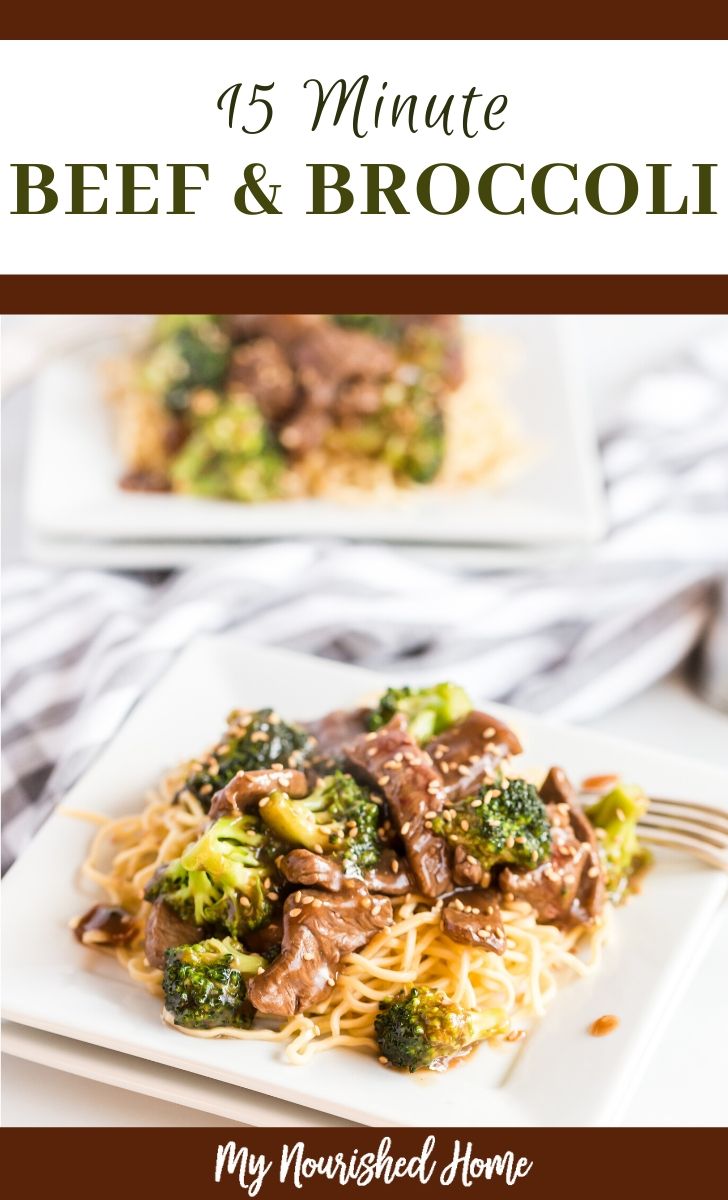 By chasing my past expectations of feeding my family, I was really missing time with them.
I am in a 15-minute season of motherhood… I need recipes that will fit the time I have rather than continuing to set myself up for failure. By either overplanning our meals… or not planning them at all. (Peanut butter sandwiches for everyone!!) But it had to be food I felt good about feeding my family.
So I shifted my focus and started developing 15-minute recipes for this season of life. Though I already have a slow cooker recipe for beef and broccoli, I wanted one I could throw together with no planning and toss on the table.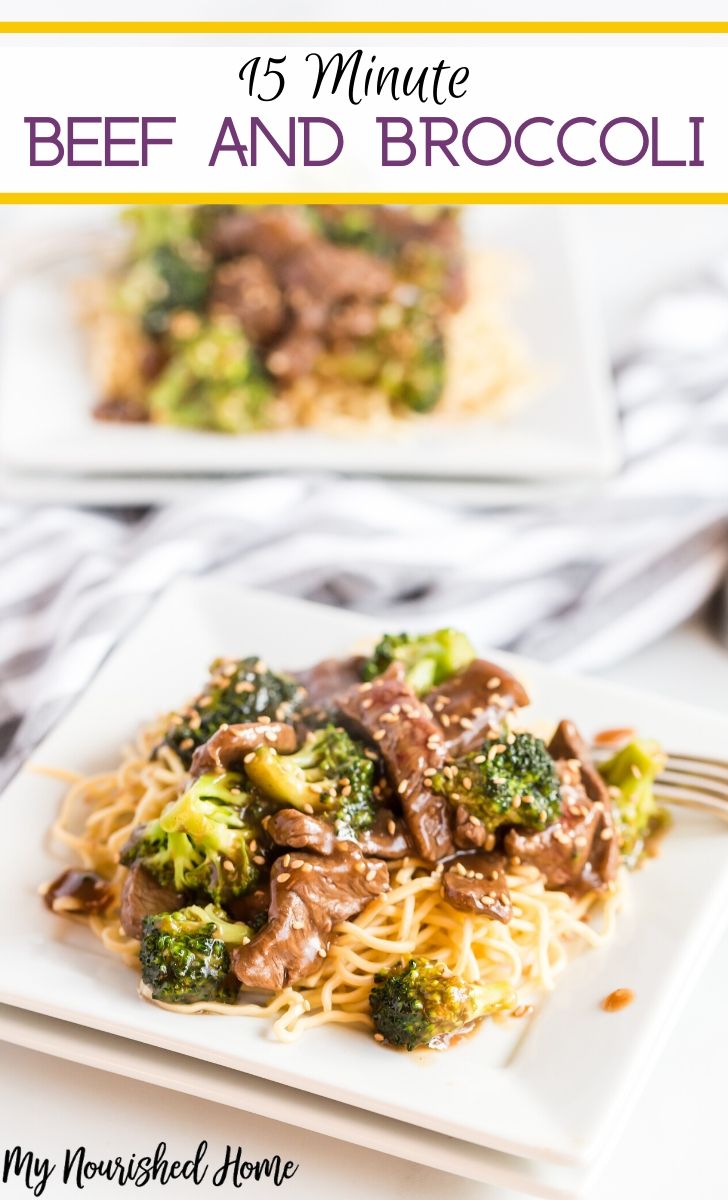 How to Make Beef and Broccoli
I have made Beef and Broccoli and lot of different ways but we are definitely loving this 15-minute version. It is also a big hit with my kids. They love the chow mein noodles.
🍜 You can find chow mein noodles in the Asian section of your grocery store or if you opt for fresh chow mein noodles, check the refrigerator pasta section. If you can't find the fresh noodles and need to opt for dry pasta, they still only take a few minutes in boiling water to cook. So you will easily stay in your 15-minute window.
When you buy Beef and Broccoli at a restaurant it is always tender because they use a process called velveting… It is fabulous but takes some time that honestly, I just don't have on weeknights.
Grab the tips below for getting tender beef fast every time.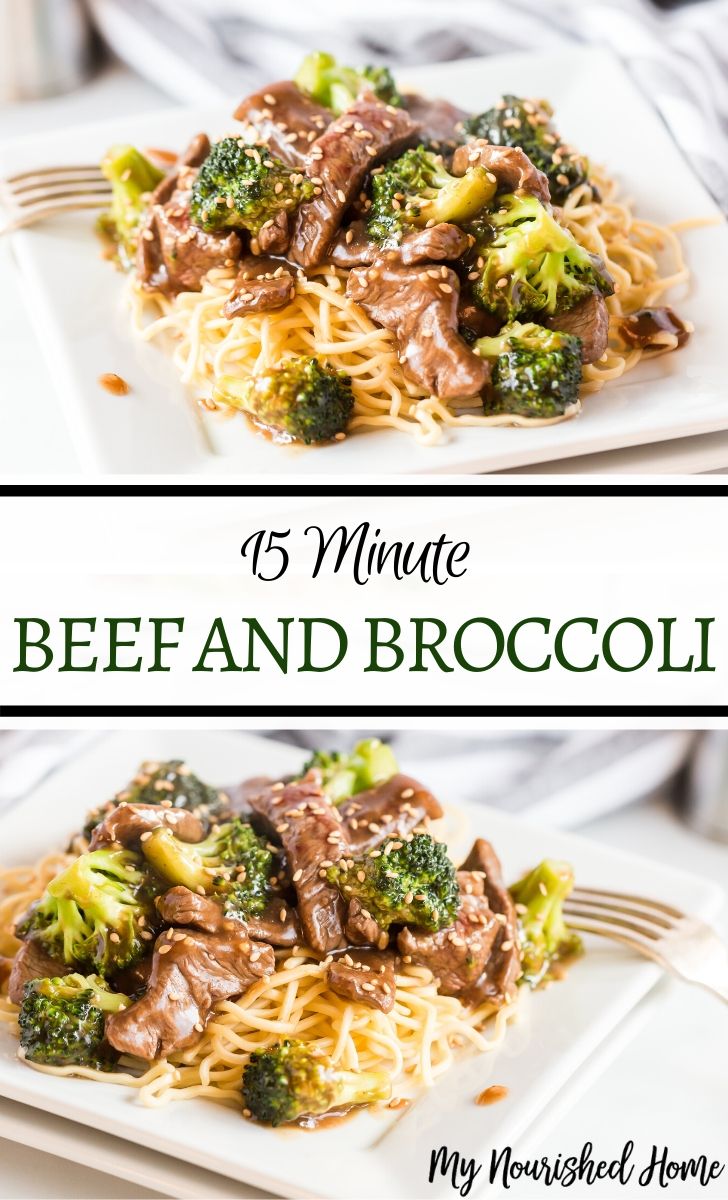 Tips and Shortcuts for Tender Beef
My favorite shortcut of all… Ask the butcher to slice your beef! Cuts like sirloin, flat iron and tri-tip are generally tender but even tougher cuts like flank steak, when cut correctly become really tender when cut correctly.
Tell the butcher you are using it for stir fry, ask him to cut your beef against the grain and at an angle into thin strips. Your local grocery store butcher has equipment that will handle it in seconds and they are totally cool with wrapping it back up for you.
One more quick tip to save time — you know how you can get minced garlic in the little squeezy container in the produce section? You can get pre-minced ginger there too. I love fresh ginger but if you don't use it a lot, this stuff lasts forever.
Enjoy!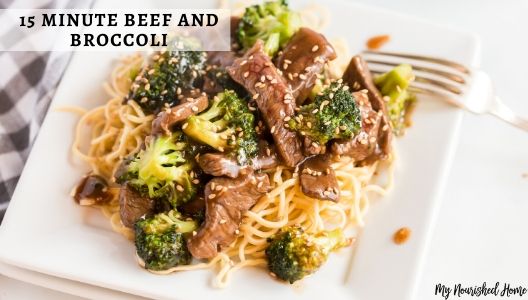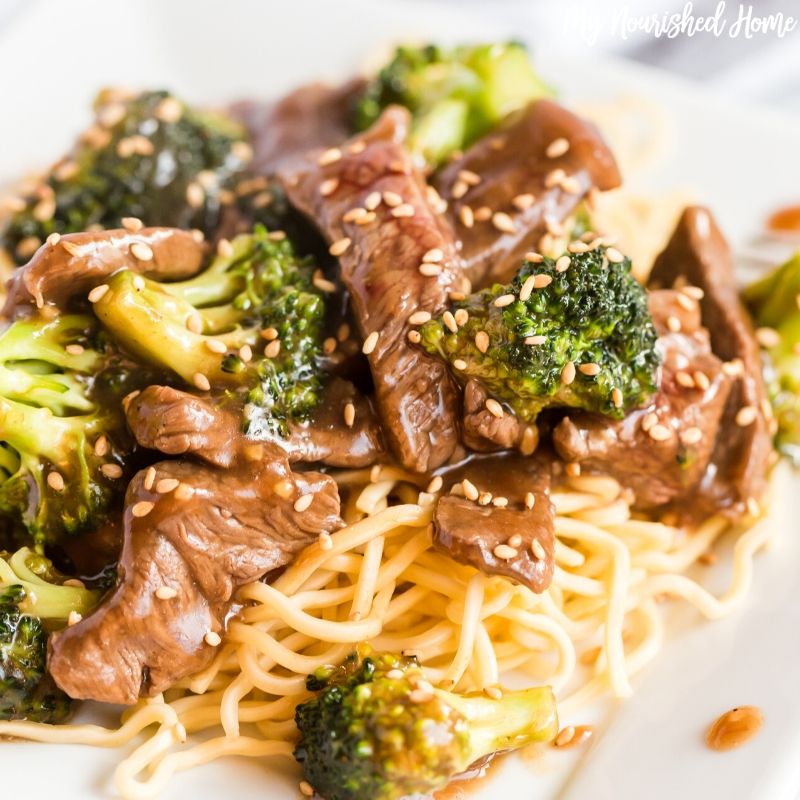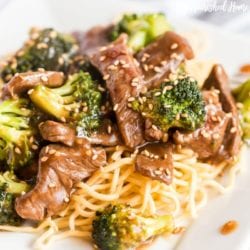 15 Minute Beef and Broccoli
A couple of hacks and this Asian style Beef and Broccoli is on your table in 15 Minutes.
Keyword:
15 Minute, beef, noodles
Ingredients
1

Tbsp

vegetable or olive oil

1.5

pounds

thinly sliced beef

4

Cups

broccoli florets

¼

cup

hoisin sauce

2

Tbsp

soy sauce

1

Tbsp

Rice vinegar

1

Tbsp

honey

2

Cloves

garlic

minced

1

inch

piece of ginger

grated

1

Tbsp

corn starch

1

package fresh chow mein noodles
Instructions
Boil a pot of water.

Mix the hoisin sauce, soy sauce, rice vinegar, honey, garlic, ginger and corn starch in a small bowl and set aside.

In a large skillet on medium heat, add oil, then beef.

Cook beef until no longer pink then add the broccoli. Cook until broccoli is just beginning to soften then add the sauce. Cook about 2 minutes until heated through and the sauce is beginning to thicken.

Drop noodles into the boiling water and cook for 1 minute.

Drain the noodles.

Serve the beef and broccoli over the hot noodles.
Nutrition Facts
15 Minute Beef and Broccoli
Amount Per Serving
Calories 486.32
Calories from Fat 256
% Daily Value*
Fat 28.49g44%
Cholesterol 104.28mg35%
Sodium 901.16mg38%
Potassium 782.95mg22%
Carbohydrates 20.95g7%
Protein 38.45g77%
Vitamin A 592.44IU12%
Vitamin C 81.64mg99%
Calcium 62.89mg6%
Iron 3.98mg22%
* Percent Daily Values are based on a 2000 calorie diet.
Need more fast beef recipes? Try this Cast Iron Flank Steak!