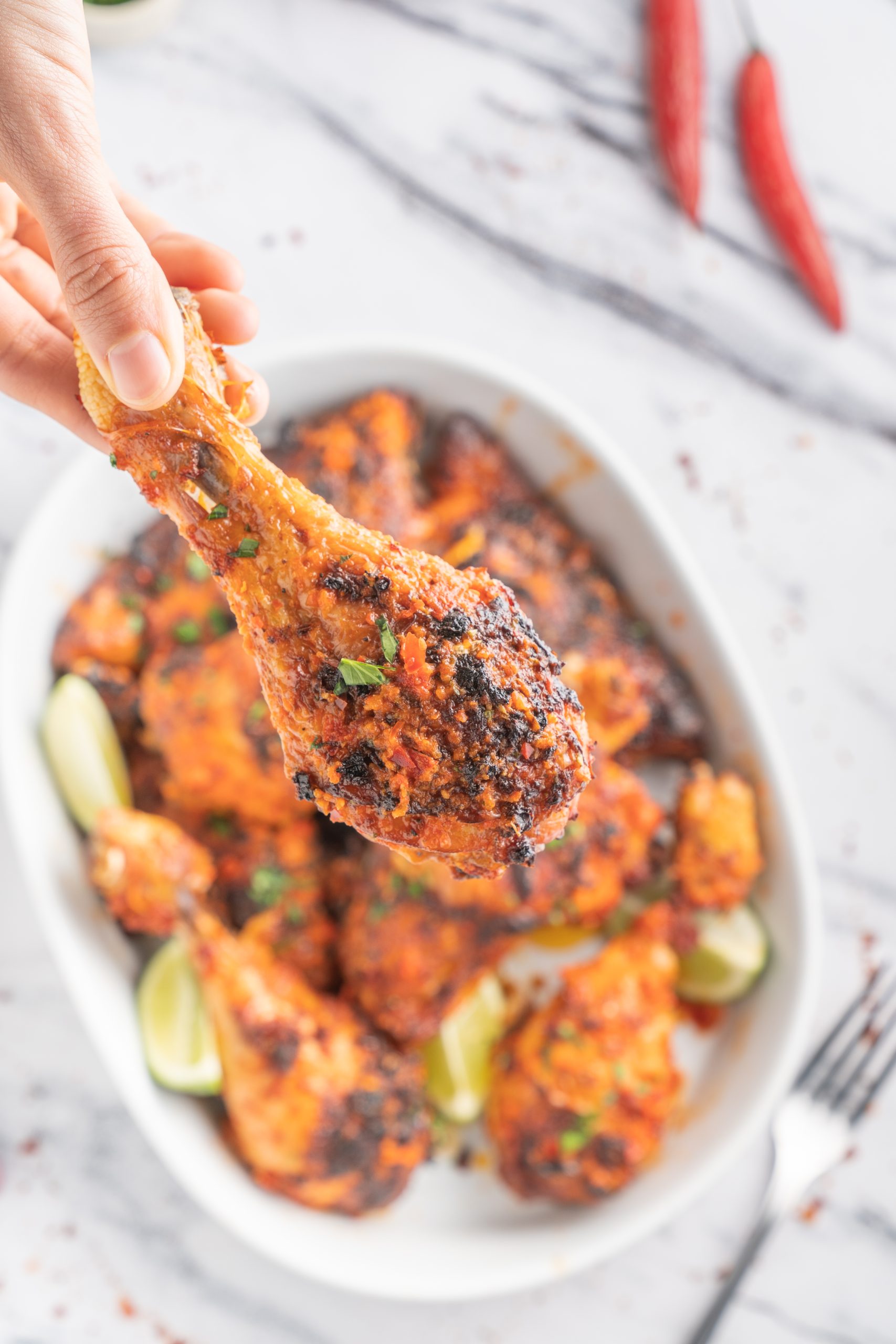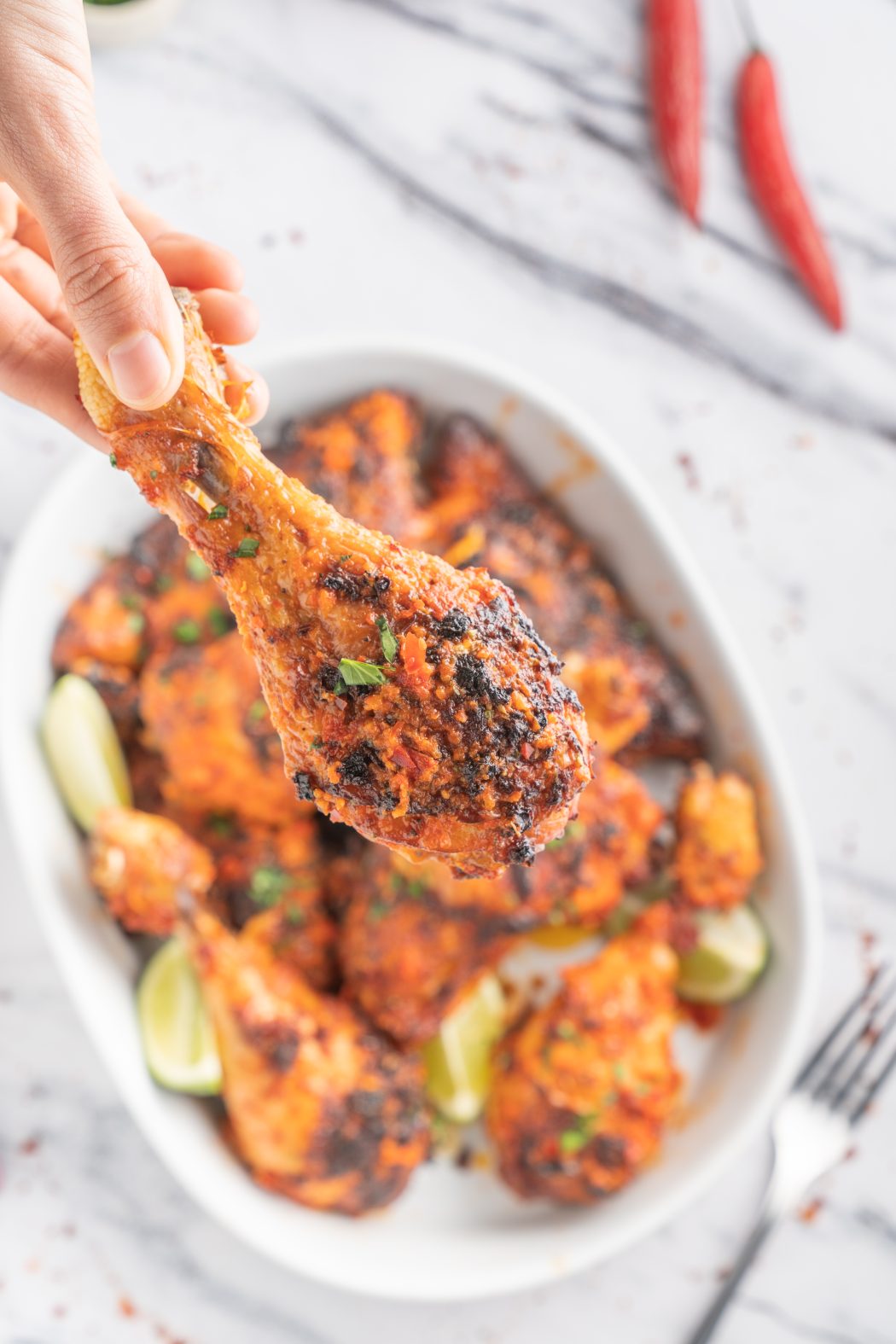 Peri Peri Chicken brings citrusy and spicy flavors together in a delicious chicken dish. This copycat Nandos chicken recipe is easy to make at home!
Peri Peri Chicken
Peri Peri chicken is seasoned to perfection, with citrusy and spicy flavors in every bite!
My take on this dish is even better than the Nandos chicken recipe. The steps are simple and straightforward, and you'll have juicy, crispy baked chicken in no time at all.
If you love this Peri Peri chicken recipe, try some of my other tasty chicken dishes next: Smoked Chicken Breast, Spiced Honey Glazed Chicken, BBQ Beer Can Chicken.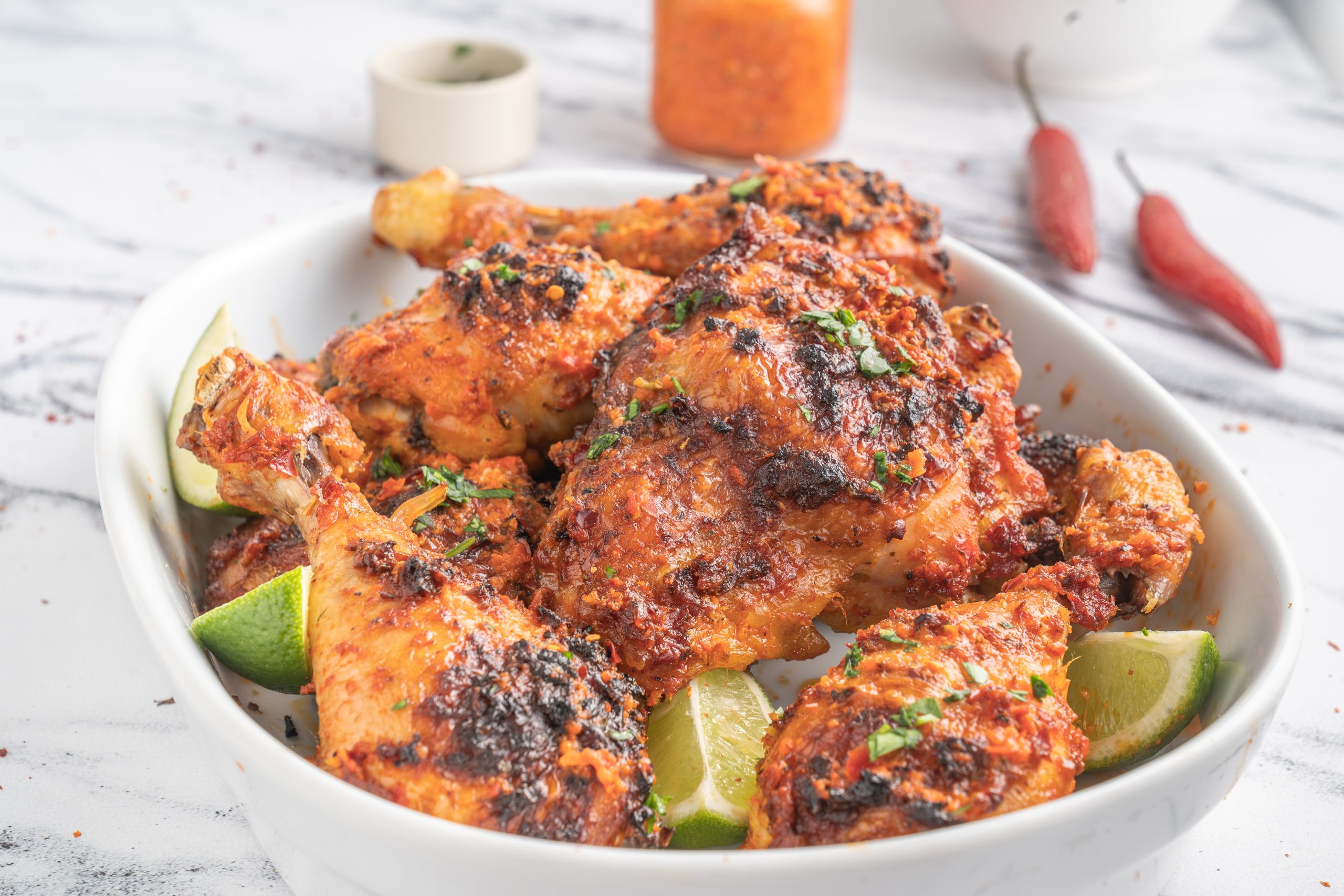 Why you will love Peri Chicken
Full of flavor. This chicken boasts a ton of different flavors: it's spicy, citrusy, salty, and slightly sweet too! If you love spicy and savory flavors, this chicken dish is guaranteed to satisfy your cravings and make your taste buds dance!
Simple steps. Though the total time for this recipe is a few hours, most of that time is dedicated to the chicken marinating. When you add together active prep time and baking time, the whole recipe comes together in just under an hour. It's a lot simpler than it looks!
Easy to store and reheat. Leftovers of this dish can be saved and enjoyed later. In fact, they often taste even better the next day since the flavors have more time to soak into the meat.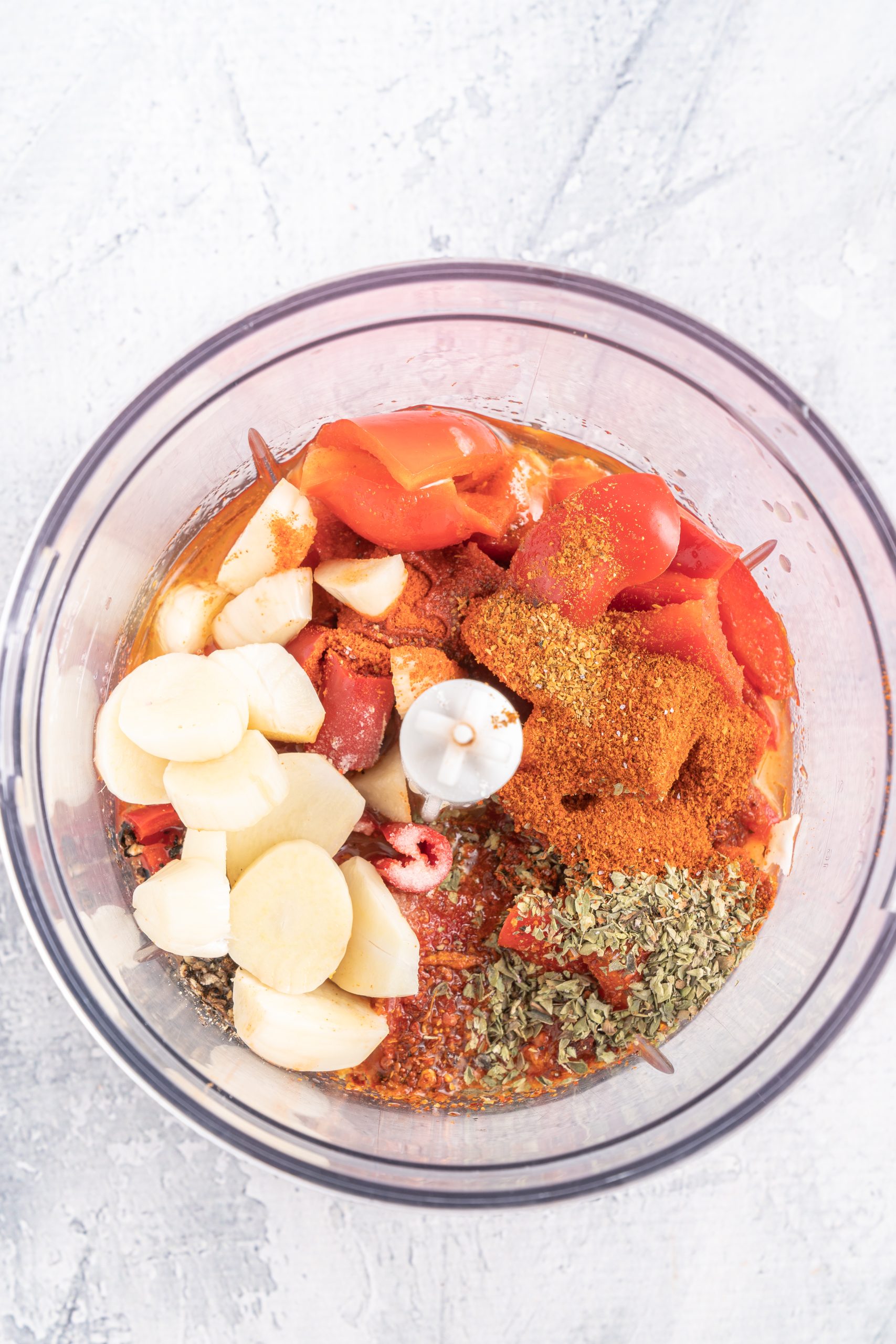 How to make perfect Peri Peri Chicken
Prepare the sauce. Add your sauce ingredients to a blender or food processor and pulse until smooth. Next, you'll simmer the sauce in a small saucepan for about 10 minutes. This will help bring out all the flavor!
Marinate the chicken. Place your chicken in a large bowl and coat with the peri peri marinade. Cover with plastic cling wrap and refrigerate. I recommend marinating for at least 4 hours, or overnight.
Add water to your baking tray after marinating the chicken. Half a cup of water is the perfect amount. This will ensure that your chicken becomes juicy and crispy.
Bake at 375 for 40 minutes. Once it's finished, your chicken should be nicely golden and cooked through. Enjoy!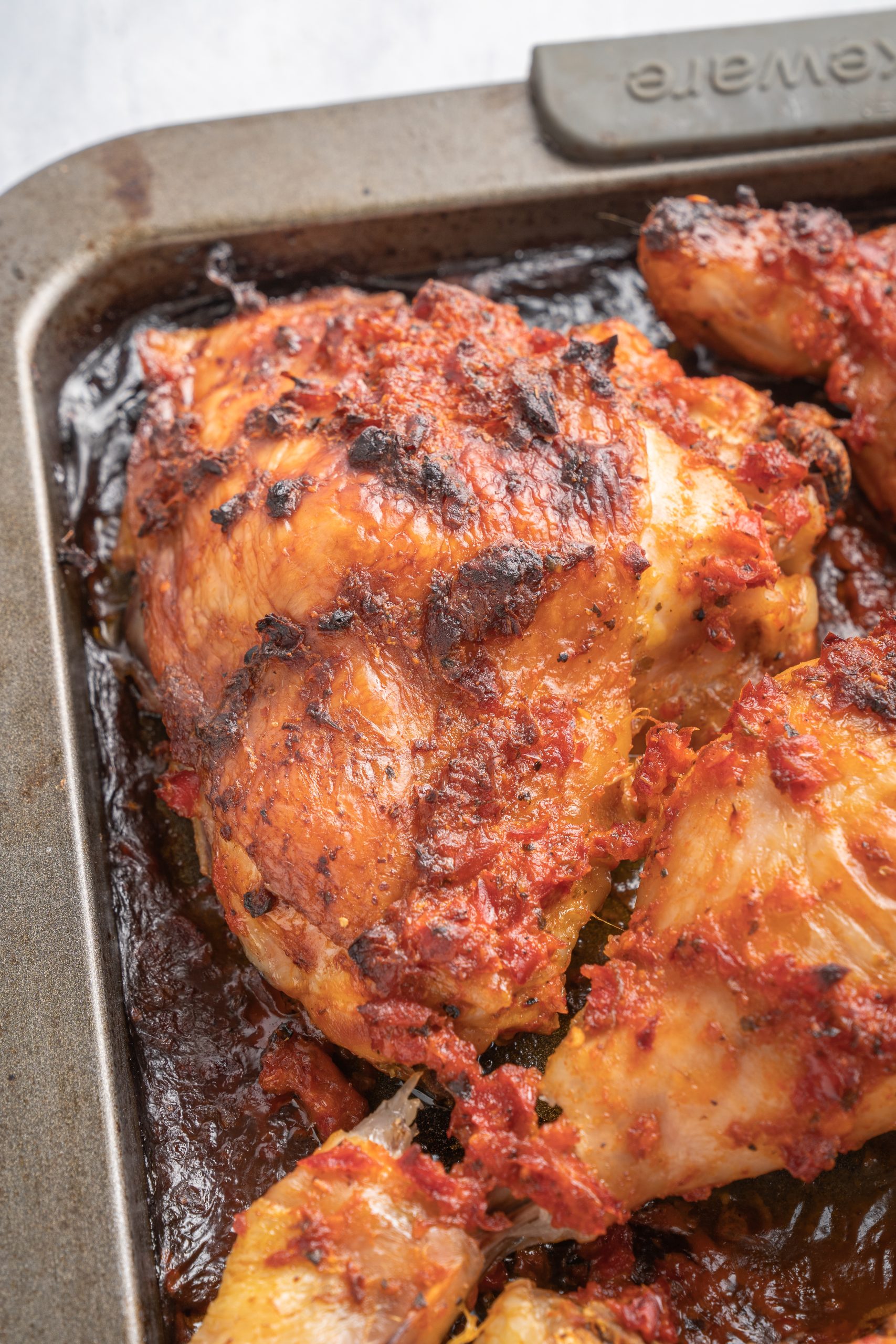 Pro Tips
Cook chicken to at least 165F. This is the minimum temperature that chicken needs to be cooked to in order to be safe for consumption. You can use a digital meat thermometer to easily check the internal temperature.
Make it spicier. This Peri Peri chicken recipe is already full of flavor and spice, but you can add cayenne pepper if you want some extra heat. ½ or 1 teaspoon should be just enough to bring the spiciness up!
Save extra sauce. I absolutely love peri peri sauce, so I always make some extra and set it aside before marinating. Spoon on some extra sauce when you're ready to serve the chicken. It will add even more flavor and take your meal to the next level!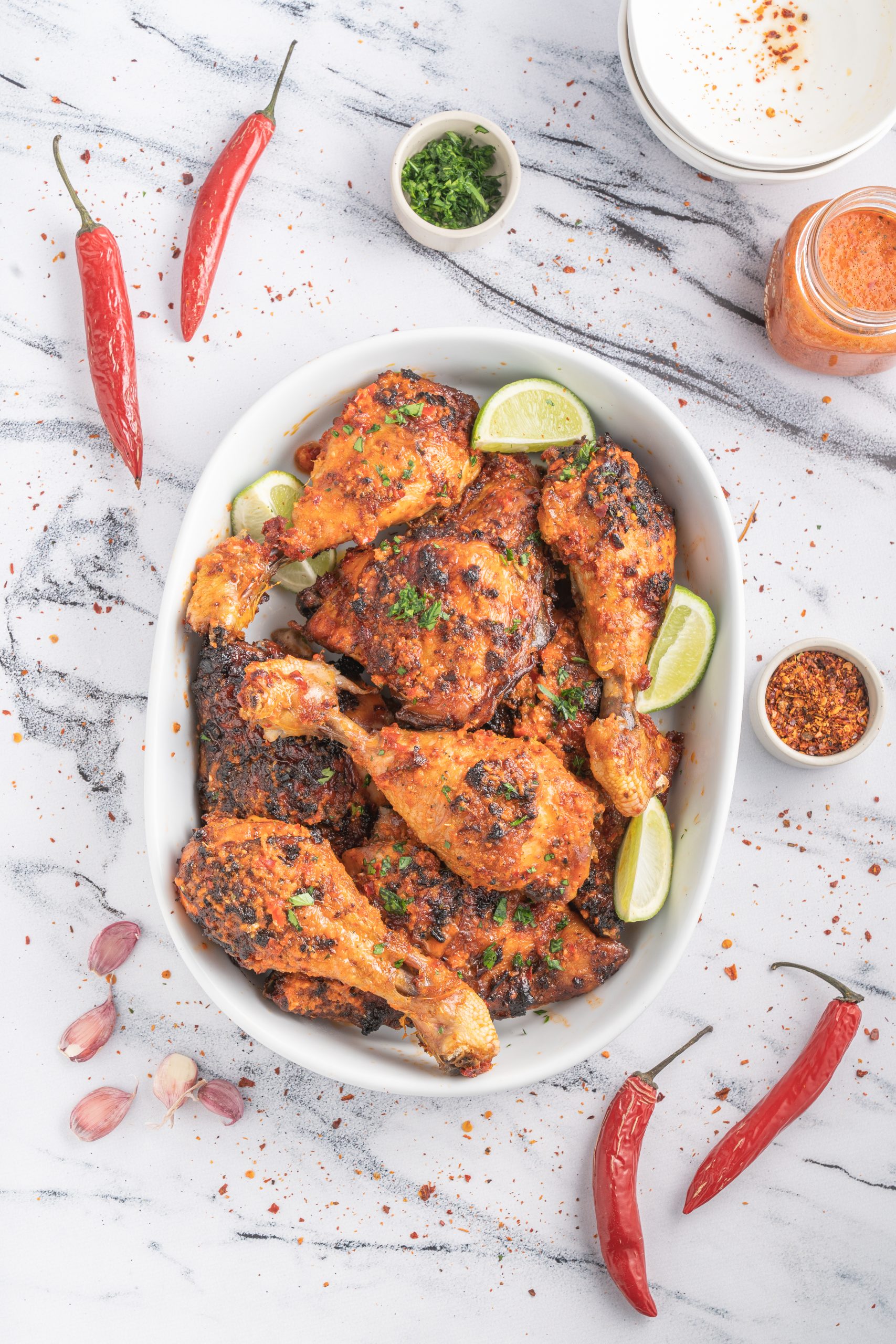 Key Ingredients and Substitutions for Peri Peri Chicken
Chicken: I prefer to use a mix of chicken thighs and drumsticks, but you can use any cut of chicken that you prefer.
Red chilies: You'll want to remove the seeds and chop the chilies up before blending your sauce mixture.
Red bell pepper: Seed and chop your bell pepper too so that it can be easily blended for the sauce.
Lemon and orange juice: These are the key ingredients to add the sweet and citrusy flavors to your dish.
Seasoning: Garlic, salt, black pepper, sweet and smoked paprika, oregano, and red pepper flakes are the seasonings that will give your chicken its incredible spicy flavor.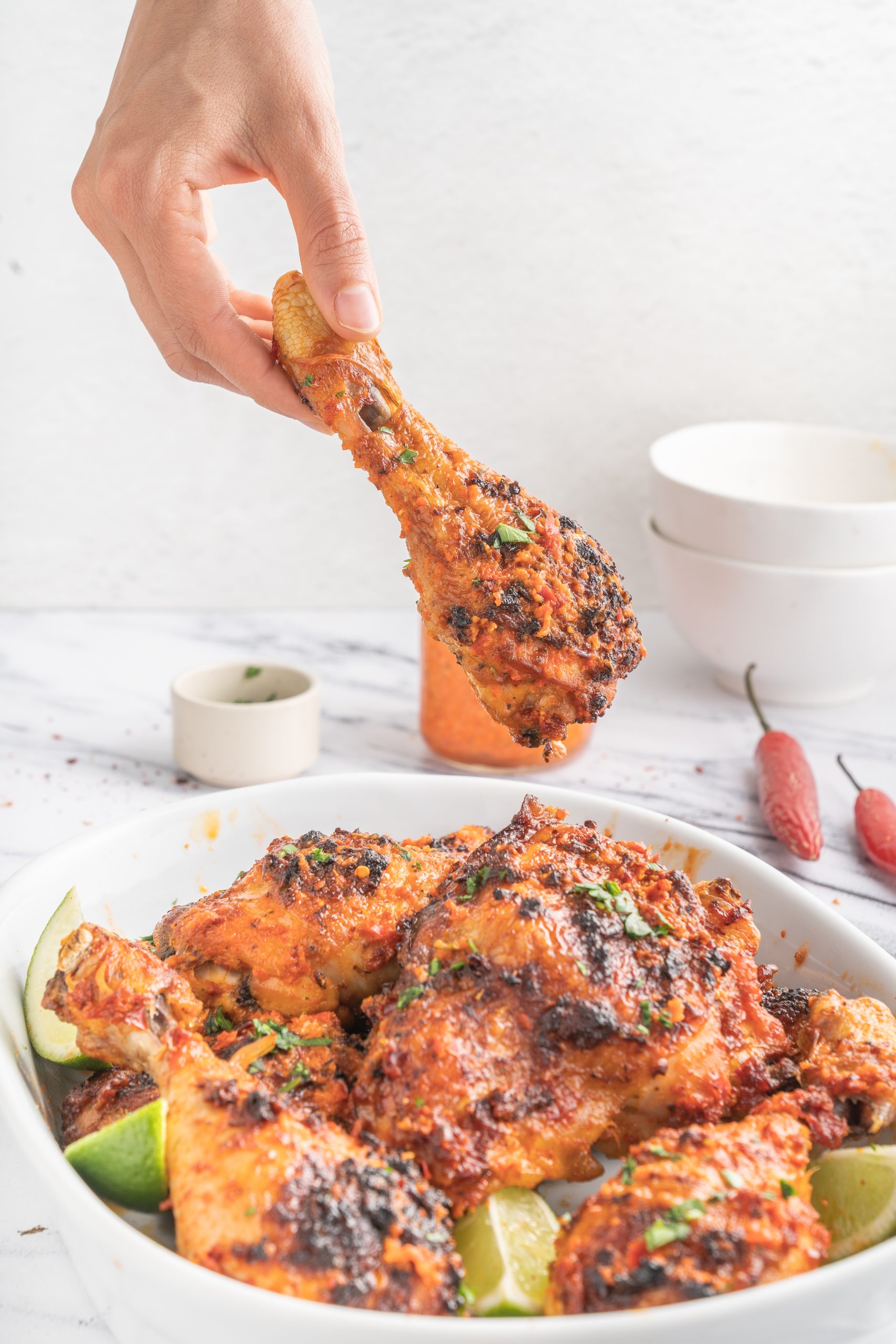 Frequently asked Questions
What is Peri Peri chicken?
This flavorful chicken dish originates from Portuguese and South African cuisines. The term "peri peri" to the hot peppers that are traditionally used to make peri peri sauce.
Peri peri peppers are sometimes called African bird's-eye chilis. You may also heard the term "peri peri" used interchangeably with "piri piri" or "pili pili," depending on the language being used.
How do I store leftovers?
Leftover chicken can be stored in the refrigerator for up to 4 days. Make sure to store it covered or in an airtight container.
Ready to reheat your leftovers? Pop it back in the oven for 10 minutes at 350F until heated through.
What goes well with Peri Peri Chicken?
This chicken dish can be enjoyed on its own or paired with side dishes. Try this recipe with a serving of rice, or with these delicious Roasted Root Vegetables seasoned with herbs.
It will also taste delicious with Roasted Corn on the Cob or some creamy coleslaw!
…
Recipe Sellers: Luana Iglesias & Marcelo Sanchez
Please get in touch with us through a Facebook private message if neededLink to our pre-sale group https://www.facebook.com/groups/348369273252515/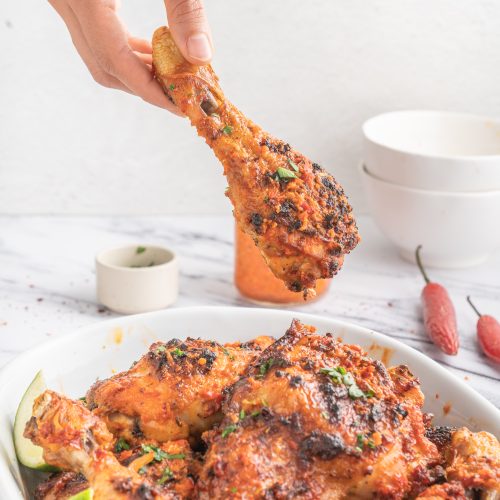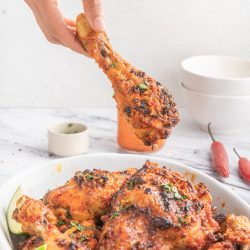 Peri Peri Chicken
Peri Peri Chicken brings citrusy and spicy flavors together in a delicious chicken dish. This copycat Nandos chicken recipe is easy to make at home!
Course:
Appetizer, Main Course, Main Dishes
Cuisine:
African, American, British
Keyword:
chicken, Nandos, Peri Peri Chicken
Ingredients
Peri Peri Chicken
4

thighs

chicken thighs

4

peice

Chicken drumsticks
Peri Peri Sauce
4

clove

Garlic cloves

1/4

cup

lemon juice

1/3

cup

orange juice

2

tbsp

olive oil

1/2

tsp

salt

1

tsp

sweet paprika

1/4

tsp

smokes paprika

1/4

tsp

ground black pepper

1

tsp

red pepper flakes

1

tsp

dried oregano

2

chilis

red chilies

seedless and chopped

1

medium

red bell pepper

chopped
Optional
1

tsp

cayenne pepper

extra hotness
Recipe Notes
This delicious and straightforward dish is a must-have recipe! Full of spices and flavor, this citric-spicy chicken comes with a homemade Peri Peri sauce to marinate the chicken and then baked in the oven until juicy and crispy.
Tips
You can make some extra sauce for serving.

Store leftovers, covered, in the fridge for up to seven days. Reheat it in the oven at 350F for 10 minutes.
Nutrition Facts
Peri Peri Chicken
Amount Per Serving
Calories 1080
Calories from Fat 702
% Daily Value*
Fat 78g120%
Cholesterol 431mg144%
Sodium 991mg41%
Potassium 1300mg37%
Carbohydrates 16g5%
Protein 77g154%
Vitamin A 3606IU72%
Vitamin C 113mg137%
Calcium 86mg9%
Iron 4mg22%
* Percent Daily Values are based on a 2000 calorie diet.