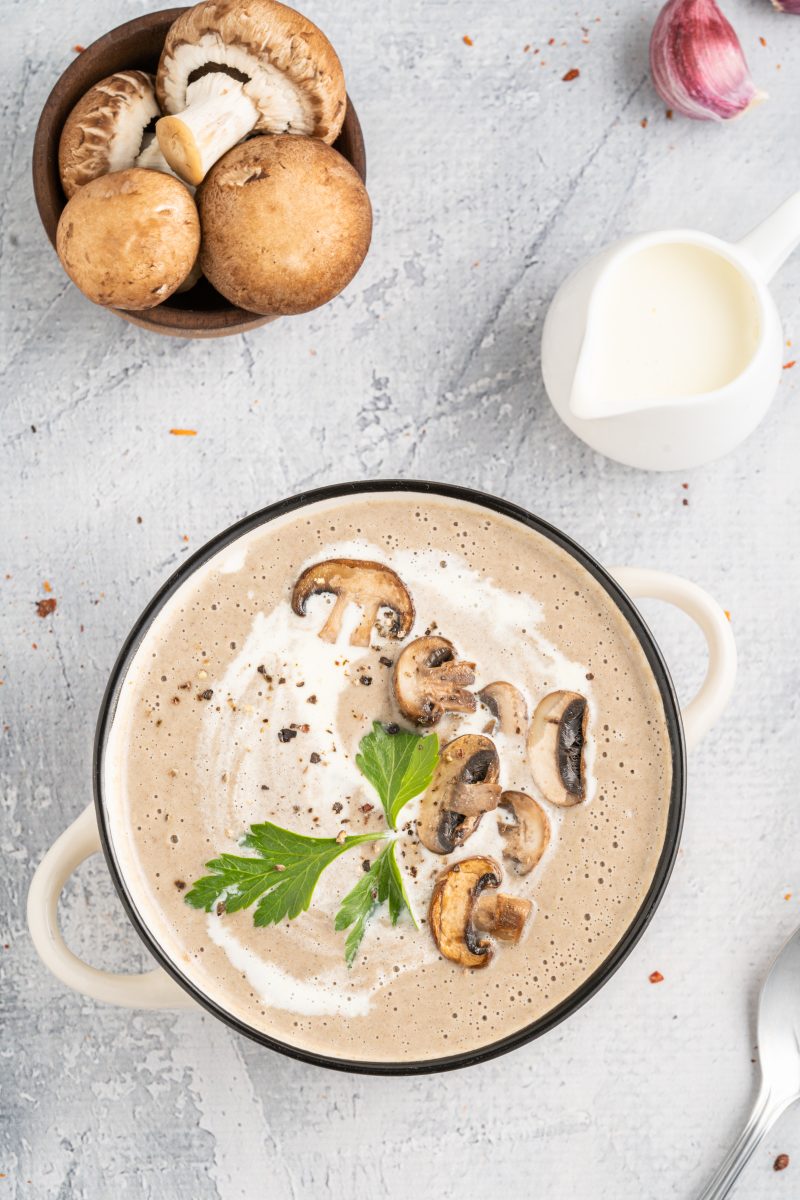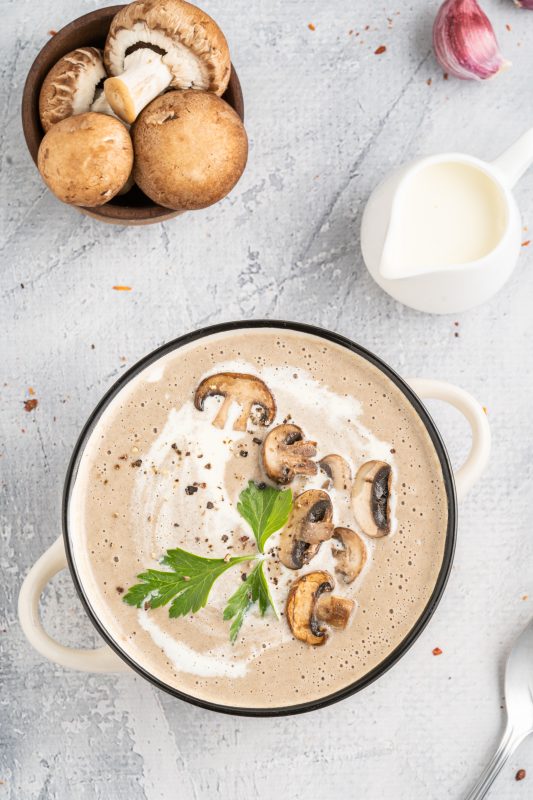 As a light meal or an appetizer, this mushroom soup recipe will satisfy your hunger without slowing you down. This soup's creamy texture will disguise all the healthy ingredients!
Mushroom Soup Recipe
Any mushroom lover will tell you they have the best mushroom soup recipe, and this recipe is my favorite without a doubt! With a full pound of delicious cremini mushrooms, you can't miss their incredible savory flavor. Onions, garlic, thyme, and butter compliment the natural earthiness, while beef stock and cream give the soup an full texture that will satisfy your hunger. And as for me, the creamier the better! I always use light cream when I make this homemade treasure.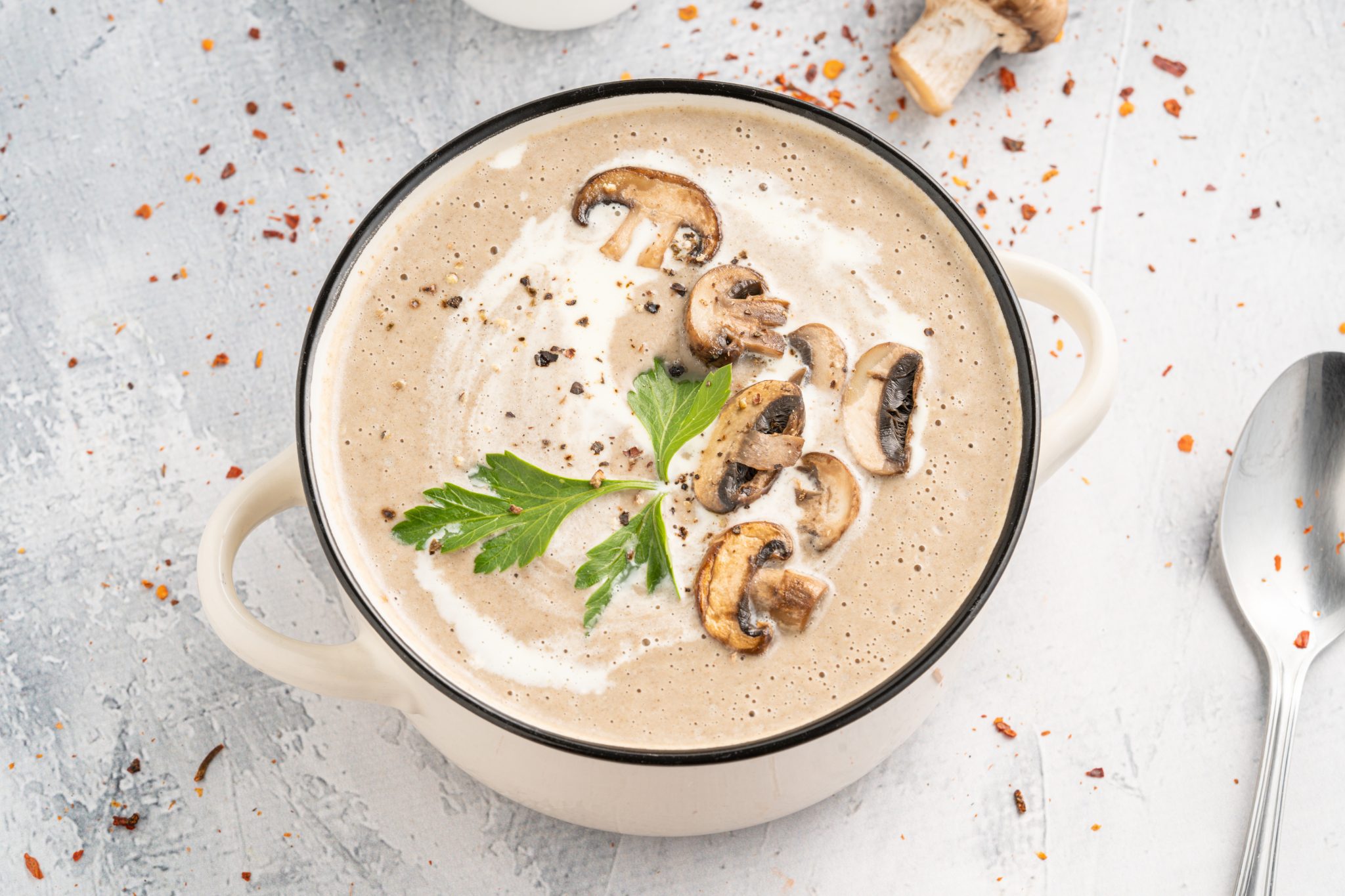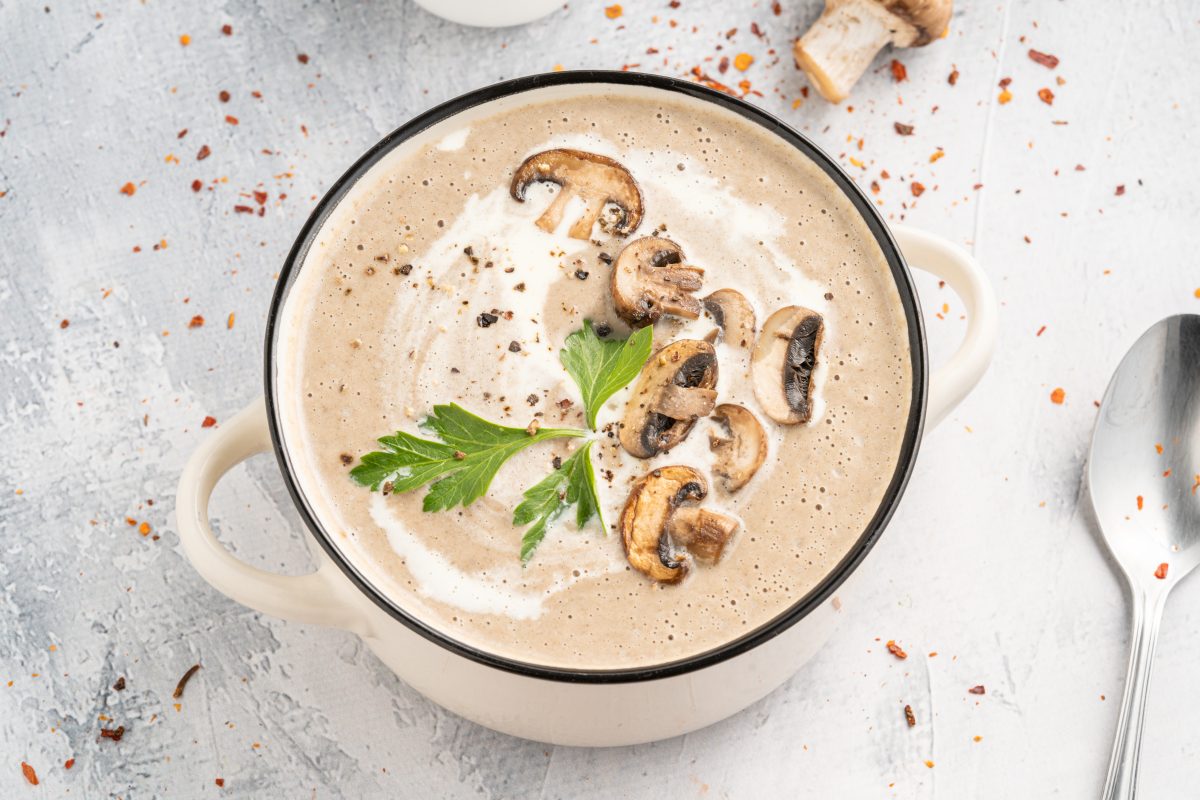 A low-carb, gluten-free dish, this recipe provides tons of nutrients without much fuss — the only tools you need are a skillet and a blender.
Serve this soup as an appetizer the leads into our fast and flavorful pressure cooker short ribs, or turn it into a meal paired with our bacon wrapped chicken tenders with cheddar cheese.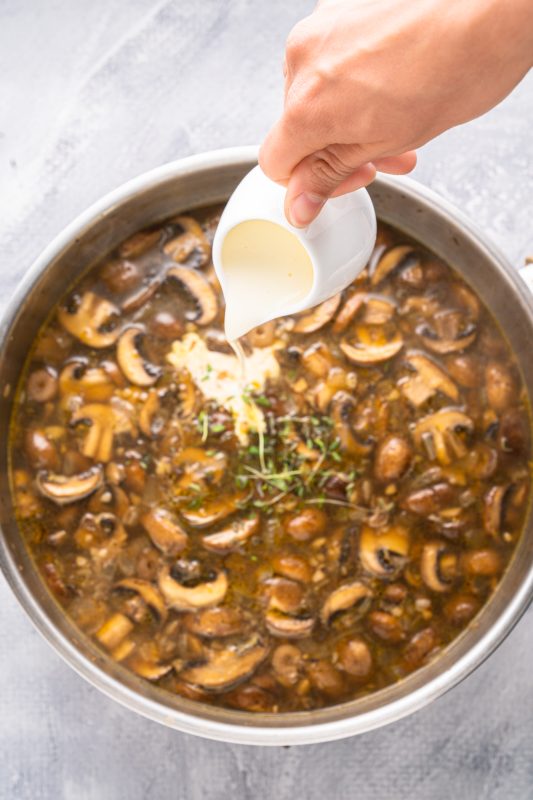 Why you will love this mushroom soup recipe
This Hungarian mushroom soup recipe can be made thinner or thicker depending on whether you use cream or whole milk. A light cream will give you the thickest result, while half and half or whole milk will make the soup thinner.
Use a traditional blender or immersion blender to accommodate exactly how smooth you want your soup. Whether you like silky smooth soup or with tiny bites of mushroom and onion, you can blend your soup a little or a lot!
The cremini mushrooms and beef stock in my mushroom soup recipe create a hearty soup with full flavors and aromas. You'll be amazed at the layers of flavor that come from only a half hour of prep and cooking time!
You can make this soup now and store it to enjoy later. Portion in single servings and refrigerate in airtight containers for up to 5 days, or freeze for up to 2 months!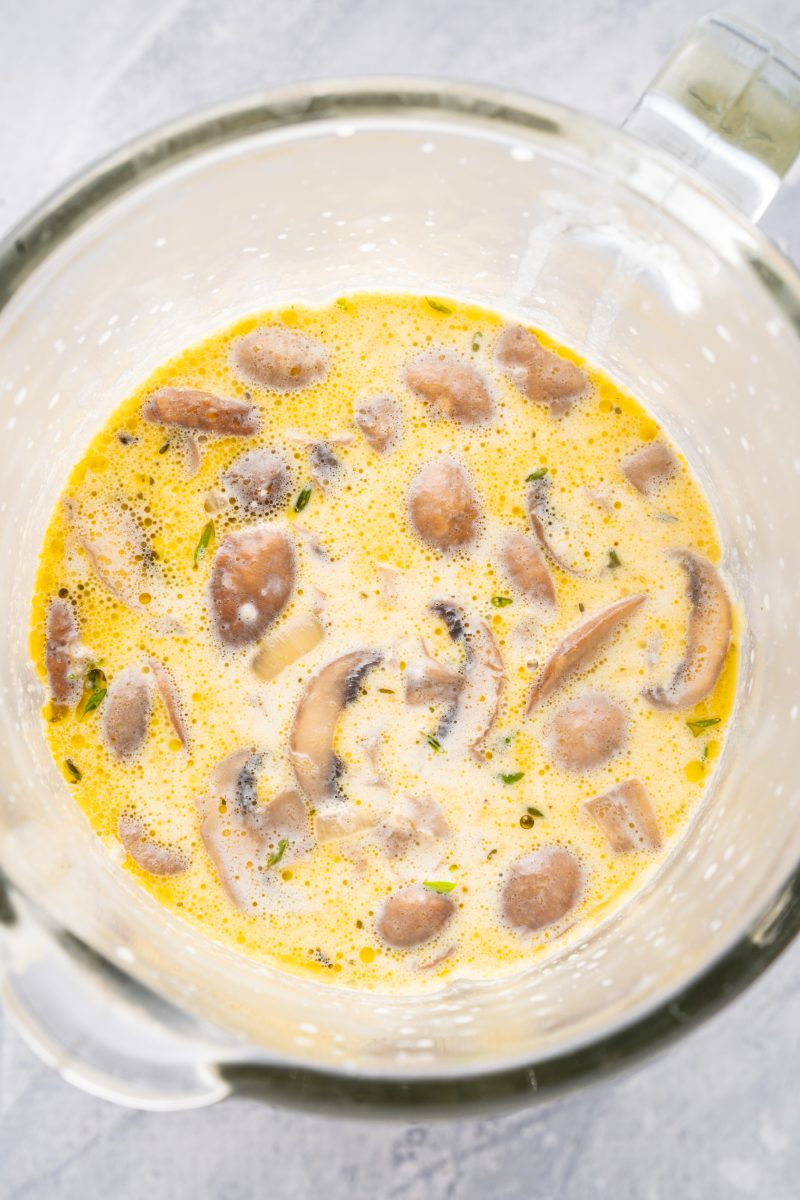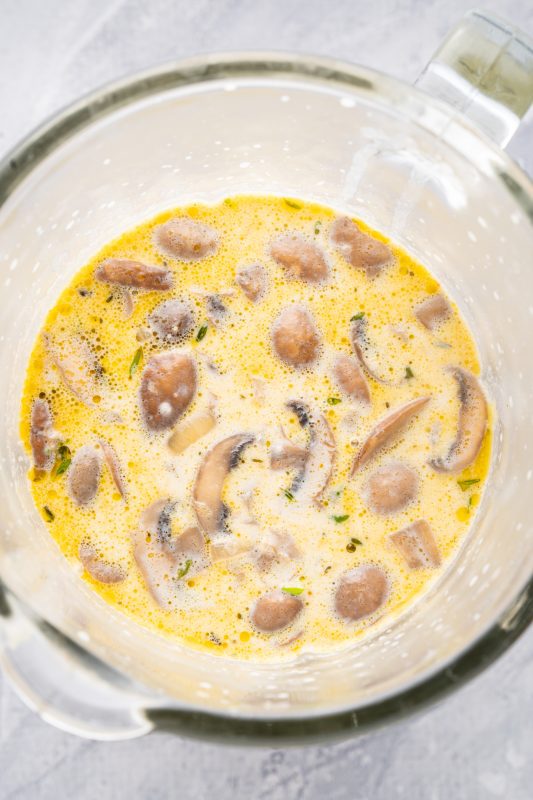 How to Make Perfect Mushroom Soup Recipe
Sautee' onions: Melt butter in a large skillet over medium heat and add the diced onion. After a few minutes, the onions will become translucent and you can add the garlic. Cook for another 2-3 minutes, being careful not to burn the garlic.
Add mushrooms and stock: Add mushrooms to the skillet and cook for several minutes, until the mushrooms become soft and give off moisture. When the moisture has started to evaporate, add the beef stock, thyme and pepper. Give it a good stir, cover, and simmer for 10 minutes.
Stir in cream and cheese: Remove from heat, then stir in cream and cheese. Allow soup to thicken for 10 minutes, stirring occasionally.
Blend: Use an immersion blender or transfer soup to a traditional blender and pulse until smooth, or until you reach your desired texture. Season to taste with salt and serve.
Chef's Tip: This soup will thicken as it cools. If you find that the consistency is thicker than you like, stir in a little more stock or water.
We could eat this best mushroom soup recipe with just about anything, but the wholesome veggie goodness of this dish pairs flawlessly with these roasted red potatoes with chipotle spice.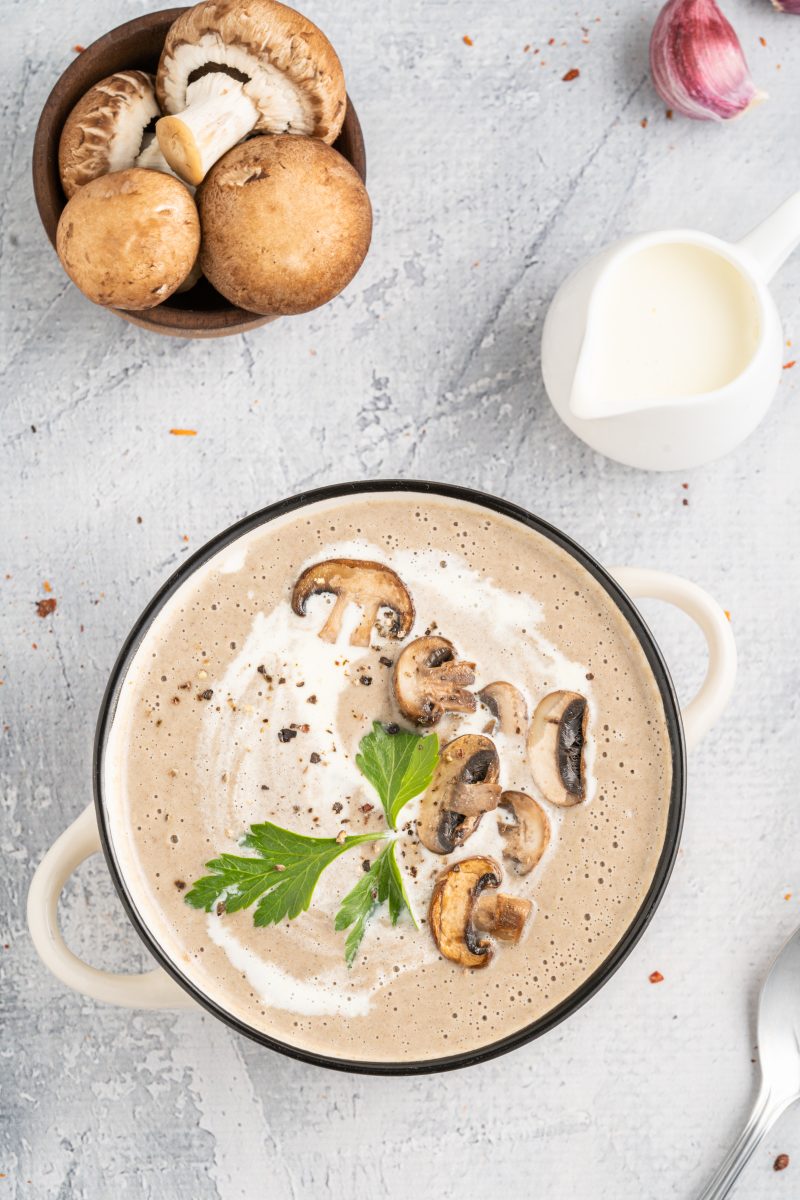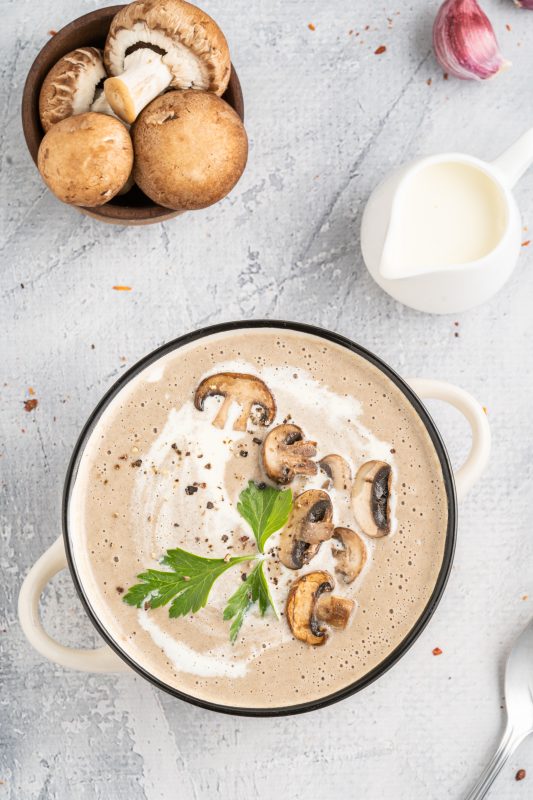 Frequently asked Questions about Hungarian Soup
What Is Hungarian Mushroom Soup?
The creamy texture and abundance of onions are what classify this mushroom soup recipe as Hungarian mushroom soup. Other varieties of mushroom soup also use onions but rather than use cream or milk, they strictly use a vegetable broth base.
Should Mushrooms Be Sauteed Before Adding To Soup?
Cooking your mushrooms with the onion, garlic, and butter allows the mushrooms to soften and absorb the flavors from the other ingredients before adding them to the soup. Mushrooms produce moisture when they're cooking, so cooking this moisture off keeps your finished soup creamier and smoother than it would be otherwise.
What Is Special About Cremini Mushrooms?
Cremini mushrooms make the best mushroom soup recipe because they have a firmer texture and a deeper flavor than other varieties. While other mushrooms can be used in place of cremini, the popularity of these makes them easy to find in many grocery stores. Note: they may be labeled as Baby Bella because they are essentially young portobello mushrooms!
What Is The Purpose Of Beef Stock?
Beef stock is packed with flavor and nutrients that aren't as strong in beef broth. The beef stock in this homemade soup recipe enhances the smooth textures created from the butter and cream.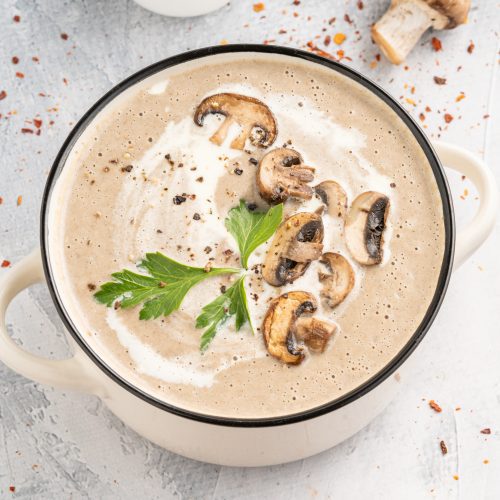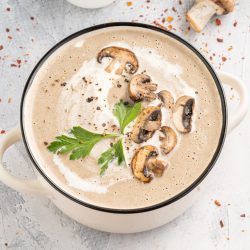 Creamy Mushroom Soup
As a light meal or an appetizer, this mushroom soup recipe will satisfy your hunger without slowing you down. This soup's creamy texture will disguise all the healthy ingredients!
Course:
Appetizer, Main Course, Soup, Soup, Salad & Sandwich
Keyword:
mushroom, mushroom soup, soup
Ingredients
16

oz

cremini mushrooms

sliced

1

medium

yellow onion

diced

1/2

tbsp

thyme

fresh

4

cloves

garlic cloves

minced

1

tbsp

butter

1

cup

light cream

half and half or whole milk

2

cups

beef stock

1/3

cup

parmesan cheese

grated

1/2

tsp

salt

added only if needed

1/2

tsp

black pepper

ground
Instructions
Heat one tbsp of butter in a large skillet or saucepan. Then add diced onion and stir until translucent. Add minced garlic and sauté until fragrant.

Add sliced mushrooms and sauté until soft. Pour beef stock, add fresh thyme, ground pepper and simmer, covered, for 10 minutes.

Remove from heat and add light cream and parmesan cheese. Let it cool down for ten minutes.

Transfer the soup to a blender, pulse until smooth. Taste salt, add if needed.

Serve warm with your preferred garnishes
Recipe Notes
Today's recipe is a deliciously creamy cremini mushroom soup. It's truly flavourful with a deep mushroom taste and packed with sauteed onion, garlic, fresh thyme, beef stock and parmesan cheese. We use light cream to achieve a smooth texture. This recipe is gluten-free and low-carb, make it also keto by using 1/2 yellow onion! 
Nutrition Facts
Creamy Mushroom Soup
Amount Per Serving
Calories 203
Calories from Fat 135
% Daily Value*
Fat 15g23%
Cholesterol 46mg15%
Sodium 703mg29%
Potassium 829mg24%
Carbohydrates 11g4%
Protein 9g18%
Vitamin A 500IU10%
Vitamin C 5mg6%
Calcium 167mg17%
Iron 1mg6%
* Percent Daily Values are based on a 2000 calorie diet.