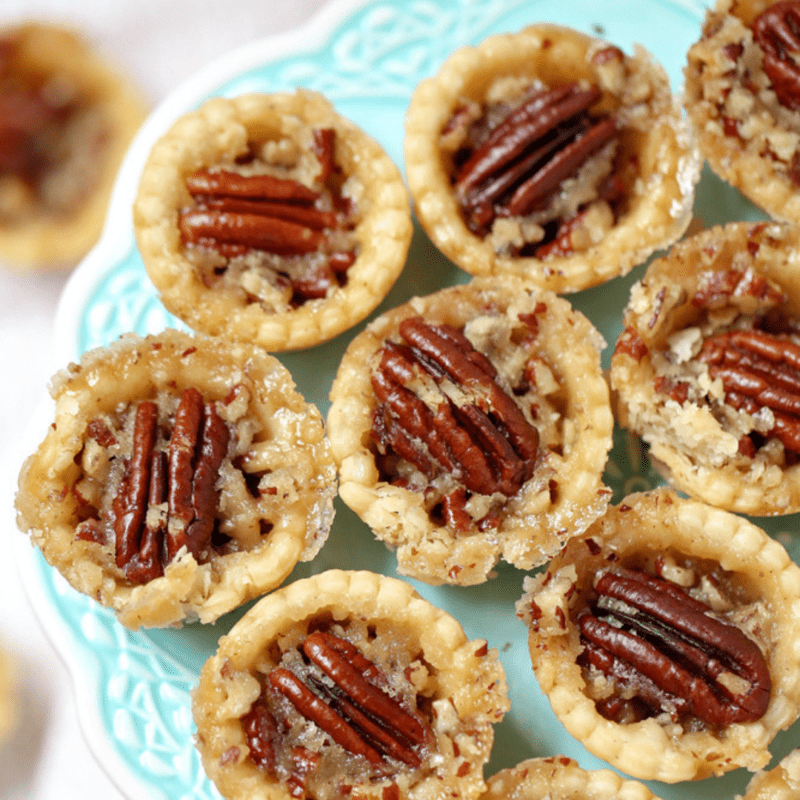 These mini pecan pies are one of my favorite recipes of all time. I'm from the South, so pecan pie is a big deal. One of the risks of having pecan pie anywhere around our house is that it disappears relatively quickly. So this mini version is a great option for us.
We have a family joke that you have to be a Southerner to understand the concept of a dessert table. As a kid, anytime we went to special events like Christmas or Easter, where lots of family gathered, everybody contributed a side dish to big family dinners. But everybody brought dessert too… and I mean EVERYBODY. It always required a dessert table was set up that was as big as the food table. (My Nanny's tea cakes were always there too!)
There were always multiple pecan pies on the dessert table. Everyone promised their recipe was best. And we were happy to taste test. Personally, I have cast my vote for these mini pecan pies because they are the perfect bite of crust, filling, and pecans!
Mini Pecan Pies
I'll admit, there were times we all went back to the dessert table more than once, especially after dinner had settled and we'd spent a few hours visiting. An extra piece of pecan pie or one of my dad's famous cake with a cup of rich coffee sounded just right.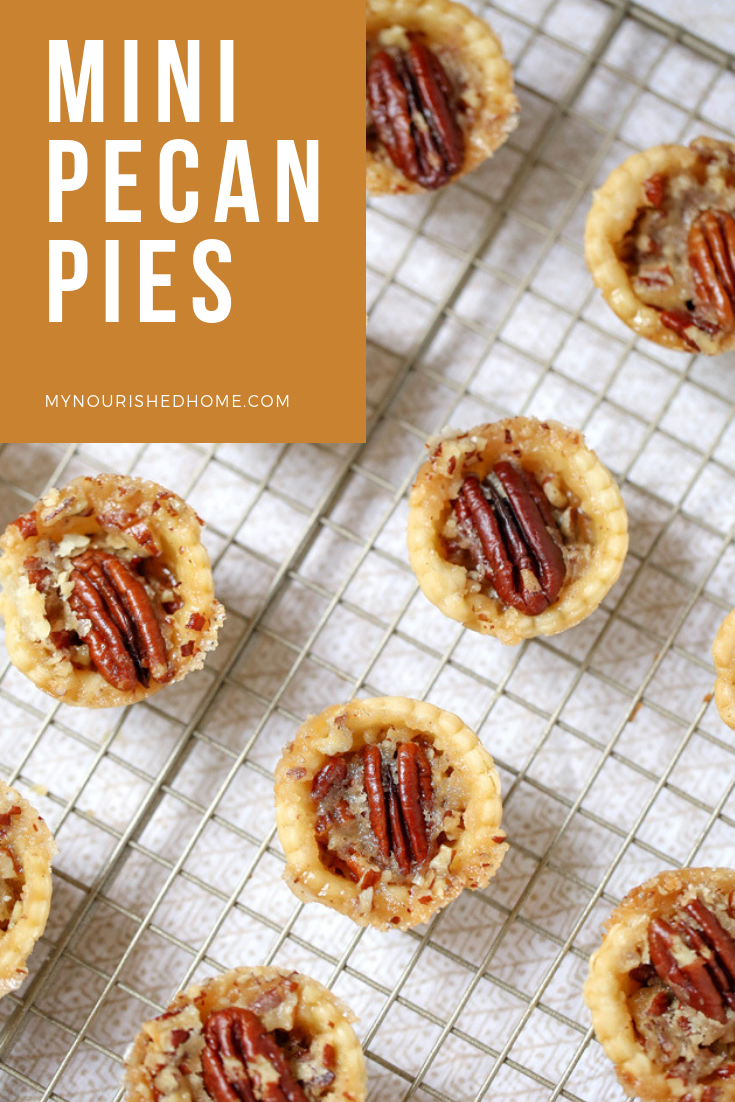 When I was a super young, I wasn't so sure about pecan pie. I was skeptical of the consistency in the middle. My dad finally convinced me to take a bite or give up my southerner card – it was heaven. It was absolute heaven.
I'll never be able to eat pecan pie without thinking of my dad. It is one of his favorites. And I'll never forget my grandfather being teased by my grandmother for going back for the second piece of pecan pie after a big meal.
Recently I decided to impress my dad with these mini versions of his favorite dessert and he gave them a big thumbs up. It also helped when I shared how easy they were to make!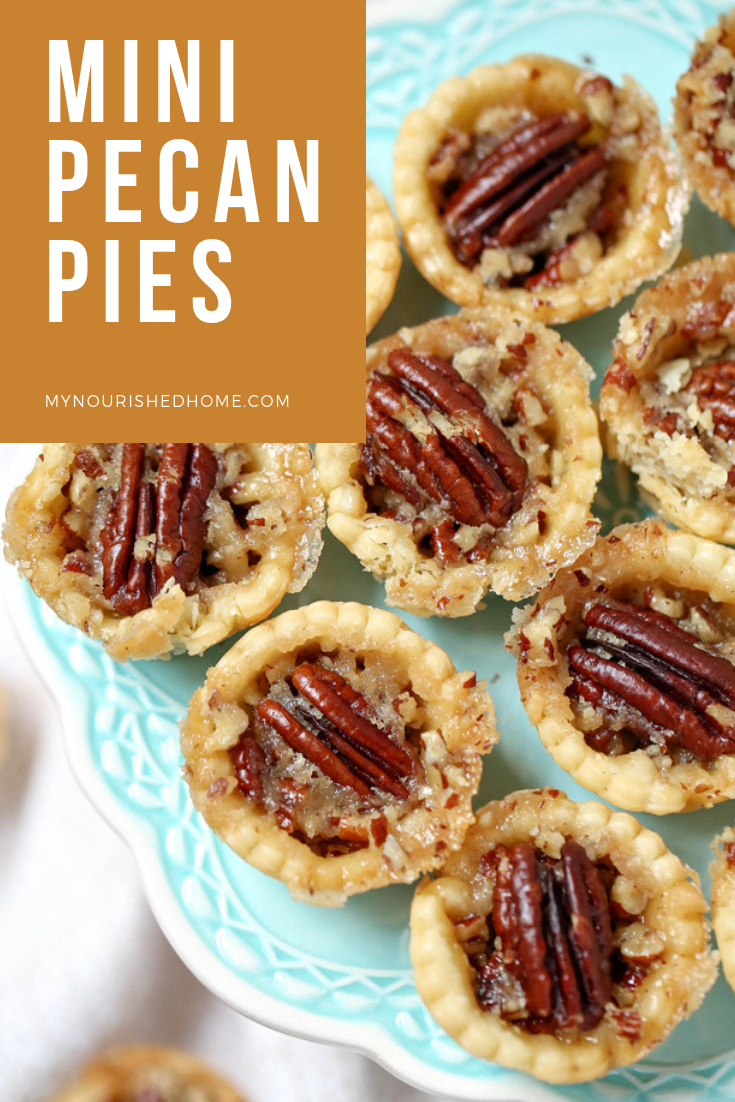 An easier recipe for traditional pecan pie
This recipe uses a little bit of a shortcut because we just use two refrigerated rollout pie crusts. I've made my own pie crusts, and they are delicious but when cooking a big family meal, I don't want to spend hours in the kitchen making pie crust instead of visiting with my family.
And frankly, refrigerated pie crusts are almost just as good. These mini pecan pies also use chopped pecans, melted butter, brown sugar, white sugar, flour, vanilla, and honey. And we always save some halved pecans to garnish the top of each mini pecan pie. You'll also need a mini cupcake pan so that you can cook them individually.
The trick with the pie crust is to roll out your pie crust and flatten it slightly because the mini cupcake pan gives you a relatively small space, you don't want all pie crust and no filling. Once rolled out, cut out circles from the pie crust that are about a length of your finger wider than your actual muffin cup. So that way when you tuck them inside, you'll have plenty of crust, but not so much that it doesn't allow you to fill it with all the good pecan pie happiness.
Spray your mini cupcake pan with non-stick spray, and press the pie crust inside each cup, until you have a little bowl of crust in each cupcake pan hole. With a fork, mix your chopped pecans, melted butter, vanilla, brown sugar, white sugar, and honey, and the flour until it's fully blended. You don't have to blend this with a blender, you can literally do it with your fork, it's so easy.
Drop about two teaspoons of pecan pie mixture into each pie crust cup, and pack it down each time. Don't overfill the cups, because they will rise and overflow. But place the halved pecan on the top of each mini pecan pie cup. Bake these mini pecan pies at 350 degrees for 15 to 20 minutes, until the crust looks fluffy, and the filling is nice and bubbly. Remove them from the oven and make sure you cool them before you serve them because they are hot in the middle.
What are your favorite food memories? Is there a dessert that really brings it back for you?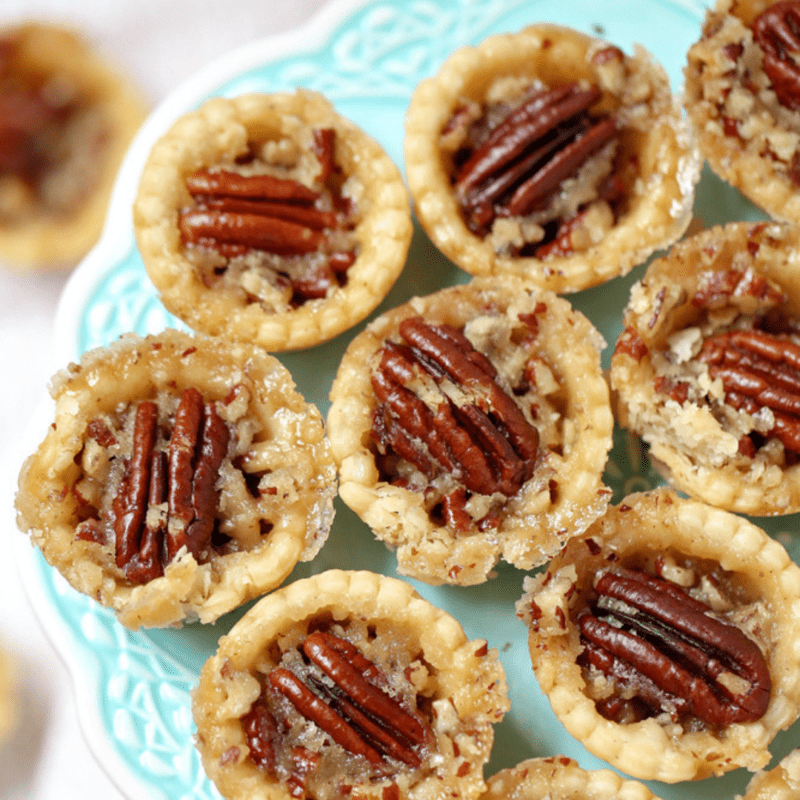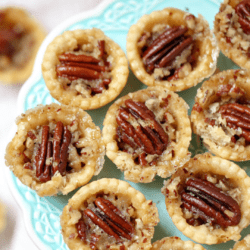 Mini Pecan Pie Recipe
Ingredients
2

refrigerated roll-out pie crusts

1

cup

chopped pecans

1/2

cup

melted butter

1/3

cup

brown sugar

1/2

cup

white sugar

1/3

cup

flour

1

tsp

vanilla extract

2

tsp

honey

Halved pecans - one for each mini pie cup

Mini cupcake pan
Instructions
Preheat your oven to 350 degrees. Roll out your pie crust and flatten slightly, then cut out circles from it that are 1 finger wider than your mini muffin cups.

Spray cupcake pan with nonstick spray, and press a pie crust piece inside each cup until you have a "bowl" of crust. Set aside.

With a fork, mix your chopped pecans, melted butter, vanilla, brown sugar, white sugar, honey, and flour until fully blended.

Drop around 2 teaspoons of pecan mixture into each pie crust cup, packing it down each time. Don't overfill your cups, because these will rise and overflow! Place a halved pecan on top of each pie cup.

Bake at 350 degrees for 15-20 minutes, until crust is fluffy and filling is bubbly.

Remove from oven and cool before serving.
Recipe Notes
*Makes around 2 dozen. *
Nutrition Facts
Mini Pecan Pie Recipe
Amount Per Serving
Calories 333
Calories from Fat 198
% Daily Value*
Fat 22g34%
Cholesterol 20mg7%
Sodium 185mg8%
Potassium 77mg2%
Carbohydrates 33g11%
Protein 3g6%
Vitamin A 241IU5%
Vitamin C 1mg1%
Calcium 19mg2%
Iron 1mg6%
* Percent Daily Values are based on a 2000 calorie diet.