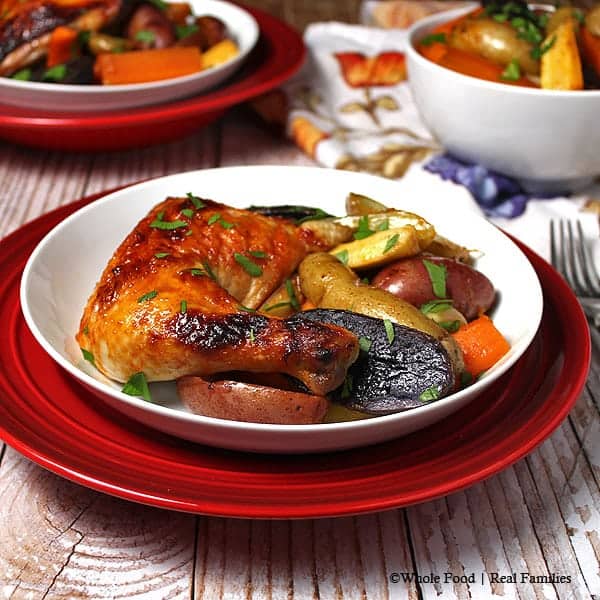 Honey Sriracha Chicken with Fingerling Potatoes, Carrots and Parsnips is a little spicy, a little sweet and perfect for a weeknight meal because it all cooks on one sheet pan making it a snap to clean up!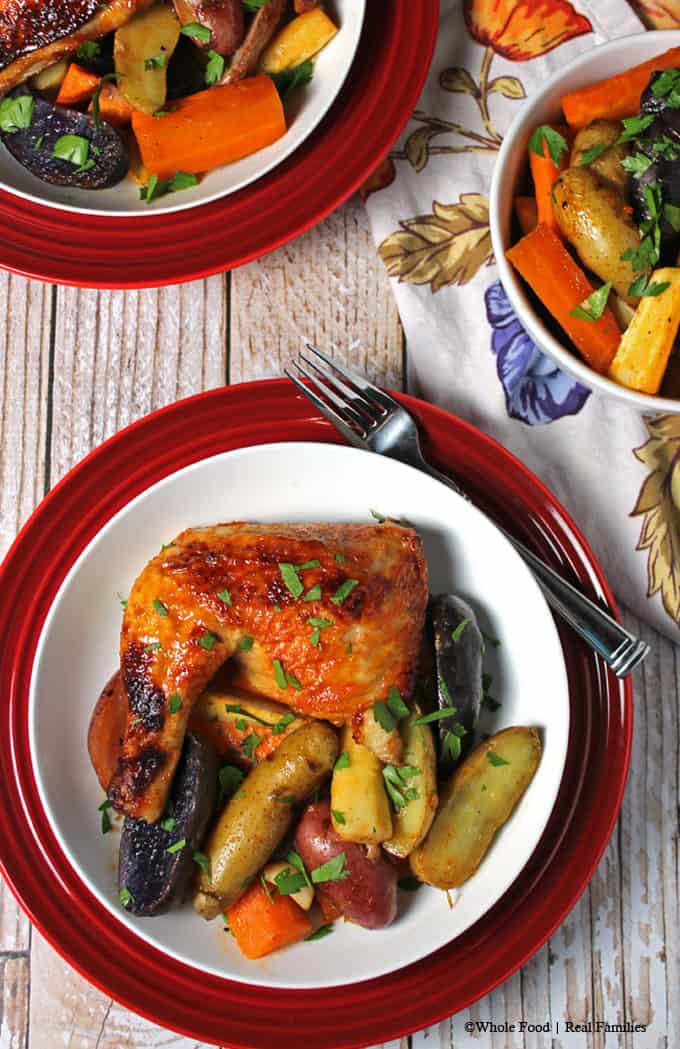 Frequently one recipe idea leads to the next. It usually starts with one really good ingredient (or two or three). Or one taste or a combination of tastes that leads me to the next idea. Cooking is creative for me – similar to drawing for my oldest daughter or crafting for my dearest friend. Honey Sriracha Chicken with Fingerling Potatoes, Carrots and Parsnips is a recipe inspired by my recent appetizer post – Honey Sriracha Fries with Creme Fraiche and Chives. We enjoyed the appetizer so much that a week later, it turned into dinner.
That being said, I love this recipe for many reason. The most important is that it is delicious. But a very close second is that it cooks in a single sheet pan, which makes it ideal for weeknight cooking. (Okay, there is a small sauce pan involved too. But the sauce is completely worth it.)
If you haven't tried cooking everything on one sheet pan, you are missing out on one of the greatest kitchen discoveries of all time. Perhaps my very favorite recipe is this Warm Spiced Chicken over Sweet Potatoes.
Potatoes are a staple at our house. With a family of five, I am always looking for a way to stretch dinner a little farther and leftovers into one more meal. I often use potatoes to do that. Like this Ham and Egg Hash that uses up leftover ham. Or this Fingerling Potato Medley with Peppers and Onions , which works as a side or as a base for other main dishes.
But I also flex with the seasons, with what I can find at the Farmers' Market and with what is in my fridge when I didn't spend enough time menu planning for the week. For example, if you can't find  parsnips, try peeled and diced turnips (which smell terrible but turn sweet and delicious when roasted!) If you don't have these beautiful multi-color fingerling potatoes, try regular potatoes or even sweet potatoes.
Note this dish is a little spicy. Use your judgement with the sriracha. The sauce still works with more or less of it! We like spicy food and found this recipe to be a modest amount of heat but not too much.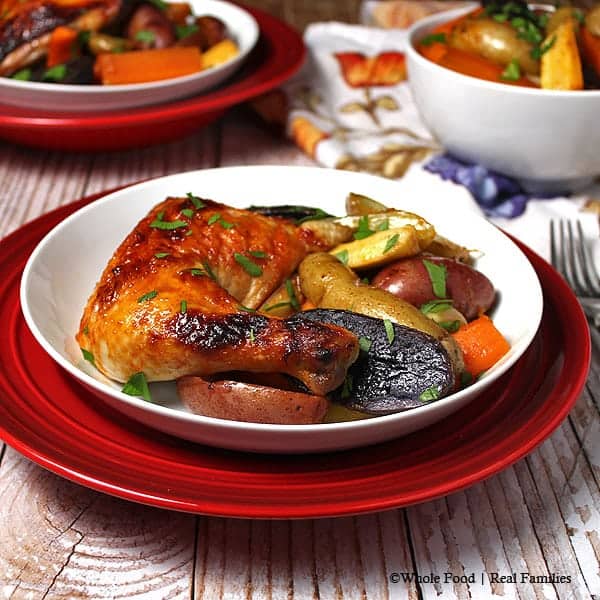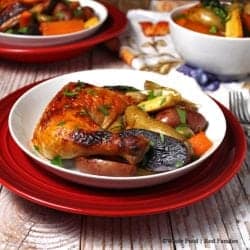 Honey Sriracha Chicken with Fingerling Potatoes, Carrots and Parsnips
Ingredients
1

whole

chicken, cut into 8 pieces, bone-in

1/2

cup

honey

1/3

cup

sriracha

1

lime, for juicing

4

tbsp

butter

2

lbs

fingerling potatoes, cut in half

3

medium

carrots, peeled and cut into bite size pieces

3

medium

parsnips, peeled and cut into bite size pieces

1/4

cup

olive oil

kosher salt and black pepper to taste

1

onion, thinly sliced into strips

fresh parsley for garnishing
Instructions
Preheat oven to 450 degrees.

In a small sauce pan, combine honey, sriracha, butter, and the juice of a lime over medium heat. Whisk gently until butter is melted and sauce is uniform.

Add potatoes, sliced onions, carrots, and parsnips to a lightly oiled baking sheet. Drizzle with just enough olive oil to coat all of the vegetables, tossing with your hands to combine. Spread the vegetable mixture evenly on the pan, making sure that it is in a single layer for even baking.

Lay each piece of chicken directly on top of the vegetable mixture.

Brush the sauce liberally onto the chicken pieces. It will run down into the vegetables. No worries - this is a good thing!

Move the pan into the preheated oven. Bake for about 30-35 minutes or until the thermometer reads 165 degrees at the thickest part of the meat.

Remove from the oven and let it rest for 5 minutes. Garnish with fresh parsley and serve.