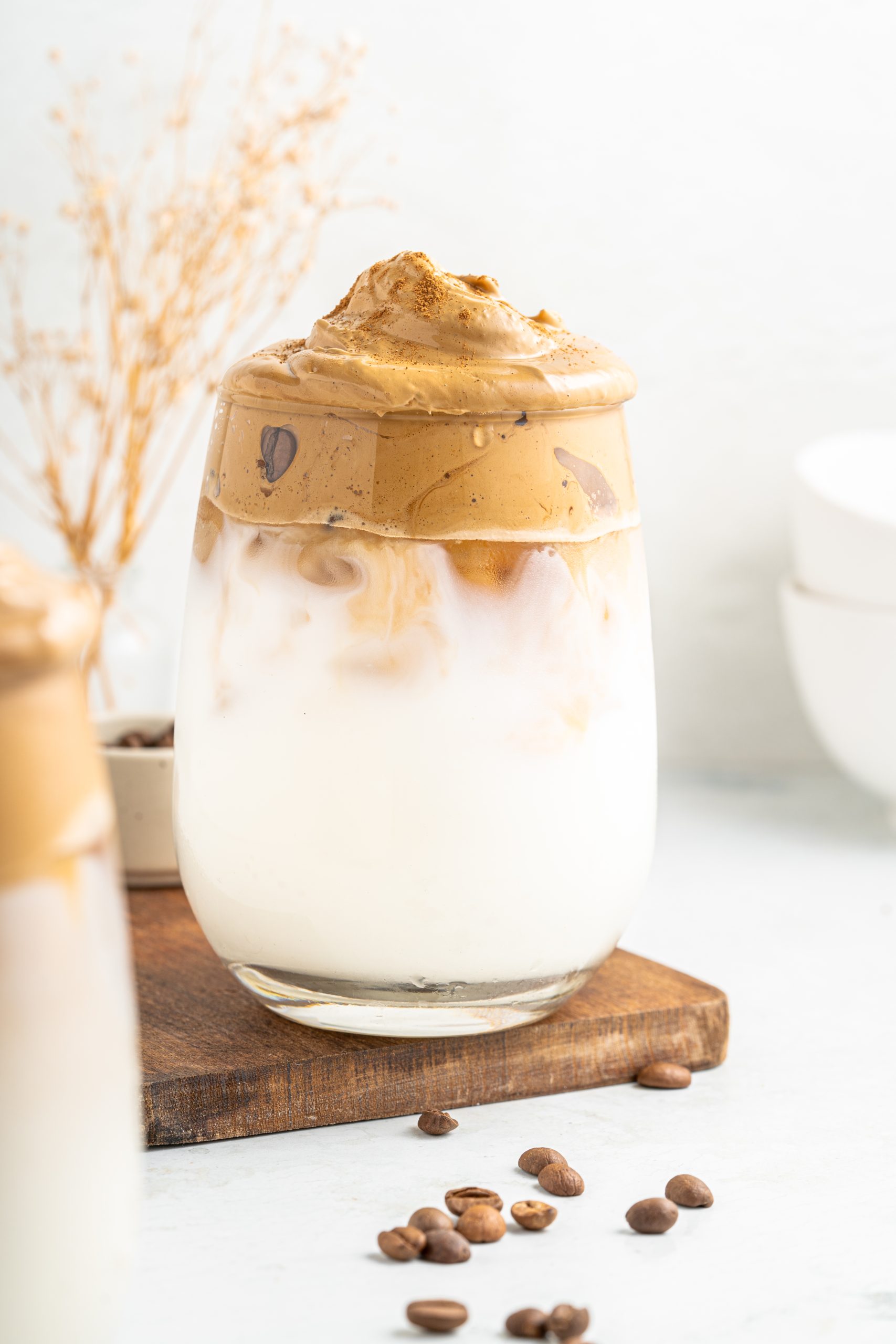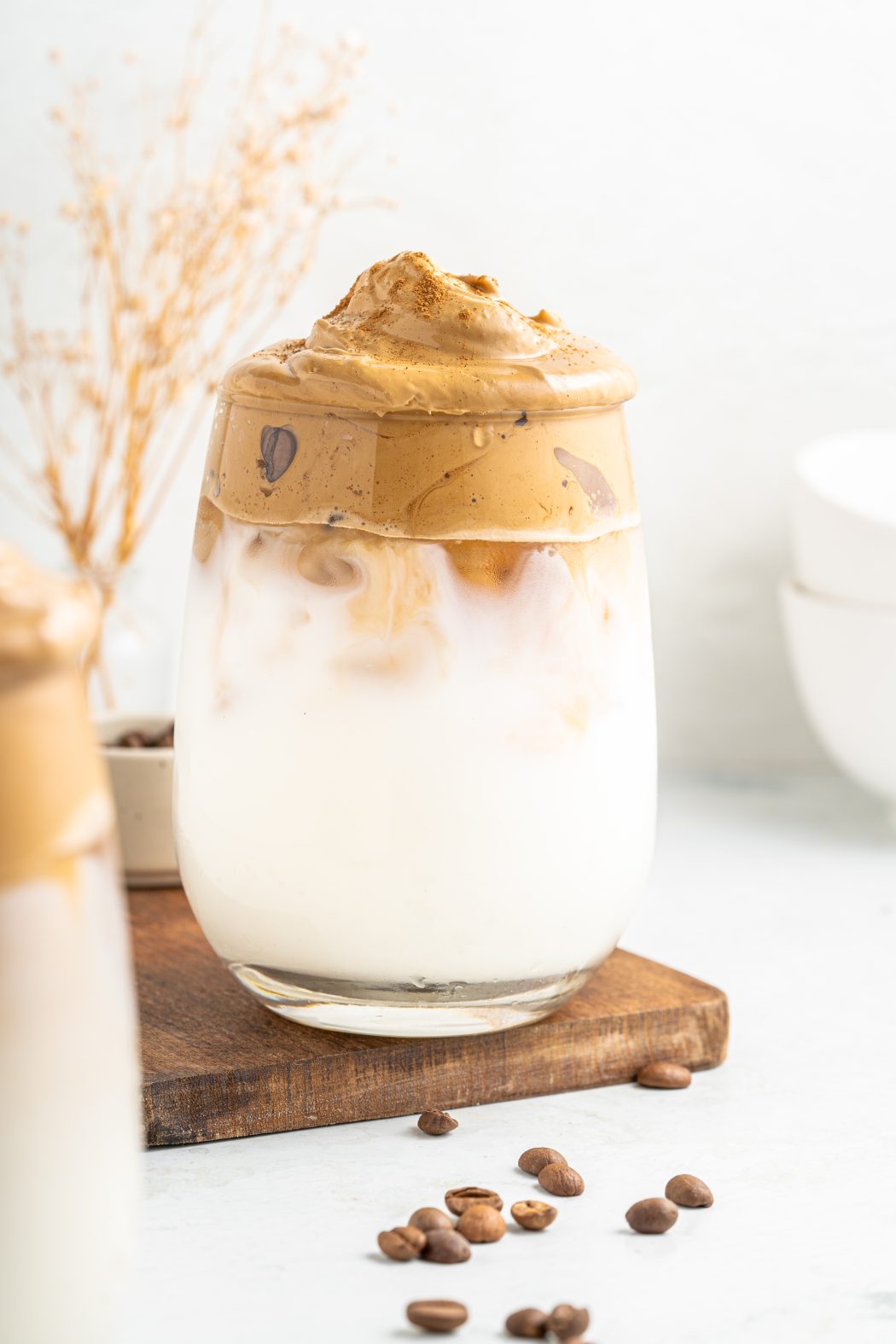 Whipped Coffee is a delightful treat for coffee lovers. Also called Dalgona coffee, it boasts a velvety texture and rich flavor. Frothy, indulgent, and downright delicious!
Make Whipped Coffee and Elevate Your Morning!
If you haven't heard of it already, whipped coffee is a worldwide trend! The first time I tried it, I was instantly hooked — the texture is so luxurious and thick, it's almost like dessert in a cup. It comes together so easily at home too. You only need 5 ingredients to make it, and once you stock up on supplies, you'll have enough to make several batches.
It's also called a Dalgona coffee recipe. Dalgona is a type of Korean toffee with an airy texture that's very similar to the fluffy and frothy texture you'll find in this recipe. The drink is very popular in South Korea and there, most people simply refer to it as Dalgona.
Easily enjoyed hot or cold, make this drink for a morning treat. I love the idea of serving it for brunch — it will definitely impress your guests!
Can't get enough coffee? Don't miss my posts on maca coffee and smart coffee, as well as this list of 15 easy coffee recipes! And if you're a tea lover, try: Honey Citrus Mint Tea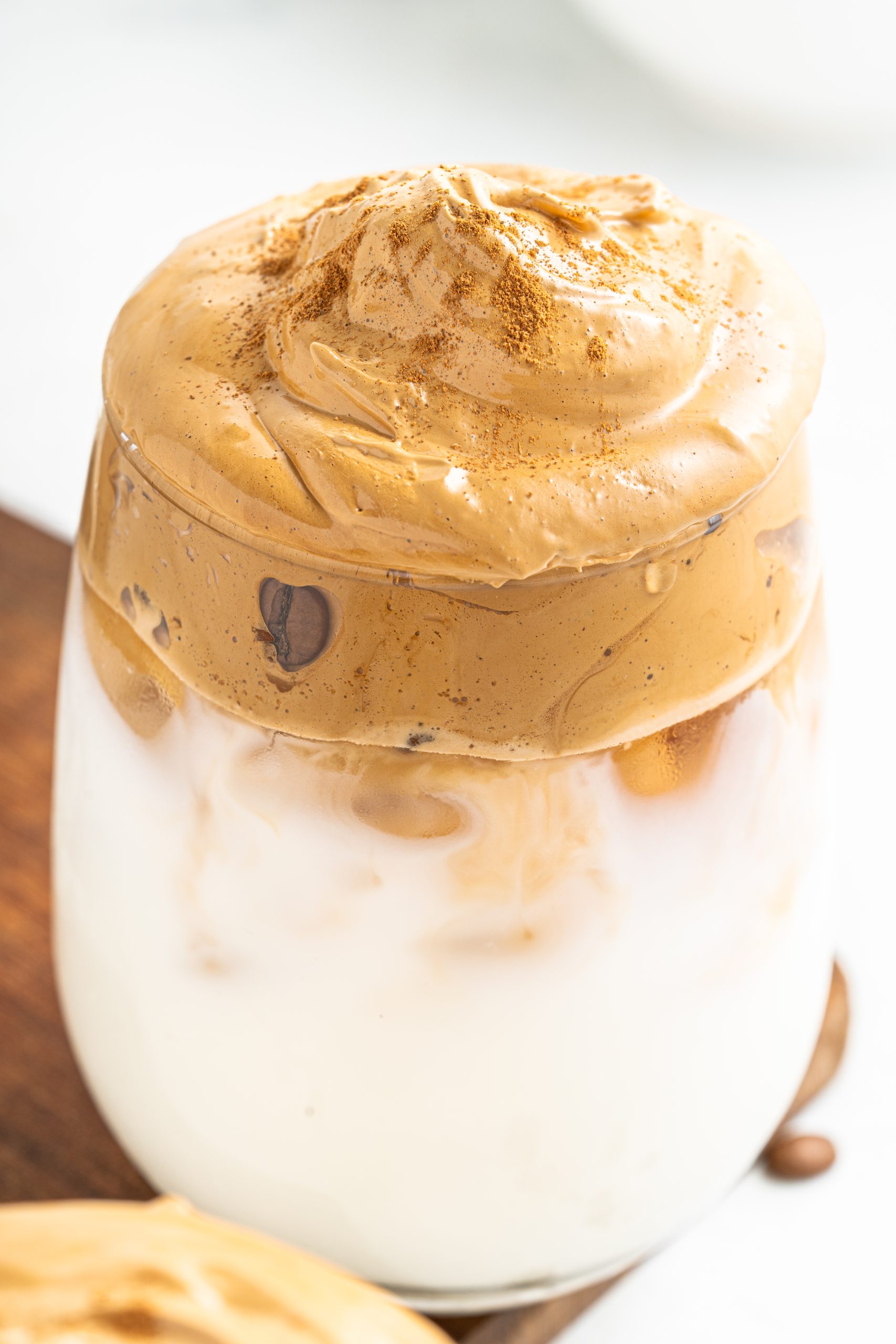 Why you will love this recipe
Incredibly easy to make
Impressive for breakfast and brunch get-togethers
Perfectly creamy
Made with 5 simple ingredients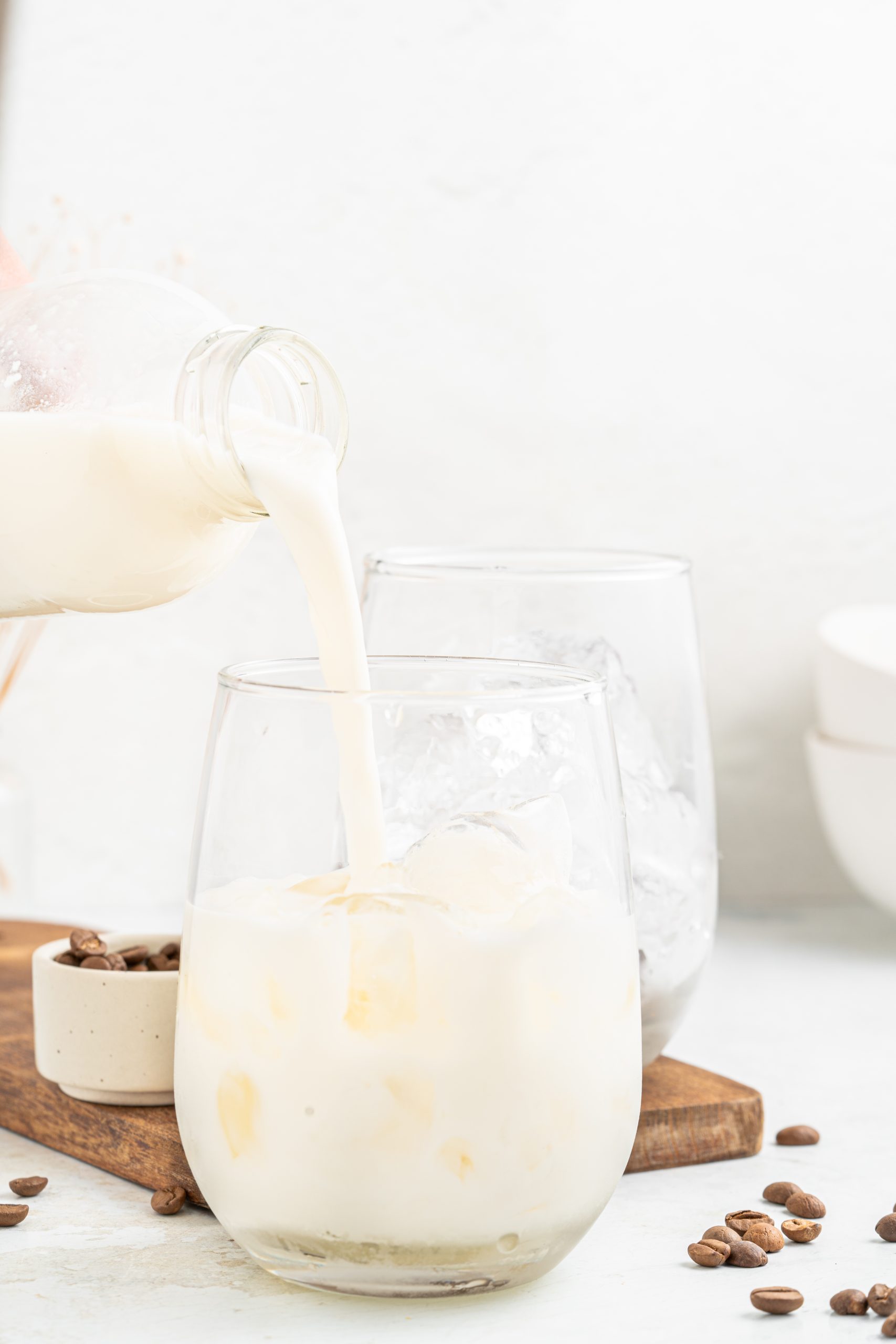 How to make perfect Whipped Coffee
Combine the ingredients. Add the instant coffee, sugar, and hot water to a mixing jar or a medium-sized bowl.
Whip the coffee. You'll have to use an electric mixer to make the signature coffee foam of this drink. Mix on high speed for 1-2 minutes until the mixture becomes frothy.
Prepare the glasses. Fill each glass with a cup of ice, then add the milk. It should fill almost the entire glass — but make sure to leave about ½ inch of space at the top to add the coffee mixture.
Top with coffee foam. Fill the rest of the glass with the fluffy coffee foam and enjoy!
Pro Tips
No hand mixer? You can achieve the same foamy consistency with a whisk, but it will take a lot more time — and elbow grease!
Don't use espresso powder coffee as it doesn't dissolve the same way instant coffee does. Its texture is also a lot finer, which means that it won't incorporate air as well. Stick with regular instant coffee for the consistency you're looking for!
The water needs to be boiling so that the instant coffee dissolves correctly.
Prefer hot coffee drinks? Simply replace the cold milk with hot. That said, the foam won't hold as long as when it's cold.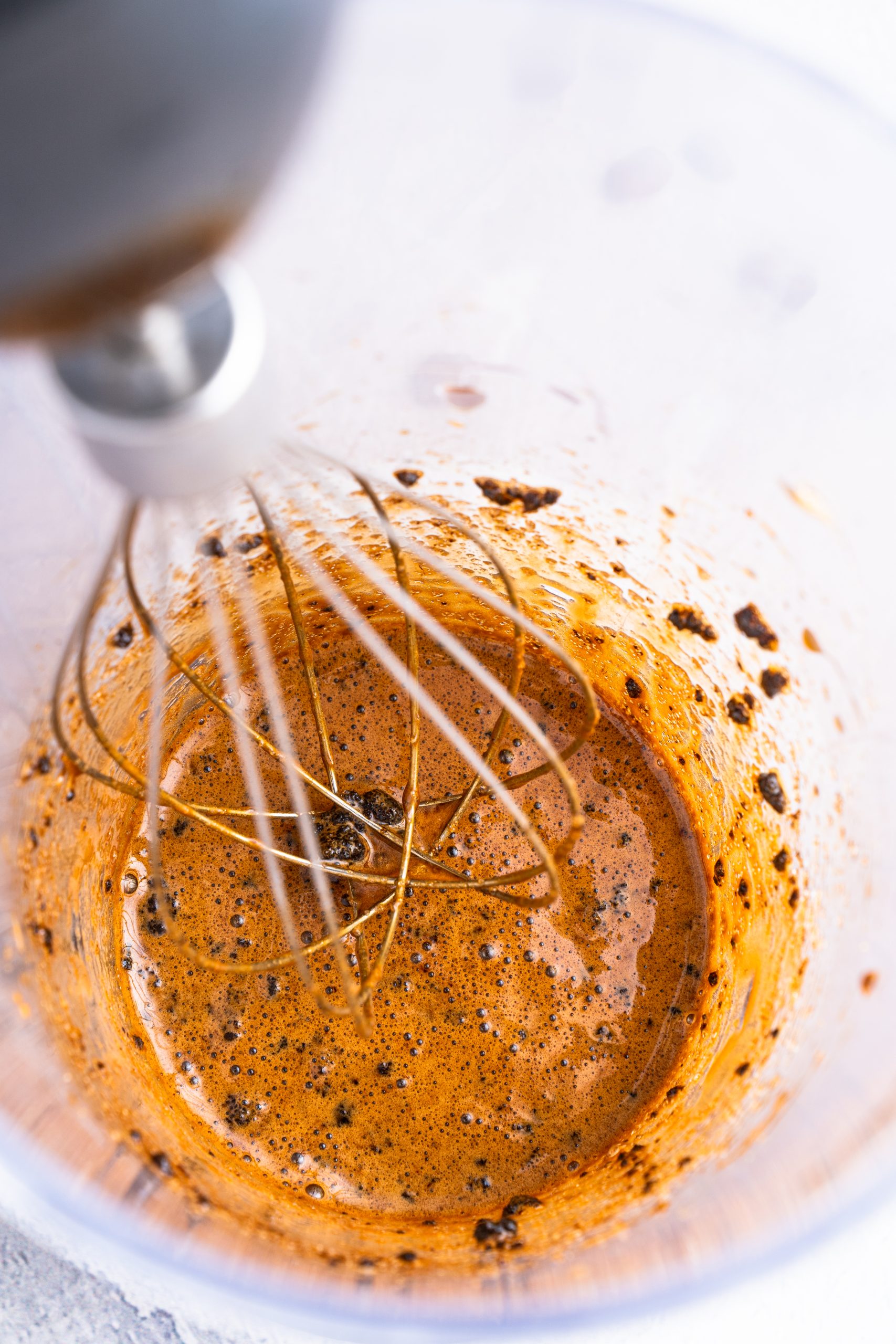 Key Ingredients and Substitutions
Instant coffee: I've already mentioned the importance of using instant coffee for this recipe, but it's so important that it bears repeating. The key to getting the taste, texture, and consistency that you want is in the instant stuff.
Sugar: Sugar is also very important to get the consistency that you want. As you'll learn more about below, it helps to thicken the drink.
Milk: This drink is creamy coffee at its finest. You need to use milk to make it as creamy as can be. You could also use creamer — more information on that below too.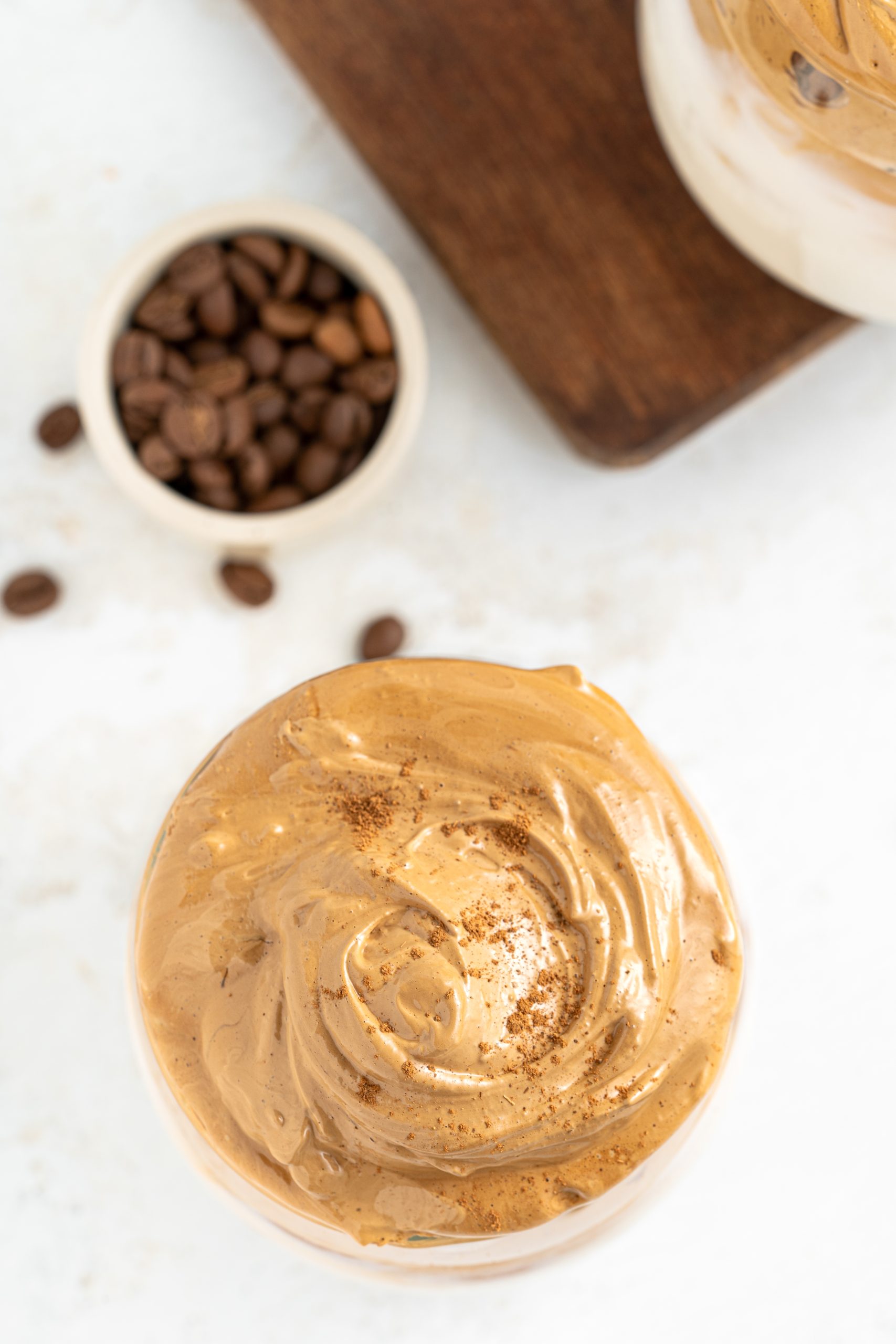 Frequently asked Questions about this Dalgona Coffee Recipe
Can you use regular coffee for whipped coffee?
You can, but you'll have to brew the coffee first and ditch the hot water. You'll have to wait for the coffee to brew, so just be aware that it will take longer than if you use instant coffee.
How do you thicken whipped coffee?
The key is in the added sugar! It makes your Dalgona coffee recipe light, foamy, and airy so it's important to include it. You can replace it with Stevia or another sweetener but remember that they tend to be a lot sweeter than regular sugar. Add 1 tablespoon to the instant coffee, then do a taste test before adding more.
Also, note that using a powdered or granulated form of Stevia works best for this Dalgona recipe, as it will blend more easily with the other ingredients.
Why isn't my whipped coffee getting fluffy?
You likely haven't mixed it for long enough. Making this recipe is a lot like making homemade whipped cream — one minute it's liquid, and the next it starts to take on a thicker consistency. Be patient, the fluffy texture will come!
Can I use creamer for whipped coffee?
Absolutely! Feel free to use your favorite coffee creamer instead of milk for your Dalgona recipe. French vanilla, hazelnut, and caramel would all be delicious. You could also make it a festive treat and use pumpkin for fall, peppermint for winter, or Irish cream for Saint Paddy's Day!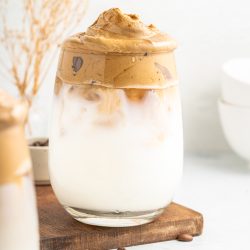 Whipped Coffee
Whipped Coffee is a delightful treat for coffee lovers. Also called Dalgona coffee, it boasts a velvety texture and rich flavor. Frothy, indulgent, and downright delicious!
Course:
Breakfast, Drinks, Smoothies & Drinks
Keyword:
Coffee, Dalgona Coffee, Whipped Coffee
Ingredients
2

tbsp

instant coffee

3

tbsp

sugar

2

tbsp

hot water

1

cup

milk

to fill your chosen glass

2

cup

ice

one per glass
Instructions
Place instant coffee, sugar, and hot water into a mixing jar or bowl. Then, use an electric mixer to make the characteristic coffee foam of this coffee. You'll need 1 to 2 minutes of high speed mixing to achieve the desired consistency.

Prepare your Dalgona Coffee by placing a cup of ice in each glass, then fill it up to ½ inch from the top with milk, and finally, top each glass with the sweet and soft coffee foam.
Recipe Notes
Tips
You can achieve the foam whisking manually, but you'll need more time and dedication.

This recipe doesn't work with espresso powder coffee.

Water should be boiling so the coffee dissolves properly.

You can also make this coffee in the hot version; simply use warm milk. The foam won't hold it too long, though.
Nutrition Facts
Whipped Coffee
Amount Per Serving
Calories 160
Calories from Fat 36
% Daily Value*
Fat 4g6%
Cholesterol 15mg5%
Sodium 61mg3%
Potassium 360mg10%
Carbohydrates 27g9%
Protein 5g10%
Vitamin A 198IU4%
Calcium 165mg17%
Iron 0.2mg1%
* Percent Daily Values are based on a 2000 calorie diet.