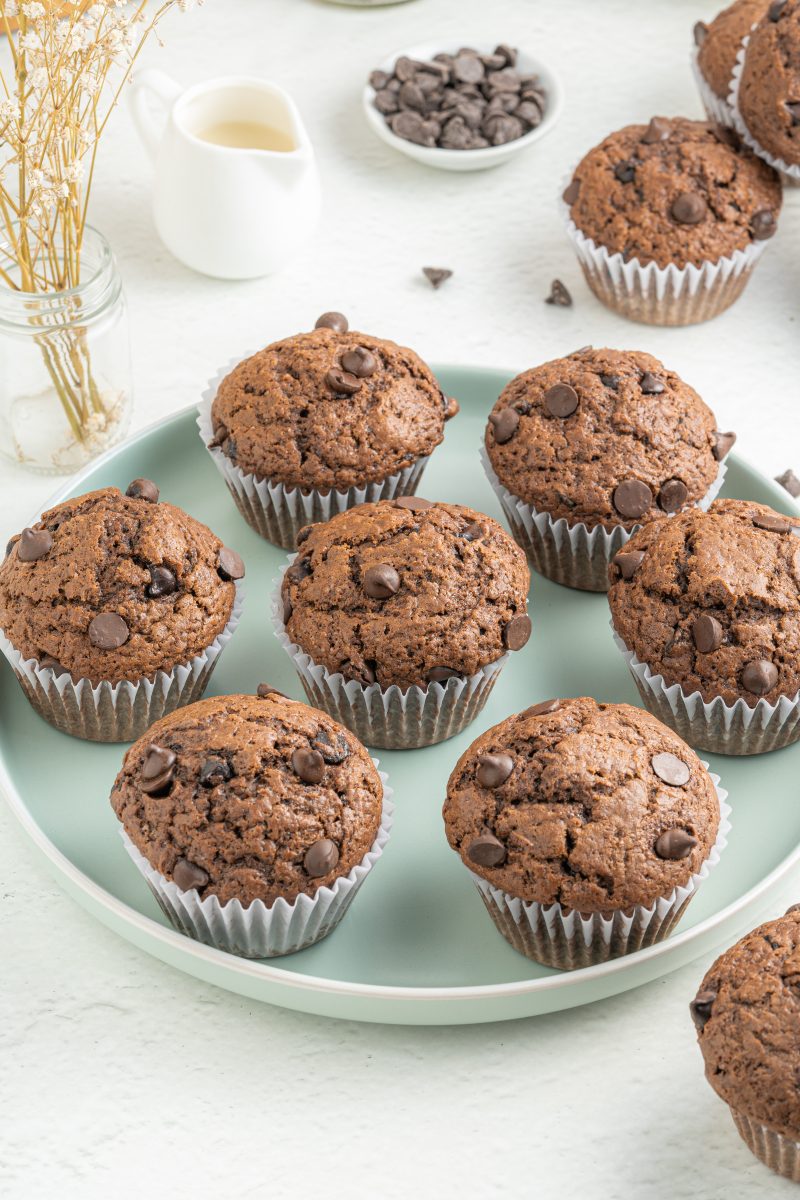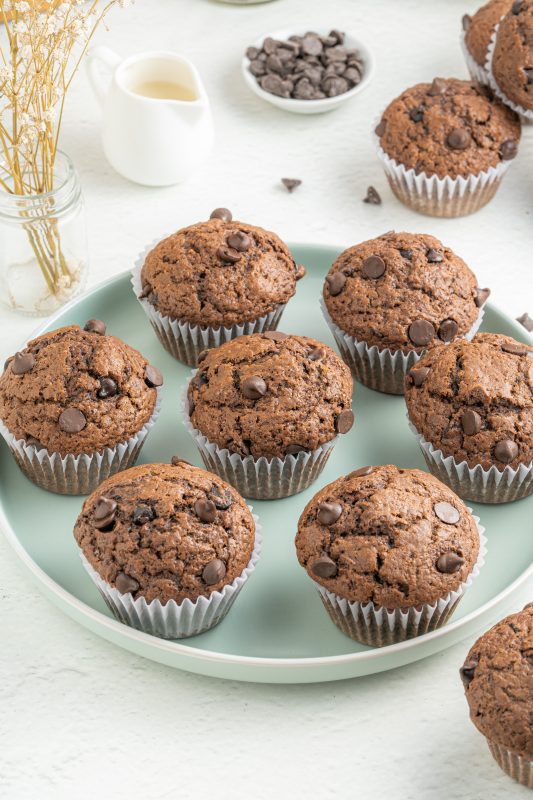 The secret to these double chocolate muffins is the moisture that comes from plain yogurt. Along with the cocoa powder, chocolate chips, and vanilla… you'll think these came from a bakery!
Double Chocolate Muffins
I've found that yogurt can be a game changing ingredient when it comes to baking. With very little flavor of its own, plain yogurt adds a lightness to my bakes that somehow also gives them extra moisture- without becoming dense. I don't quite know how this is possible, but my chocolate chip muffin recipe is so much better because of it!
For a sweet start to your day, these chocolate muffins pair perfectly with Mexican coffee, which also has a hint of chocolate and a kick of chili powder. If you're serving up a special breakfast for family or friends, be sure to add my double chocolate muffins and these lemon blueberry turnovers to the table!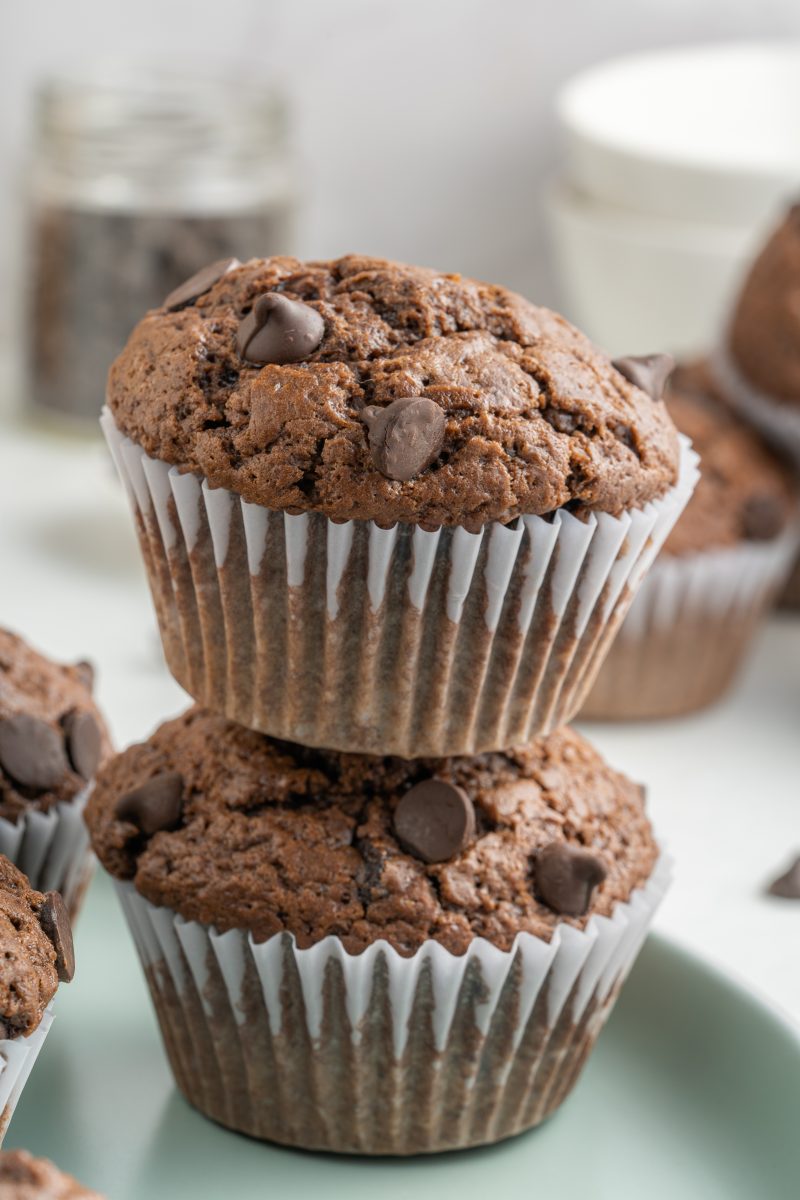 Why you will love this recipe
Easy to prepare with no extra steps in this double chocolate chip muffins recipe. From start to finish, you'll be enjoying these muffins in less than an hour.
Great for breakfast, a snack, or even a dessert, these double chocolate muffins are a tasty treat you'll look forward to anytime of day.
Chocolate flavor in every bite: the decadence of this chocolate muffin recipe comes through in the cocoa powder, the chocolate chips, and even the melted chocolate you can drizzle over them right out of the oven!
The ingredients in my chocolate chip muffins recipe are everyday staples that you likely have in your kitchen right now. You can whip these up for a get together or office potluck and show off your baking expertise.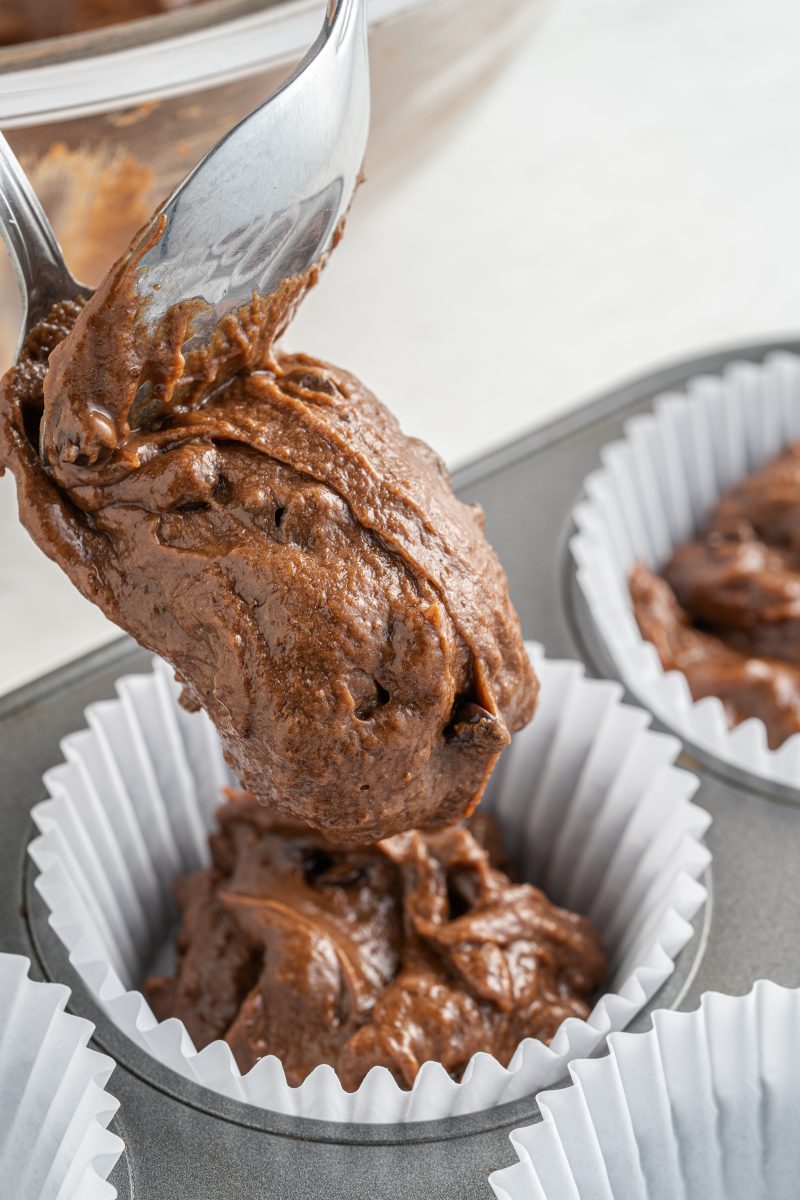 How to make perfect double chocolate muffins
Step One: Preheat the oven to 350F and line a 12-muffin tin with paper liners.
Step Two: In a medium sized mixing bowl, combine the flour, sugar, cocoa powder, baking powder, baking soda, and salt. Add ¾ cup of chocolate chips.
Step Three: In a large mixing bowl, beat the eggs. Add the yogurt, vanilla, and oil, then combine using a whisk.
Step Four: Slowly add the dry ingredients to the wet, mixing well with each addition.
Step Five: Evenly distribute batter into the 12 muffin tins and place on the center rack in the oven. Bake for 20-22 minutes, until a toothpick comes out clean.
Step Six: Once removed from the oven, keep the muffins in the tin for 10 minutes to avoid a moist base. Remove them from the tins to continue cooling on a cooling rack.
Chef's Tip: These double chocolate chip muffins will last up to 4 days on the counter in a sealed container, or up to 7 days in the refrigerator. If you want to freeze these to enjoy later, they will last for up to 3 months and can be easily reheated — microwave for 1-2 minutes OR wrap them in foil and heat them in a 350F oven for 10-15 minutes.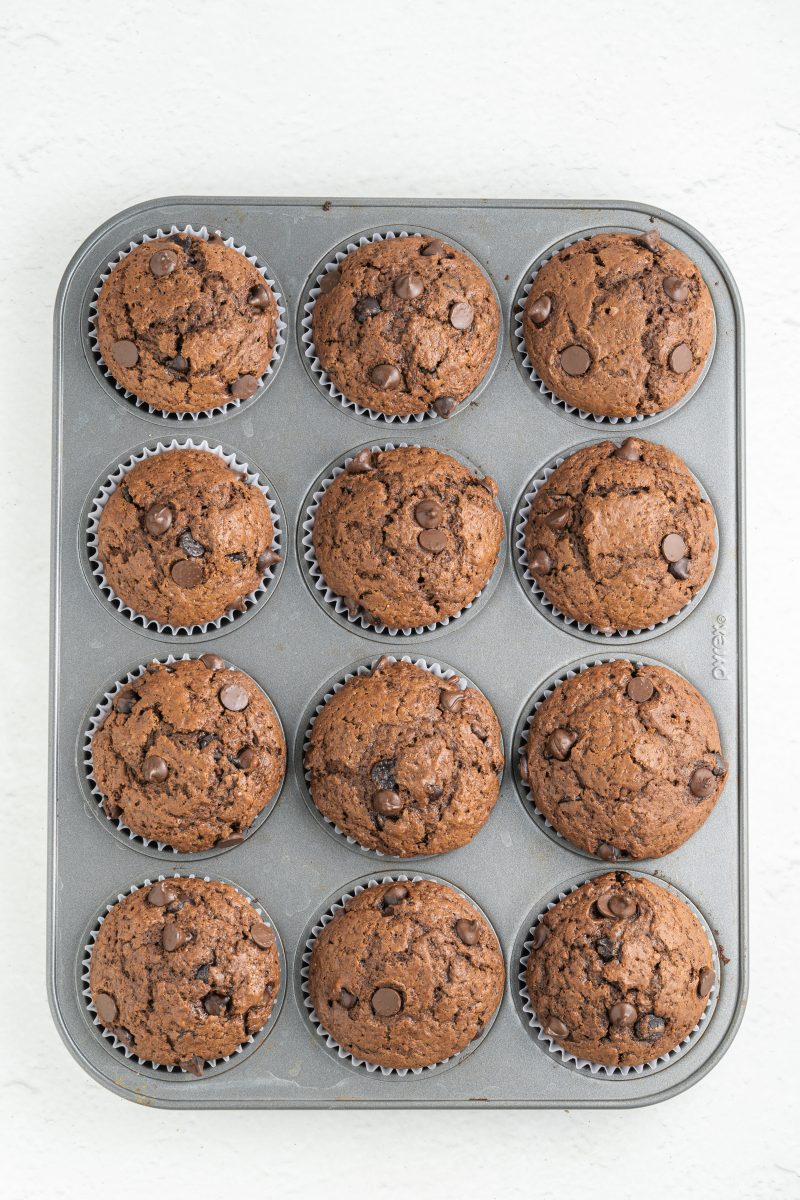 Frequently Asked Questions About Chocolate Chip Muffins Recipe
What Yogurt Is Best For Baking?
Full-fat, plain, Greek yogurt works best in my double chocolate muffins recipe. The creaminess that comes from full-fat yogurt keeps the muffins very moist while the neutral flavor allows the chocolate chips, cocoa powder, and vanilla to stand out!
Do You Need Vegetable Oil For Muffins?
Vegetable oil does not have a strong flavor on its own, making it a good choice for this recipe. Oil replaces the need for butter, and since it's a liquid, it distributes evenly through the mix providing added moisture to your finished product without any greasiness. Sunflower oil and canola oil are equally mild in flavor, so they would also work well here.
Can I Use Imitation Vanilla Flavor Instead Of Vanilla Extract?
While vanilla extract is preferred for this double chocolate muffins recipe, imitation vanilla can be used instead. The general rule of thumb is to double the amount of imitation vanilla to make sure you achieve the same level of vanilla flavor. For our purposes, you should use 4 tsp of imitation vanilla if using this instead of pure vanilla extract.
What Happens If You Bake With Cold Eggs?
Many recipes advise you to let your eggs come to room temperature for baking, but in the case of these double chocolate muffins, that isn't necessary. Room temperature eggs are more important when trying to incorporate them with butter, since combining cold eggs with butter can produce a mixture that looks slightly curdled. Since we are using oil instead of butter, there is no need for this additional step!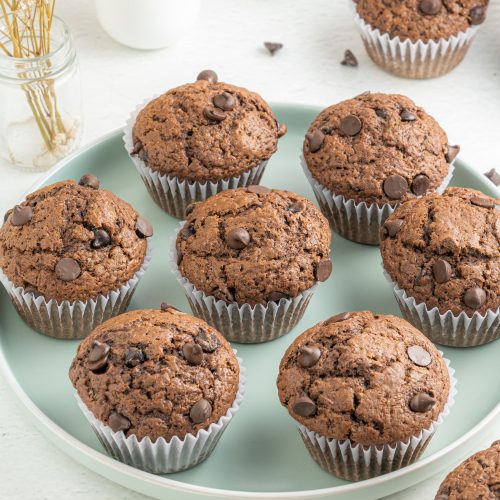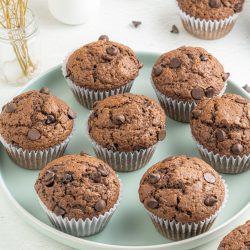 Double Chocolate Muffins
The secret to these double chocolate muffins is the moisture that comes from plain yogurt. Along with the cocoa powder, chocolate chips, and vanilla… you'll think these came from a bakery!
Course:
Breads & Muffins, Breakfast, Snack, Snacks & Dessert, Snacks & Treats
Keyword:
chocolate, double chocolate, double chocolate muffins, muffins
Ingredients
2 1/2

cup

All-purpose flour

1/2

cup

cocoa powder

1

cup

yogurt

plain

1

cup

chocolate chips

divided

2

tsp

baking powder

1/2

tsp

salt

1/2

cup

vegetable oil

canola, sunflower

2

medium

egg

1

cup

sugar

2

tsp

vanilla extract
Instructions
Pre-heat the oven to 350F. Then prepare a 12 muffin pan with 12 muffin liners. Set it aside

Mix dry ingredients (flour, sugar, cocoa powder, baking powder, baking soda, salt) and ¾ cup chocolate chips in a bowl.

Then, beat the eggs in a large bowl. Add yogurt, vanilla extract, and oil. Whisk to combine.

Next, incorporate dry ingredients with wet ingredients until well combined.

Finally, divide the muffin batter into the twelve muffin liners. Bake for 20 to 22 minutes, or until an inserted toothpick comes out clean.

Let the muffins cool for 10 minutes in the pan, then place them onto a cooling rack, so they don't get moist in the bottom.
Optional
Get ¼ cup of chocolate chunks (choose your favorite type). Melt them for 60 -90 seconds in the microwave and drizzle all over the muffins (after baking them)
Recipe Notes
If you taste one of these, you'd know they're like bakery muffins. They're super moist and chocolatey. Trust me, every bite is decadent as they're loaded with chocolate chips. If you look to please your family, you can't go wrong with this recipe 
Tips
Store these muffins in a sealed bag over the counter for up to four days, or seven days in the fridge (they'll get harder, though).

This is a freezer-friendly recipe. They'll last for up to three months. To reheat them, wrap each muffin with foil paper and warm in the oven for 10-15 minutes at 350F. You can also use the microwave for 60-120 seconds (without foil paper).
Nutrition Facts
Double Chocolate Muffins
Amount Per Serving
Calories 368
Calories from Fat 153
% Daily Value*
Fat 17g26%
Cholesterol 30mg10%
Sodium 189mg8%
Potassium 189mg5%
Carbohydrates 51g17%
Protein 5g10%
Vitamin A 62IU1%
Vitamin C 0.1mg0%
Calcium 90mg9%
Iron 2mg11%
* Percent Daily Values are based on a 2000 calorie diet.