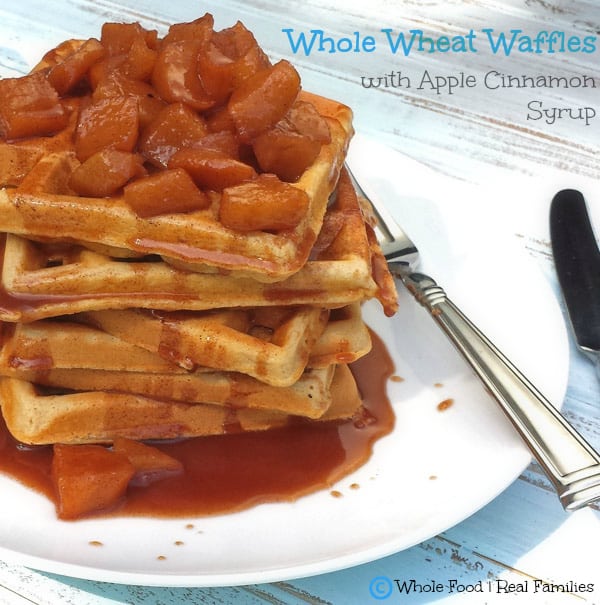 Whole Wheat Waffles with Apple Cinnamon Syrup is so tasty, you will never know they are actually (mostly) healthy. Okay, you are going to want to put lots of butter and syrup on them…. but they are whole wheat!
I am about to rock your whole wheat waffle world. You will never miss the processed flour or sugar in these whole wheat waffles. My family didn't. When this recipe came together, I had to make 3 batches of waffles before I had enough to photograph. These are not small waffles. 3 batches is a lot of waffles. Seriously family? Do you have a hole in your leg where the waffles fell out? I am truly impressed.
Being a food blogger family, everyone is pretty accustomed to having their hands slapped away from the food until I can take the pictures. (Sometimes I win. Sometimes they win. I have lots of pictures with sneaky little hands to prove it.) On this particular weekend, my oldest daughter had been at an athletic event  and had not gotten home until very late. So around lunch, she appeared in our presence disheveled and groggy. The conversation went something like this:
Mom, can I make waffles?
Do you know how to make waffles?
Well, no. And we don't have any mix. 
Excuse me, do you live here? There hasn't been a boxed mix for waffles in YEARS.
Oh. 
Are you asking me to make you waffles?
Sort of.
Would you like to try that?
What?
Ask me to make you waffles, rather than try coerce me into making waffles.
Mom, will  you make me waffles? I would really appreciate it. And I will help. 
(Whew… parenting is exhausting.)
So I had help in the kitchen and it was fun. There were waffles… a LOT of waffles. I had this idealistic view of my day that I would make waffles, take pictures, let everyone eat and move on. Silly me. Every time I turned around to put waffles on the serving plate, it was empty. The lid kept disappearing off the apple cinnamon syrup before my apples were soft. All 3 kids and my husband had meandered into the kitchen and were snatching waffles every time I turned around. I actually caught my teenager folding over a waffle  in her hands like a taco and dipping the whole thing in the apple syrup while it was cooking on the stove. Hello child, I would like you to meet your fork. Apparently you have not been properly introduced. (I have discovered that her normal manners return after she gets through 1st breakfast and 1st dinner. She is much more polite for 2nd breakfast and 2nd dinner. She works out so aggressively that I can only think that this must be what it is like to have a 6-foot-4 teenage boy in the house.) I finally succumbed to the inevitable and just  cooked until everyone was full.
My teenage daughter had EIGHT waffles. As in 8. She sat back and rubbed her flat, itty-bitty, size-3 belly and said: Mom, I think I am full.
Angels sang, there was a bright light.  That is the first time I have heard that in at least 6 months. Thank you whole wheat waffles. You accomplished the impossible.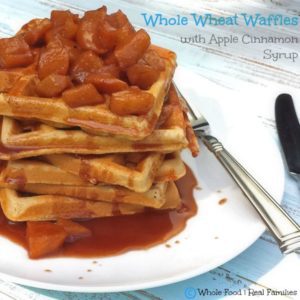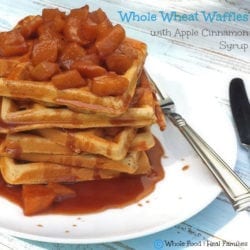 Whole Wheat Waffles with Apple Cinnamon Syrup
Double, triple, quadruple this recipe. Waffles warm great in the low setting on the toaster or a few seconds in the microwave. They also freeze very well! I make a ton and freeze them for weekday lunches (assuming everyone doesn't eat them all first!)
Course:
Breakfast, Dessert
Ingredients
Whole Wheat Waffles
2

cup

white whole wheat flour

1/4

cup

coconut sugar

2

tsp

baking powder

1/2

tsp

kosher salt

3

eggs, lightly beaten

1/2

cup

Greek Yogurt, Plain

1 1/2

cup

milk

1

tbsp

vanilla extract

4

tbsp

butter, melted
Apple Cinnamon Syrup
4

medium

apples, cored, peeled and diced or sliced

1/2

cup

butter, melted

1 stick

1

cup

100% pure maple syrup

3/4

cup

organic apple cider

1 1/2

tsp

cinnamon
Instructions
Heat a large skillet or Dutch Oven on top of the stove over medium heat. Melt butter in the skillet and add apples. Sprinkle with cinnamon. Stir the apples until they are well coated in butter and cinnamon. Add maple syrup and apple cider. Stir to combine and cover the pan or skillet and allow the apples to cook until fork tender. This will take 5-7 minutes, depending on how thickly you sliced your apples. When apples are fork tender, take the cover off the pan, reduce the heat to medium low and allow the syrup to reduce until thick. (If it gets a little too thick, you can add a little additional apple cider to thin it out again.)

In a large mixing bowl, combine white whole wheat flour, coconut sugar, baking powder, and salt. Whisk until well combined. In a second mixing bowl, combine eggs, plain Greek yogurt, milk, vanilla extract and melted butter. Whisk until uniform. Add wet ingredients to dry ingredients and mix just until combined. Do not overmix.

Pour waffle batter into your waffle iron based on your waffle iron's recommendations. We have used this recipe in our Belgian waffle maker and our regular waffle maker and it works beautifully in both.

Stack cooked waffles, cover with apples and syrup. Eat warm and enjoy!