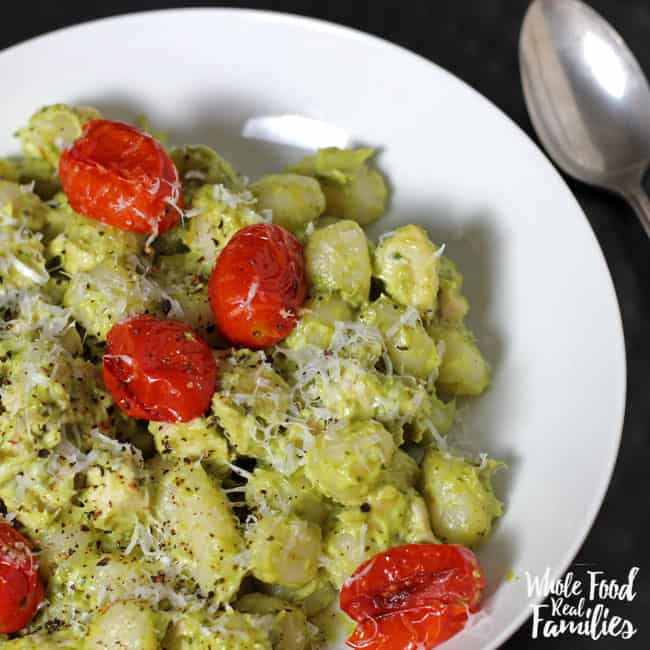 Creamy Avocado Pesto Gnocchi with Roasted Tomatoes is delicious and crazy fast. Perfect for when you are pressed for time but still want to get a real, nourishing meal on the table for your family.


Avocado Pesto Gnocchi with Roasted Tomatoes
If I had to pick two magical ingredients in my kitchen, it would be tough but I think gnocchi and pesto would be at least Top 5. There is really nothing on the planet that doesn't taste at least a little better with some pesto in it or on it. And gnocchi are little tender puffs of potato that just melt in your mouth. They are also magical because they both have the makings of fast dinner. Gnocchi cooks in literally 2-3 minutes in boiling water. As soon as they float, they are done. We put up pesto in the summer and freeze it into ice cubes and store them in a huge freezer bag and thaw it as we need it. And let's be real – everything is better with an avocado.
So it should be no surprise that we have been eating this Creamy Avocado Pesto Gnocchi with Roasted Tomatoes at least once a week for the last month.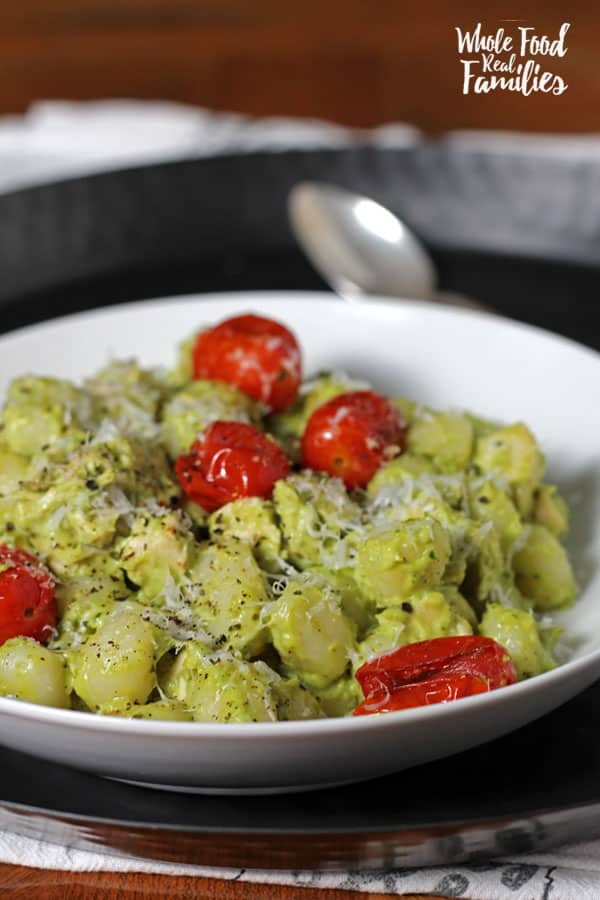 Gnocchi with a Healthy Avocado Pesto Sauce!
The night that I made this dish, my teenage daughter had a friend over and while she was very polite – she was skeptical of the green sauce on her plate. I get it. I was a teenager. I was not a particularly adventurous eater then either. But this sauce is so good she was wiping her empty bowl with a piece of bread to make sure she didn't leave any behind by the end of dinner.
Also, while some cream sauces depend on heavy cream – or even roux make with butter and flour. This creamy sauce is made with Greek Yogurt instead. I have found with a tub of plain Greek Yogurt in the fridge, I can find a way to make a good, fast sauce no matter what else is in my pantry.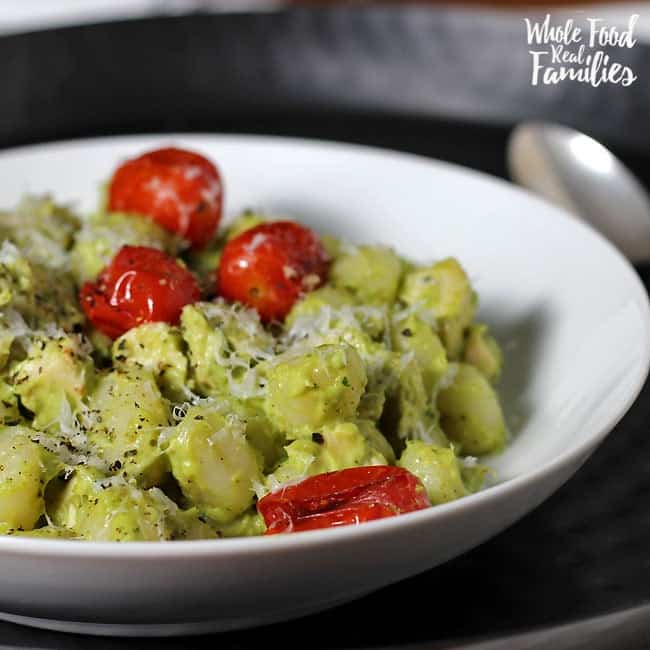 These tomatoes are roasted simply in a hot oven with just salt pepper and olive oil, which turns them sweet and delicious. And you and I both know how well tomatoes and basil from the pesto go together. 🙂
If you are looking for more fantastic recipes using gnocchi, this Creamy Chicken and Kale Gnocchi is my absolute favorite!
If you love Pesto but are not sure how to make it, you can find our recipe for fresh Pesto here. We use it all the time for LOTS of different recipes. And the post includes instructions on how to freeze it for later.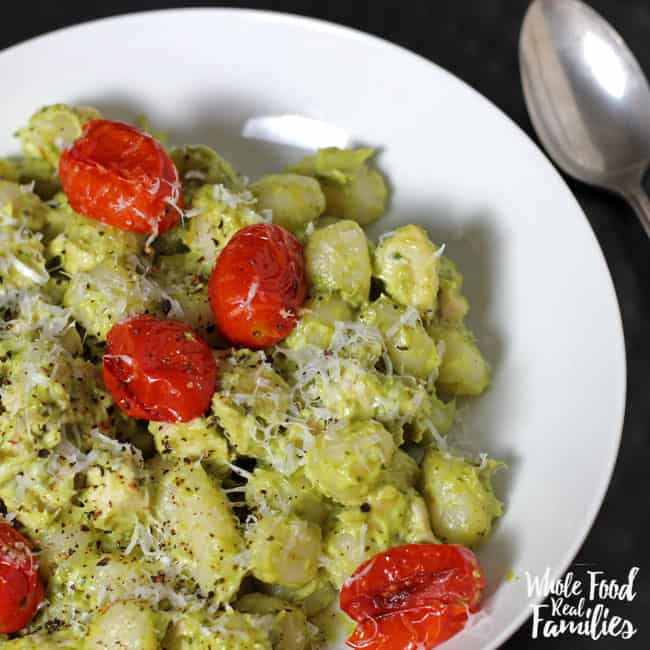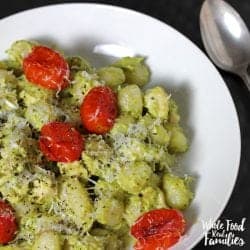 Creamy Avocado Pesto Gnocchi with Roasted Tomatoes
Ingredients
1/3

cup

prepared Pesto

1/3

cup

Greek Yogurt, Plain

1

ripe avocado

1/3

cup

olive oil + oil to drizzle on tomatoes

Kosher salt and fresh pepper to taste

2

lbs

Gnocchi

fresh or 2 packages

10

oz

cherry or grape tomatoes

usually one container

Freshly grated Parmesan to taste
Instructions
Heat oven to 400 degrees. Place tomatoes on a sheet pan, drizzle with olive oil, then salt and pepper to taste. Toss to coat the tomatoes evenly. Place tomatoes in the oven for 20 minutes or until nicely roasted.

Salt a large pot of water for pasta and bring to a rapid boil. While waiting for the water to boil, add 1 peeled, ripe avocado, pesto, and Greek yogurt to a food processor and process until creamy. Slowly stream olive oil while blending to make a creamy sauce.

When water is boiling, drop in gnocchi. Once it floats, it is done. Use a slotted spoon or kitchen spider to remove from the water.

Add sauce to drained gnocchi and combine gently. Top with roasted tomatoes, fresh parmesan and freshly cracked pepper.

Serve immediately.