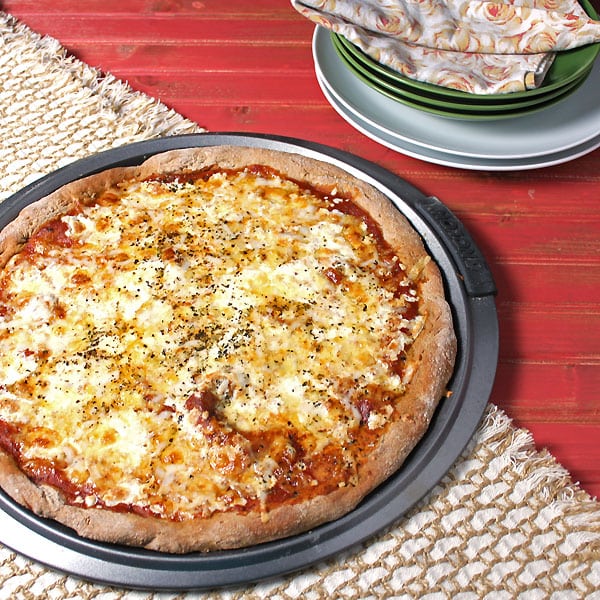 We love pizza. And by love, I mean LOVE! But after moving away from refined ingredients, pizza we ate at restaurants was a little like playing roulette. The odds were just not in our favor. You can read more about our pizza challenges in this post for Simple Pizza Sauce from Whole Tomatoes or in this post for Three Cheese Pizza. But we desperately needed pizza crust (and sauce!) that did not have all of the refined ingredients and chemicals – pizza night was in serious jeopardy.
I really struggled to find a whole wheat pizza crust that fit my needs. We are pizza pros – I needed crust that would be crisp on the outside and soft and chewy on the inside. I also needed it to be low on the fuss factor. Any recipe that I have to babysit automatically moves into the occasional category, not the weekly category. And with two toddlers in the house, I was not going to be standing around kneading dough. (Though you could easily do that with this recipe if you don't have a stand mixer.) And it needed to refrigerate and freeze well so I could make and freeze more than one meal at a time.
This recipe does all that and more. It is so delicious – and I can easily just set my oven timer and walk away while it rises and kneads in the mixer. It is also very flexible. We use it on pizza pans for traditional pizza, in a cast iron skillet for deep dish, and even make grilled pizza with it.
If you are nervous about baking with yeast (I find it terrifying), the only real trick is in the water temperature at the very beginning. It should be about 110 degrees. That feels warm but not hot. The first time I made this dough, I used my oven thermometer to measure the temperature. Since then, I know how warm the water should be by touch and have not had any issues with the crust rising.
Go check out our favorite Three Cheese Pizza! Or if you are looking for something a little less "pizza shop" go check out our guest post at Cooking Chat – Skillet Pie with Mushrooms and Caramelized Onions uses this crust. You'll never go out for pizza again!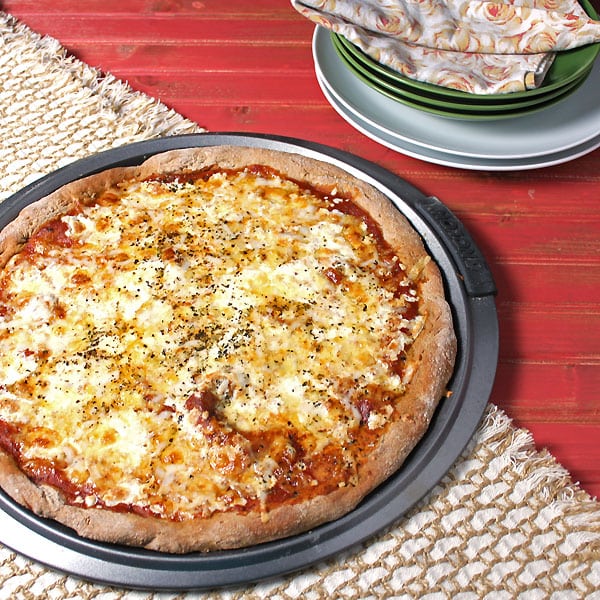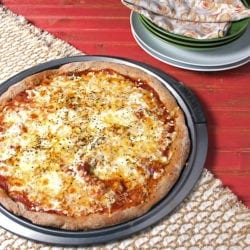 Whole Wheat Pizza Crust
Course:
Breads & Muffins, Main Dishes
Ingredients
1

teaspoon

honey

1 1/2

cups

warm water

110 degrees

1

tablespoon

active dry yeast

1

tablespoon

olive oil

1

teaspoon

salt

3 1/4

cups

whole white wheat flour
Instructions
Add the honey and warm water to the bowl of your stand mixer. Whisk just enough for the honey to dissolve. Sprinkle the yeast over the top, and let it sit for about 10 minutes. The yeast will foam over the top of the water.

Add the olive oil and salt into the yeast mixture and using the mixing attachment (the one that looks like a whisk), mix the ingredients together just until combined. Add one cup of the whole white wheat flour, then mix again just until combined. Switch the mixer attachment to the dough hook and add the remaining flour (2 ¼ cups), making sure to use a rubber spatula to push any flour sticking to the sides down into the bowl, turn on the dough hook and allow it to work the dough for about 10 minutes.

Turn out the dough in an oiled bowl, turning it in the bowl to make sure the surface is coated in oil. Cover loosely with plastic wrap or towel, and let stand in a warm place until doubled in size, about 1 hour.

When the dough is doubled, turn the dough out onto a lightly floured surface, and divide into 2 pieces for two thin crust or two skillet pizzas, or leave whole to make one large thick crust pizza. Form into two balls. Let rise for about 45 minutes, until doubled again. (I usually just leave everything on my counter and cover with a kitchen towel.)

Preheat the oven to 500 degrees. Roll a ball of dough with a rolling pin until it will not stretch any further. Then, drape it over both of your fists, and gently pull the edges outward, while rotating the crust. When the circle has reached the desired size, place on a well-oiled pizza pan or in a large cast iron skillet. If using a cast iron skillet, make sure the dough is tucked into the corners of the pan and use your fingers to crimp the dough against the sides. Precook the pizza crust for 6 minutes.

Remove pizza crust from the oven, drop the oven temperature to 425 degrees. Top the precooked crust with your favorite toppings and bake for around 16 minutes until the crust is golden at the edges and cheese is melted on top.