Four Minute Chocolate Cake is a mug cake, that tastes like actual chocolate cake and cooks in 90 seconds. Seriously people. 
Don't let all this healthy, whole food business fool you. When faced with a pile of parenting stress, I am just as likely to self medicate with chocolate cake as the next girl. My kids want dessert just as often. If my middle child had her way, she would have one bite of dessert for every bite of real food she consumed.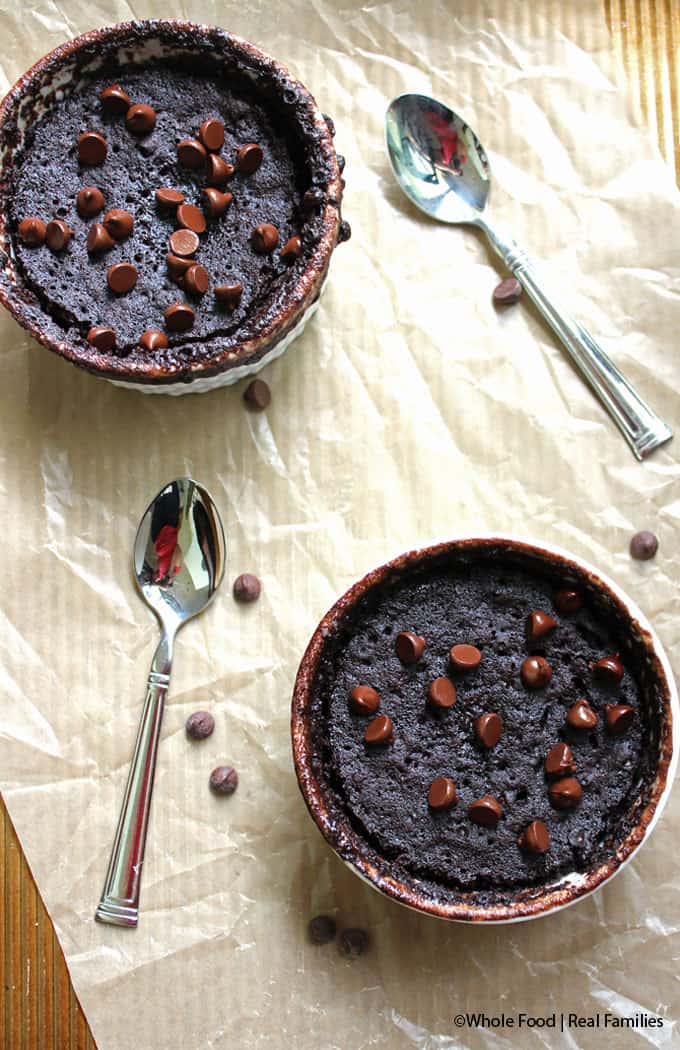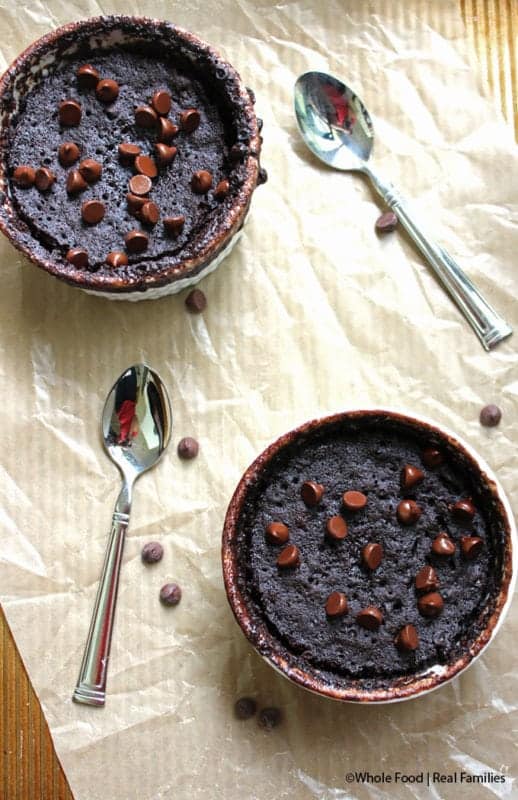 Let's be honest about parenting for a second, it is hard and fraught with perils only other parents understand. Raising three daughters, two toddlers and a teenager, creates some unique challenges. Better women may have this figured out. But there are days I want to lock myself in the kitchen pantry for a few minutes of solitude.
And a little chocolate. Okay, a lot of chocolate. Don't judge me.
To avoid the temptation to crawl into a box of brownies and never come out again, we keep refined ingredients to a minimum in the house. Which means there are no quick fixes when my chocolate gene gets twitchy, except for the secret stash of organic chocolate chips we keep on the top shelf in the spice cabinet.
No quick fixes until now.
I have always loved the idea of mug cakes – you know, the ones you whip up in your coffee mug and bake in the microwave. My teenage daughter and I have been on a special mission to find one we actually want to eat. Our standards are pretty high. It needs to taste chocolaty and rich. It needs to be moist but not uncooked. And we need to find a way to indulge occasionally (okay, a lot) with ingredients we actually keep in the house, which means no white sugar or white flour.
I have lost count of the recipes we tried. Some were bland. Some were dry. Some used a whole egg in a little cake, which tastes a lot like someone dumped their scrambled eggs into my chocolate. Not cool. And the recipe needed to be simple enough to remember in a fit of chocolate desperation.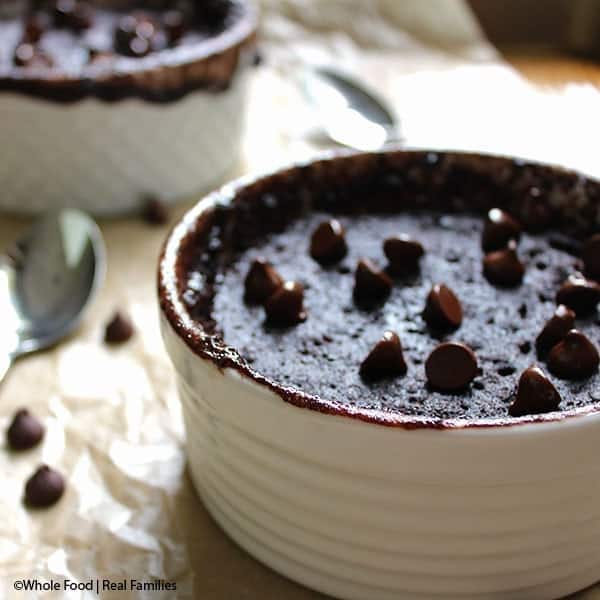 After a month of recipe testing – my teenager was the certified taste tester – we have a winner! (She says, "You're welcome. It was a hard job but it had to be done." I actually believe her. The scrambled egg one was gross. ) This recipe mixes in the same mug or ramekin you pop into the microwave. And only takes 90 seconds. Seriously people. Chocolate mug cake that tastes like actual chocolate cake that cooks in 90 seconds.
I have tried this with coconut milk and regular dairy milk and both options were delicious. I have not tried substituting oat flour but think it would work well if you need a gluten free option. Also I have not tried coconut oil instead of butter for those of you who need a truly dairy free option, but think it would work as well. If anyone gives these a try, leave a comment and let me know how they turn out!
Looking for healthier chocolate options? (Well, of course!) Try these Mostly Healthy Chocolate Muffins. They are so good – whole wheat with no refined sugar. And nobody will EVER know. They are richly chocolate and the crumb is moist and tender.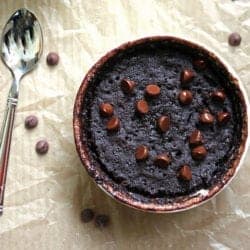 Four Minute Chocolate Cake
Ingredients
1/4

cup

white whole wheat flour

2

tbsp

unsweetened cocoa powder

1/8

tsp

baking powder

pinch

salt

3

tbsp

butter, melted

3

tbsp

milk

3

tbsp

100% pure maple syrup

1

oz

organic chocolate chips

I like dark chocolate but my kids love milk chocolate
Instructions
In your favorite coffee mug or ramekin, mix flour, cocoa powder, baking powder, and salt until well combined.

In a measuring cup, melt butter in the microwave. Add milk and maple syrup and whisk until uniform.

Pour wet ingredients into dry and mix well. Make sure you get the flour in the corners of your mug. If you want to add chocolate chips to the batter, you can mix them in too.

Pop the mug into the microwave for 90 seconds. Watch it! It will bubble up and you don't want it to bubble over. If it looks like it is going to bubble over, just open the microwave. The batter will settle back down and then you can continue cooking.

Your mug will be hot. Remove from the microwave carefully. If you want your chocolate chips on top, drop them on top while the cake is warm!