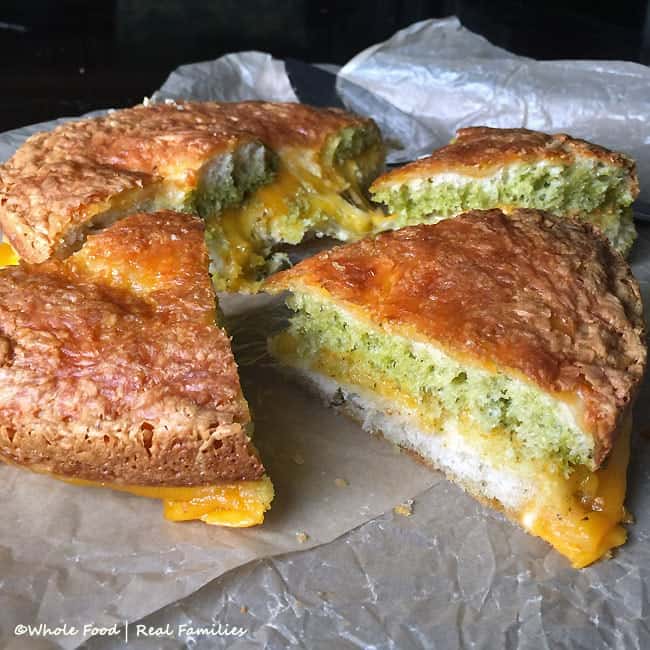 Family Style Grilled Cheese is the ultimate melty, toasty treat at the end of a long day. Prepared family style then cut at the table, the cook gets to sit down with everyone else instead of standing at the stove cooking one sandwich at a time.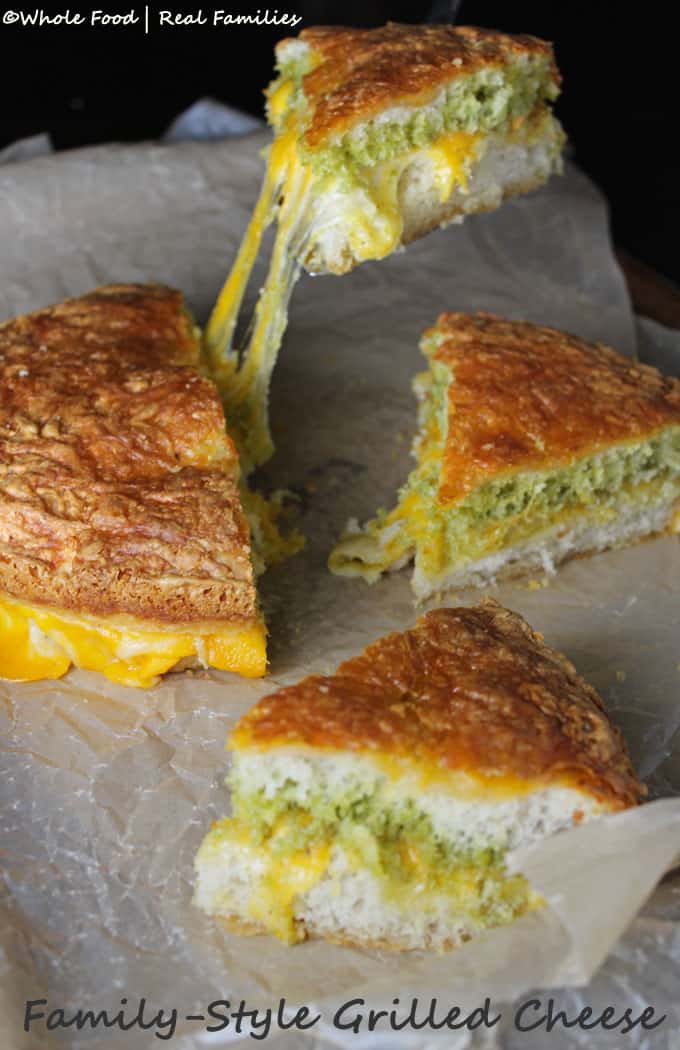 Here I sit, at the very end of tax day relieved that my attempt to prolong filing my taxes until the laaassssstttttt possible moment is complete. One the one hand, tax day sucks. Truly. But now that it is done, it is nice to think about how lucky I am to do this job. Not only do this job, but scrape together enough of a living that I actually have to pay estimated taxes. (I'm trying to be positive here. Death and taxes seems pretty depressing.)
There are days that dinner is hard. It doesn't matter how much you plan, life happens. Kids get sick. Work has an emergency. A friend needs help. You get a flat tire. On those nights, everyone still has to eat dinner. This Family Style Grilled Cheese is so not a recipe that I almost hate calling it one. But it is the recipe idea I fall back on when my night good and truly falls apart. This works with any bread- either whole loaves or smaller buns split in half and laid in a casserole dish close together – and any cheese that melts well. We really love this focaccia made by a local company and often have it on hand. We also always have cheddar and provolone or mozzarella in the cheese drawer.
Once your bread is split, brush the inside with pesto, add sliced tomatoes if they are fresh and ripe, and layer with two layers of cheese slices. Made sure to get the cheese right up to the edge so it gets nice and melty down the side. Those are the best pieces. Pop it in the oven until everything gets melty. Cut it into slices and serve! By the way, these triangle slices are perfect for dipping in this Classic Tomato Soup or this Tomato and Roasted Red Pepper Soup. I make both all through the warm weather when produce is fresh and abundant and freeze the soup for easy meals when I need them. Tax day qualifies, I think . What do you think?
Pin It For Later!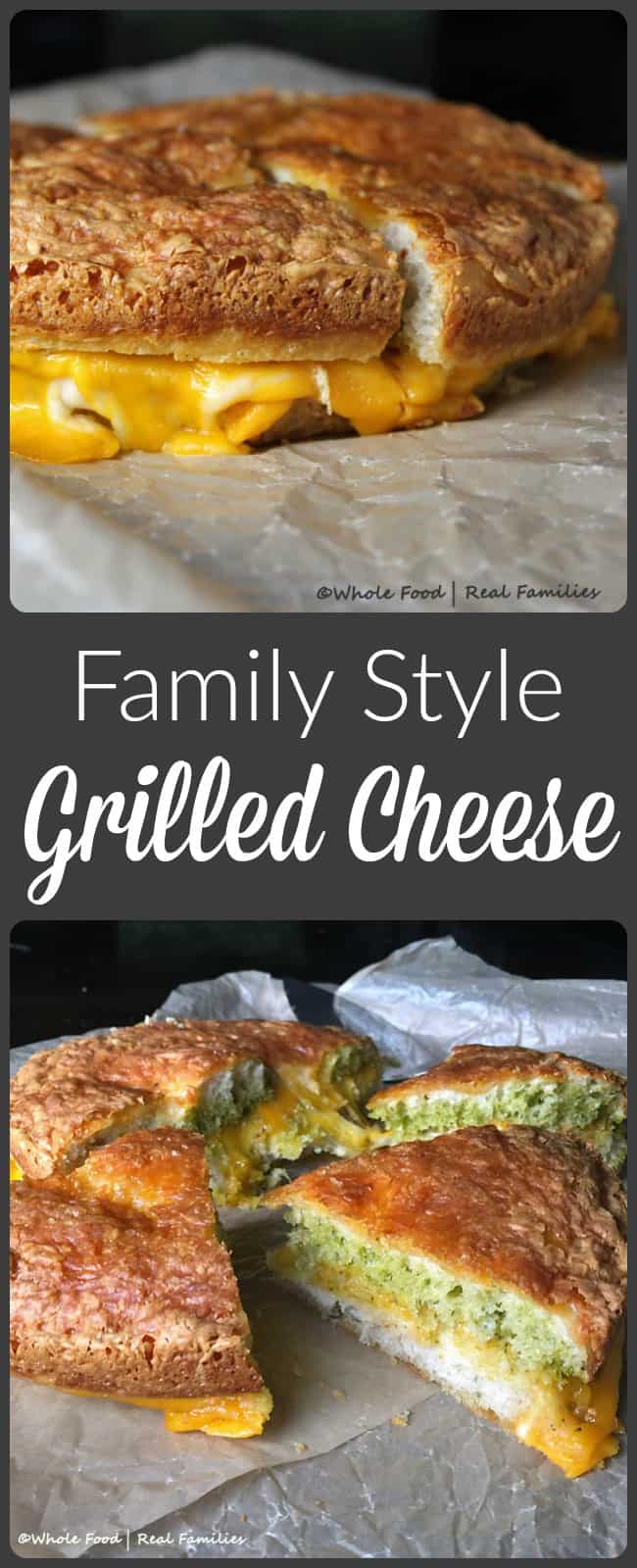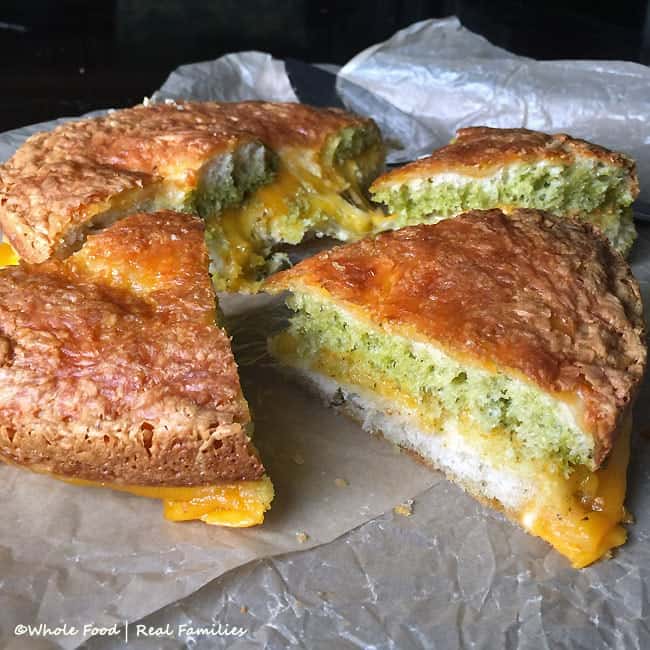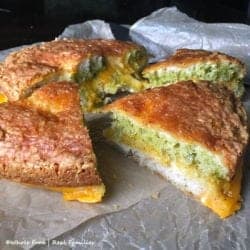 Family Style Grilled Cheese
Course:
Soup, Salad & Sandwich
Ingredients
1

loaf of focaccia

1/4

cup

pesto

8

of your favorite cheese slices

3

tbsp

melted butter

Tomato slices
Instructions
Preheat oven to 350 degrees.

Slice focaccia into two pieces. Brush the bottom of the focaccia with butter and place it bottom side down on a sheet pan lined with parchment paper for easy cleanup. Brush both sides of the inside of the focaccia with pesto. Layer cheese and tomatoes. Cover with the top of the focaccia. Brush with remaining butter.

Cook for 10 minutes in the oven or until all the cheese is melted.

Slice into wedges and enjoy!