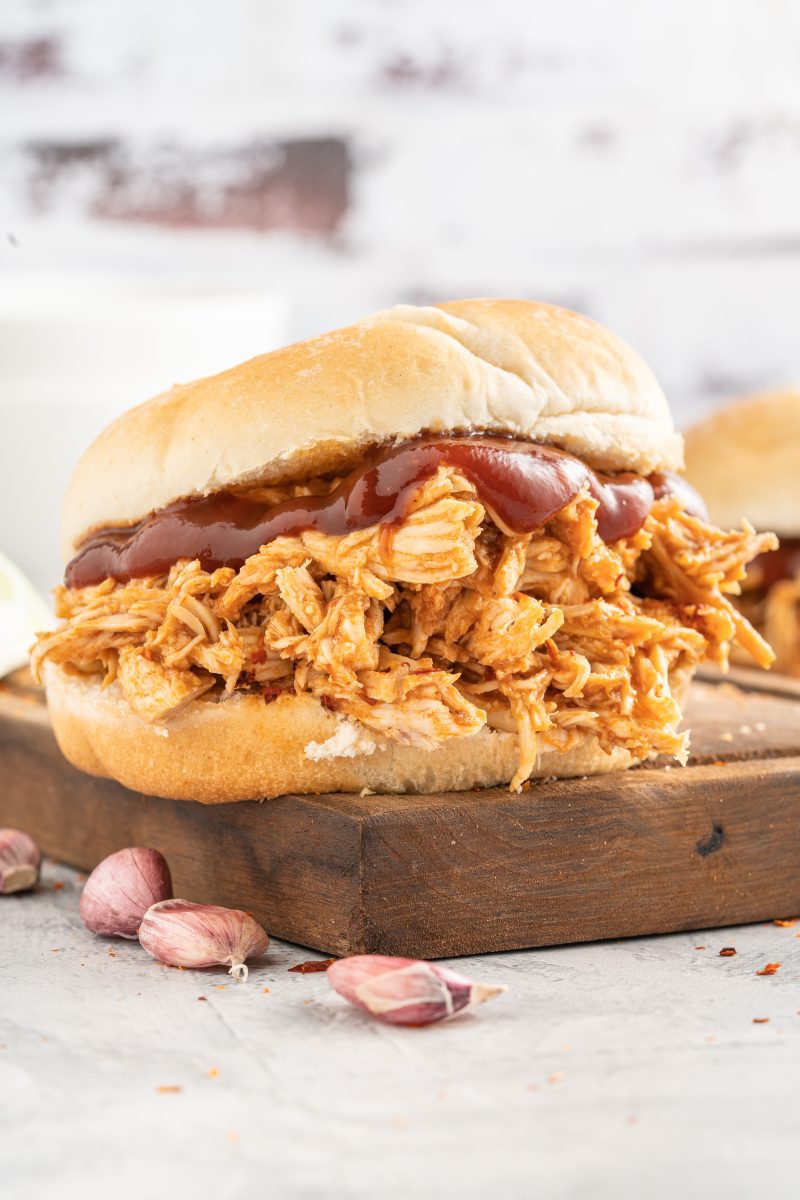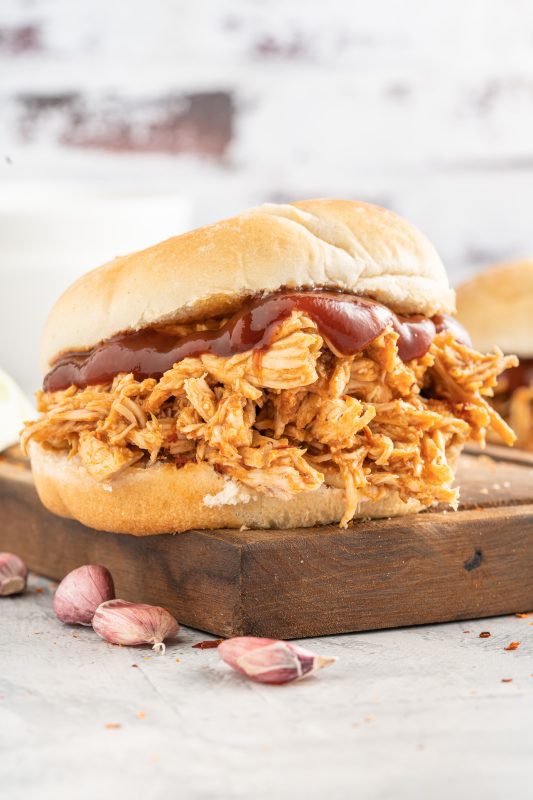 This shredded chicken sandwich recipe is slow cooked in a foil packet to blend the natural chicken juices with the full flavors of Worcestershire sauce and bbq sauce! Sooo much flavor!
Shredded Chicken Sandwich Recipe
In the past I always made bbq with large cuts of meat, slow cooked for hours in a hot, summer kitchen, and served it up to guests at our annual mid-summer cookout. The truth is that it doesn't require a full 8 hours to get that perfect, tender, shredded meat!
A shredded chicken sandwich recipe that yields 4 sandwiches packed with flavorful chicken and sauce is now one of my standard meals. I can mix it up by using different bbq sauces, making it a little sweeter or a little spicier, so it never gets old!
Some of my favorite sides to pair with my shredded chicken recipe are sweet southern cornbread and fresh green beans with tomato jam.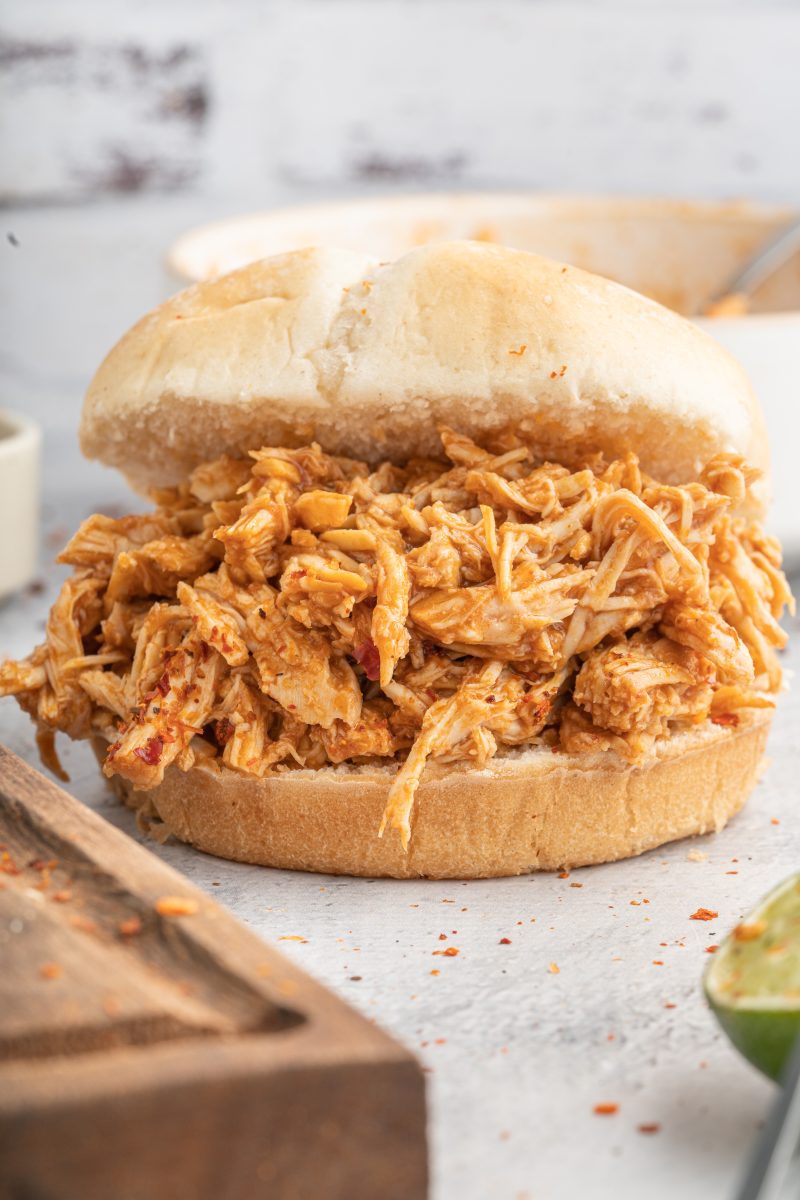 Why you will love this pulled chicken recipe
Only a few ingredients for massive flavor. The prep work for this shredded chicken sandwich recipe is so easy, with no surprise or hard-to-find ingredients.
Pop it in the oven and forget about it! Slow cooking this bbq pulled chicken takes time, but almost no effort — plenty of time to work on your side dishes!
Any bbq sauce will do. Once you make this recipe the first time, try it again with a different bbq sauce. The flavor differences won't be too jarring since you're using a small amount of sauce, but you might be surprised by how a new sauce can really change this pulled chicken recipe!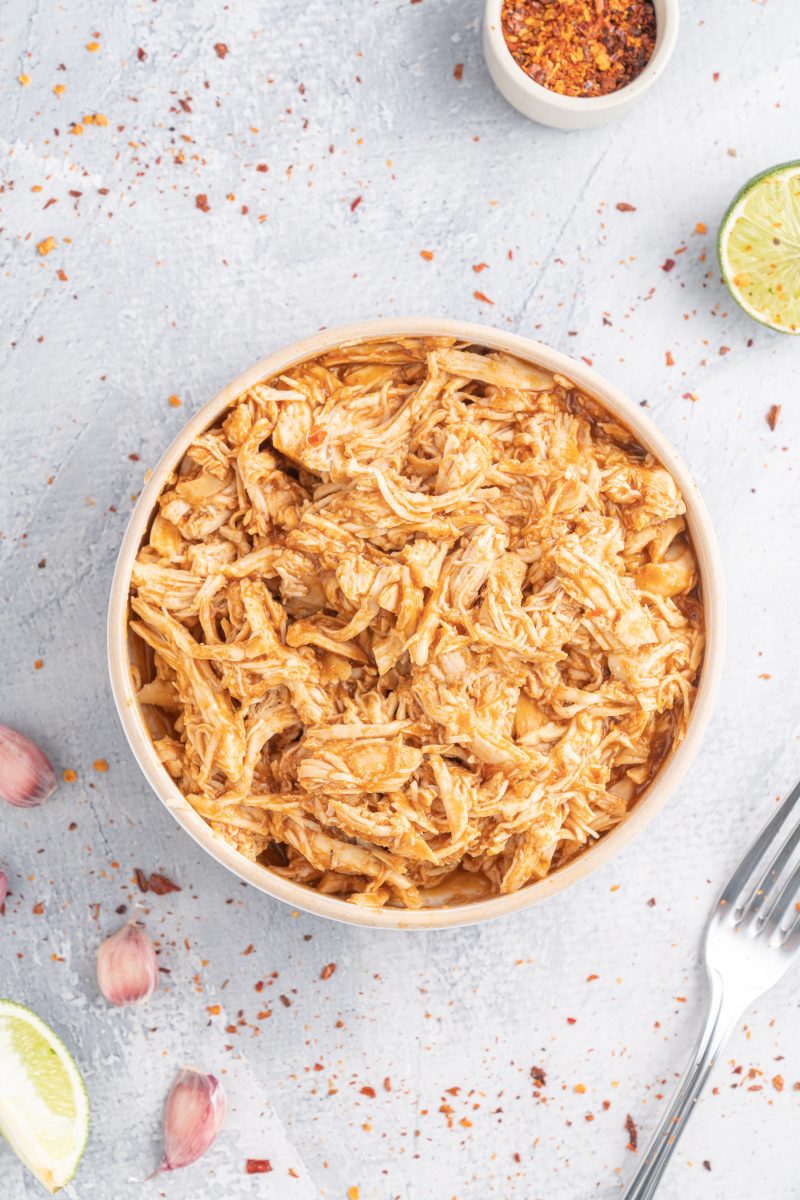 How to make the best shredded chicken sandwich recipe
Preheat oven and cut foil. Preheat the oven to 325F and cut a piece of foil roughly the size of a piece of paper, or three times the width of your chicken breast. This will ensure enough foil to completely wrap and seal in your chicken and sauce.
Mix sauce and coat chicken. In a small bowl, combine olive oil, Worcestershire sauce, bbq sauce, dry mustard, paprika, and salt to form a thick paste. Brush the mixture over the foil, place the chicken on top, and coat chicken with remaining sauce.
Seal and bake. Wrap the foil to completely seal in the chicken and sauce. Press lightly so that the sauce is held closely to the chicken while baking. Put foil packet in the oven and bake for 2 hours.
Shred and serve. Carefully open the foil and shred chicken with two forks. If the chicken does not come apart easily, wrap it up again and bake longer. Serve immediately with sandwich rolls and your toppings of choice.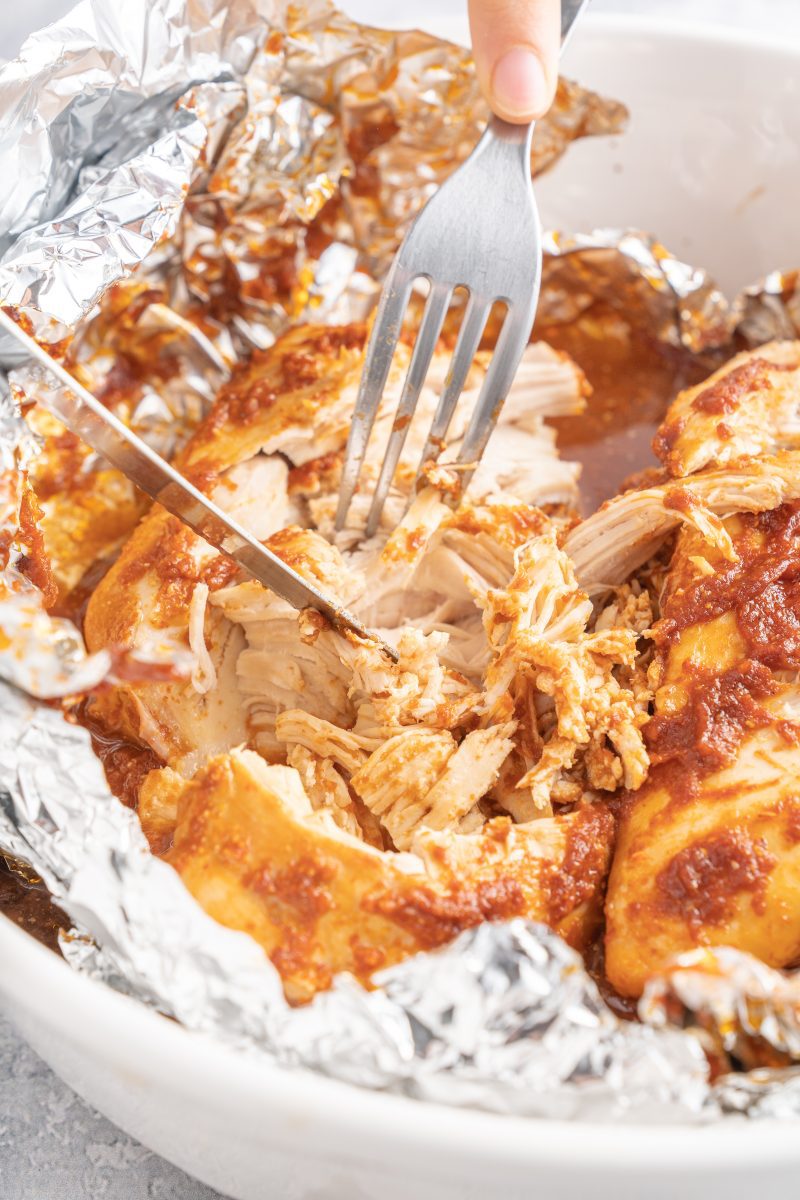 Key Ingredients and Substitutions for BBQ Pulled Chicken
Chicken breast: Use a 1.5 lb portion of either a full chicken breast, chicken breast tenders, or thin-sliced chicken breast for this shredded chicken sandwich recipe. With multiple, smaller cuts there is more surface area for your sauce to cling to.
Worcestershire sauce: This has a unique sour and savory flavor that is hard to replace. If you don't have any on hand, try mixing some soy sauce with ketchup and white wine vinegar. Add a little sugar or red pepper flakes to taste.
BBQ sauce: Your favorite bbq sauce will work just fine in this bbq pulled chicken recipe! Because we've added mustard, try to use a sauce with a vinegar or tomato base rather than a mustard base.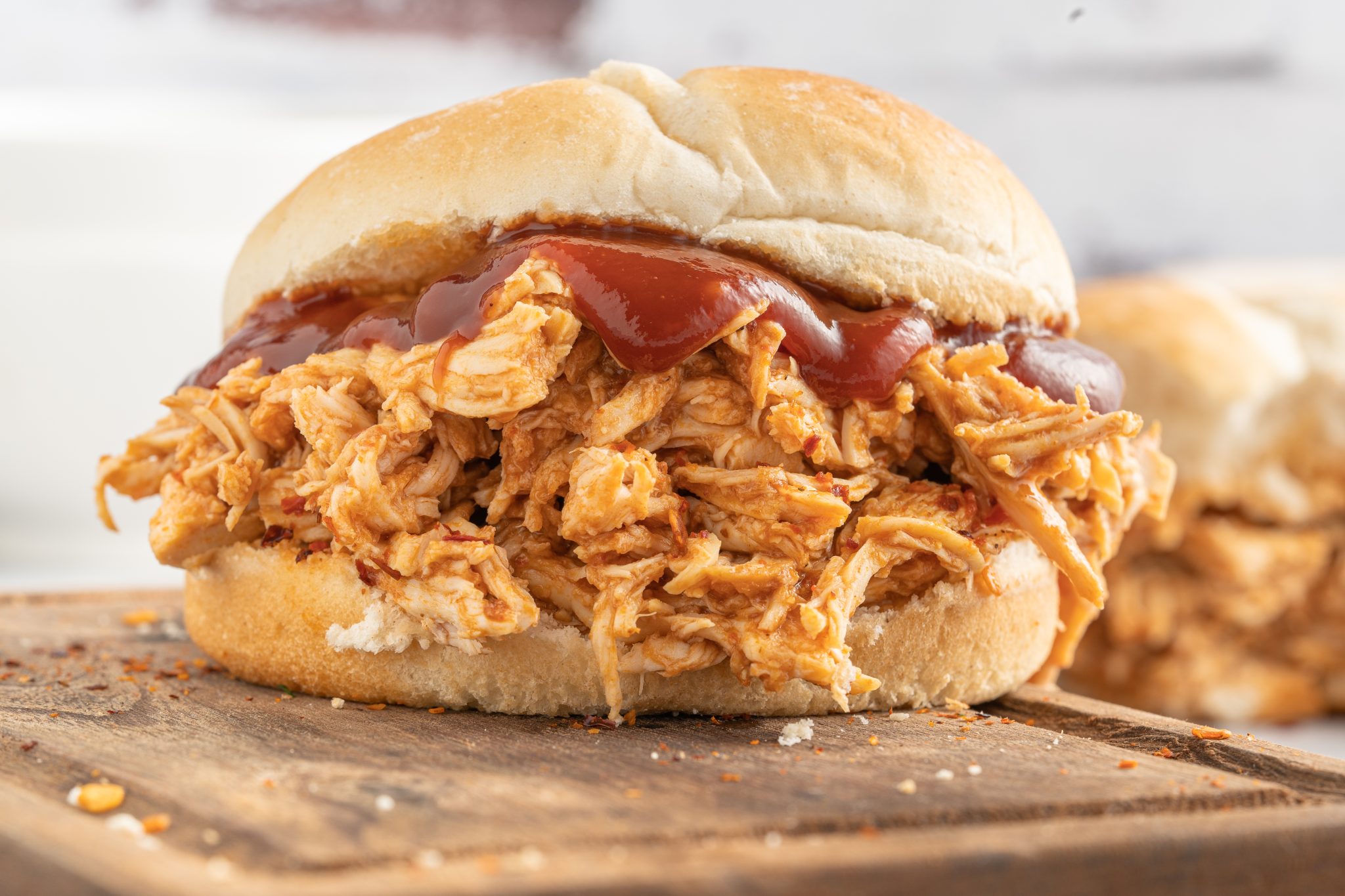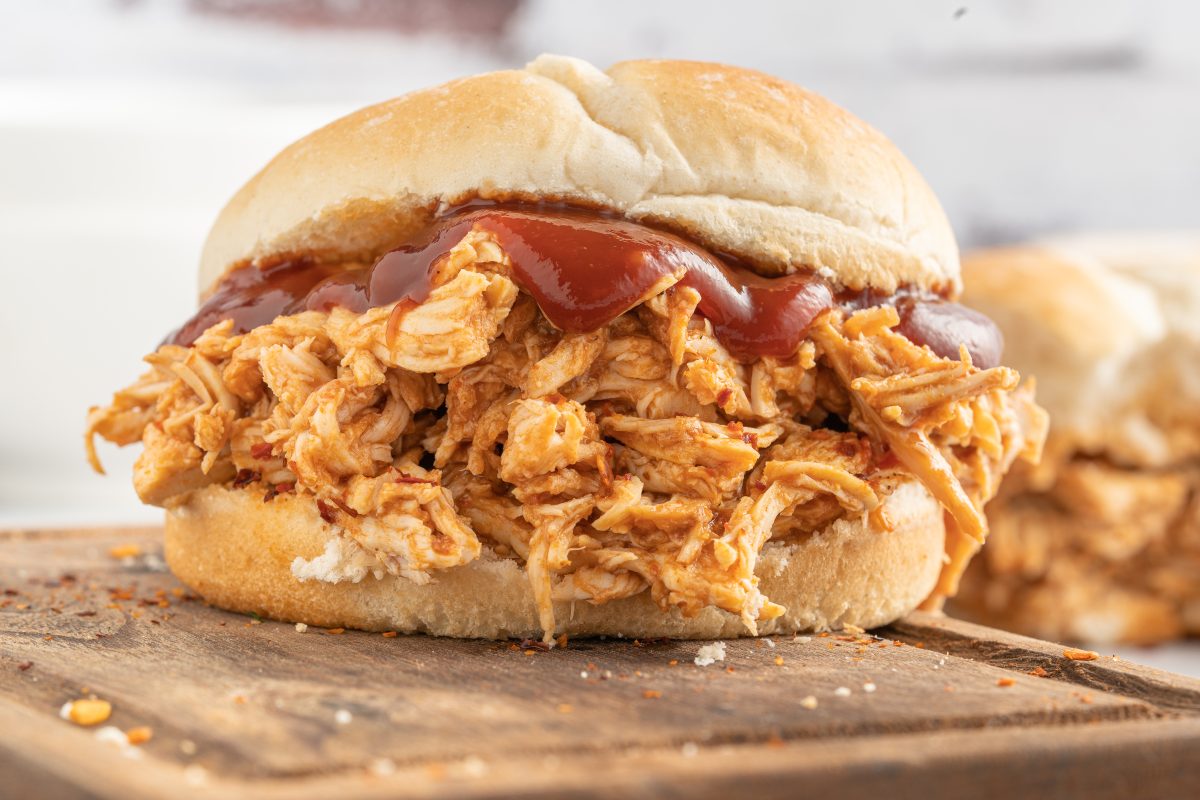 Frequently asked Questions about this Shredded Chicken Recipe
What Are The Different Types Of BBQ Sauce?
Bbq sauces can vary greatly in their levels of sweetness and heat, but in general, they are categorized as having a mustard base, a tomato base, or a vinegar base. Tomato based sauces are usually more sweet with a creamier texture, while a vinegar based sauce is tangier. Sauces with a mustard base fall somewhere in between.
What Toppings Should I Use For My Shredded Chicken Sandwich?
Coleslaw is a classic topping for bbq sandwiches for good reason: it's delicious! Whether you add a lot or a little, a cool and crunchy coleslaw is an amazing compliment to this warm and soft bbq pulled chicken. Green onions are also a nice, fresh garnish, but you could also use shredded cheese or shredded lettuce.
What Is The Best Way To Freeze Shredded Chicken?
You can easily freeze shredded chicken for up to 4 months. Place the shredded chicken in a large ziploc bag and flatten it out as much as possible. This will make thawing quick and easy! When you're ready to eat it, defrost in the fridge for several hours or overnight. Transfer to a heat safe dish and reheat in the microwave.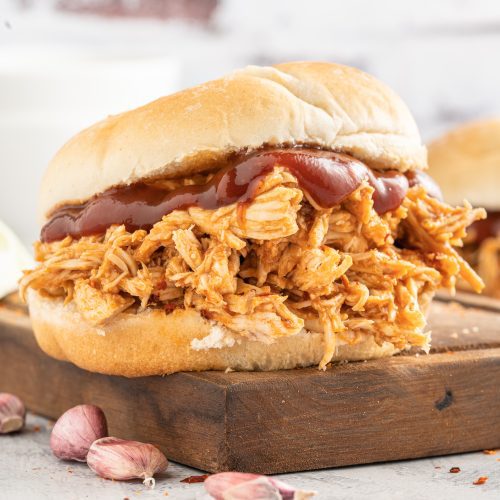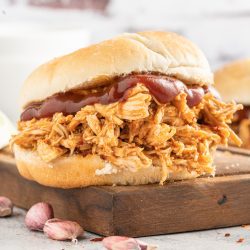 Pulled Chicken Sandwich
This shredded chicken sandwich recipe is slow cooked in a foil packet to blend the natural chicken juices with the full flavors of Worcestershire sauce and bbq sauce! Sooo much flavor!
Course:
Main Course, Main Dishes
Keyword:
chicken, Chicken sandwich, Pulled Chicken, Shredded Chicken Sandwich
Ingredients
Pulled Chicken
1.5

lb

Chicken Breast

2

tbsp

Olive oil

1

tbsp

Worcestershire sauce

1/2

cup

BBQ sauce

1

tsp

ground mustard

1

tsp

paprika

1

tsp

salt
Instructions
Preheat the oven to 325F. Prepare a baking dish with a large piece of foil paper. It should be enough to wrap chicken breast up.

Mix olive oil, BBQ sauce, Worcestershire sauce, ground mustard, paprika, and salt in a small bowl.

Brush the prepared sauce over the foil paper, and then arrange the chicken breast. Next, add the remaining sauce over the chicken. Coat it evenly.

Wrap foil paper so the chicken is fully covered. Press it down so the juice stays inside while baking.

Bake for 2hs. Then carefully open the foil paper and pull the chicken with a fork. In case the chicken is not tender enough, wrap it again and bake it for another half hour.

Serve warm with dinner rolls and your desired sauce and garnishes.
Recipe Notes
This pulled chicken is juicy and flavorful. Taste-wise, its BBQ flavor is subtle but provides smokiness and a bold, sweet tomato-garlic taste. It's great for sandwiches or even salads.
Tips
Store leftovers in an airtight container in the fridge for up to five days. To warm it, use a skillet over medium heat, and add 1-2 tbsp of water to moisten it.
Nutrition Facts
Pulled Chicken Sandwich
Amount Per Serving
Calories 325
Calories from Fat 108
% Daily Value*
Fat 12g18%
Cholesterol 109mg36%
Sodium 1203mg50%
Potassium 762mg22%
Carbohydrates 16g5%
Protein 37g74%
Vitamin A 381IU8%
Vitamin C 3mg4%
Calcium 28mg3%
Iron 1mg6%
* Percent Daily Values are based on a 2000 calorie diet.