Easy Shrimp Pasta Caprese is my solution to dinner when there is no time to cook. Prepared pesto, shrimp that cooks in 3 minutes, and a box of pasta make the most decadent dinner ever. Go ahead, serve it for a dinner party – it is that good.
Easy Shrimp Pasta Recipes are my Jam
My mother always reminds me that one day I will look around there will be no toys to trip over, no pile of laundry that never ends, no more chauffeur duty that takes me into town 4 times a day – and no herd to feed 3 times a day. There are days I really need that reminder because there are days running and family (and a business) can feel overwhelming.
Especially at dinner time. Often there are about 20 minutes to make dinner between obligations before a riot starts. That is why easy shrimp pasta recipes are my favorite. Box of pasta, check. Three minutes to cook the shrimp, check.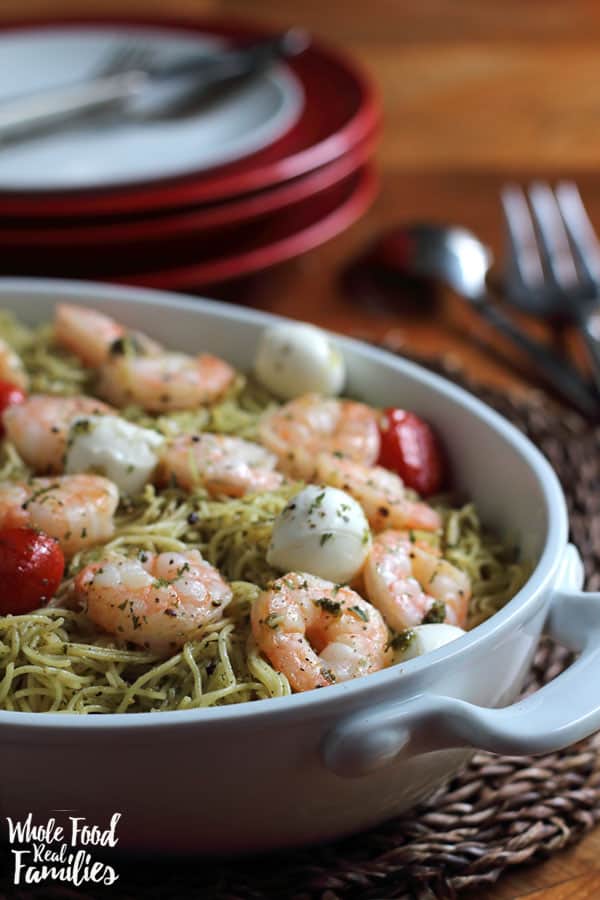 Shrimp Pasta Caprese for the WIN
Our kids have a significant age difference. They are all about to have birthdays (yes, all 3 of my kids have birthdays right at Christmas!) – so soon we will have kids that are 4, 6 and 17. It can be challenging at times because our oldest and our younger two are in such different places. While the older one is running cross country meets that require her to be up at 3am (really coach??!) and going out to football games on the weekends, the younger ones still need to be in bed before 8 – and if they are up at 3am, something has gone terribly awry!
There are lots of differences at the dinner table too. The oldest has outgrown my concern that she might become ill from daily chicken nugget exposure and is now a very adventurous – and thankfully healthy – eater. The younger two are not so convinced.
When the schedules and the differences in appetite meet around the dinner table, Easy Shrimp Pasta Caprese is something that actually makes everyone happy!
Prepared Pesto, Shrimp that Cooks in Minutes, and a Box of Pasta
If we have ever met in person, you know that I love my herb garden. It makes cooking so much fun to be able to walk out on my patio and jazz up dinner. (Herbs are also WAY easier to grow than to pay for!!) Every summer I grow piles of fresh basil for the sole purpose of putting up enough pesto to last me all year. Pesto has dinner super powers. If you have never made your own pesto or need suggestions on how to use it, you can get the uber-simple recipe with tips here.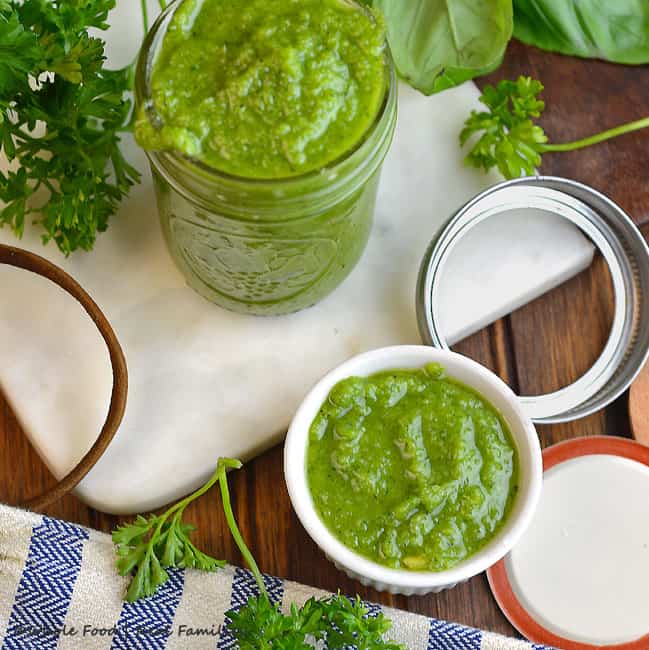 Need more Easy Shrimp Recipes in your life? This Garlicy Pasta with Sauteed Shrimp and Chard and these Lowcountry Shrimp and Grits are two of the most popular recipes around the blog! For good reason. Both are AMAZING!
When you've got 20 minutes to cook dinner, what do you make!? Go… tell me in the comments!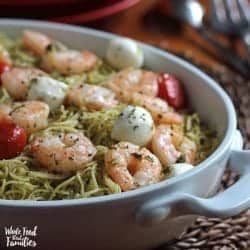 Easy Shrimp Pasta Caprese
Ingredients
1

pound

shrimp, cleaned and patted dry

1

pint

cherry tomatoes

8

oz

fresh mozzarella pearls

or preferred style mozzarella

1

box

angel hair pasta or spaghetti

we prefer whole wheat

3/4

cup

prepared Pesto

homemade or your favorite brand

2

tbsp

butter

2

tbsp

olive oil

kosher salt and black pepper to taste

1

cup

reserved pasta water

1

bunch

Fresh parsley for garnish
Instructions
Sit your measuring cup in your colander and set it over the sink where you will drain your pasta. If you don't do this, and you are at all like me, you will drain your pasta and forget you need the starchy, salty pasta water for the sauce!

Heat a large pot of salty water until boiling and then cook pasta based on the packaged directions. When pasta is done, reserve 1 cup of the salty pasta water and set aside. Drain pasta. (Don't worry, it won't get cold. The rest doesn't take long!)

While the pasta is cooking, heat butter and olive oil in a large skillet over medium high heat until butter is melted. Add tomatoes and cook for 2-3 minutes.

Making sure shrimp has been patted dry, add shrimp to the hot skillet with tomatoes. Get shrimp and tomatoes as close to a single layer as you can. If your pan is small, cook the shrimp and tomatoes in batches. Salt and pepper the shrimp and tomatoes to taste.

Add pasta to a large serving bowl. Spoon pesto over the top. Pouring just a little at a time, add pasta water and turn pasta and pesto with tongs. You want to add just enough water to loosen the sauce and heat it through. You don't really want to cook pesto.

When the pesto and pasta is ready, top dish with sauteed shrimp and tomatoes. Add Mozzarella pearls and garnish with fresh parsley! Enjoy!