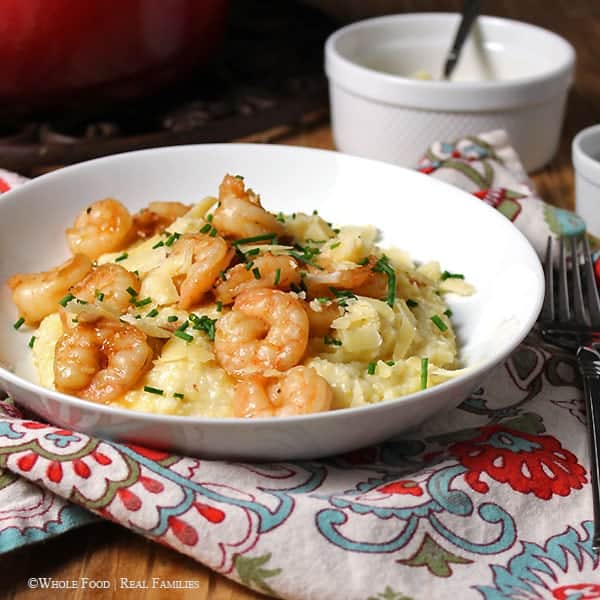 I live in the Lowcountry. If you don't know where that is – think coastal South Carolina and Georgia. It is called the Lowcountry because it sits around sea level. This means something very important for our cuisine… FRESH SHRIMP! The marshland creates a fantastic habitat. (It is also a fantastic habitat for creatures that you might be less enthusiastic to cross paths with – Yikes!) So Shrimp and Grits is a thing here – and everyone makes them differently. This is my version. It has two very important elements: (a) it is not swimming in sauce. It has a nice pan sauce but it is not soup. (b) it is fast and easy enough to eat on a weeknight.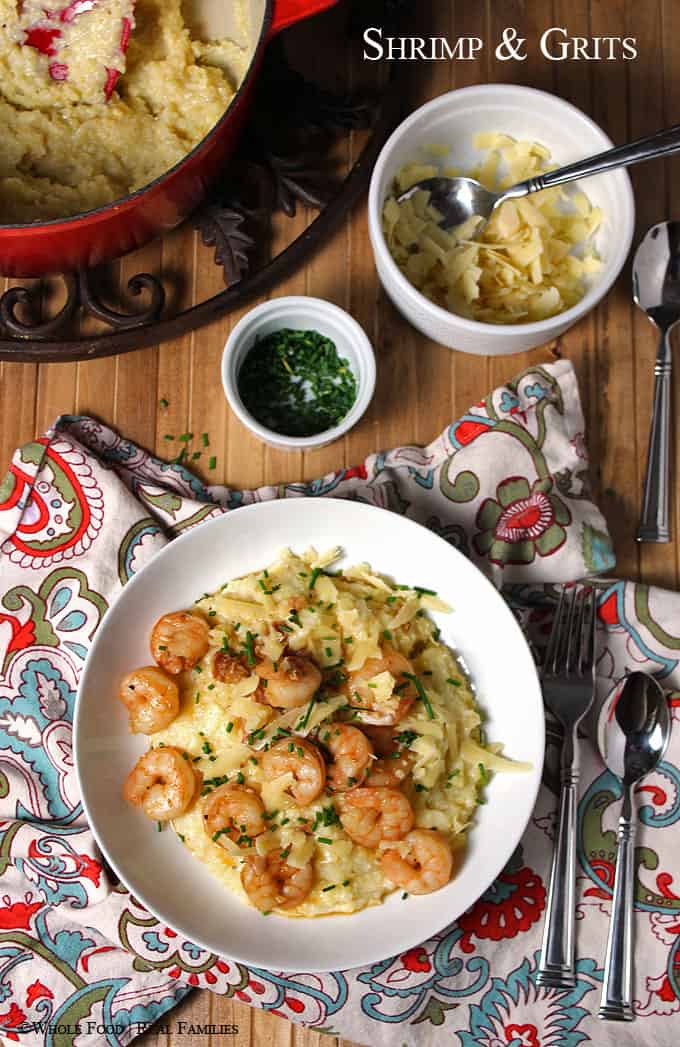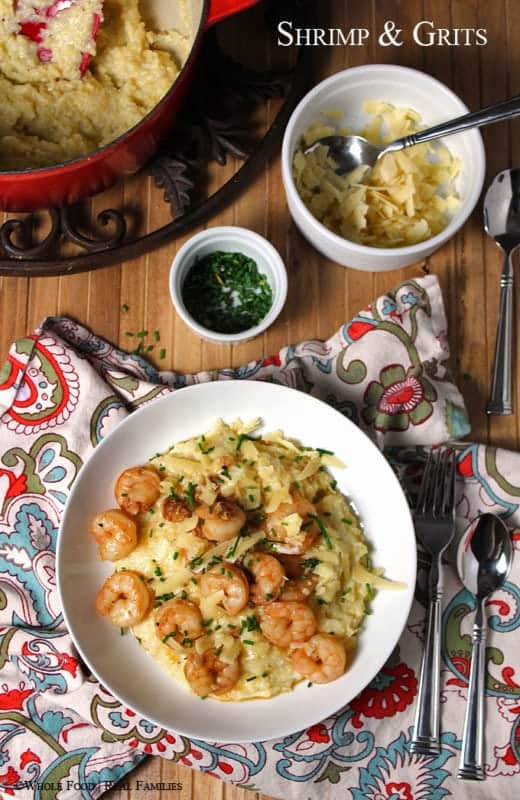 So get ready for Lowcountry Shrimp and Grits! They are a staple around here because we have such an abundance of fresh shrimp around. But even if you have to turn over rocks to find good shrimp, this easy recipe makes it worth it!
We have an ongoing dispute in our home about Shrimp and Grits. For the most part, everyone eats what I put on the table because they are pretty awesome that way. (The babies occasionally object but they are learning.) Everyone likes Shrimp and Grits a different way. It borders on ridiculous the things that we have come up with to argue about over this one dish. Some like them with cheesy grits, some no. Some like them with green onions, some no. Some of us (ahem, Jeff) change our minds every time we sit down to dinner. I solve that problem by serving Shrimp and Grits a la carte and letting everyone build what they like. It may not be traditional but anything you build yourself is kind of fun.
Speaking of kids, this recipe does have some spice. I have no idea why every single one of my kids will eat chipolte pepper – but they do. If I change it out for cayenne pepper or any other kind of chili powder, the little ones complain it is too hot. So we tend to eat a lot of chipolte pepper around here. If you are skeptical of spicy food it it worth seeking out a a bottle of chipolte pepper and giving it a try. In my humble opinion, smoking the jalapenos brings out the sweetness in the peppers along with the heat – it is unique and flavorful without being over the top hot. (If you decide to try it and it is still too hot – I'm so sorry!!!)
The one thing everyone in my family can agree on is that you can't eat those powdery grits out of the white bag from the grocery store when you are serving Shrimp and Grits (well, really not ever – but ESPECIALLY if you are serving Shrimp and Grits!) My husband is originally from Ohio, when he moved to Georgia, he had never even had grits. He thought they only served them at truck stop diners and fast food breakfast places. Boy did he get an education when he married a Georgia native. (You are welcome, honey!)
Get the good grits. The stoneground ones. Preferably organic. Preferably from a farmers' market – or a farmer – on anyone who had a chance of seeing the grits as corn before they were ground into grits. This increases the likelihood that they have not sat on a shelf for 7 years. Good grits taste like – well, corn. They take longer to cook but are totally worth it. If you're not from around here – forgive me, I had to say that – and you have historically questioned the validity of grits as a food choice, take my word for it. Good grits are miles away from the cheapo, powdery kind that you get at a truck stop diner. In fact, when I make this dish, I always double the grits and put half in the fridge. Everyone reheats them for breakfast the next day.
If you like shrimp and are looking for more healthy recipes, you'll love Garlicy Pasta with Sauteed Shrimp and Chard, Creole Style Gumbo, Shrimp Scampi, and from the gluten-free experiment Shrimp and Potato Hash. Enjoy!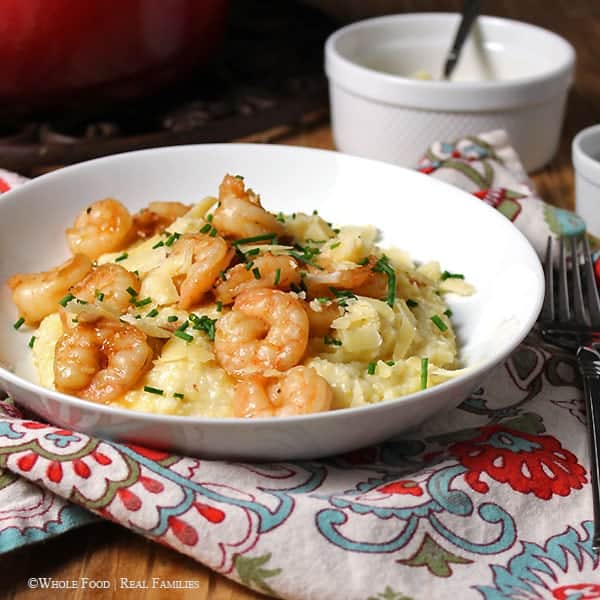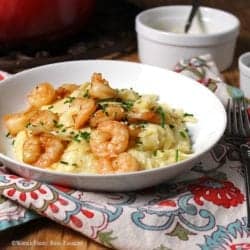 Lowcountry Shrimp and Grits
Pay attention to the instructions that come with your package of grits. The more course they are the longer they need to cook and the more liquid they will require.
Ingredients
4

slices

bacon, diced

3

cloves garlic

minced

2

lbs

shrimp

peeled and deveined

2

tsp

ground chipotle pepper more or less to taste

cayenne is traditional if you like the spice!

1/2

cup

white wine

2

tbsp

butter

1

cup

cheddar cheese, grated

or your favorite cheese!

1/2

cup

green onions, chopped

I've used chives in a pinch!

kosher salt and fresh black pepper to taste
For the Grits
2

cups

water

2

cups

milk

+/- 1

cup

water or milk based on how course your grits are ground

1

cup

stoneground grits

kosher salt and fresh black pepper to taste
Instructions
Bring water, milk and salt and pepper to a low boil. Add grits and stir well. Let them cook until they absorb all the liquid and are tender. You may need more water/milk based on how course your grits are. We like very course ground grits from a local mill. It takes about 50 minutes for them to cook and requires and extra cup of liquid (5:1 ratio of liquid to grits). If you purchase something more finely ground, you will likely stick with 4 total cups of liquid and it will cook in about 20-25 minutes. So start with the 4:1 ration of liquid to grits and just check them and give them a good stir every once in a while. When the liquid is almost absorbed, taste them. (Careful, they are hot!). If they are not tender add an extra half cup of liquid and let it cook until absorbed, taste again, etc. until they reach the tenderness you desire. Once you do that, write the ratio and time on your package so you will know next time you cook them and you can just add that much liquid when you start.

While grits are cooking, add diced bacon to a large saute pan and cook until rendered and crispy. While bacon is cooking, pat shrimp dry and sprinkle with salt and pepper.

Add the garlic to the rendered bacon and allow it to cook for about one minute, swirling in the pan. (Do not allow the garlic to just sit in the hot pan or it will burn.) Add shrimp to the pan and sprinkle with chipolte pepper, salt and pepper to taste. Quickly saute just until shrimp begins to turn pink but is not cooked through.

Add white wine scraping up any bits at the bottom of the pan. Shrimp should finish cooking as the wine reduces by approximately half. Shrimp should no longer be transparent. Remove pan from heat.

Toss hot shrimp with butter. Some people prefer to pour the shrimp and sauce over the grits at this point, garnish it with green onions and serve. However, we prefer the build your own model since we all like them a little differently. We serve the grits and shrimp separately. And grated cheddar cheese and chopped green onions on the side and let everyone build their own. (Because who really wants to argue about whether the cheese should go over the grits and under the shrimp or on top of the whole dish?)