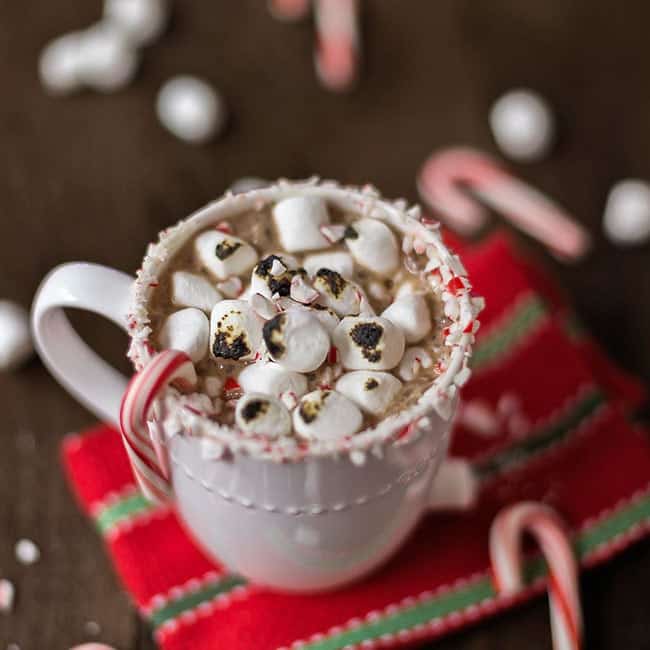 This is the most Decadent Peppermint Hot Chocolate that Santa ever did drink… And my kids. My kids love it too and it lasts around our house as long as there are candy canes in the grocery store! 

Delicious, Decadent Peppermint Hot Chocolate
Let's be real about this Decadent Peppermint Hot Chocolate – it is elf-style, no holds barred, fa-la-la-la-la, bring on the Christmas Spirit Hot Chocolate. My super healthy husband can't even make it through his giant 10 oz mug. Me and my kids, however, are happily licking out lips and clinking our mugs to the tune of Jingle Bells.
Every year, we are a ridiculous bunch of Santa groupies who stare aimlessly into the Christmas lights drinking this thick concoction of Peppermint Hot Chocolate feeling a little like Buddy the Elf.
Christmas Traditions include Hot Chocolate
Who doesn't love a good Christmas tradition? From the time our first child (who is now almost 17!) was born, we've spent every Christmas Eve baking and decorating cookies for Santa and drinking hot chocolate. BUT! These are not regular cookies…
These are the ugliest cookies you have ever seen…
All the beautiful Facebook videos you see of people decorating their detailed holiday cookies… So not us.
Our cookies are bad. One day I will confess to you the black icing incident of 2008. But somehow Santa still loves our ugly cookies. I think he appreciates that every Christmas, our family, even as it's grown, has decorated cookies together for Christmas Eve.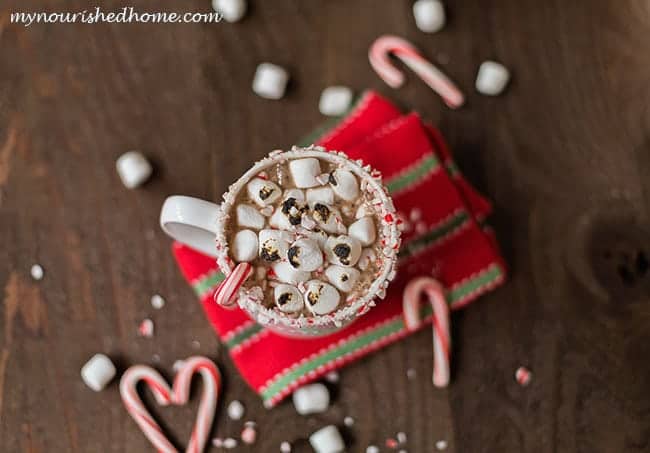 Hot Chocolate with Toasted Marshmallows!
And how did our Peppermint Hot Chocolate end up with Toasted Marshmallows, you ask? Because my husband is an aerospace engineer… And he likes gadgets.
And he found my kitchen torch. You know the butane culinary torch you use for crème brûlée? Like this one…
Do I really need to go on…?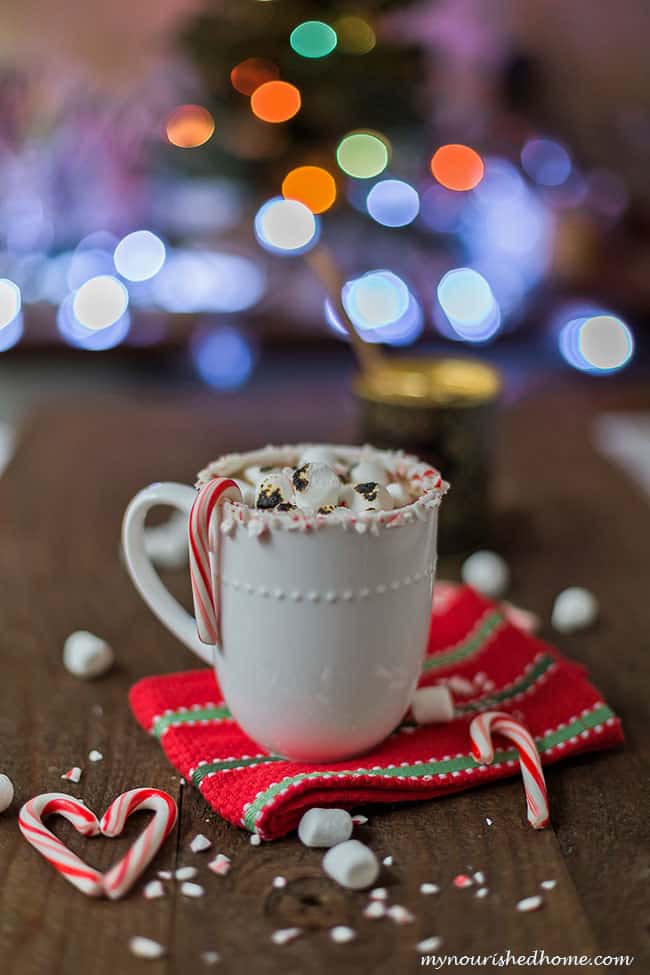 Need more yummy Christmas Recipes?
Try these Cream Cheese Cookies! Or this Easy Chocolate Bark Candy.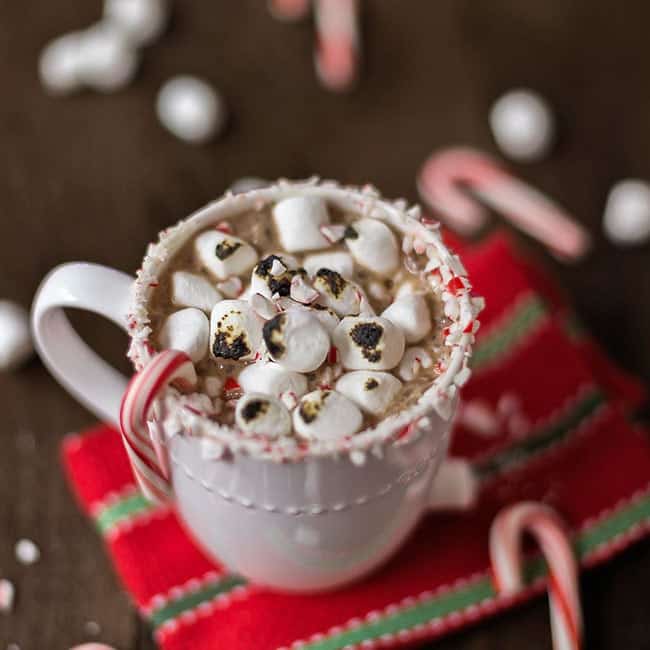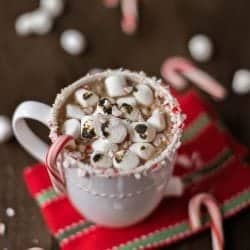 Decadent Peppermint Hot Chocolate
This hot chocolate is over the top with heavy cream and toasted marshmallows! It also makes a giant 10 oz mug!
Ingredients
8

oz

milk

2

oz

heavy cream

2

Tbsp cocoa powder

1

tsp

peppermint extract

2

mini candy canes + more for decorating

crushed

marshmallows

honey to coat the rim of the mug

water also works

honey or sugar to taste
Instructions
In a small pan heat the milk, heavy cream, and the cocoa powder. Stirring constantly. Don't bring it to a boil. Add the candy canes and the peppermint extract, until the candy canes have melted. Add your desired amount of sweetener. (General rule of thumb for hot chocolate is 2:1, sugar to cocoa powder. But the candy canes add a lot of sugar, so start with 1:1 and sneak a taste and adjust to your preference.)

Remove from heat, and coat the rim of the mug with honey and dip it in a bowl with the small broken pieces of the candy canes. I just put some in a ziploc bag and crush it with the back of a wooden spoon.

Pour in the hot coco and top it with some marshmallows. Carefully 'burn" the marshmallows with a kitchen torch or lighter and serve.

Top with some extra crushed candy canes!