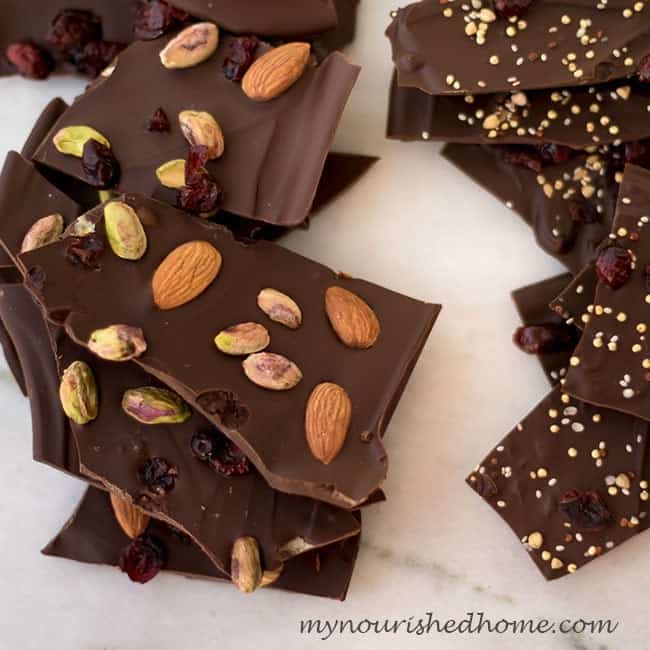 This Easy Chocolate Bark Candy recipe is the rockstar in the holiday goodies category. It can be created in just a few minutes with just a few ingredients. And can be as simple or as decadent as you like.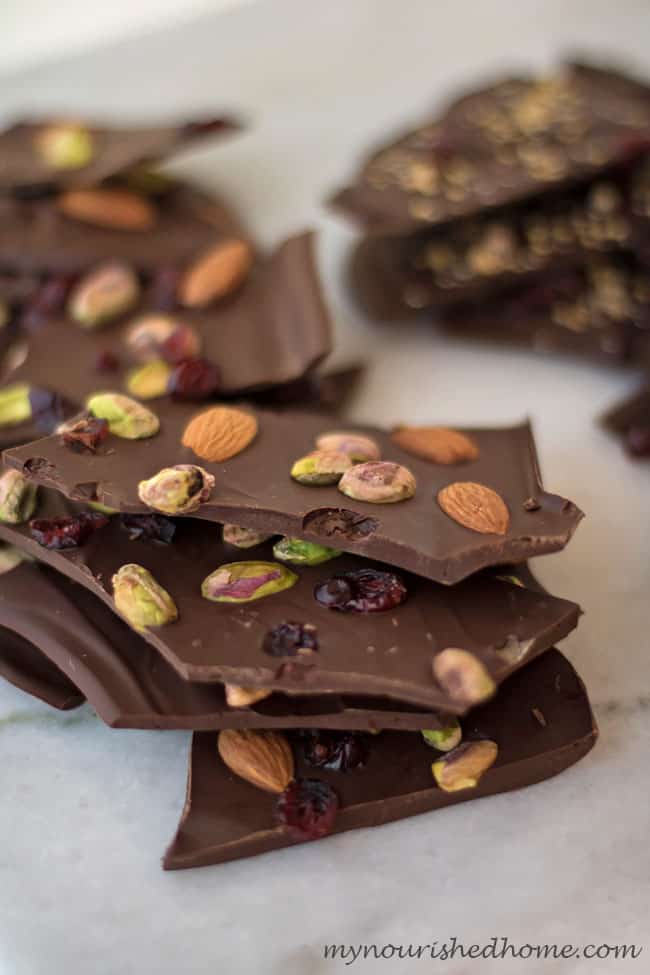 Easy Chocolate Bark Candy
We always pull out this Easy Chocolate Bark Candy recipe around the holidays. But it is an easy treat year round. It is also perfect for things like birthday parties and after dinner treats. It is pretty cute how excited adults get when I bring a tray of chocolate bark candy to the table after dinner with some berries for everyone to share.
My girls love making this recipe too. I usually handle the melted chocolate but my kids love adding the toppings and helping break it into pieces when it is cool.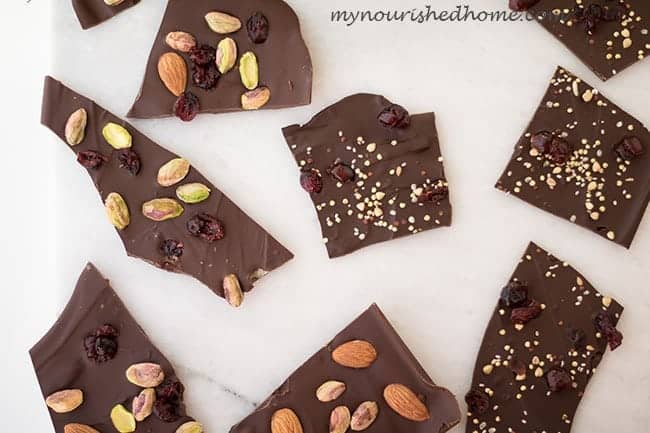 Healthier Chocolate Bark Recipe or Decadent Dessert
The Chocolate Bark you see in the recipe is my favorite. I like the healthier version… Okay, let's be serious when I say healthier… it is still dessert. But I love dark chocolate. And high-quality dark chocolate has much less sugar than the milk chocolate variety. Topped with almonds, pistachios, and cranberries, this bark recipe makes a pretty tasty after dinner dessert without going overboard. We also really like the Ancient Grain and Super seed blend from Trader Joes with cranberries or raisins!
My kids like this healthier version too. But also love to pick their own combinations. Their versions tend to be a bit more decadent dessert than healthier treat.
One of their favorite toppings around Christmas is crushed candy canes. (They also like crushed banana chips, which is a little weird to me!)

Chocolate Candy Bark Recipe Toppings
The ratio for the toppings can really be based on your preference. So use this recipe as a guide. It is such a simple process, you can barely call it a recipe! You should experiment with what you like best. Generally, we use 3-4 high-quality candy bars and one cup to a cup and a half of toppings.
Just a tip, the chocolate I use is a bit strong (to my taste) so I don't make the bark too thick. (Also, my main goal was to make them healthier.) If the chocolate you use is less strong,  you may like it spread a little thicker.
Need more goodies fit for the holiday?
Check out these Cream Cheese Cookies!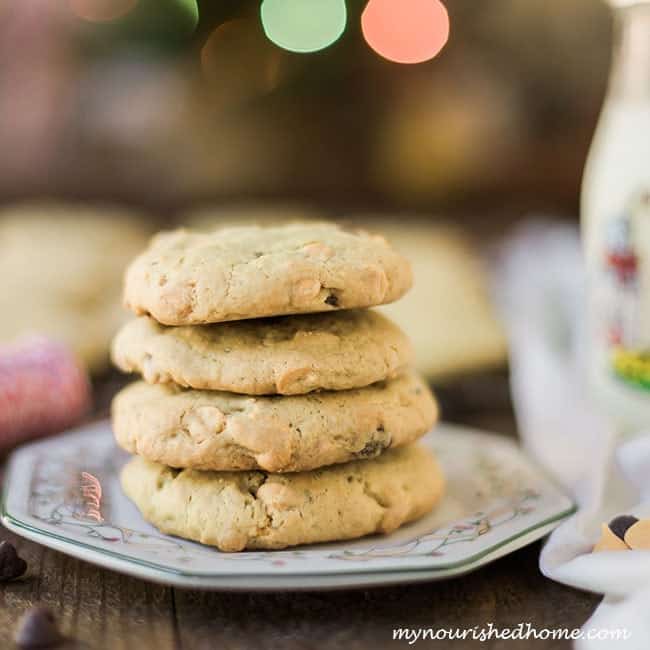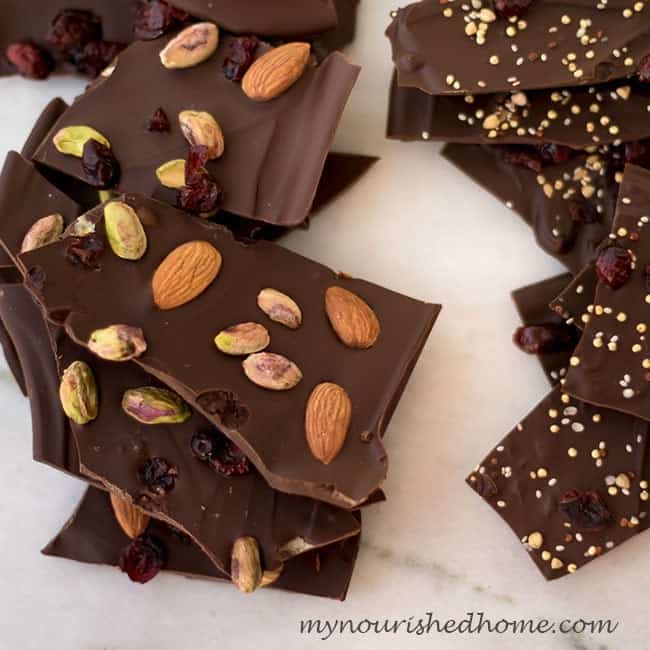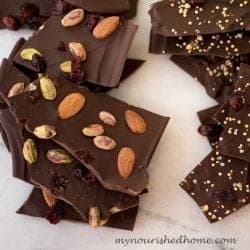 Easy Chocolate Bark Candy
Ingredients
3 - 4

Good quality chocolate bars

1/4

cup

pistachios

1/3

cup

dried cranberries

1/4

cup

almonds

1/3

cup

Super Seed & Ancient Grain Blend

We get it at Trader Joe's but substitue what you like!
Instructions
In a microwave-safe bowl, melt the chocolate on medium/high heat for 2 minutes. Stir and check if it needs more time melting but make sure the chocolate doesn't start burning. I melted each brand of chocolate separately.

Line a cookie sheet with parchment paper and pour the melted chocolate, spreading the chocolate to the desired thickness.

Top the melted chocolate with your favorite nuts and/or dried fruit.

Put in the refrigerator for about 1 hour or until the chocolate has hardened. Then just break it apart with hands or you can nicely cut them with a sharp knife.