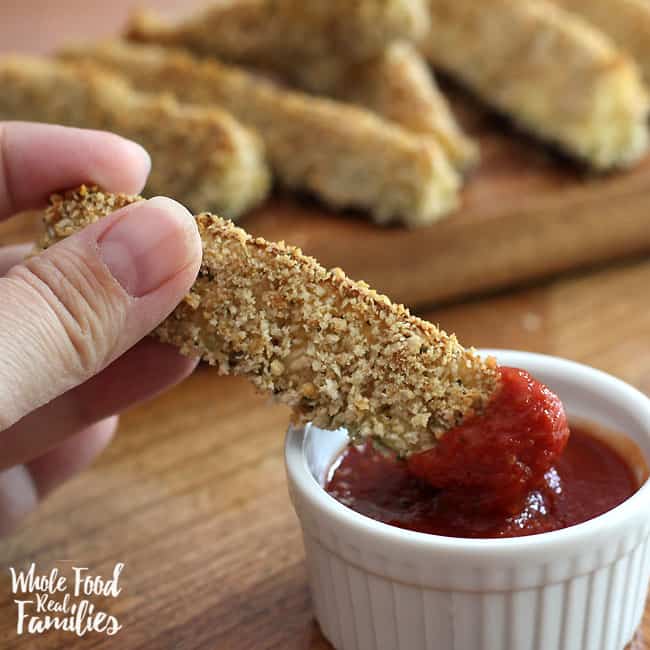 Crispy Baked Zucchini Fries are my tribute to summer's bounty – even if you can get zucchini all year. They are a healthy alternative to fried zucchini and are crispy and delicious right out of the oven!


Crispy Baked Zucchini Fries
These Crispy Baked Zucchini Fries make a fantastic, fun side dish. They also double as an appetizer when you have guests.
They are also a great way to get kids to eat their vegetables. Especially 5-year-olds who think vegetables do not taste as good as chocolate. Not that my 5-year-old has said that recently… (Would someone please explain to her that her mother owns a whole food website?!) There are times, we have whipped these up and tried to dip them into other more adult condiments. However, we have found that our kids truly eat these (without nagging) when we add a little Italian Seasoning and dip them in PIZZA SAUCE.
Zucchini Fries are Kid Friendly
Yes, I said pizza sauce. I would really like to take the foodie high ground here. But they are truly so delicious dipped in pizza sauce that we all stand around the kitchen eating them before dinner even gets to the table. I now prepare extra zucchini for us when Crispy Baked Zucchini Fries are on the menu because I know we will nosh on them like a snack before dinner. I love when my kids join me in the kitchen to chat and help while I am cooking so I make extra as a way to invite them in. If they eat a little less at the dinner table because we ate too many veggies beforehand – I can live with that.
Magical things happen when everyone stops bickering over eating their vegetables and just enjoys each others company. For most families, this happens at the dinner table. For a food blogger, it often happens when the kids are trying to steal the food that you in the process of photographing. They become unified in their thievery. See Exibit A below. They were supposed to be helping me with pictures. Instead, they were stealing the Zucchini Fries.
The Trick to Crispy Zucchini Fries
There is a trick to getting baked Zucchini Fries crispy. And there is really no way around it unless you want to fry them. Zucchini contains a lot of water. And some of it cooks out while the zucchini is in the oven. So you have to set these on a rack in your sheet pan so that the hot air in the oven is circulating around the food – and the zucchini is not sitting in any water that it is releasing during cooking. If you don't sit it on a rack, the top of your fries will be nice and crisp and the bottom will be soggy. Nobody wants a soggy zucchini fry. 🙁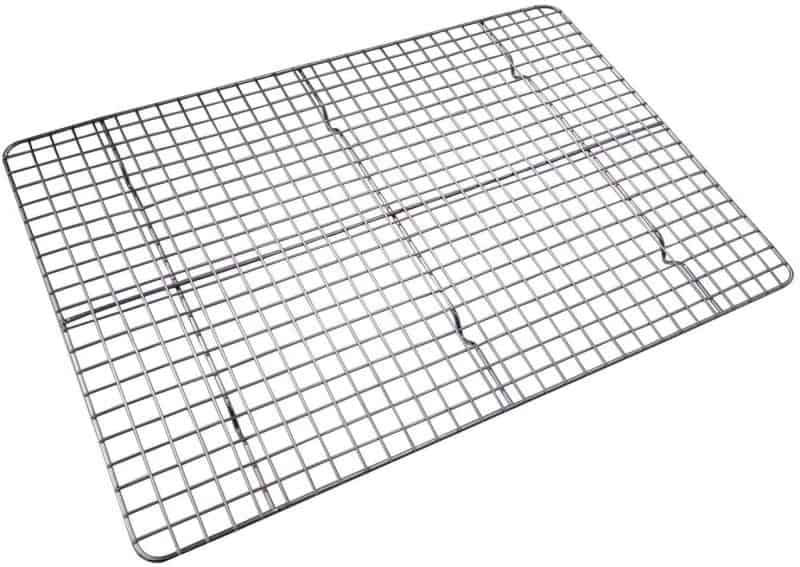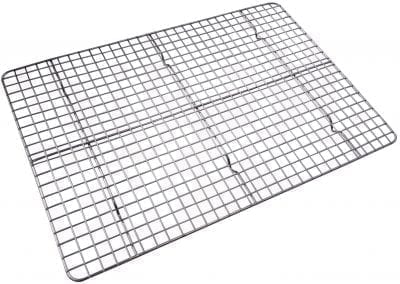 If you don't have a set of stainless steel racks that fit in your sheet pans, go get some. They are awesome anytime you bake anything you used to fry like these hot wings. They are also great for roasting large pieces of meat like this Coriander and Fennel Crusted Top Sirloin Roast. The racks I have are here on Amazon. They are not expensive but are a super helpful tool to have in your kitchen. (Especially if you are giving up fried food!)
More Zucchini Recipes
Looking for more great zucchini recipes. This Baked Pasta with Sausage and Zucchini is so good. And there is nothing more comforting than a baked pasta dish!
Also if you like the idea of dipping your Crispy Baked Zucchini Fries in pizza sauce. Or just making your own sauce for pizza and calzones. This is our VERY EASY pizza sauce recipe that we make with fresh tomatoes and freeze.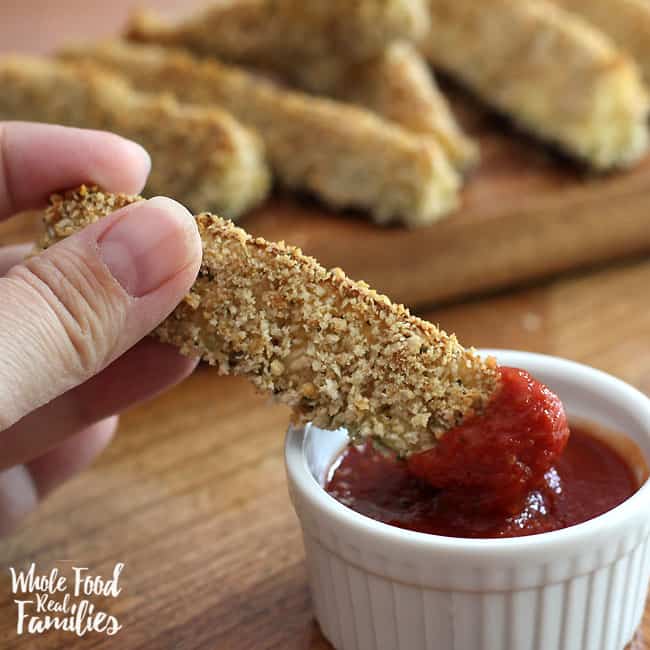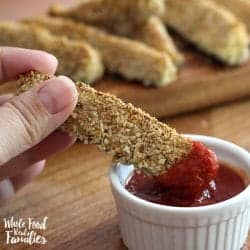 Crispy Baked Zucchini Fries
Ingredients
4

zucchini

halved and cut into fries

2

cup

Panko

1 1/2

tsp

Italian Seasoning

1

cup

whole white wheat flour

Kosher salt and freshly ground black pepper

to taste

3

large eggs

beaten

pizza sauce for dipping!
Instructions
Preheat oven to 425 degrees.

Line a sheet pan with foil for easy cleanup. Coat a stainless steel rack with nonstick spray and place inside the baking sheet.

On a large plate combine flour salt and pepper. On a second plate combine Panko and Italian seasoning. Beat eggs together in a bowl.

Working in batches, dredge zucchini fries in flour, dip into the egg wash, then dredge in Panko mixture, pressing to coat.

Place prepared zucchini fries onto the prepared rack on the sheet pan. Place into oven and bake for 20-22 minutes, or until deeply golden and crispy.

Serve hot! And dip in pizza sauce!