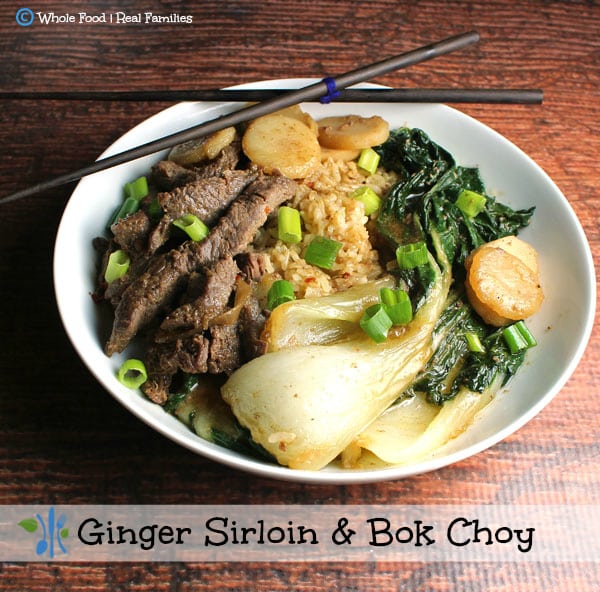 Ginger Sirloin and Bok Choy is a simple and flavorful dish that gets quickly to the table, making it a win for weeknight meals!
Recently we started a Facebook Group (in addition to our Facebook Page) to encourage conversation and exchange ideas among we like-minded – or not so like-minded – whole food foodies. The group is still small but we're hoping, with our fingers firmly crossed, that it will develop into a place where not only can you talk directly with us but – perhaps more importantly – you can talk to each other.
We happen to believe that our Whole Food | Real Families community is pretty fabulous. We'd like to make it easier for you guys to communicate with each other! Exchange recipes, ask questions, debate topics (politely, of course), and generally encourage one another as we figure out how to make eating nutritiously work for all of our families. Right now those conversations are limited because it is the Facebook algorithm that decides if you reeeaaallllyyy want to see information about whole food or about Whole Food | Real Families. There also might be a little hesitation from you to ask everyone on the internet how to remake your mom's famous chocolate cake into something healthy. (Good luck with that one, with the cake and your mom!) Hopefully our little group will give us the chance to talk more openly, and more often to one another.
Join the Facebook Group here: Whole Food and Other Stuff. I can't wait to see what you have to say. (I am currently waiting on advice about artichokes.)
In an effort to get the party started – I posted the question: "Are there any vegetables you want to try but you don't have a clue how to prepare them?" My long time friend Debbie replied with Bok Choy. Bok Choy!?! I have never cooked Bok Choy in my life because I didn't know what to do with it! But with a little research and a visit to my favorite booth at the Farmers' Market. I endeavored to try.
The result? I've been missing out! It was delicious and SO FAST! It actually renewed my intention to continue creating, cooking, and eating vegetables that I might not have loved in the past. I also had that same experience with turnips last week. Did you see the Turnip Fries?!!
I did learn two important lessons about bok choy that I wanted to share. The first is that I looked for the larger bunches of bok choy when I was sorting through my choices at the Farmers' Market. In the future, I would do the opposite. The less mature, smaller pieces where much more tender. The larger stalks could be a little stringy in the way that celery is stringy. Luckily, my choices were limited to smaller heads of bok choy – apparently fate had intervened to make sure I got what I needed. If there are only larger bunches, I will trim the thick base off the stalk next time. This is strictly personal preference. I don't eat a lot of raw celery either because of the texture. The second, is rather than rinsing the bok choy while still intact, you need to pull it into pieces first and then wash it well. There was dirt buried in the bunches – seeing as how it grows in the dirt and all.
The other eureka moment was at the butcher when I told him the sirloin was for the blog. Matthew, my friendly butcher, asked me if I would like my sirloin whole – just  in case I wanted photos of cutting it up – or if he should go ahead and cut it into strips for me. Um, yeah. Cut, please. I am all about making it fast and easy. This is another reason I shop at the butcher instead of the grocery store. Not only is the meat better quality but the services they provide can make it so much easier to get dinner on the table. Thank you!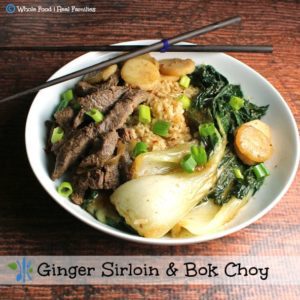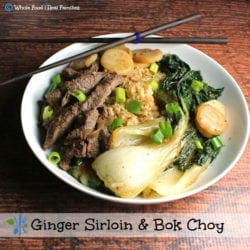 Ginger Sirloin and Bok Choy
Ingredients
2-3

head

Bok Choy, separated and washed

2

pounds

sirloin steak, thinly sliced

1

can

organic water chestnuts

1/2

cup

olive oil

1/2

cup

organic soy sauce

2

tablespoons

honey

2

cloves

garlic, sliced

2

shallot, sliced and separated

1

large finger

ginger, grated

1

teaspoon

red pepper flakes

more or less to taste

Kosher salt and freshly cracked pepper to taste

brown rice or quinoa for serving

green onions, sliced for serving
Instructions
Begin by cooking brown rice or quinoa according to package directions. I typically cook both grains with stock rather than water for additional flavor.

Combine olive oil, soy sauce, shallots, garlic, honey, ginger, red pepper flakes, and salt and pepper in a large bowl. Whisk to combine. Add sliced sirloin and toss to evenly coat the steak. Allow the steak to marinade for 20-30 minutes.

During this time, your rice or quinoa should finish cooking. Remove it from heat but keep it covered to maintain the serving temperature.

Heat a large saute pan over medium high heat.

When oil is shimmering but not smoking, pour sirloin with all of the marinade into the hot pan. Cook for 2-3 minutes, stirring occasionally so that steak is evenly cooked. Remove steak to a plate to rest, leaving behind the sauce in the hot pan.

Add water chestnuts and separated, washed bok choy to the remaining liquid. Allow it too cook for 2-3 minutes, until the greens are wilted and the stalks are tender crisp. Add steak back to the pan, toss to combine, the remove from heat.

Serve Ginger Sirloin and Bok Choy over rice or quinoa. Drizzle with remaining sauce and garnish with green onions. Enjoy!